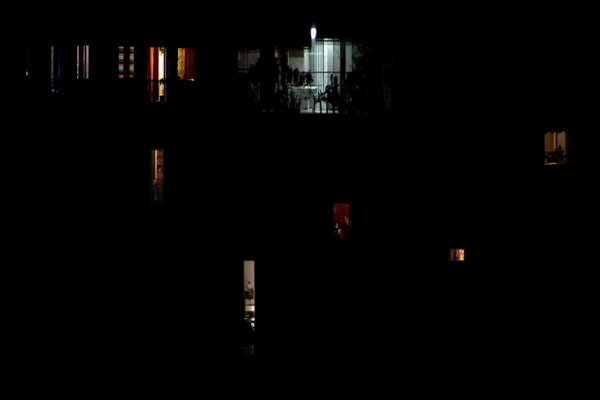 Theofanis Nouskas is part of Exposed 2011. He lives in Thessaloniki, Greece.
Windows with View is a video reference to Alfred Hitchcock's film Rear Window.
It is an essay to redefine another kind of architecture as soon as our regard focuses at light in dark.
Every light. Every regard. Directions of light // Directions of regard.
Remapping the unknown or focusing on a story basically made by ellipses. As we raise our head (anthropos).
A story made by dark, black + nothing
Theofanis Nouskas was born on December 7, 1981, in Thessaloniki, Greece, and graduated from École des Beaux-Arts de Saint-Etienne (2002) and École Supérieure d'Art de Grenoble (2004), France. He has participated in numerous collective exhibitions and video festivals in Greece and abroad. He likes images, video and cinema, and hopes for a radical change in the educational system and the commercialization of art. Since 2008, he has worked at the PIRINAS studio; he lives in Thessaloniki.