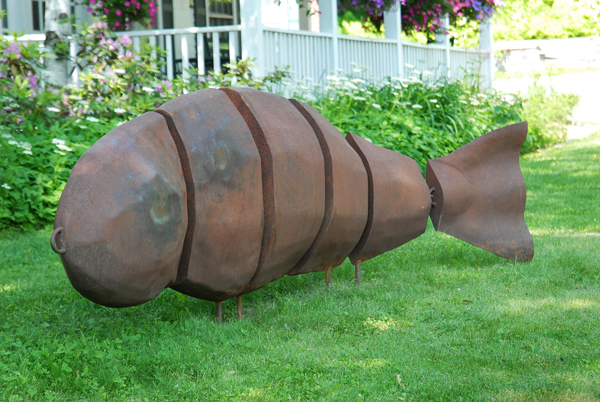 Torin Porter is part of Exposed 2011. He lives in Glover, Vermont
I enjoy working with steel and wood because of their association with tools made by hand for a specific purpose. I think of sculptures as tools for understanding and exploring the world around us.
The fish form of the sculpture Grounded is inspired by a lure – a tool used to visually trick a fish, and invert its position in the food-chain from predator to prey. Like an old ship's anchor, the sculpture Grounded gives us a view of the workings of  a tool meant to operate underwater. It is an object at once familiar and out of place as it rests  dormant on terra firma as if waiting for its next call to duty.
Torin Porter has exhibited in solo and group shows throughout New England and in New York City. His passion for sculpture has its roots in early experiences. Born in 1969 in northeastern Vermont, he grew up next door to and performed with the Bread & Puppet Theater. Porter received his BA in Studio Art from Dartmouth College, and toured internationally as a stilt dancer with the MOMIX dance company. More recently he has created sculptural performance events for Phish's outdoor concerts, large-scale sculptures for the Bonnaroo music festival in Tennessee, and served as props master for Circus Smirkus.
---
ABOUT EXPOSED
For the past twenty years, the Helen Day Art Center has hosted an outdoor public art and sculpture exhibition called Exposed in Stowe, Vermont.  Exposed hosts sculptures, site-specific installations, and participatory work from twenty-three national and international artists. the 2011 edition offers a series of Thursday night events by 12 video artists, writers, performers, and musicians accompany the exhibit. This exhibition and series of events is accompanied by cell phone audio tours, QR codes, walking tour maps, walkabouts, and a catalogue of the exhibit published by Kasini House Books. The exhibition will take place July 8th to October 8th, 2011.