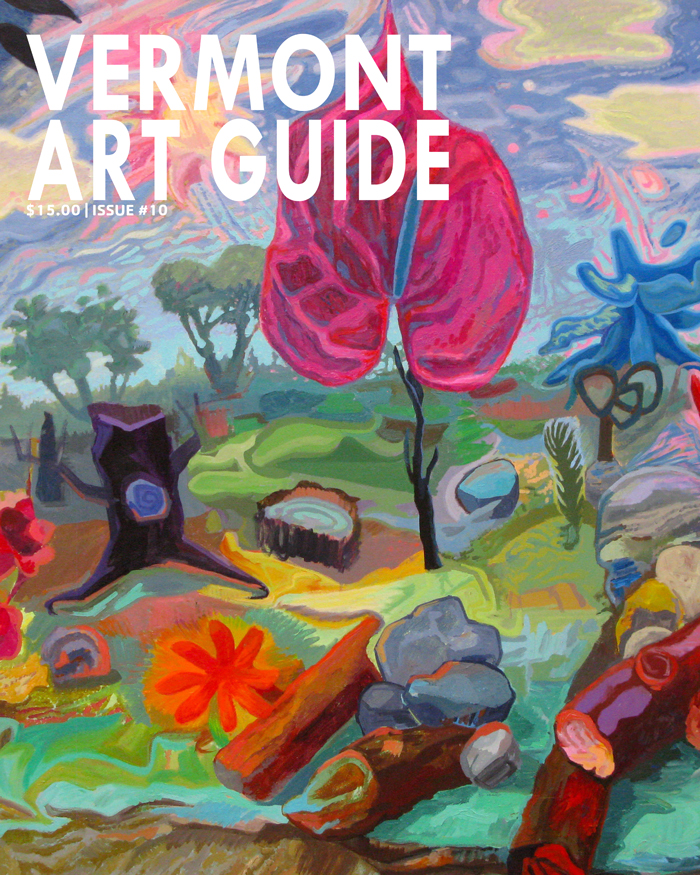 In This Issue
All great art is provincial in the sense of reflecting a place, a time, and a Zeitgeist.
—Richard Weaver, 1987
No, This Is Not The Provinces!
—Andrei Platonov, 1926
A detail of the color packed, surreal painting, Log Jam by JoAnne Carson, is on the cover of Vermont Art Guide #10. With consideration for humankind's desire for sublimity, the Shoreham painter takes direct aim at a centuries old artistic fetish for nature. She observes, "the tradition of spiritual wonder as seen through the lens of nature appears to be an exhausted model. The shift from 'organic' to 'synthetic' nature is a defining factor of our age…The work is meant to express and reflect on our culture's seemingly paradoxical wish to believe simultaneously in alchemy and science." A profile and interview with this fascinating artist.
In our round-up of Vermont Art News, we report on staff changes at Vermont arts organizations. Montpelier is planning an ArtsFest. BigTown Gallery in Rochester installs a solar array to power the powerhouse gallery. Conant Metal & Light unveiled a new public sculpture in South Burlington. And there is new vision at Southern Vermont Arts Center.
Art is more than a career for Dan Gottsegen, it is a vocation. The article, "Across Place and Time: The Ambitious Paintings of Dan Gottsegen", explores the artist's life and work.
In her most recent work, Deidre Scherer collaborates with renowned basket weaver and sculptor Jackie Abrams to make a series of sculptural baskets. An exhibition is on view at Brattleboro Museum & Art Center and a profile of the Williamsville artist appears in the magazine.
Two articles go deep into Vermont's art history. "A Totem to Remember" tells the story of Bennington Museum's acquisition of a work by Russell Risley (1842-1927). "Vermont Son Gets His Due" reports on an exhibition of Cornwall's Sheldon Peck (1797-1868) in Lombard, Illinois and traces the fascinating lineage of one particularly remarkable painting, The Vermont Farmer.
"As they make their way into museums, we have more and more opportunity to see them and consider how they inform our sense of history and the role art has played in the state going back to its founding."
Cold Hollow Sculpture Park activates the landscape with an artist residency, now in its second year. The Enosburg site offers a dynamic program of free public events that "explore the intersection of intellectual and creative pursuits." The magazine has an article about their vision.
In May 2019, Contemporary Art at Rokeby Museum, a collaboration with Kasini House, the publisher of Vermont Art Guide, begins an ambitious two-year project designed to engage artists and the public with Rokeby Museum archives, objects, buildings, and land. Find out what is planned this summer.
South Strafford artist Dierdre Dennis is a self-taught, regional-based painter. We spotlight her painting in the issue.
Where to See Art is our curated list of over 190 places to see art around the state. We shine a spotlight on the Vermont Supreme Court Gallery in Montpelier, Bennington Museum in Bennington, Southern Vermont Arts Center in Manchester, Shelburne Museum in Shelburne, BCA Center in Burlington, Rokeby Museum in Ferrisburgh, Brattleboro Museum & Art Center in Brattleboro, and Dog Mountain in St. Johnsbury.
A special thank you to this issue's Gallery Members whose support helps make this magazine possible: Art Works Frame Shop & Gallery | Axel's Gallery & Frame Shop | Bennington Museum | Brattleboro Museum & Art Center | Catamount Arts | Cold Hollow Sculpture Park | Edgewater Galleries | Emile A. Gruppe Gallery | Gerald K Stoner Underhill Ironworks | Highland Center for the Arts | Miller's Thumb Gallery | Milton Artists' Guild | Piecasso Pizzeria & Lounge | Shelburne Museum | Spruce Peak Performing Arts Center | Stone Valley Arts at Fox Hill | The Hive | Two Rivers Printmaking Studio | Valley Arts | Vermont Artisan Designs | Village Frame Shop & Gallery | West Branch Gallery
SPECIAL NOTE: Vermont Art Guide is a quarterly, printed magazine about contemporary art in Vermont. We have three goals: 1) To connect the entire state's art community by sharing information about exhibitions and events. 2) To present a picture of Vermont art and art in Vermont, to tell our story. 3) To build an audience for Vermont art inside the state and out. We hope you will join us by subscribing to the print edition today!