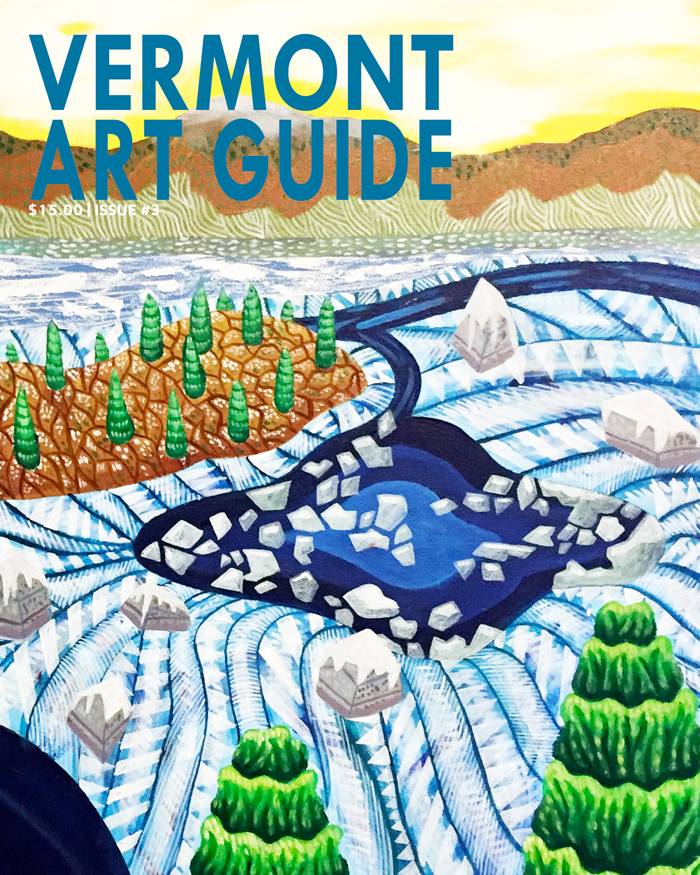 In This Issue
Winter by Alex Costantino is on the cover. The painting is part of the Art of Winter exhibition at SPACE Gallery in Burlington, February 2017, and as an exhibition-in-print in the magazine.
In his editorial, Vermont Art Guide Editor Ric Kasini Kadour writes, "One of the interesting things about magazines is that they are living, meaning they have a life over time. We started Vermont Art Guide in May 2016 and now, this third installment, the Winter issue, is embracing how Vermont's art scene changes over the course of a year. Many of the sculpture parks we celebrate in the warmer months are closed. Fewer festivals pop up. And as Spring arrives, a number of art venues turn their space over to schoolchildren. And yet, there is much to see and do."
We report on what's next for Albert Bierstadt's The Domes of the Yosemite as St. Johnsbury Athenaeum project to restore them moves forward. In its third year, ArtShape Mammoth is making connections. We tell you how Valley Arts is roaring back after Irene. And we tell you a bit about the artist Helen Day Art Center has chosen for Spruce Peak at Stowe.
With news from Brattleboro Museum and Art Center and the Fleming Museum, Vermont is becoming a destination for Asian Art.
Brenda Garand's art is like falling into water, says Dian Parker in her profile of this Hartford artist whose sculptures float in the air.
Every now and then an artist pops up on our radar…here's why we think James Secor is an artist to watch.
Cynthia Close introduces us to The Book Arts Guild of Vermont.
Lynn Newcomb's etchings, lithographs and sculptures are muscular and powerful. We take a look at this Worcester artist.
In her writing about the legacy of Putney artist Charles Ginnever, Dian Parker says, "My conversation with Chuck continued like this for hours, with him dropping names he'd known and worked with like confetti."
Exhibition in Print: Art of Winter, Representations of the season in Vermont Art by Ric Kasini Kadour in collaboration with Christy Mitchell at SPACE Gallery. "Art of Winter" is an opportunity for viewers to consider the role this season plays in our lives. One cannot ignore winter. It demands our attention. It forces us to dress differently, to spend resources heating our homes, and to develop an outlook, a personal philosophy, that will get us through until the ice melts, air warms, and life springs from the ground.
Where to See Art, our curated list of 139 places to see art around the state. We pay particular attention to: Jackson Gallery at Town Hall Theater, Middlebury | Christine Price Gallery, Castleton | Bennington Museum | BCA Center, Burlington | Amy E. Tarrant Gallery, Burlington | SEABA Gallery, Burlington | Julian Scott Memorial Gallery, Johnson State College | Walker Contemporary, Waitsfield | The Front, Montpelier | Governor's Gallery, Montpelier | Catamount Arts, St. Johnsbury | Brattleboro Museum & Art Center | Vermont Center for Photography, Brattleboro
and a Vermont Art Guide Artist Directory.