This award-winning gallery in downtown Brattleboro offers fine art and American-made craft by more than 300 artists and craftspeople; new displays monthly.
106 Main Street
Brattleboro 05301
(802) 257-7044
Hours:
Monday-Thursday and Saturday, 10AM-6PM
Friday, 10AM-8PM
Sunday, 10AM-5PM
---
ART ON VIEW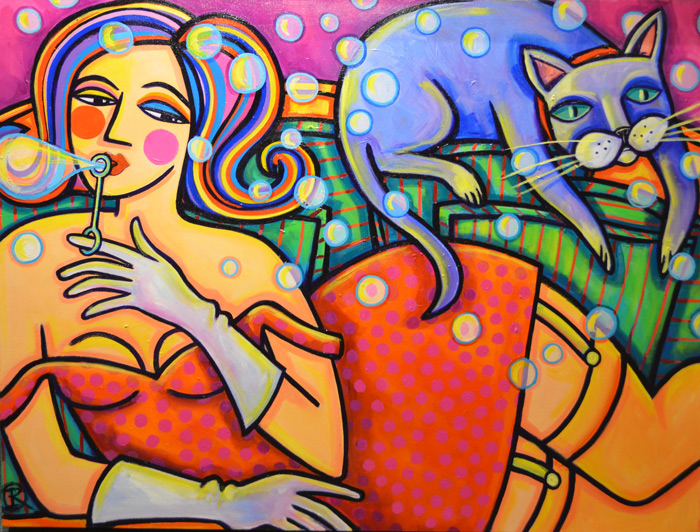 Ilene Richard, paintings
January 2019
Ilene Richard's figurative work is based on her observations of people involved in everyday activities. Whether it be the interaction of a couple dancing or a group of strangers standing next to each other in a crowded room, she creates an emotional connection not only for the viewer, but also between the people depicted in her work. Ilene Richard's studio is in Lowell, Massachusetts. (image: Pop Pop Pop! by Ilene Richard (36″x48″; acrylic on canvas). Courtesy of the artist and Vermont Artisan Designs)
---
PREVIOUS EXHIBITIONS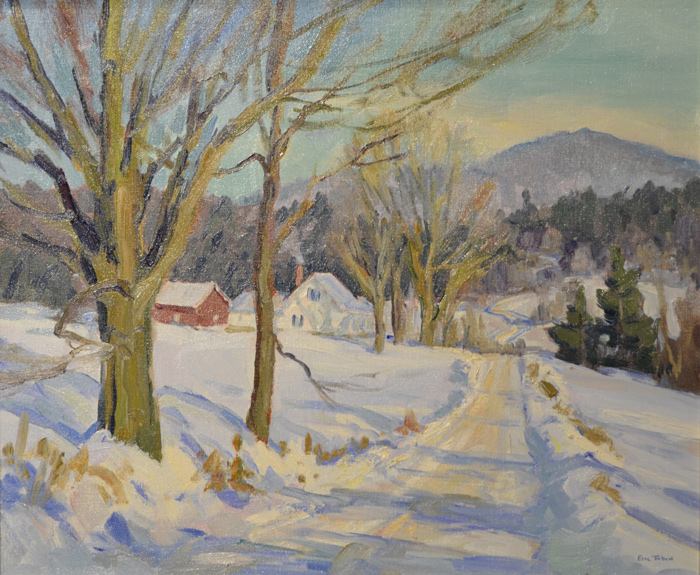 Eric Tobin, paintings & Ann D. Kearney, jewelry
December 2018
Self-taught artist Eric Tobin has been interested in painting and drawing since childhood. When Tobin was twelve, renowned Vermont landscape painter Thomas Curtin gave Tobin his first set of paints and became his mentor. Tobin paints en plein air around rural Vermont, where he makes his home.
Ann D. Kearney was introduced to metalsmithing in college. She holds a BFA in gold- and silversmithing from SUNY New Paltz. Kearney lives and works in Cambridge, New York. Her studio and gallery is in the original Cambridge post office.
(texts adapted from the artists' press materials)
image by Eric Tobin
---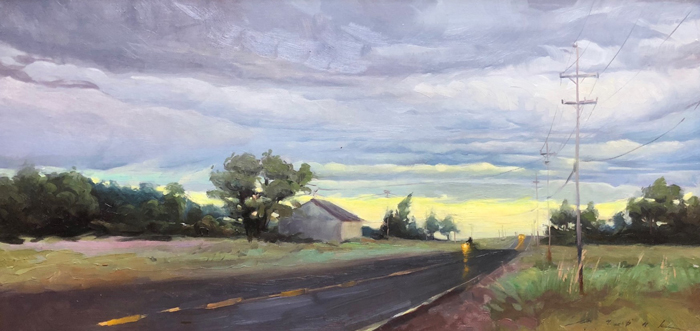 Olena Boback, Andre Lucero & Will Moses
November 2018
Olena Babak is a classically trained artist who recently moved to Maine from North Carolina, where she attended a private art atelier. She is trained in the academic traditions of the French and Russian schools, where significant emphasis is put on direct observation and pushing the limits of lighting and color in the process of capturing mood and enchantment in ever changing surroundings. Babak's work is in the collection of the Albin Polasek Museum in Winter Garden, Florida and a number of private collections and galleries in the U.S. and abroad. Babak's classroom is in Bangor, Maine. She lives and makes art on the peaceful Great Moose Lake in central Maine. (image: Storm Clouds by Olena Babak)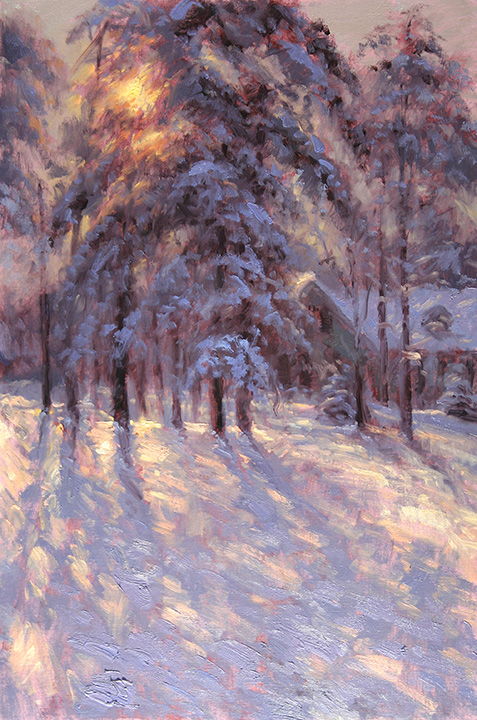 An impressionistic oil painter based in Goochland County, Virginia, Andre Lucero was trained in a traditional academic setting, but in recent years has combined his love for the outdoors with his art. Completing more than 100 plein air paintings a year, his work includes landscapes and figures and still life painted from life. Lucero reveres the Old Masters and their painting techniques. He worked with his mentor to use Renaissance painting materials to produce the medium that they both have used to give their oil paintings a distinctive luminescent quality. After earning a BFA cum laude in 1989, Lucero worked for more than a decade as a freelance illustrator. During that time, his illustrations appeared in numerous publications including The New York Times, Playboy, U.S. News & World Report and The Washington Times. While his illustrations were honored with the 1995 Virginia Press Association Best of Show Award and the 1994 Award of Excellence from the Art Directors' Club of Metropolitan Washington, Lucero decided to leave the field of illustration and devote his full attention to his first love, painting. (image: Through the Trees by Andre Lucero (36″x24″; oil)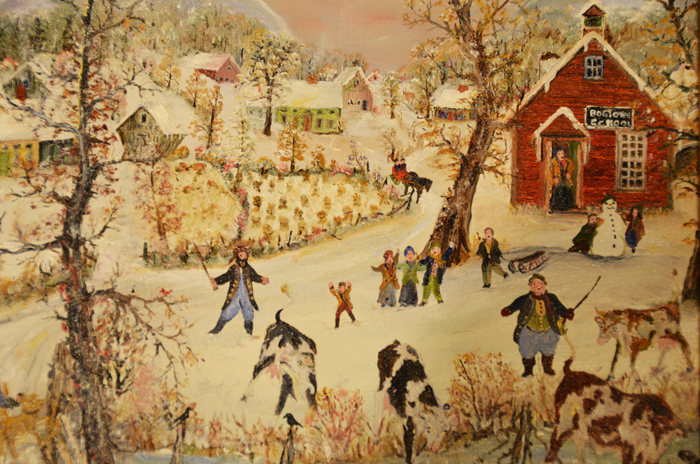 Folk artist Will Moses is the great-grandson of Grandma Moses. His paintings have been made into lithographic prints and serigraphs and puzzles. He also has illustrated a number of books for children and adults including classic favorites Mother Goose, The Legend of Sleepy Hollow and Hansel and Gretel. Vermont Artisan Designs features Moses' prints, puzzles, books, and an occasional original oil painting or two. Moses' Mt. Nebo Gallery is in Eagle Bridge, New York. (image: Bogtown School (detail) by Will Moses)
(texts adapted from the artists' and venue's press materials)
---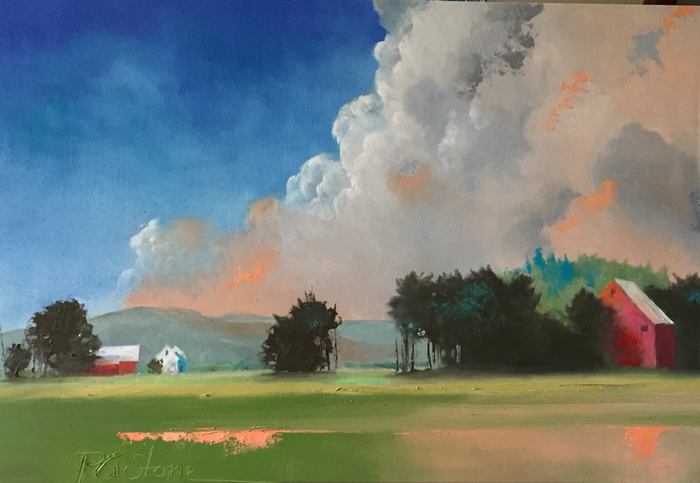 Paul G. Stone
October 2018
Paul G. Stone is a native of New England whose work is influenced by the scenes that surround him whether they are the landscapes of Vermont or the seascapes of the rugged New England coast. He's a former dentist who has been painting for 50 years. His works are displayed in galleries in Vermont, Maine and North Carolina.
Learn more about the artist and his work on his website, HERE.
Image:
Valley Morning
by Paul G. Stone
Courtesy of Vermont Artisan Designs, Brattleboro
---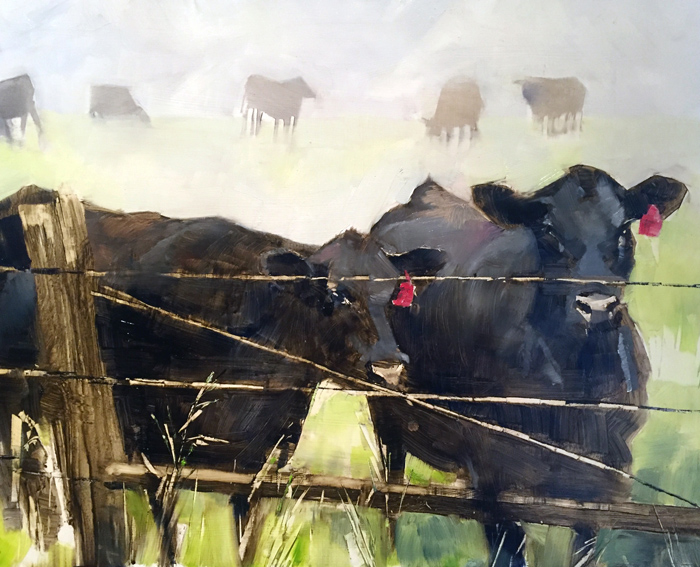 Beth Bathe
September 2018
Oil painter Beth Bathe holds BFA from Virginia Commonwealth University and has had her own graphic design business, Bathe Design, for 30 years. Her subjects include figurative, still life and landscapes. She has been interested in the plein air painting movement for a number of years. She enters numerous national competitions, teaches workshops, and has been recognized for her consistently strong work. In 2017, she was part of the "Artists for the New Century" group show at the Bennington Center for the Arts.
Bathe is a member and board member of the Mid Atlantic Plein Air Painters (MAPAPA), Oil Painters of America (OPA), Susquehanna Valley Plein Air Painters (SVPAP), Daily Painters of Pennsylvania and Daily Paintworks, and Outdoor Painters Society.
Beth Bathe lives and works in Lancaster, Pennsylvania. She travels to Vermont to paint and plans to paint more in southern Vermont during the Fall of 2018. Learn more about her and her art at her website HERE.
(text adapted from the artist's press materials)
Image:
Ladies in Red
by Beth Bathe
16″x20″
oil on canvas
Courtesy of Vermont Artisan Designs, Brattleboro
---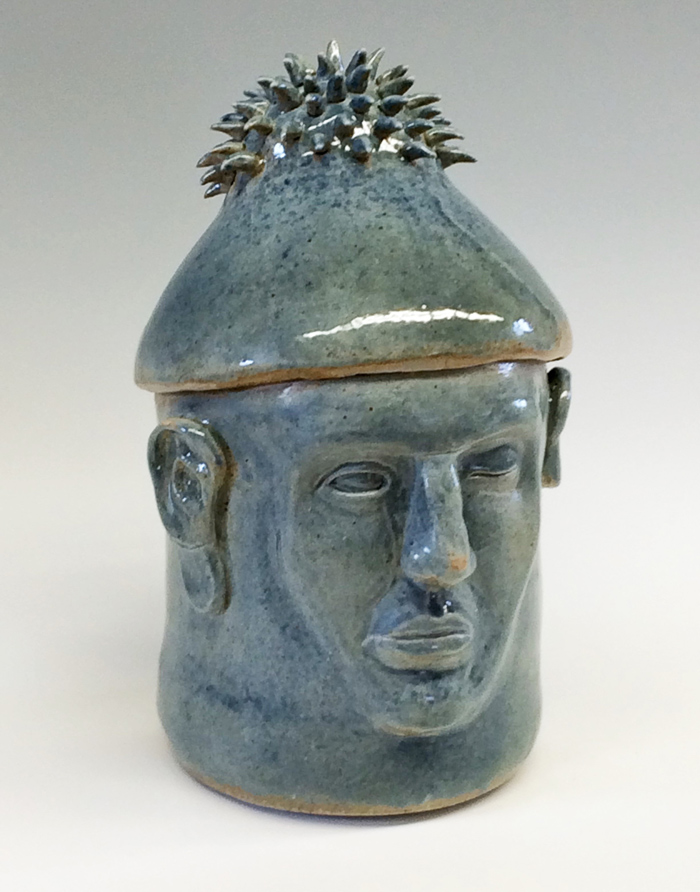 March 2018
Shake off the winter at Vermont Artisan Designs. This month, the gallery features art from seven Windham County high schools and elementary school that are part of the Student Art Month project. The gallery has pottery and sculpture from Brattleboro Union High School, The Putney School, Bellows Falls Union High School, Leland & Gray Union High School, The Compass School, Vermont Academy, and Twin Valley Union High School. The Student Art Month project has been ongoing for 38 years, spotlighting and giving public recognition to the outstanding visual art created by elementary, middle school, and high school students.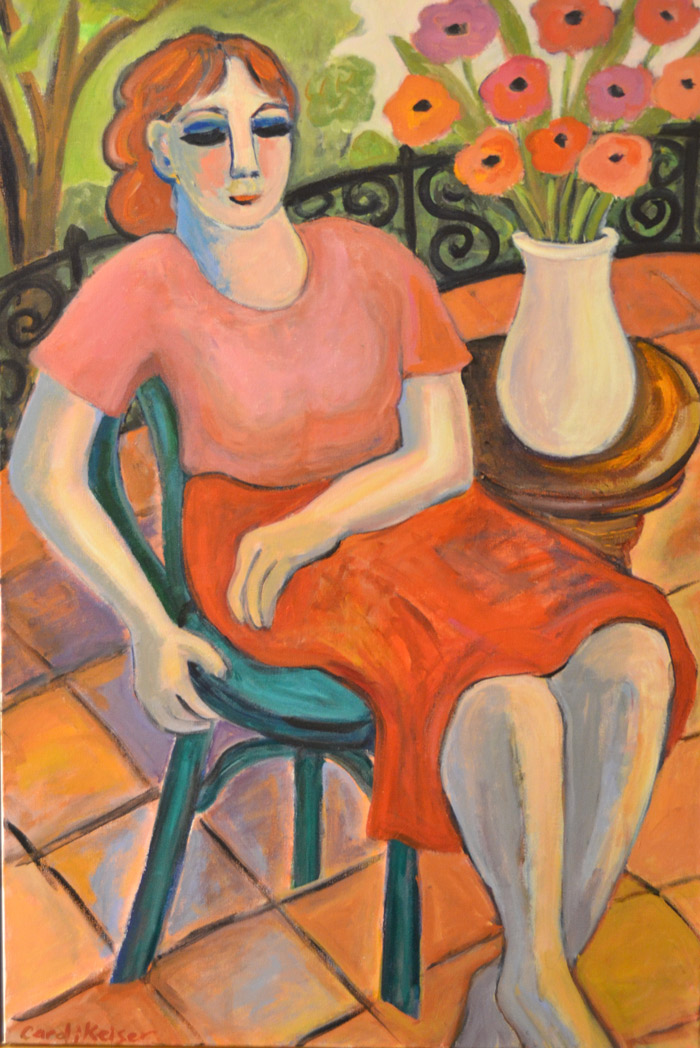 Putney-based artist Carol Keiser is a nationally known exhibiting artist who paints on both canvas and tile. She creates rich and colorful images that include scenes of women at leisure, romantic couples, flowers, still lifes and landscapes. Her work shows influences from having lived in Mexico and visiting other places, like Italy and Costa Rica. She has been a working artist for 40 years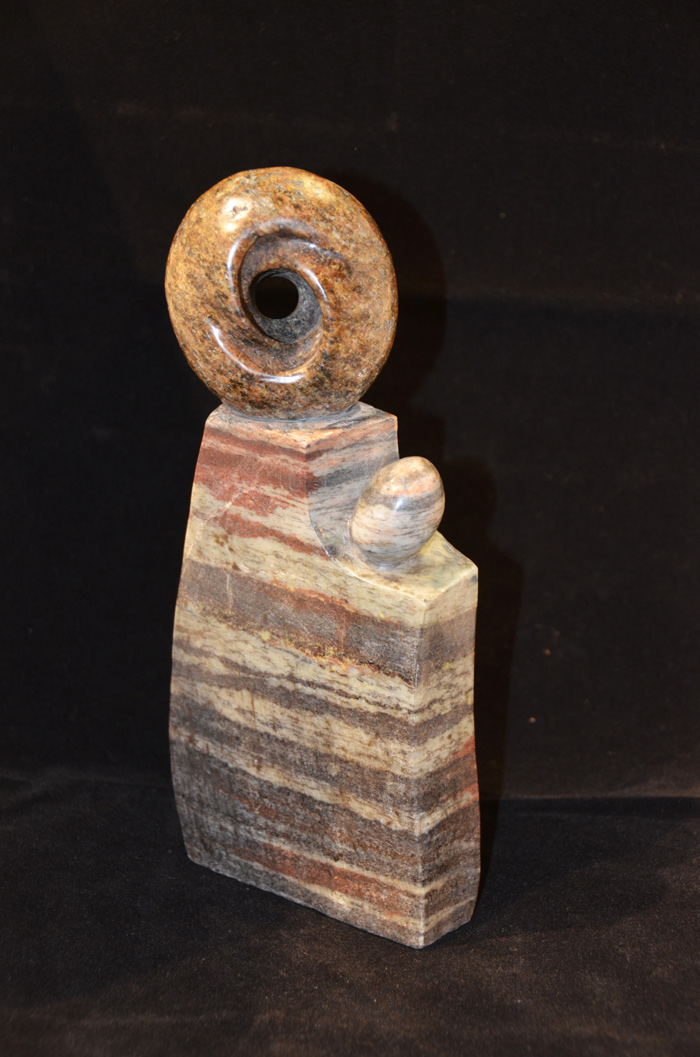 David Wade is a sculptor and artist whose passion allows him to look at a slab of marble, granite or wood and find interesting things hidden therein. His expertise allows him to free those objects and make them apparent to the rest of us.
(text adapted from the venue's press materials)
Images: (top to bottom)
Blue Man (detail) by Qinuo Wei, The Putney School (pottery)
painting by Carol Keiser
sculpture by David Wade
---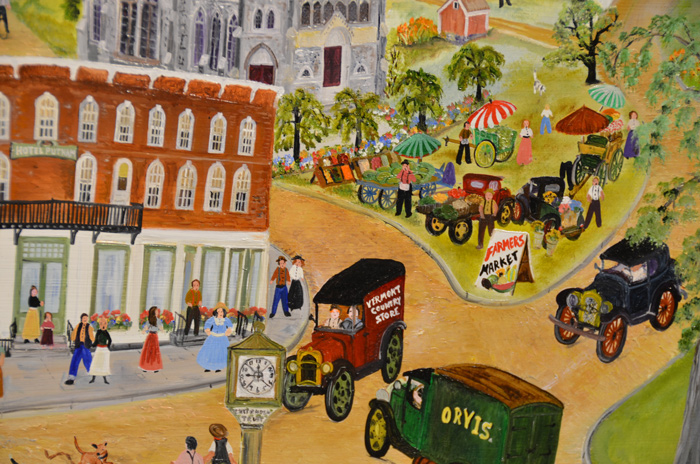 August 2017
August is a great time to visit Vermont Artisan Designs. This month, the gallery features the original work of Will Moses, Grandma Moses' great-grandson, along with his serigraphs, puzzles and books. It's unusual to see this many original paintings by Will and visitors have been captivated by their detail and whimsy.
Another artist with ties to folk art is Lisa Curry Mair, whose painting career has focused mainly on floor cloths. She is now doing paintings of New England including images of fox hunting and village life.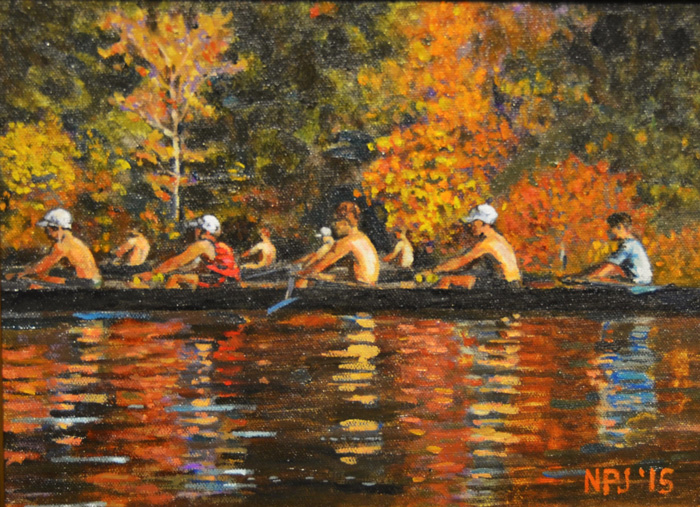 Nils Johnson, an attorney with a love for painting, has included landscapes and portraits in this show.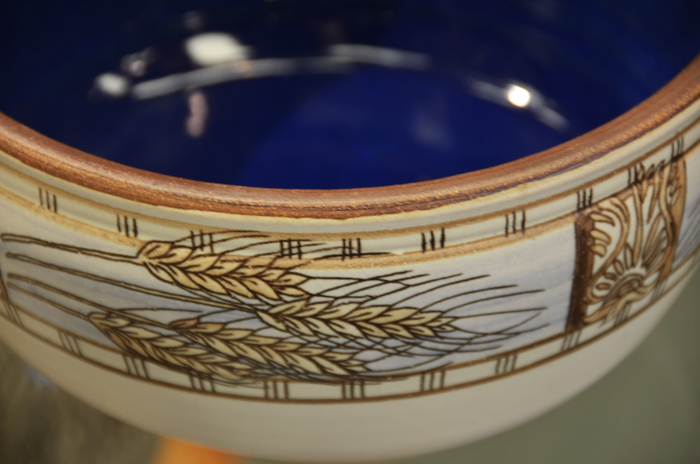 Kat O'Brien's hand-drawn images on mugs and bowls from the Hickory Ridge Pottery round out the featured work for August. As always, a visit to Vermont Artisan Designs on Main Street in Brattleboro will introduce you to the work of hundreds of local and regional artisans.
(text adapted from the venue's press materials)
Images: (top to bottom)
Shires of Vermont (detail) by Will Moses (oil on Masonite)
Village Meet (detail) by Lisa Curry Mair (oil on canvas)
Autumn Glide by Nils Johnson (oil on canvas)
illustrated bowl by Kat O'Brien, Hickory Ridge Pottery
---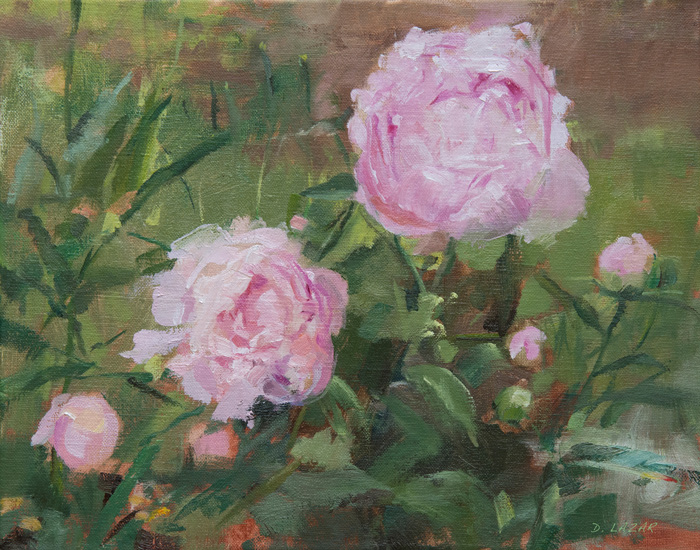 Deborah Lazar
July 2017
Deborah Lazar paints primarily in oils. She has called Vermont home for many years and is the featured artist at Vermont Artisan Designs in Brattleboro this July. Her subject matter ranges from landscapes to still life to portraits.
Deborah Lazar says about her work:
I work quite deliberately, although I never know at the beginning of a painting what it will look like when I am done. I do, however, set a few parameters to stay within. Drawing is crucial, I begin with a clear plan of how I will place my subject on the canvas. I decide at the beginning of each painting what the dominant colors will be, and all the other colors I use must relate to the colors I have decided will dominate. Everything that receives light becomes a source of light, with this in mind everything is a light source, to a greater or lesser degree. I block-in the entire painting with a wash of transparent paint before I put in any details. This provides many opportunities for happy accidents and grace to influence the finished product. The painting evolves like a photograph in a developing tray, as time goes by, gradually the image takes form.
Deborah Lazar lives and works in Putney. Learn more about her and her art at her website HERE.
(text adapted from the artist's press materials)
Image:
Pink Peonies by Deborah Lazar
---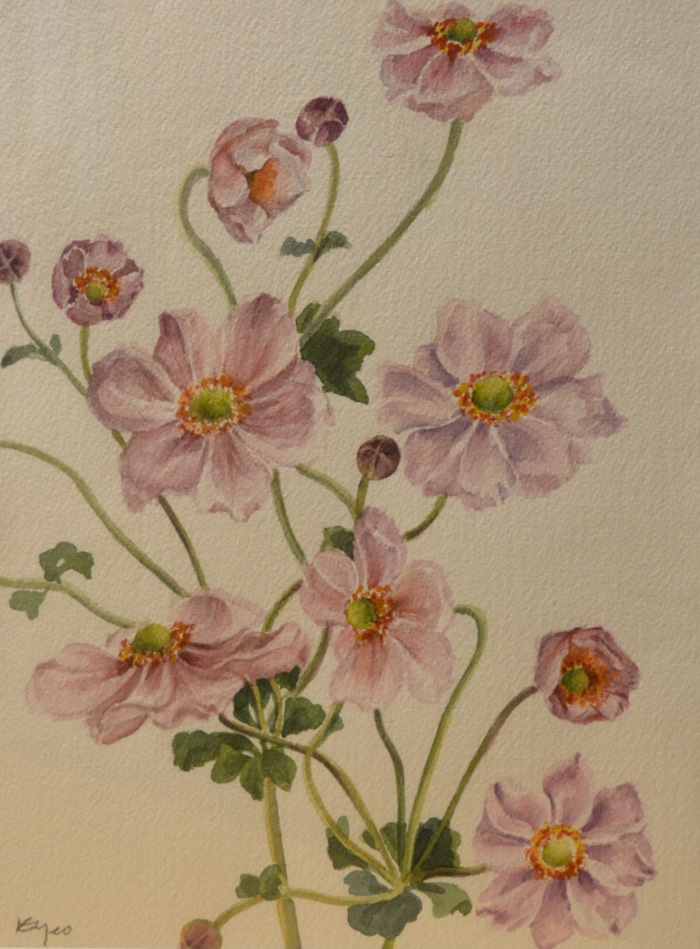 Kim Eng Yeo
June 2017
Master watercolorist Kim Eng Yeo is the featured artist at Vermont Artisan Designs in Brattleboro this June.
Kim Eng Yeo was born and raised in Singapore. Her interest and talent in art developed early. She began her aesthetic training at a local art academy, the Nanyang Academy of Fine Arts. Kim Eng completed her traditional schooling, graduating with a BSc. (Hons) from the University of Singapore and began work as a biochemist in a pathology lab.
During the 1980s, watercolor became Kim Eng's medium of choice. During this time she exhibited, judged competitions, served as a panelist for arts funding programs and gave workshops in drawing and painting. Kim Eng has worked as a textile designer and designed paper products. She has also been an artist-in-residence in New York City's School District 25 where she taught painting to children at P.S. 214 and P.S. 65.
Over the years, Kim Eng's work has been inspired primarily by two sources; her own gardens and others that she has seen during her travels with her family. She continually creates subject matter for her watercolors based on the gardens that she cultivates in her back yard in Flushing and at her home in Vermont.
Kim Eng was featured in Watercolor (Fall 1997), International Artist (August/September 2004) and Southern Vermont Arts & Living (Summer 2009). Her works have also been published as greeting cards by UNICEF (1997/1998) and C. George Caspari Inc., a greeting card publisher. Her paintings are in private and corporate collections, including Bear Stearns, Banker's Trust, American International Group, Ernst & Young, Credit Suisse Private Banking, Flushing Council on Culture & the Arts, Ministry of Foreign Affairs, Singapore.
Learn more about Kim Eng Yeo and about visiting her studio in Townshend HERE.
(text adapted from the artist's press materials)
Image:
watercolor by Kim Eng Yeo