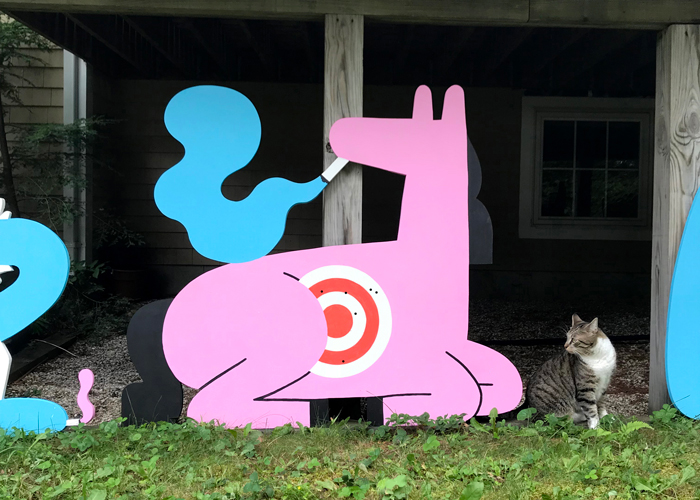 2019 VERMONT ARTIST TO WATCH
Jackson Tupper, Burlington
by Kelly Holt
The great thing about sitting down with artist Jackson Tupper is that he's the guy you can have coffee with and be inspired by his vision and never-tiring work ethic. At the same time, it's possible that he reminds you of a friend you might have grown up with—the one with the glass half full who makes you laugh, and reminds you that "just showing up" is what it's all about. He's the superhero whose powers lie in the "slow burn" of the characters, illustrations and designs developing over the years in his sketchbooks.
Jackson Tupper grew up in Kennebunk, Maine. His interests in both snowboarding and drawing as a kid put him on an exciting trajectory. The characters he is known for today grew from an early interest in book collections given to him by his parents, of Calvin & Hobbes by Bill Watterson and collections of Peanuts comics by Charles M. Schulz. These collections opened up the idea of vast opportunities to create his own worlds and characters, which came to life daily in the sketchbooks which have rarely left his side. During this time, Tupper also explored various comics, copying them at first, and changing their features ever so slightly, more and more, drawing after drawing. Showing his latest creations on the morning bus to school was his first experience in sharing his imagination with his contemporaries.
"Artists to Watch 2019" is a survey of contemporary Vermont artists that appeared as special feature in Vermont Art Guide #9 and in an exhibition at the Vermont Arts Council, January 7-February 28, 2019. ABOUT THE PROJECT | GET THE MAGAZINE

The University of Vermont was the only school Tupper applied to. UVM provided the perfect environment for making art surrounded by mountains and a strong skate/snowboarding culture. In his studio art classes, Tupper found Pablo Picasso to be a foundational influence. "I love his sense of color and attitude toward making. He was the master of evolving his own personal style, prolific in portraits of people, often distorted in many ways…that was something I could really relate to."
Another important influence was Nathaniel Russell and his "loose line drawings that have a lighthearted humor, always providing a chuckle or twisted pun." Tupper is still drawn to Russell's poet-like "fake posters" and "fake flyers", that he became familiar with when designing gig posters toward the end of his time at UVM. "There is a quality in these series in which Russell has the sophistication of a poet, yet leads the viewer to wonder about the reality/logistics of the work…like "meet here – pack a lunch"…who would know when that particular flyer was put up on the street?" In this way, Russell's public art harkens back to Jean-Michel Basquiat's poetic tags.
Tupper also studied Elliott Erwitt, a documentary photographer. Erwitt captures a sense of irony and the bizarre in his photographs, making the viewer linger and wonder. Tupper uses similar techniques in his own work to create a prolonged dialogue between the work and the viewer. "I love the idea of something keeping you at the piece, to give the viewer the feeling that something weird is going on, that there is some kind of story to tell. Through humor, irony and nature, I want my work to transcend face value. I love to try and pull a reaction out of people, confusion, laughter, and have the viewer ask that question."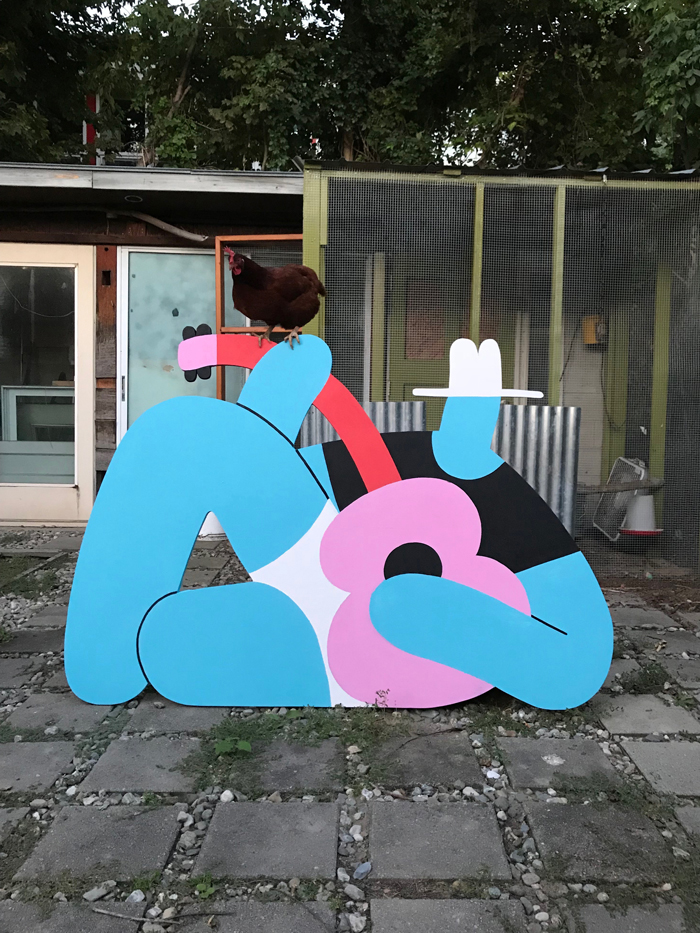 When asked about his choices in studio training, Tupper explained, "I did not choose a specific concentration in my studio art major. I took a bit of everything. While in college, I did a bunch of painting and photography and printmaking, eventually screen printing on top of photographs. By the time I finished my degree, I was starting to get shows around Burlington, and was already experimenting in the field of being a visual artist. The job of being an artist is something I feel confident in, as well as sharing my work with the public."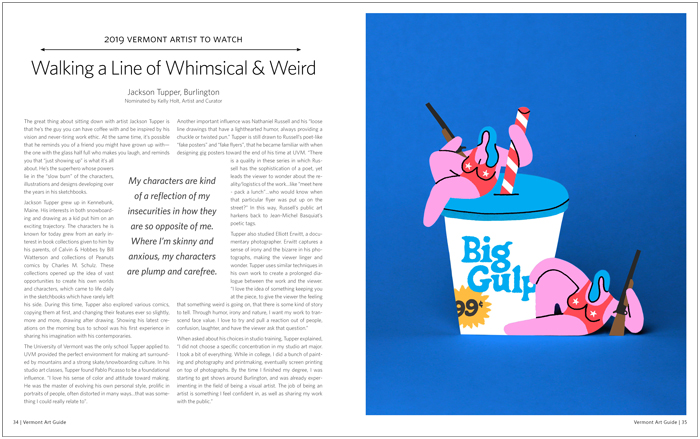 Tupper began his professional life as both a commercial artist and a fine artist, with a wide range of artmaking disciplines under his belt. He joined Burton Snowboards as a designer by day, and continued his screenprinting work at Iskra Print Collective by night. When asked if there is a struggle between being a commercial artist and a fine artist, Tupper said, "My work with Burton and my printmaking with Iskra are very separate. Sometimes it's a hard line to straddle. I would like my fine art to steer my career, and for opportunities for commercial work be secondary (or bonus). I do really enjoy the balance of the two."
When asked if he has a transformative piece that brought the work to where it is today, Tupper answered, "My 'Women with Socks' series…colorful ladies in primary colors. I began this work by taking classes at Iskra before I began one of the artists running the collective. This was the first time I ditched my older style of being OCD and precious. Creating these characters forced me to loosen up. I realized how refreshing this was. Colors crashing into each other, the registration is not perfect…the work is really being free. This was the birth of my most recent characters who are full of humor and fun."
My characters are kind of a reflection of my insecurities in how they are so opposite of me. Where I'm skinny and anxious, my characters are plump and carefree.
Iskra Print Collective in the Karma Bird House in Burlington provides an important outlet and studio outlet for Tupper to continue his work as a printmaker. Access to screen printing is often rare for practicing artists. Iskra is a non-profit, all volunteer operation. Tupper is one of ten people who run classes and work on commercial print jobs, including gig posters, creating zines, cultivating and registering studio memberships. "It's an agreed-up on mission. All ten of us pitch in to operate the space (founded originally by Michael Jager and JDK Design). Iskra provides a great benefit to the community of Burlington."
It's always interesting to get a glimpse of a studio day with an artist. For Tupper, the studio is often Iskra, but also manifests itself as any space for artmaking. His tools and inspirations float along with the artist. "I am always consuming visual art, movies and music for passion projects. I like to pull a sense of humor from things. For example, John Prine is a musician who inspires me. He has such smart, funny lyrics and a sense of irony. I find similarities in the way he tries to guide his process in songwriting. I am listening to music all of the time. It doesn't influence the work; it's a nice distraction to get in the zone." Music is a catalyst in his work with bands, artists, and designing gig posters. Tupper enjoys connecting his own art with someone else's music and style. Over the last few years, Tupper has worked on gig posters at great local venues like Arts Riot and the former Signal Kitchen.
Contemporary artists who influence Tupper's work today include Barry McGee and his documentary film Beautiful Losers, about graffiti artists and surf/skate culture. McGee's character-based work evolved over time. Another big influence is Geoff McFetridge, particularly how he prepares an exhibition with installation inside installation, ultimately building an altered reality. Said Tupper, "You can create your own space. I strive to do this in my own work. It's freeing to ditch the norms of traditional exhibition."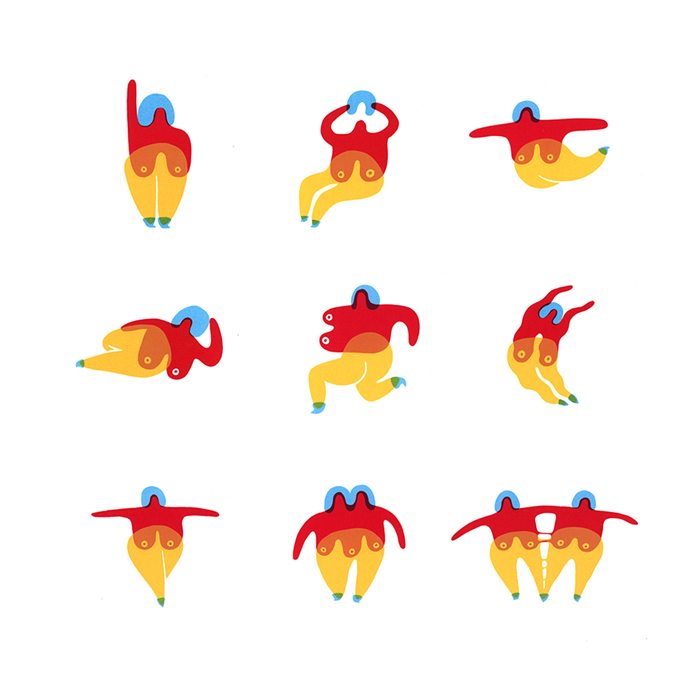 Jackson Tupper's characters developed over time and several different series. His characters capture that slow burn; the more you spend time with them, the more they reveal and grow. Tupper said, "They don't hit you over the head with what they are saying, or their vibe. It's a much more subtle touch. I use my most recent characters as a way to loosen up and not be precious with wine and detail. They don't take themselves too seriously. Their personalities develop the more I draw them. There is an irony in the twisted humor."
Currently, Tupper's painted wood cutouts revolve around mood through color and narrative. Intention behind the series was to create wonder, questions, making the viewer linger and think, "there's something more in there, but what? I want people to feel the setting."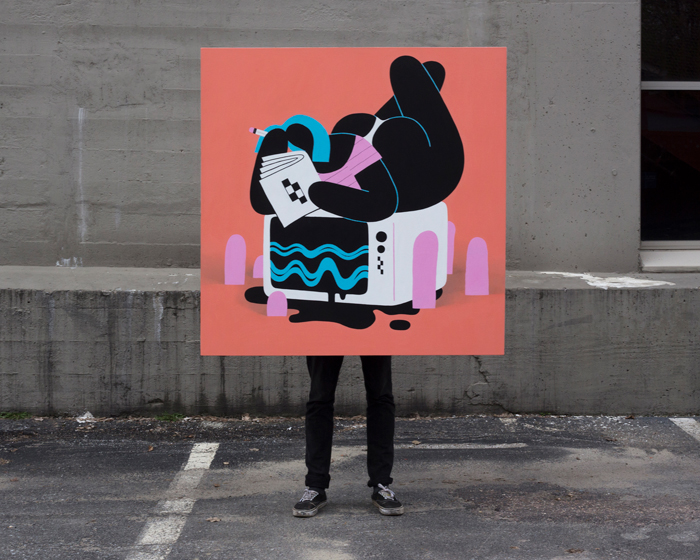 Tupper explained further, "My characters are kind of a reflection of my insecurities in how they are so opposite of me. Where I'm skinny and anxious, my characters are plump and carefree. While I'm plagued with insecurities about my own body, there's an easy going confidence in their body language. They're comfortable and confident in their own skin. In this way, art serves as the ability or outlet for people to change something, to invent their better selves."
Tupper's recent series of paintings, "M O O D S", created in 2018, speaks to a place of "Walking a line of whimsical and weird, 'M O O D S' is simultaneously sensual and discomforting. It is both natural and unnatural; comfortably uncomfortable."
When talking about where Jackson Tupper thinks his work is headed, we traced back to another inspiration in his practice, Sister Corita Kent. In her "Immaculate Heart College Art Department Rules", number seven rings true for him. "The only rule is work. If you work, it will lead to something. It's the people who do all of the work all the time who eventually catch on to things." Tupper continued, "This is what I focus on today, simply the process of making. Guessing an outcome is a barrier to the process of simply creating. The one thing I have confidence in is that my art practice and work will evolve."
Ultimately, Tupper would like to see his art steer into opportunities for freelance projects. He also hopes to find more opportunities to participate in public art projects and gallery exhibitions. Keep one eye open, Jackson Tupper is just getting started.
This Artist to Watch 2019 is a special feature in Vermont Art Guide #9. Vermont Art Guide is a full color, quarterly, printed magazine about contemporary art in Vermont. Our goal is to connect the entire state's art community by sharing information about exhibitions and events; present a picture of Vermont art and art in Vermont, to tell our story; and to build an audience for Vermont art inside the state and out. We hope you will join us and SUBSCRIBE TODAY.
About the Artist
Originally from Kennebunk, Maine, Jackson Tupper is graphic designer at Burton Snowboards in Burlington. He holds a BA in studio art from the University of Vermont. He is a member of Burlington's Iskra Print Collective, where he is a screenprinter and teaching assistant. Among his current projects is a recently completed mural at Burton Snowboards. See more of Tupper's work at www.jacksontupper.com.
About the Curator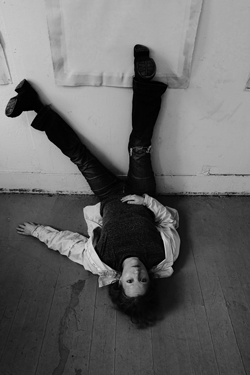 Kelly Holt
Artist & Independent Curator
"Artists who can pull together visual content that tells a story, engages an audience, evokes a reaction. Artists who are willing to take risks and not worry about ruining a few pieces along the way for the sake of making something transformative or fresh/innovative." Kelly Holt is an artist and independent curator based in Stowe working in the U.S. and Germany. She is the Creative Director and Curator for Edgewater Gallery in Stowe and Curator at Spruce Peak Arts in Stowe. For more information, visit www.kellyholtart.com.