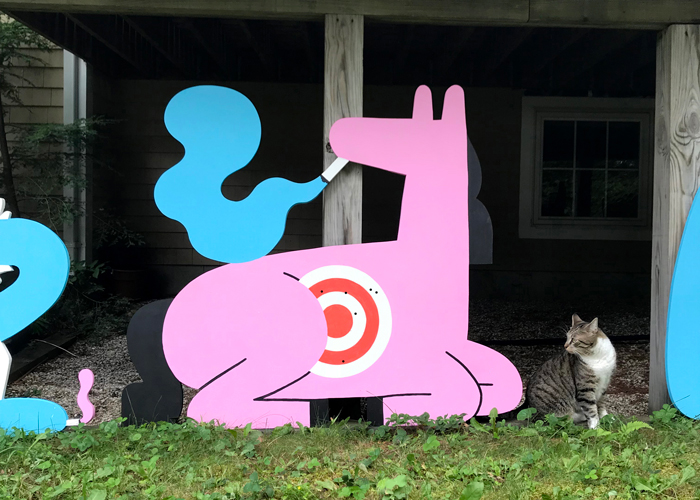 FROM VERMONT ART GUIDE #9
2019 Vermont Artist To Watch
Jackson Tupper, Burlington
Nominated by Kelly Holt, Artist and Curator
"The great thing about sitting down with artist Jackson Tupper is that he's the guy you can have coffee with and be inspired by his vision and never-tiring work ethic," writes Kelly Holt in Vermont Art Guide #9. "At the same time, it's possible that he reminds you of a friend you might have grown up with—the one with the glass half full who makes you laugh, and reminds you that 'just showing up' is what it's all about. He's the superhero whose powers lie in the 'slow burn' of the characters, illustrations and designs developing over the years in his sketchbooks."
Tupper is one of ten Vermont Artists To Watch. His large acrylic on plywood painting is on the cover of the issue. You can read Kelly Holt's full article about him in the print magazine.
"Vermont Artists to Watch" is a survey of contemporary Vermont artists that appears as special features in Vermont Art Guide #9 and in an exhibition at the Vermont Arts Council through February 28th, 2019.
ABOUT ARTISTS TO WATCH | GET THE MAGAZINE | EXHIBITION DETAILS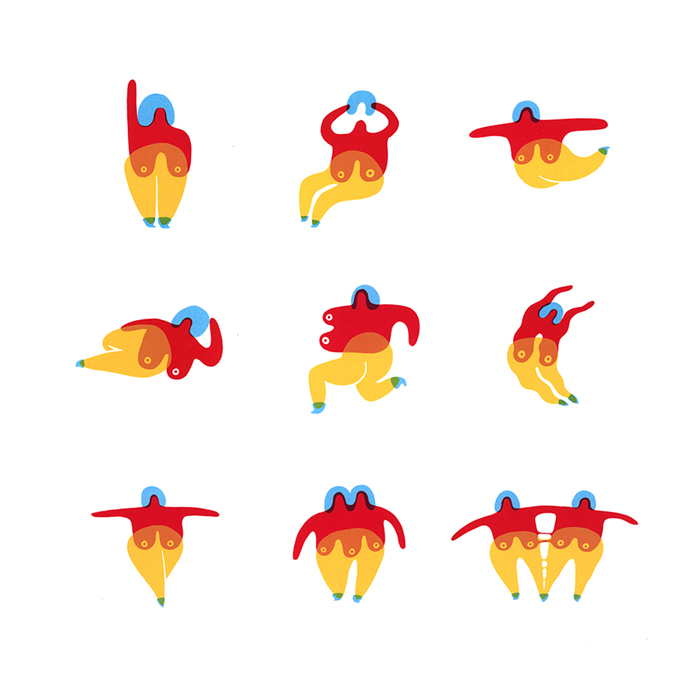 My characters are kind of a reflection of my insecurities in how they are so opposite of me. Where I'm skinny and anxious, my characters are plump and carefree.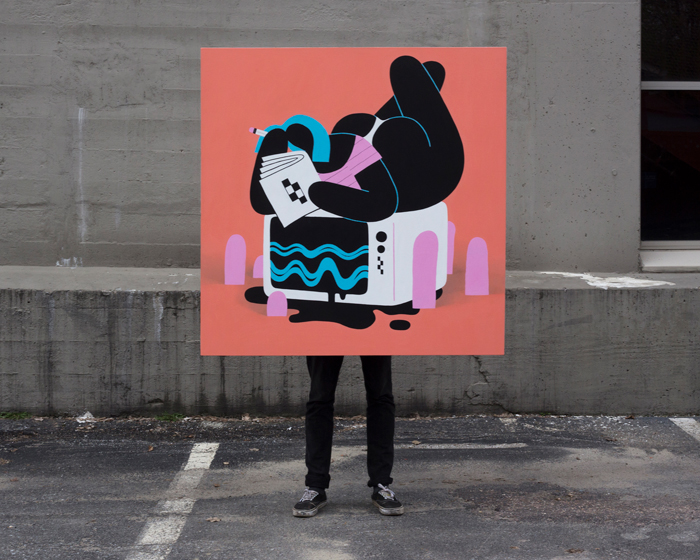 Originally from Kennebunk, Maine, Jackson Tupper is graphic designer at Burton Snowboards in Burlington. He holds a BA in studio art from the University of Vermont. He is a member of Burlington's Iskra Print Collective, where he is a screenprinter and teaching assistant. Among his current projects is a recently completed mural at Burton Snowboards. Tupper is also one of the artists on view in Elevation 4393′ at Spruce Peak Center for the Performing Arts through March 31, 2019. See more of Tupper's work on his website.
Each issue of Vermont Art Guide has over a hundred places to see art around the state. The full-color, printed magazine has artist and venue profiles as well as articles and news about Vermont Art. Our goal is to document and share the state's incredible art scene. SUBSCRIBE TODAY