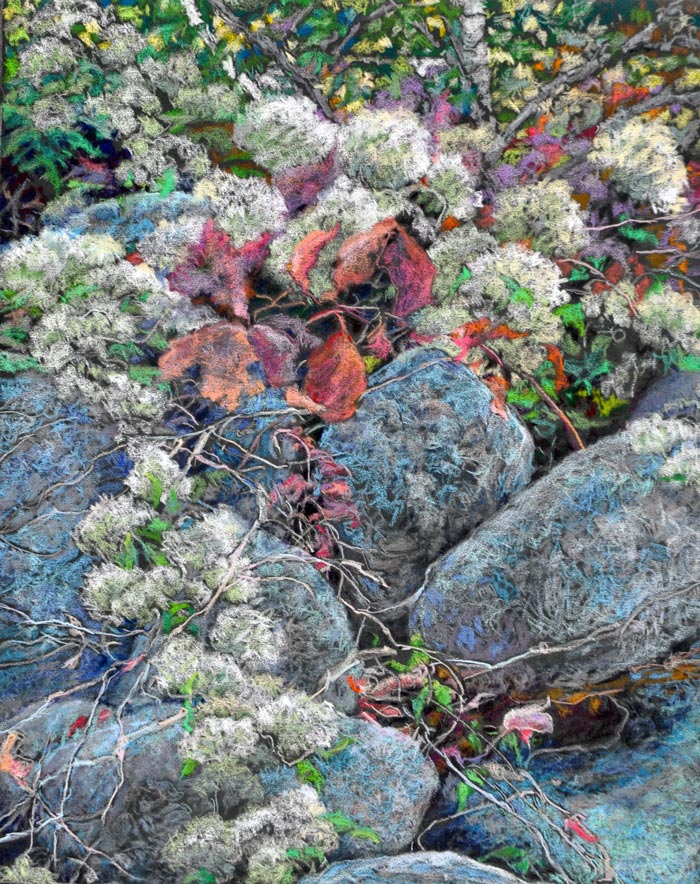 ART ON VIEW
"What Did the Rock Say? Part 1":
Diane Shullenberger & John Snell
at Emile A. Gruppe Gallery in Jericho
February 22-March 18, 2018
Artist Reception: Sunday, March 4, 2-4PM
Many of us who live in Vermont love being close to the natural world–mountains, rivers, woods and rocks. Nature inspires us as people and as artists. In all kinds of weather, through all the seasons, we are sustained by the landscape of this amazing Green Mountain state.
"What Did the Rock Say?" is a project that Dianne Shullenberger envisioned as a way to encourage young artists to be as inspired by the great out-of-doors as she is–by taking them on hikes to some of her favorite places. She realized that many of these hikes led her to rocks where, like muses, they had a good deal to say. When she shared the idea with her friends John Snell, also an avid hiker and a photographer, and poet Zoe Fowler, they quickly saw the power of the idea and hiked together several times to hear what these rocks had to say.
Part of the magic of living in Vermont is to be among and around rocks–from the bare bedrock top of Camel's Hump, to the riverbeds shaped by boulders the size of cars; from the granite quarries to the ancient stone fences now wandering through second-growth forests. We drive through magnificent road cuts and jump from rock ledges into cool summer waters. Rocks are part of our lives every day. They speak to us everyday when we listen.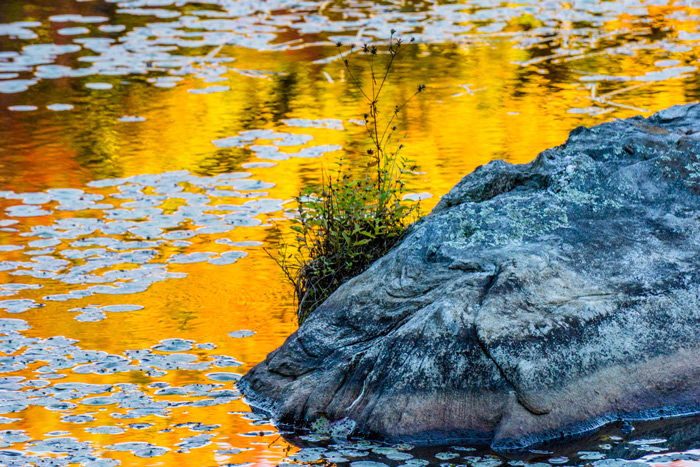 What did the rocks say? They told us to get the young artists and writers outside, hiking, seeing, exploring, laughing and being inspired! Next, we heard we should guide them so they find their own ways of seeing and listening, and then to find their voices so we can all better hear what they hear the rocks saying. And then, importantly, we need to find ways for these young artists to share what to rocks have said to them because the art they've learned about truly exists only when it is shared.
Not every hike leads to the top of the mountain, so to speak. And due to several unforeseen events our plans for "What Did the Rock Say?" fell short of our dreams when the reality of taking a dozen hikes with students throughout the year ended up being a single hike. But that one hike was an inspiration to us—these kids are amazing–and it was also a validation of the basic premise of the project: get these kids outside and they are not only inspired, but also inspiring!
We learned enough that we now are revising plans to try again, and this show is the next step up that hill to listen to what the rocks are saying.
(adapted from the gallery's press materials)
---
INFORMATION
Emile A. Gruppe Gallery
22 Barber Farm Road
Jericho, Vermont 05465
(802) 899-3211
Hours:
Thursday-Sunday, 10AM-3PM
and by appointment
Image (top):
Don's Rock Wall
by Dianne Shullenberger
colored pencil
Image (centre):
Rock & Reflections
by John Snell
photography