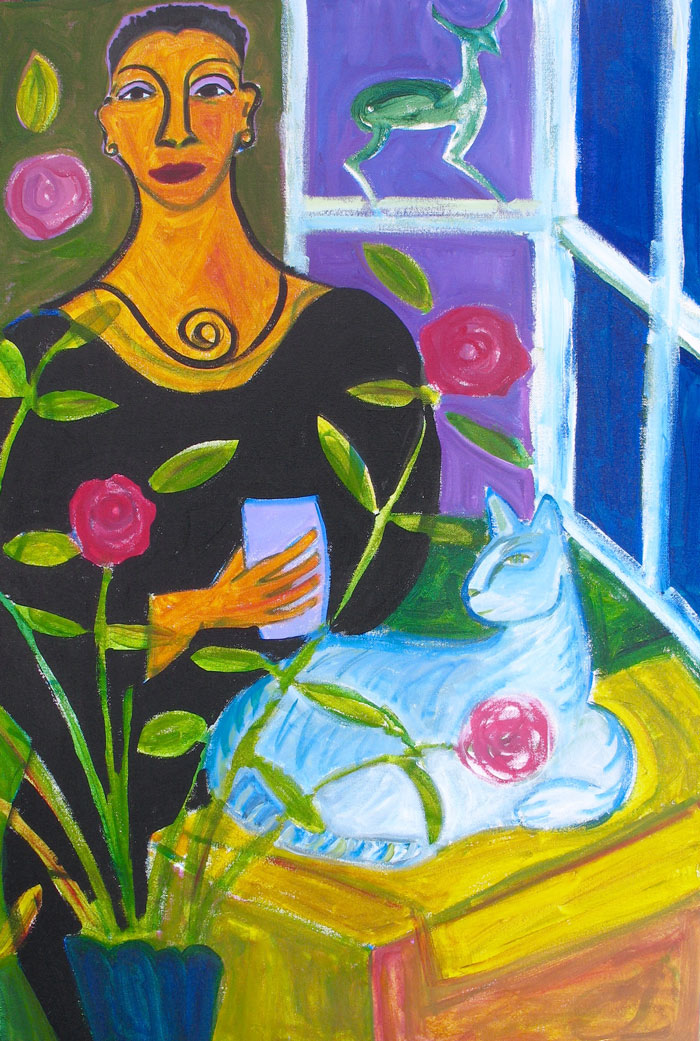 Women, Beasts and Dreams
March 9-May 9, 2017
"Women, Beasts and Dreams" is an exhibition of acrylic paintings by Carolyn Mecklosky in The Common Space Gallery.
Mecklosky's recent work portrays a personal and evolving mythology. Through her use of vibrant, uncomplicated color, she allows space within the work for a flowing dreamscape of imagery. For Mecklosky, the practice of painting develops a creative spirit which can take the form of healing and meditation. "I work from memory, photos and sketching and allow myself to play and discover new images as each painting develops. Recently, I've wanted to explore painting people I know or see…as way of honoring those of us here: neighbors, friends and strangers. For years, I painted and drew from dreams as a need to create a personal mythology. I still welcome these images and return to them as a form of support and encouragement."
Carolyn Mecklosky has been teaching art since 1982, teaching art related workshops, assisting in the creation of murals and paintings in public spaces and is currently part of a team teaching community arts at Johnson State College. Some of her recent exhibitions include Copley Terrace in Stowe, Cambridge Health Center and the Dibden Gallery in Johnson. The artist lives in Waterville.
(text adapted from the venue's press materials)
---
INFORMATION
The Gallery at River Arts
74 Pleasant Street
Morrisville, Vermont 05661
(802) 888-1261
Hours:
Monday-Thursday, 9AM-4PM
Friday, 9AM-2PM
Image:
Woman with Green Deer & Winter Flowers
by Carolyn Mecklosky
36″x24″
acrylic
2017