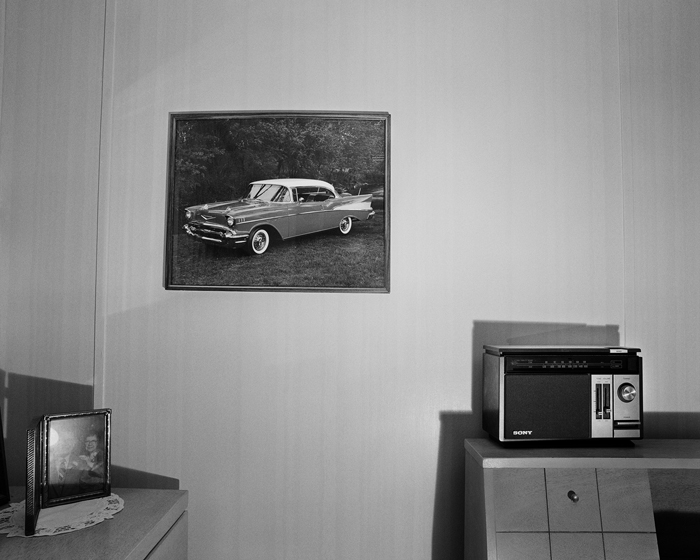 2019 VERMONT ARTIST TO WATCH
Andrew Frost, Burlington
A man in military camouflage stands against a weather-worn wood barn; headlights shine on a stand of brush by the side of a snow covered road; an old camper looks forgotten in a field as clotheslines crisscross the photograph. Andrew Frost documents people and places in compelling sets of black-and-white photographs that reveal the eye of an explorer, the mind of a storyteller, and the heart of someone yearning for a sense of place.
"Artists to Watch 2019" is a survey of contemporary Vermont artists that appeared as special feature in Vermont Art Guide #9 and in an exhibition at the Vermont Arts Council, January 7-February 28, 2019. ABOUT THE PROJECT | GET THE MAGAZINE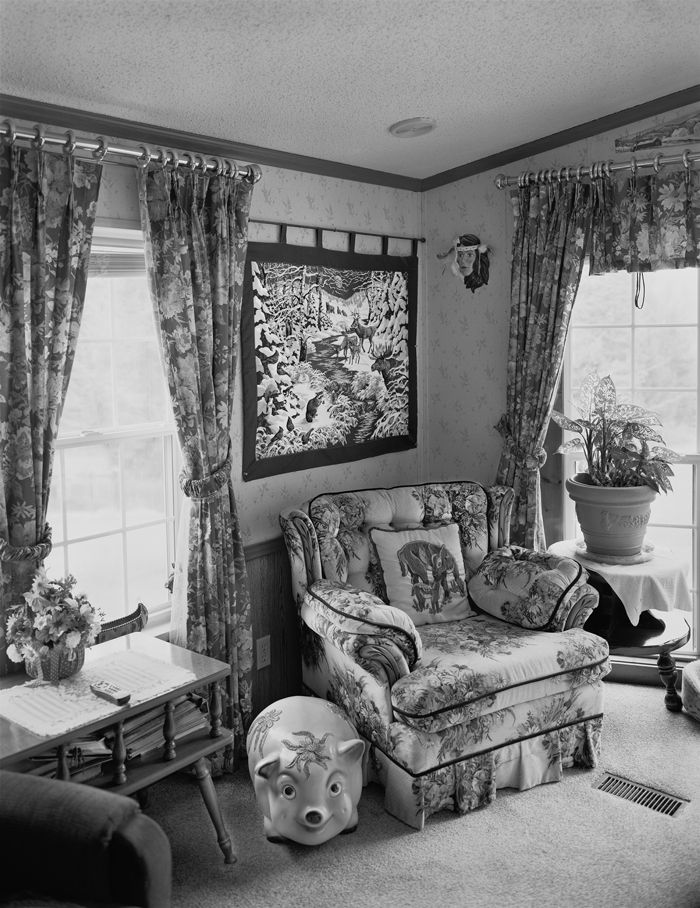 "For my entire life, Vermont has held a mythic status in my mind," writes Frost. "My family has lived here since 1786, basically in the same town. In the late '70s my dad left and joined the Navy. I'm a flatlander with roots going back to the republic. This strange relationship with place is at the center of most of my work. Here I am in this place that I'm deeply connected to, yet simultaneously it's all completely foreign."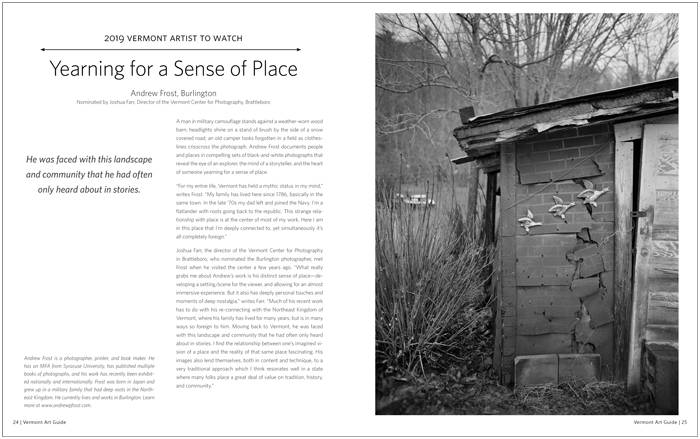 He was faced with this landscape and community that he had often only heard about in stories.
Joshua Farr, the director of the Vermont Center for Photography in Brattleboro, who nominated the Burlington photographer, met Frost when he visited the center a few years ago. "What really grabs me about Andrew's work is his distinct sense of place—developing a setting/scene for the viewer, and allowing for an almost immersive experience. But it also has deeply personal touches and moments of deep nostalgia," writes Farr. "Much of his recent work has to do with his re-connecting with the Northeast Kingdom of Vermont, where his family has lived for many years, but is in many ways so foreign to him. Moving back to Vermont, he was faced with this landscape and community that he had often only heard about in stories. I find the relationship between one's imagined vision of a place and the reality of that same place fascinating. His images also lend themselves, both in content and technique, to a very traditional approach which I think resonates well in a state where many folks place a great deal of value on tradition, history, and community."
This Artist to Watch 2019 is a special feature in Vermont Art Guide #9. Vermont Art Guide is a full color, quarterly, printed magazine about contemporary art in Vermont. Our goal is to connect the entire state's art community by sharing information about exhibitions and events; present a picture of Vermont art and art in Vermont, to tell our story; and to build an audience for Vermont art inside the state and out. We hope you will join us and SUBSCRIBE TODAY.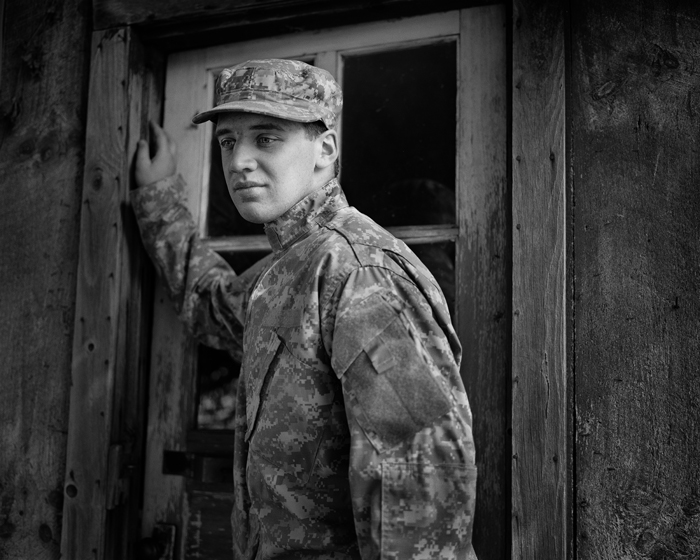 About the Artist
Andrew Frost is a photographer, printer, and book maker. He has an MFA from Syracuse University, has published multiple books of photographs, and his work has recently been exhibited nationally and internationally. Frost was born in Japan and grew up in a military family that had deep roots in the Northeast Kingdom. He currently lives and works in Burlington. Learn more at www.andrewpfrost.com.
About the Curator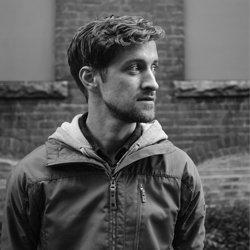 Joshua Farr
Vermont Center for Photography, Executive Director
"Personally, a light clicks on for me, curatorially, when I can sense that the individual fully stands behind their work and their passion and reasons for creating this work are clearly evident…My goal is to stimulate dialogue. Communication is at the heart of who we are as humans, and art can often act as a catalyst for communication." The Vermont Center for Photography in Brattleboro promotes the photographic arts with monthly exhibitions, workshops, exhibiting artist talks, and portfolio critiques. Find out more at www.vcphoto.org.
Images (top to bottom) by Andrew Frost.