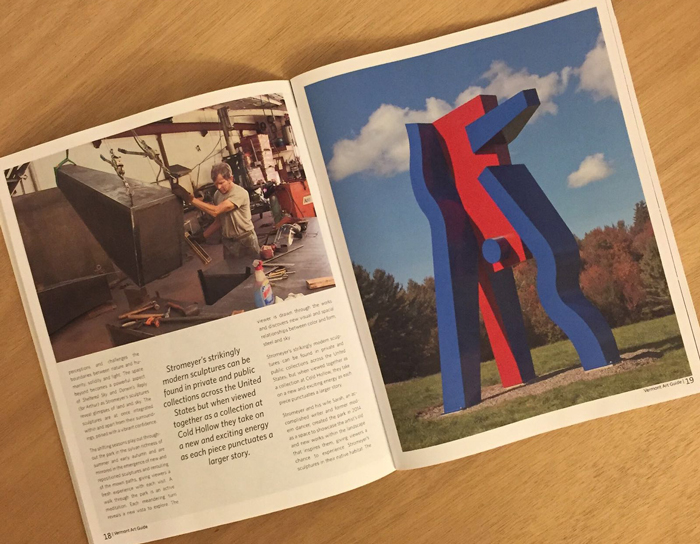 Where did Vermont Art Guide come from?
by Ric Kasini Kadour
In 2005, Chris Byrne and I wrote a book called Vermont Art Guide, a 200-page collection of all the places to see art. The introduction began, "As most of us have done at one time or another, we found ourselves standing in a bookstore looking for a book that didn't exist. It was one of those, Wouldn't It Be Great If, moments. Specifically, Ric wanted a book that listed all the places to see art in Vermont. As the Vermont Editor of Art New England at the time, Ric criss-crossed the state looking at art every month or two in order to decide for which exhibitions he would recommend a review in the magazine. Recently, Ric found himself going back to the same venues over and over, finding worthwhile exhibitions, but unable to resist the nagging suspicion he was missing something. Not finding such a book on the shelves, Ric inquired with a member of the store staff. 'What a great idea,' she said, declaring that she was the local book buyer and that she thought such a book should exist. Driving home her point, she added, 'You should write it.' At the time, we laughed off the suggestion." And then we didn't.
The book led us to making Art Map Burlington, now in its 11th year, of publishing articles and places to see art in the Greater Burlington area each month, over 120 issues. In those years, we also did a number of other things: turned a collection of vacant retail spaces in downtown Winooski into an instant gallery district for two summers and two holiday seasons; opened and closed art galleries in Burlington and Montreal; started and handed off a monthly art subscription that got international media attention; created a greeting card company and an on-demand printshop that makes artist catalogs; toured Instant Artshop around the country, bringing contemporary art to Amish Farmers Markets and other out of the way locales; and we launched an internationally-oriented magazine on contemporary collage, Kolaj Magazine, that we continue to publish.
Throughout all this, in the back of my mind, I kept coming back to the idea of producing Vermont Art Guide as a quarterly, printed magazine. Through the years, we took steps towards launching the magazine. Other projects got in the way or the moment simply didn't feel right. Last Fall, it began to feel like the time was right. For the past six months, we have been working to bring this magazine into the world. I am happy to announce it is ready.
There is just one last ingredient: You.