In each issue of Vermont Art Guide, we offer a selection of art that we think would make a worthy addition to anyone's collection of art. Sometime, we recommend a piece because the artist has made a name of themselves and in doing so, made a significant contribution to the history of Vermont art. Other times, we recommend a work of art because we think it is brilliant or beautiful. The publication has absolutely no stake in the sale of these works. We simply think you should buy art and enjoy it.
CLICK TO ORDER A COPY OR SUBSCRIBE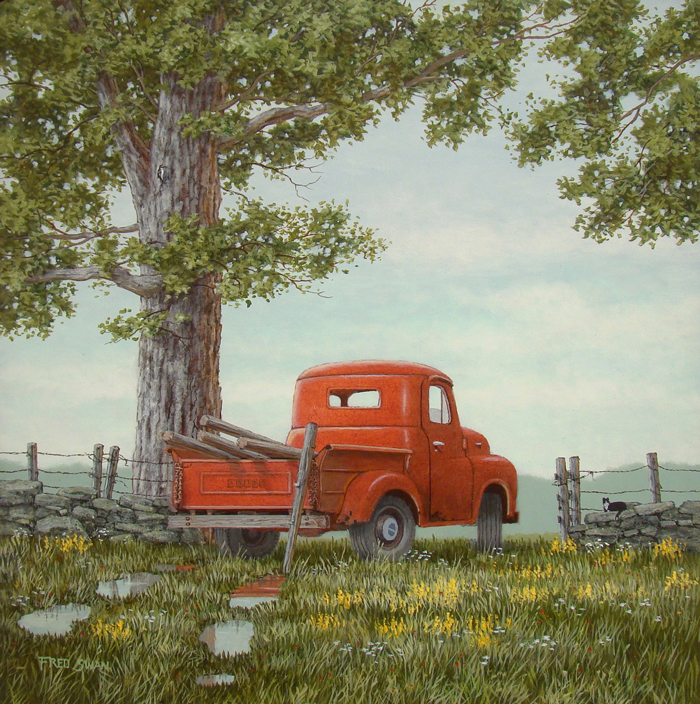 Fence Post by Fred Swan
at Robert Paul Galleries in Stowe
For an artist who has been painting Vermont for over fifty years, whose work is in private and corporate collections around the world, Fred Swan gets little attention in his home state. This self-taught artist makes realistic, meticulously detailed paintings that convey a sense of warmth and nostalgia. An antique red truck delivers posts across a muddy Spring field. A giant maple towers over the scene. What sells us on this painting is the black and white cat resting on the old stone wall. The original 13" x 13" acrylic-on-panel is available at Robert Paul Galleries in Stowe. The price is $2600.
---
To see what other items we feature in COLLECT THIS! and other news about art in Vermont, purchase Vermont Art Guide #1 or SUBSCRIBE to never miss an issue.
If you wish to be considered for a COLLECT THIS! feature, send an email with artwork for sale, an image, and a price.