Founded in 1895, the Gallery houses a large permanent collection and is the repository of Vermont's portion of the Federal Works Progress Administration projects. The Gallery is committed to bring the best of today's art to Central Vermont, with changing exhibits of contemporary Vermont artists work.
T. W. Wood Gallery
Center for Arts and Learning
46 Barre Street
Montpelier 05602
(802) 262-6035
Hours:
Tuesday-Saturday, Noon-4PM
and by appointment
During December 2018, also open Friday, Noon-8PM
---
ART ON VIEW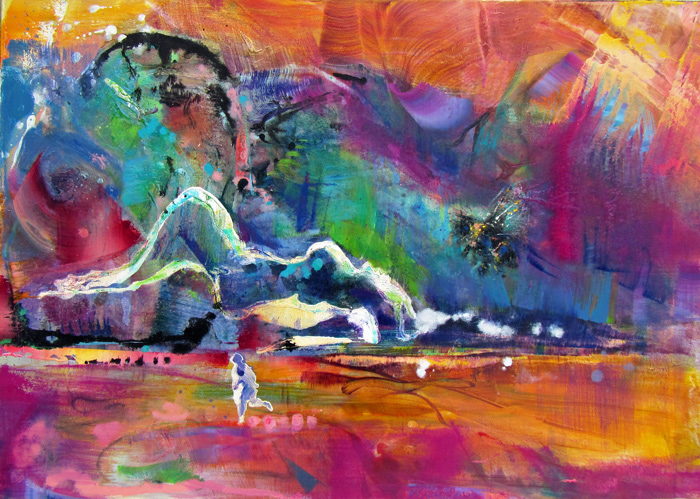 Awakenings: Kate Longmaid & Tom Merwin
April 30-June 28, 2019
Tom Merwin was initially influenced by the Hudson River School and abstract expressionists and then made a link to a continued love of Chinese and Japanese painting. His painting process expresses a layering of symbol and spirituality, using nature as a doorway to the expression of existential concerns. Traveling the trails through the Kittatiny, Catskill and Green Mountains have been a continued influence and resource for Merwin. Exploring the waterfalls and sketching them on site with sumi ink and rice paper, or recreating the strata of a mountain or cliff face using layering of media, allows him to use the images as notes or tones and leave their literal meaning behind.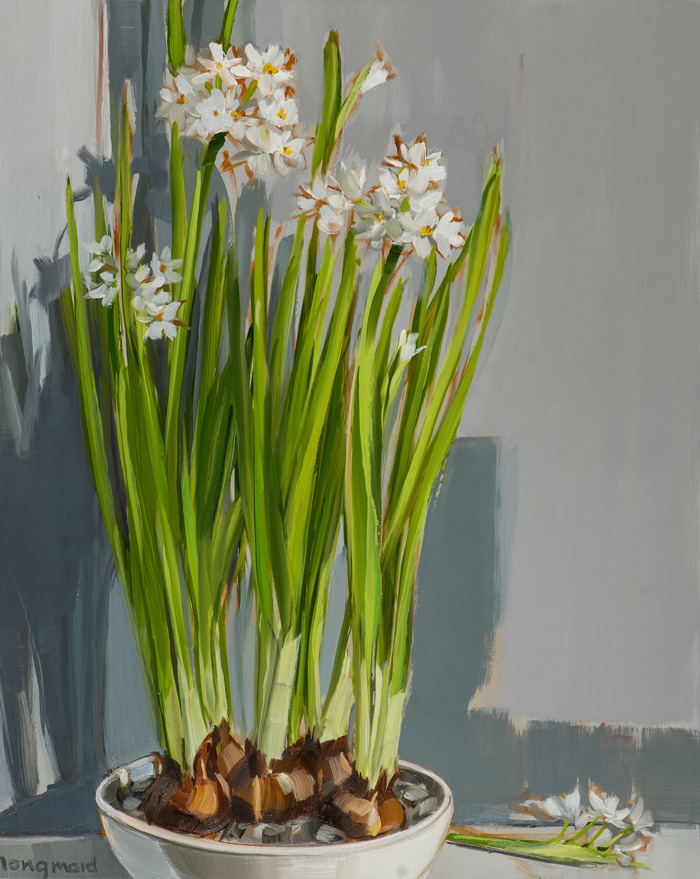 Shelburne artist Kate Longmaid presents work from her "Flower Series", about which, she says, "In Vermont, we eagerly anticipate the arrival of spring, marked by a progression of flowers, from snowdrops to daffodils to peonies. Surrounded by beauty in the garden or walking in the woods, we reconnect with nature and, in the process, come home to ourselves. Flowers beckon us to embrace the moment, to celebrate the beauty around us, to come into bloom."
(text adapted from the venue's press materials)
images: (top to bottom):
Ridge Runner, Morning Mist by Tom Merwin (24″x36″; oil on canvas)
Paperwhites by Kate Longmaid (20″x16″; oil on wood panel)
---
PREVIOUS EXHIBITIONS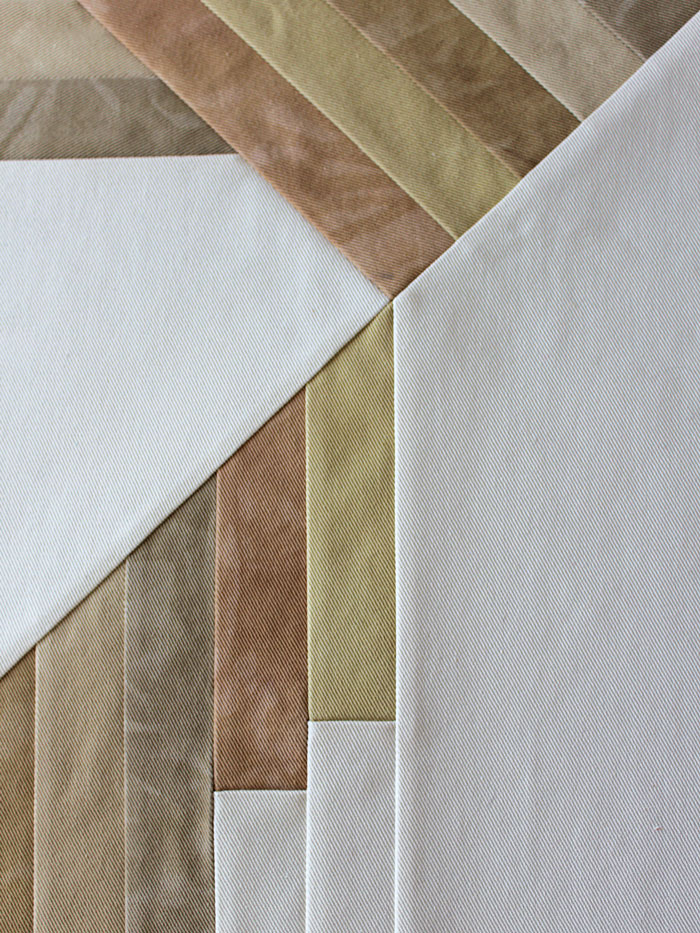 Close to the Cloth: A Textile Exhibit
February 16-March 29, 2019
Opening reception: Thursday, March 7, 5-7PM
"Close to the Cloth" is a textile exhibit featuring the work of Barbara Bendix, Karen Henderson, Stephanie Krauss, Skye Livingston, Kate Ruddle and Neysa Russo. The Gallery has assembled a varied group of Vermont fiber artists that showcase a range of techniques and sensibilities toward textiles. The work ranges from pieces seated firmly in traditional craft to conceptual work that uses fiber as a vehicle, and work that straddles the divide.
(text provided by the venue)
image: untitled by Skye Livingston (cotton denim, natural dyes, muslin, thread)
---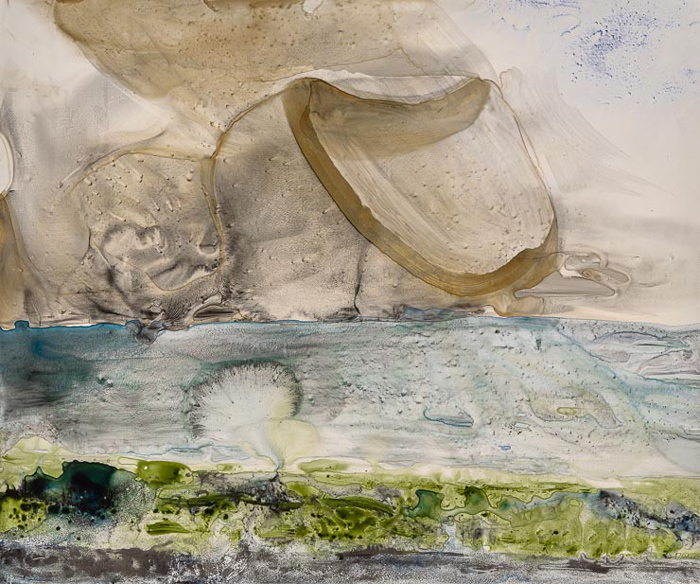 Contemporary Landscapes by Elizabeth Nelson & Mary McKay Lower
October 30, 2018-January 4, 2019
After graduating from Rhode Island School of Design and receiving a master's degree at the University of North Carolina at Chapel Hill, Elizabeth Nelson moved to northern Vermont where she has lived and worked ever since as a teacher, dairy farmer, museum curator and painter.
She has exhibited throughout Vermont and New England as well as in juried shows in Wisconsin, New York, Kentucky and Pennsylvania. Her work was featured prominently in the "Art of Vermont" exhibit which toured state-wide, and in two "Of Land and Local" exhibits in Burlington, and is in many private collections.
Originally from Louisiana, Mary McKay Lower paints landscapes, figures, and still lives. Underneath it all, she is an abstract painter. She enjoys working outdoors, but more happens in the studio. She is always collecting visual information and strives to retain the freshness of her original response, no matter how long she works on a painting. She lives and works in Middlebury.
(text provided by the artist)
image:
Sand Storm by Elizabeth Nelson
20″x24″; acrylic
---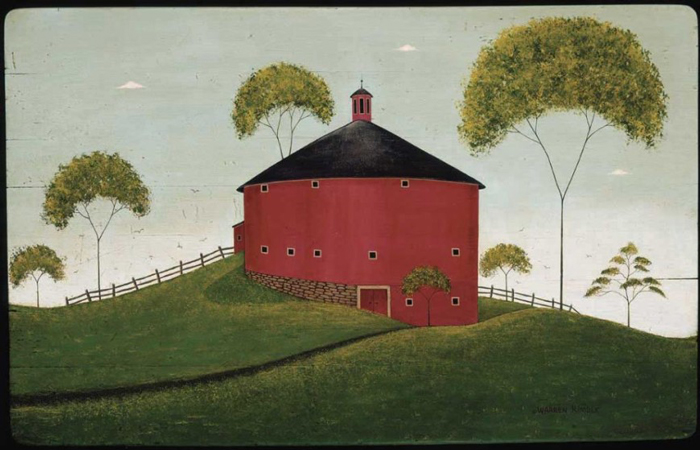 Warren Kimble: An Artist's Journey
September 4-October 26, 2018
"An Artist's Journey" draws on more than 50 years of Brandon artist Warren Kimble's experience as a fine artist, educator and antiques collector.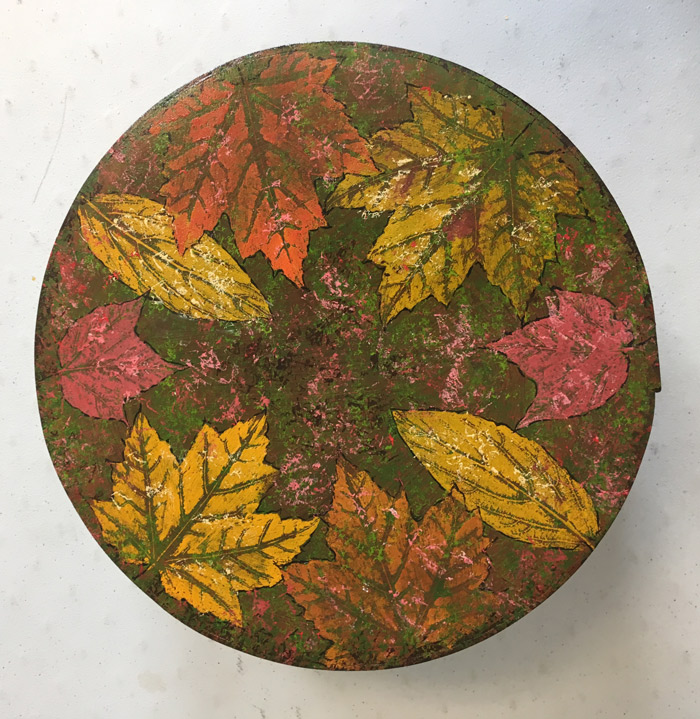 Warren Kimble holds a BFA from Syracuse University. After an early career in advertising, he taught in public schools and later joined the art faculty at Castleton State College. His work has been profiled in Yankee Magazine, The Boston Globe, Vermont PBS, and many other media outlets. In 2002, he received the highest alumni honor from Syracuse University, the George Arents Pioneer Medal. He is also the recipient of an honorary Doctor of Fine Arts degree from Green Mountain College in Poultney. Kimble's paintings are collected worldwide and have been the subject of one-person shows in galleries in New York and Boston, as well as at Syracuse University and a three-year exhibition at Shelburne Museum.
Image: (top)
Shelburne Barn
by Warren Kimble
Image: (center)
Lazy Susan: Fall Leaves
by Warren Kimble
---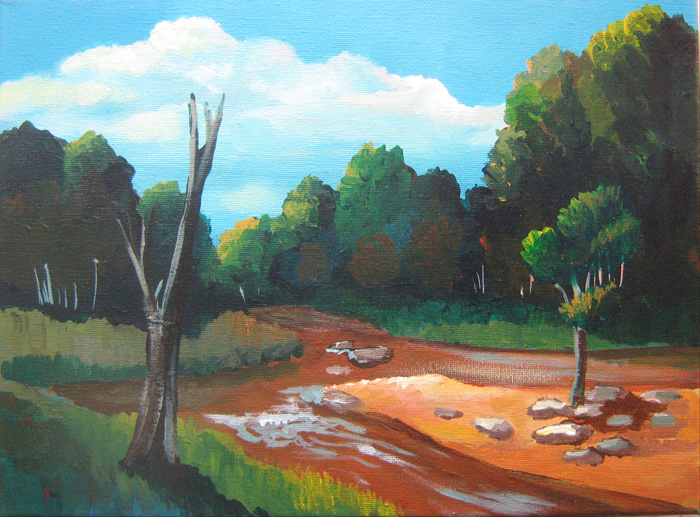 Northern Vermont Artist Association
September 4-October 26, 2018
The Northern Vermont Artist Association was founded by a group of artists led by Harold Knight, in Burlington, in 1931. Their first show was held at Ethan Allen Club, and among their first members was the renowned artist, Maxfield Parish.
For the first forty years the annual NVAA Juried Show was held at the new Robert Hull Fleming Museum on the University of Vermont Campus. The membership roster in those early years featured the names of nearly every important artist then working in Northern Vermont, including Francis Colburn, Georgia Balch, Ruth Mould, Stan Mack Wright, and Roy Kennedy.
Eighty-seven years later, the members of the Northern Vermont Artist Association present their work in group shows across northern Vermont, at venues like the Contemporary Hallway at T.W. Wood Gallery.
To learn more about the organization, to join, and to see a schedule of shows, visit www.northernvermontartists.org.
Image:
The Brook #2
by Robert Waldo Brunelle, Jr.
acrylic on canvas
2018
Courtesy of the artist
---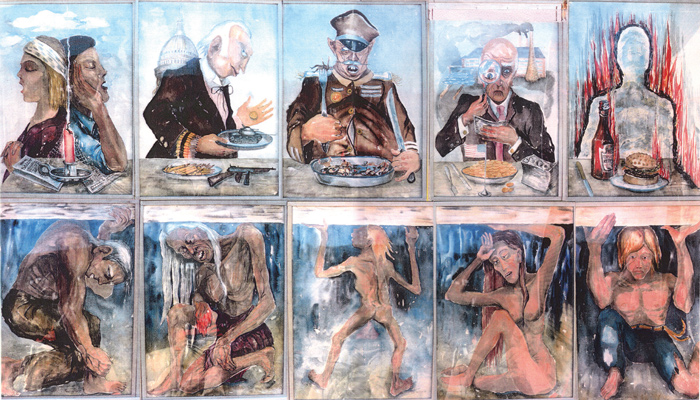 "Ronald Slayton: Master of Watercolor"
at T.W. Wood Gallery in Montpelier
May 1-June 29, 2018
Opening reception during Montpelier's Art Walk, Friday, May 4, 5-8PM with an Art Talk at 6PM featuring Bobby Gosh, Tom Slayton and Philip Robertson.
Ronald Slayton (1910-1992) was born in Barre. During the Great Depression, he worked as an artist in the Vermont Division of the federally-funded Works Progress Administration (WPA) from 1936-1939. W.C. Lipke once commented that Slayton "has been a painter, poet, dramatist, educator, politician, gallery director, peace activist, humorist, critic and historian suggest that the single appellation 'artist' is not broad enough to encompass his many achievements."
The exhibit highlights two watercolor murals, The Last Supper (1985) and The Hunger Dream (1985). Figures in The Hunger Dream juxtapose the satiated and the hungry in a series of ten panels: the whole artistic venture becomes more than the sum of its separate parts. Slayton's almost naïve, simple, boldly stated images directly confront the viewer today as much as in the past. They contradict our tendency to treat the facts of hunger as abstract issues of logistics and statistics. "Some of this beautiful and moving artwork has not been exhibited in many years and the Gallery is thrilled to be showing it," said Ginny Callan, the Gallery's Executive Director.
The majority of Slayton's works in this exhibit are from the private collection of Billi and Bobby Gosh. They have included twelve of Slayton's later watercolors that will be for sale with 100% of the sales being generously donated to the Gallery. Peter Hill donated a deluxe set of three of Slayton's woodcuts, Social Activities of the '30s, Clearing the Fields, and Fuel, which will be raffled. This is set number 22 of an edition of 50, each print is signed by the artist. The second place raffle prize is a giclée print of Slayton's painting Vermont Godiva donated by the Billi and Bobby Gosh. Raffle tickets are available at the Gallery and proceeds will benefit the Gallery.
(adapted from the venue's press materials)
Image:
The Last Supper
by Ronald Slayton
10-panel mural
watercolor
1985
Courtesy of T.W. Wood Gallery, Montpelier
---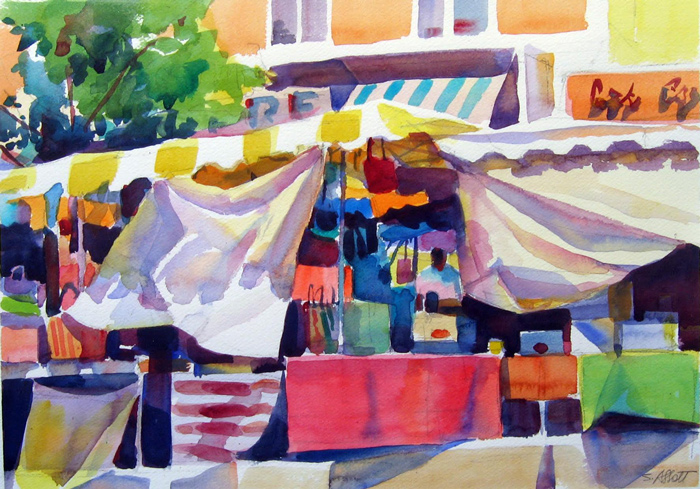 New Exhibits at T.W. Wood Gallery
January 2-February 23, 2018
Opening reception: January 4, 5-7PM
Susan Abbott & Axel Stohlberg
Contemporary Exhibit Room
Susan Abbott's still life and landscapes have been featured at the Corcoran Gallery of Art, National Museum of Women in the Arts, Contemporary Art Center of Virginia, Museum of Technology, Hood College, and the Baltimore Museum of Art. She is a recipient of a Maryland Art Council "Individual Artist Award" and a Vermont Arts Council "Creation Grant". In 2009, she was one of ten artists selected from an international competition to receive funding to produce a series of paintings about the future of Vermont for the "Art of Action" project. In 2015, she helped to organize the "Eyes on the Land" project, and was one of the artists chosen for its Shelburne Museum exhibit. She is an active partner with non-profits in projects that connect art and conservation. Susan Abbott's paintings are in many private and corporate collections, including Mead Data Central, the Gund Company, the Federal Home Mortgage Administration, Peat Marwick, and Chittenden Bank. Abbott has an MFA from the Hoffberger School of Painting at the Maryland Institute College of Art with additional studies in intaglio printing at the University of Iowa.
When people ask Axel Stohlberg, "What kind of art do you make?" He answers, "I do everything." From painting, drawing, sculpture and assemblage using all kinds of mediums, Stohlberg moves between the lines of recognizable and abstract images, and feels the freedom to go in all kinds of different directions. The former owner of Axel's Frame Shop & Gallery in Waterbury, Stohlberg has a BFA from the Massachusetts College of Art and Design, with additional studies at the School of Visual Arts in New York and the Art Institute of Boston.
(image top: Windy Day in Provence by Susan Abbott)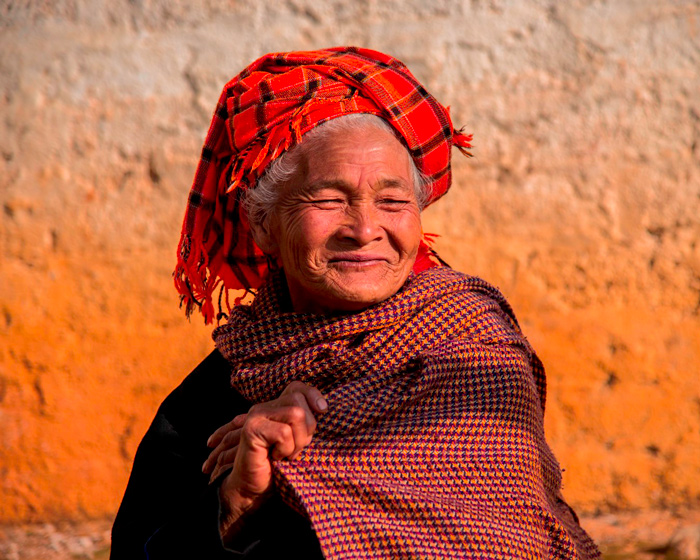 "Seven Ways of Seeing": f/7 Photography Group
Contemporary Hallway
f/7 Photography Group is Central Vermont based and its members are: Elliot Burg, Annie Cameron, Lisa Dimondstein, Julie Parker, Sandra Shenk, John Snell, Rob Spring.
(image: Pa-Oh Woman, Myanmar by Elliot Burg (16″x20″))
---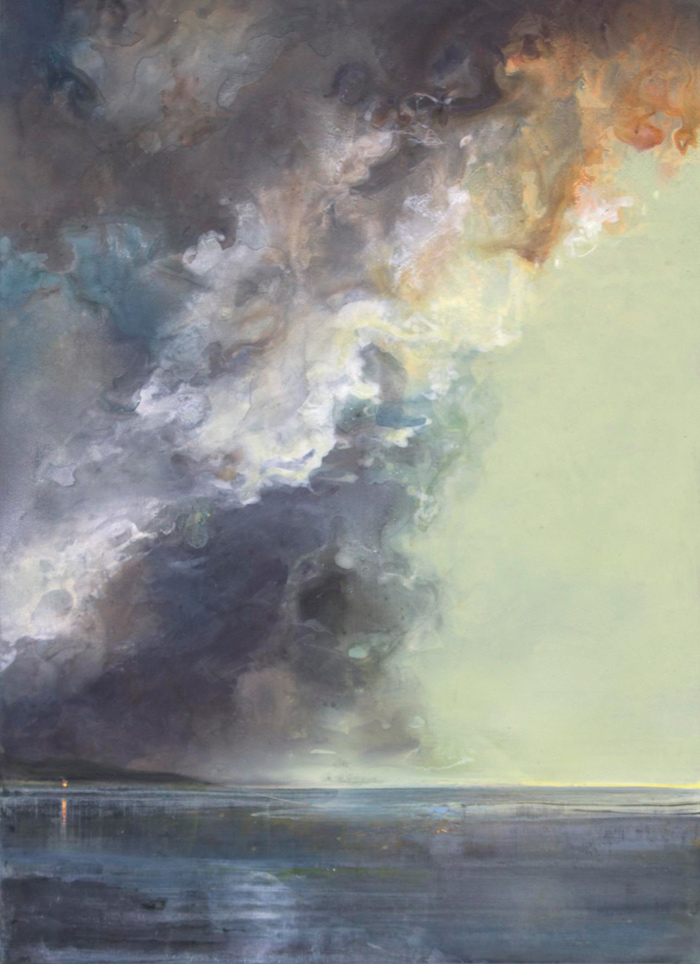 A Change in the Weather: Adelaide Murphy Tyrol & Richard Murphy
May 2-June 30, 2017
Adelaide Murphy Tyrol's professional life has been as a botanical and natural history illustrator. She earned an MFA from the Art Institute of Boston and has attended the Parsons School of Design, Humboldt Field Research Institute, along with other art educational programs. She said of her artwork, "This past summer, my brother invited me on a river trip down the Noatak River in Alaska's Gates of the Arctic National Park. It was a place so remote, so far from human habitation that I felt as if I was entering into a living, breathing, unfamiliar organism–a sentient macrocosm made up of many smaller interconnecting systems.
This remote place was mysterious and revealing, fragile and fierce, beautiful and frightening. The paintings here are an attempt to understand these contradicting features and to come to terms with the vulnerability of our complex planet as it responds to unprecedented and perhaps irrevocable changes."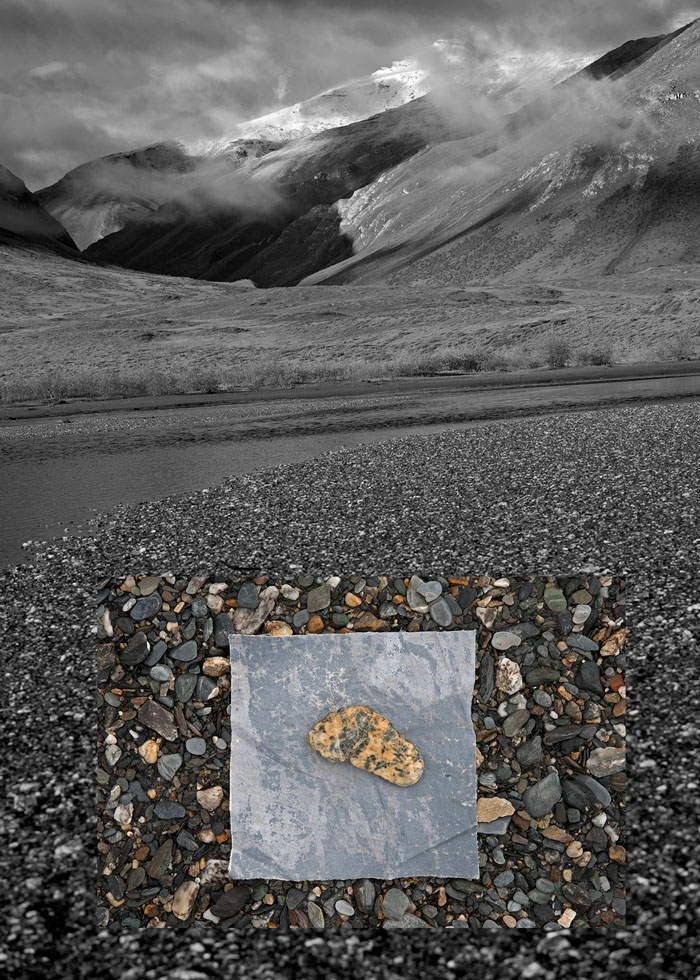 Richard Murphy was a newspaper photographer and photo editor in Wyoming and Alaska for 37 years. During that time, he was part of the team that won the Pulitzer Prize Gold Medal for Public Service in 1989, and his staff was nominated for the Pulitzer in News Photography for their coverage of the Exxon Valdez oil spill.
Since the end of his newspaper career, he has worked as an editor of photography books, a freelance photographer, the leader of wilderness photography workshops, and as a professor of journalism at the University of Alaska. He is currently working on a body of photographs documenting the effects of climate change in the Alaskan Arctic.
Murphy noted: "These Alaska landscape photographs, many of which come from north of the Arctic Circle, speak not only to the majestic beauty of a great land, but to the transformation the land and waters are experiencing as a result of a warming world.
The photographs are not meant as political statements, nor are they meant to explain the causes or the possible solutions to climate change, but only to document an undeniable environmental transition. The landforms and waters of the Arctic are changing faster than anywhere else on the planet, and they may be a bellwether of what awaits the rest of the world.
It is worth our paying attention."
(text adapted from the venue's press materials)
Image (top):
There's Something Afoot (2017) by Adelaide Murphy Tyrol
Image (center):
Noatak Beach (2015) by Richard Murphy
---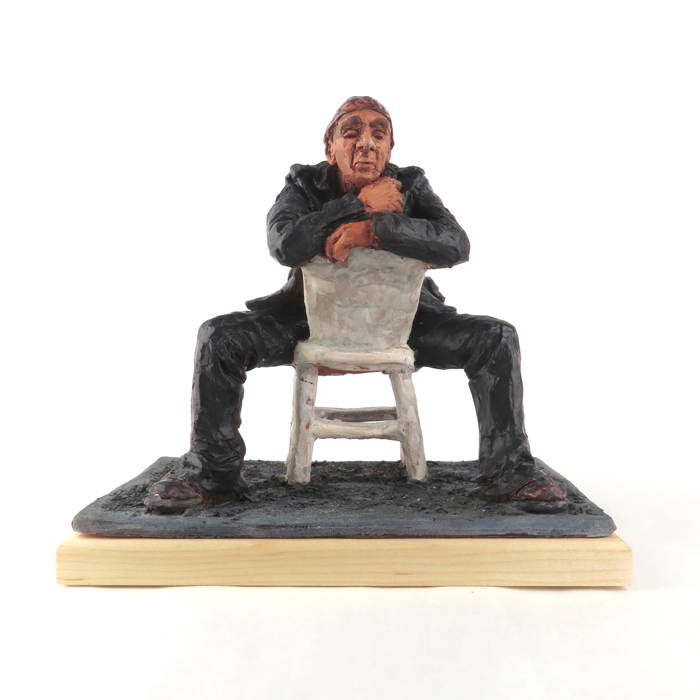 Following the Rules, Breaking the Rules
March 7-April 28, 2017
"Following the Rules, Breaking the Rules" includes 25 works by Vermont 20 artists in pastel, acrylics, oils, photography and three-dimensional pieces. Artists include Nitya Brighenti, Hasso Ewing, Cindy Griffith, Lysa Intrator, Joyce Kahn, Hannah Morris, Maggie Neale, Dan Neary, Jack Sabon, Sarah Spletzer, Andria Lovejoy, and Ann Young.
"Following the Rules, Breaking the Rules" was juried by Glen Coburn Hutcheson, Kathleen Kolb and Tom Slayton. Coburn Hutcheson makes paintings, drawings and sculpture with various materials and is the founder of the Front, a cooperative gallery and workspace in Montpelier. Kolb's work has been represented in a number of galleries, including David Findlay and Sherry French in New York City. Her current project is the collaborative exhibition "Shedding Light on the Working Forest" with poet Verandah Porche. Slayton is a Vermont journalist and was editor-in-chief of Vermont Life magazine for 21 years. He is the author of several books including Sabra Field, The Art of Place and is a regular commentator on Vermont Public Radio.
(text adapted from the venue's press materials)
Image
John
by Hasso Ewing
sculpture
Courtesy of the artist and T.W. Wood Gallery, Montpelier