In each issue of Vermont Art Guide, we offer a selection of art that we think would make a worthy addition to anyone's collection of art. Sometimes, we recommend a piece because the artist has made a name of themselves and in doing so, made a significant contribution to the history of Vermont art. Other times, we recommend a work of art because we think it is brilliant or beautiful. The publication has absolutely no stake in the sale of these works. We simply think you should buy art and enjoy it.
CLICK TO ORDER A COPY OR SUBSCRIBE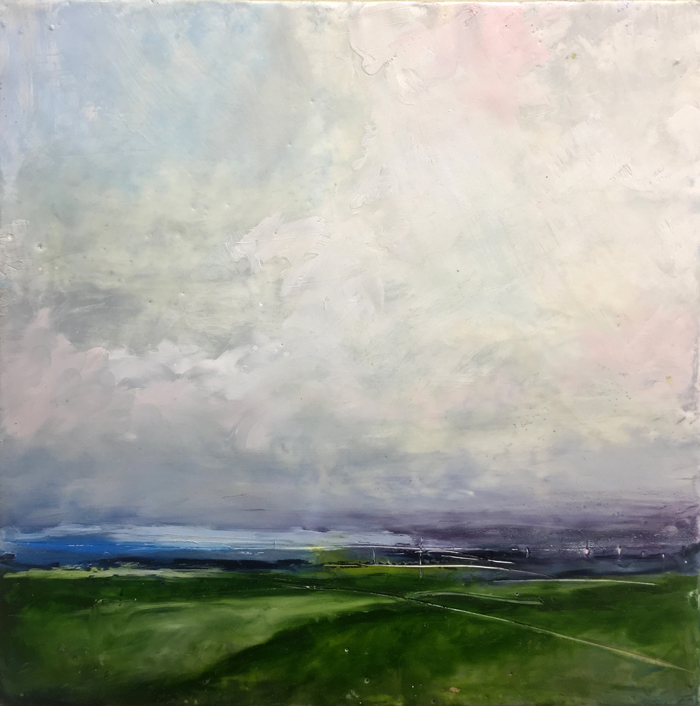 North Country
by Julia Jensen
at West Branch Gallery
Putney painter Julia Jensen has made a career of painting emotionally resonate landscapes in oil. In more recent years, she has been working in encaustic, a difficult medium to master. North Country is a brilliant example of how Jensen uses encaustic to introduce a dreamy element to her subtly passionate work. The rolling green land is separated from a cloudy purple sky by a low horizon of blue mountains. The painting reads like a memory; a poem to land's ability to dazzle us with color. Available at West Branch Gallery in Stowe, the encaustic-on-panel is 12"x12" and priced at $800.
---
To see what other items we feature in COLLECT THIS! and other news about art in Vermont, purchase Vermont Art Guide #1 or SUBSCRIBE to never miss an issue.
If you wish to be considered for a COLLECT THIS! feature, send an email with artwork for sale, an image, and a price.