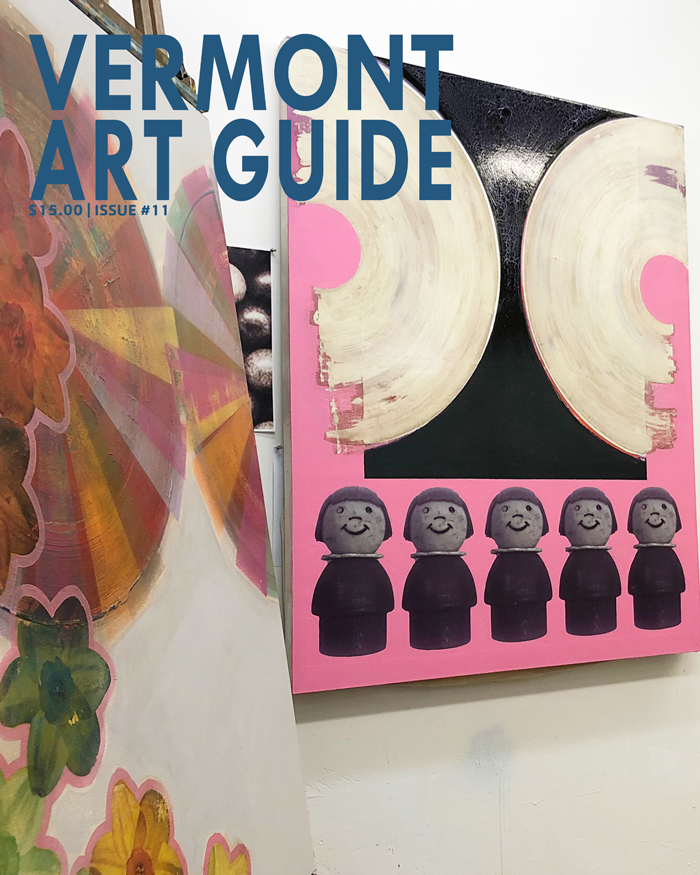 In This Issue
On the cover of Vermont Art Guide #11 is an image from the studio of Wolcott artist Trevor Corp. Corp is on our list of 2020 Vermont Artists to Watch. He writes, "My process is always changing, right now it involves images being collaged onto my canvases or transferred. I use my own photos or appropriate and manipulate images from the Internet."
Fresh from his artist residency in Sanquhar, Scotland, Editor Ric Kasini Kadour writes about the art of doing more with less in his editorial.
In our round-up of Vermont Art News, we report on the award-winning sculptural work by Andrea Wasserman and Elizabeth Billings that was integrated into the new Derby Line Port of Entry on Interstate 91. We introduce you to Joshua Campbell Torrance, the new Executive Director of the Bennington Museum. Brattleboro Museum & Art Center has teamed up with The Porch Too to revive the EAT! Micro-Grant Dinner. Grand Isle Art Works wants you to consider your WORD for 2020.
The Vermont Curators Group's year-long series of exhibitions, "2020 Vision: Seeing the World Through Technology" "juxtaposes ideas of traditional Yankee ingenuity with exploration of visibility and expression that are relevant to our present day," writes Gillian Sewake, "2020 Vision" project coordinator.
Kira Bacon writes about her experience of curating the "I Am a Vermont Artist" series of interviews for the Vermont Arts Council eNewsletter. The series featured Vermont artists from all artistic disciplines and a range of backgrounds.
In "Heaven Is a More Colorful Place", we remember Vermont artist Emily Mason, who died on December 10th, 2019 at the age of 87.
SPECIAL FEATURE:
ARTISTS TO WATCH
The issue features the 2020 Vermont Artists to Watch, our annual survey of contemporary Vermont art in exhibition and print.
In Touch with Intuition, Confident in Execution
Kathy Stark, Craftsbury Common
Nominated by Elizabeth Nelson, Artist
Make Art Everyday
Trevor Corp, Wolcott
Nominated by Kelly Holt, Curator, Spruce Peak Performing Arts Center
Synthesizing Various Influences
Patty Hudak, Underhill
Nominated by Heather Ferrell, Curator and Director of Exhibitions, Burlington City Arts
Intimate Landscape Ensemble
Kathryn Lipke, Belvidere Center
Nominated by Jon Meyer, Poet and Owner, Brilliant Light Publishing
Abstract the Landscape
Susan Larkin, Isle La Motte
Nominated by Mickey Myers, Executive Director of the Bryan Memorial Gallery
Storyteller and Image Maker
Mark Collier, Montpelier
Nominated by Katherine Taylor-McBroom, Curator, Sullivan Museum at Norwich University
Our View of Ourselves
Misoo, Shelburne
Nominated by Anne Corso, Executive Director, Southern Vermont Arts Center
Being a Healer, of Sorts
Steve Sharon, Burlington
Nominated by Sebastian Sweatman, Artist
Artistic Inquiry at a Certain Age
Brian Fekete, Kingston, New York
Nominated by Sophie Bréchu-West, owner of 571 Projects in Stowe
Go Low, Go High
J Blackwell, Bennington
Nominated by Jamie Franklin, Curator of The Bennington Museum
---
Where to See Art is our curated list of 195 places to see art around the state.
A special thank you to this issue's Gallery Members whose support helps make this magazine possible: Art Works Frame Shop & Gallery | DaVallia | Vermont Artisan Designs | Bennington Museum | Brattleboro Museum & Art Center | Catamount Arts | Julian Scott Memorial Gallery at Northern Vermont University-Johnson | Milton Artists' Guild | Piecasso Pizzeria & Lounge | Shelburne Museum | Stone Valley Arts at Fox Hill | Two Rivers Printmaking Studio | Valley Arts | Village Frame Shop & Gallery | Edgewater Galleries | Jackson Gallery at Town Hall Theater | Spruce Peak Performing Arts Center | Axel's Gallery & Frame Shop
SPECIAL NOTE: Vermont Art Guide is a quarterly, printed magazine about contemporary art in Vermont. We have three goals: 1) To connect the entire state's art community by sharing information about exhibitions and events. 2) To present a picture of Vermont art and art in Vermont, to tell our story. 3) To build an audience for Vermont art inside the state and out.