Overlooking Middlebury Falls, the original Edgewater Gallery offers vibrant exhibitions from emerging and established artists from Vermont and beyond. Edgewater Gallery at the Falls is part of group of galleries, including Edgewater Gallery on the Green in Middlebury, Edgewater Gallery in Boston, and Old Main Gallery in Bozeman, Montana.
Edgewater Gallery at Middlebury Falls
1 Mill Street
Middlebury 05753
(802) 458-0098
Hours:
Tuesday-Saturday, 11AM-4PM
---
ART ON VIEW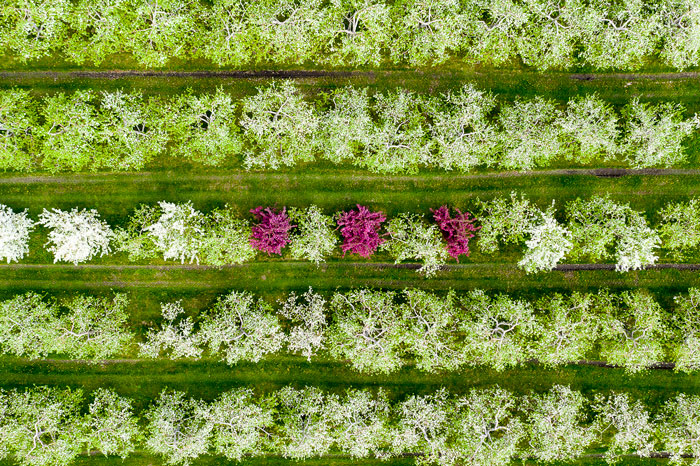 Perspectives
May 2020
"Perspectives" is group exhibition featuring painters Jane Davies, Alexis Serio, and photographer Caleb Kenna.
Visit edgewatergallery.co to view the exhibition online.
---
PREVIOUS EXHIBITIONS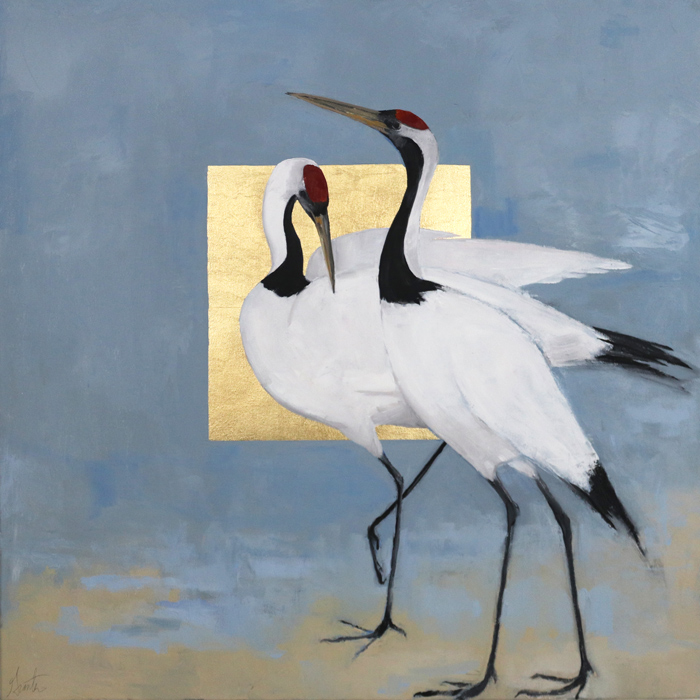 Creatures Great and Small: Ellen Granter
October 2019
"Creatures Great and Small" is inspired by Ellen Granter's observations and love of the wildlife that inhabits the New England Coastline. It also pays homage to the connection of all living things.
Granter describes the inspiration for these new works, "Whales and sparrows have a lot of commonality. They both live their lives in the great blue vastness, and in this group of paintings, I hope that you can see the joy I feel in painting these creatures great and small who share this blue planet with us. "
Granter is a contemporary oil painter working from her home studio in Massachusetts. She often incorporates gold leaf into her compositions which integrate representational and abstract elements of landscape and wildlife with a prominent focus on birds. Her approach to painting is also strongly influenced by her background in design. Granter explains, "In each painting, I am searching for an elegant balance of spare compositions over large fields of luminous color. When observing everyday subjects such as sparrows, I try to pay attention to the small spaces between them and the abstract patterns that are created by their own characteristic movements."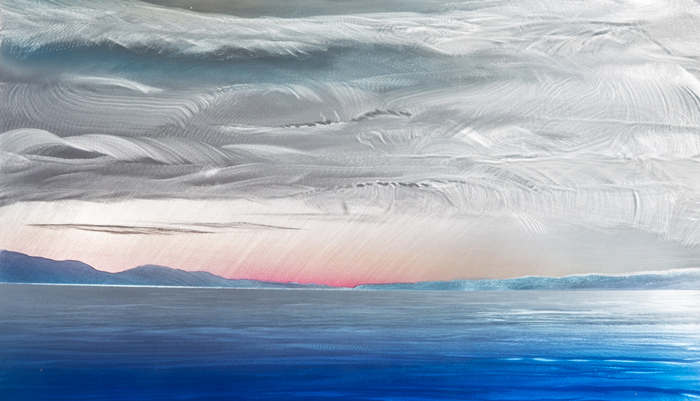 Homer Wells: From the Foothills of the Mighty Hogbacks to Thompson's Point
and
James P. Blair: Clouds-Recent Work
July 2019
Vermont artist Homer Wells brings a new collection of his etched aluminum wall pieces in "From the Foothills of the Mighty Hogbacks to Thompson's Point" and renowned National Geographic photographer James P. Blair displays his most recent work, cloud images taken on a visit to Barbados.
In homage to the natural beauty of Vermont, Homer Wells captures the essential and emotionally evocative qualities of the rural landscape within the stark medium of etched aluminum. Working from his studio in Monkton overlooking the hills of Addison County, the artist gains his inspiration from a local's familiarity with the ever changing elements in the wild New England landscape. Wells uses recycled metals and automotive paint to create his luminous and durable works which have the versatility to be displayed not only on the interior walls of the gallery but also in exterior settings. He has participated in the Burning Man Festival in the Black Rock desert of Nevada and his work has been widely collected.
For over 30 years, National Geographic photographer James P. Blair helped readers understand and appreciate the people, cities, and landscapes of countries far away from our own. Well before the advent of the cell phone and the Internet, he provided a window into worlds that we would not have otherwise known. Blair's new work is a series of images of clouds taken during a visit to Barbados. A retrospective of the photographer's work is currently on display at the Middlebury College Museum of Art in "Being There: Photographs by James P. Blair", on display through August 11th. His work hangs in the National Portrait Gallery in Washington, DC, the Museum of Modern Art in New York City, the Portland Museum of Art in Maine and the Carnegie Museum of Art in Pittsburgh.
Images: (top to bottom)
Thompson's Point at Sunset by Homer Wells
18″x30″
Barbados #1 by James P. Blair
13″x20.5″; giclée print
---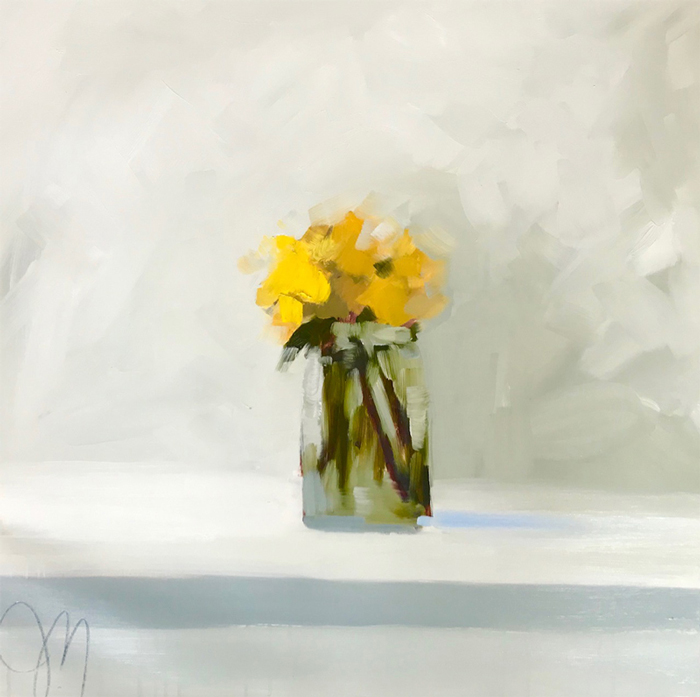 Natural Grace: Hannah Bureau & Jill Matthews
June 2019
"Natural Grace" is an exhibition of paintings by Hannah Bureau and Jill Matthews. To celebrate the turn of the season, Edgewater combined works by two artists who exemplify the graceful beauty of spring's shift into summer. Joyous colors and spacious atmospheres echo the excitement of stepping outside on the first warm sunny day of the season.
Jill Matthews' paintings were created in tandem with the seasonal shift from winter to spring. Her flower still life paintings are a sweet relief and welcome sight for eyes that are weary of winter. "Even a day of sunshine after a week of rain seems to make things instantly alive," says Matthews. "It's my favorite time of year to capture these changes, color interactions and textures. Even in a backdrop of a clouded grey sky that fresh green of promise and growth emerges."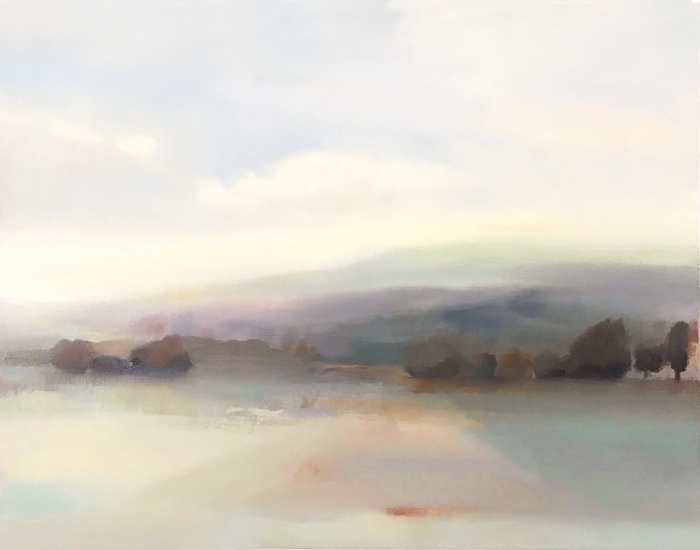 Hannah Bureau's paintings explore color and space to create an atmosphere of limitless depth and discovery. The intimate sense of place found at the intersection of landscape and abstraction evokes a dreamlike quality within her work. "These landscape paintings have a softness and strength from contrasting soft, blurry edges with high contrast. The resulting work is both calm and strong. I have been exploring the subtleties of tone, and value shifts in these works and feel the painting are amongst my most atmospheric works," says Bureau.
Images: (top to bottom)
Fresh Picked by Jill Matthews
Distant Mountain by Hannah Bureau
24″x30″; 2019
---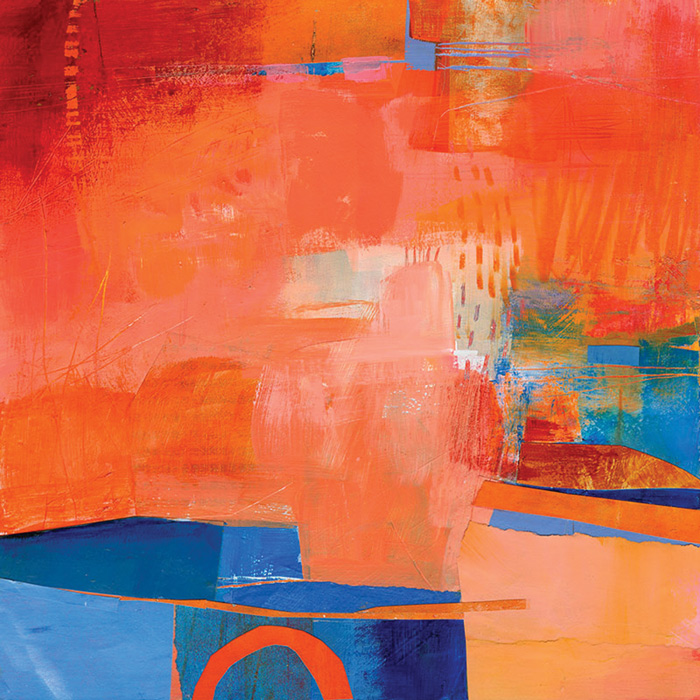 Jane Davies: Intro to Abstract Composition Workshop
Saturday, February 23, 2019, 10AM-4PM
Fee: $140, advance registration is required
Edgewater Gallery at the Falls is excited to be hosting painter and mixed media artist Jane Davies for an exciting abstract composition workshop. Participants will spend the day exploring the qualities of mark-marking and exercising their ability to see and communicate in the abstract visual language. Davies will encourage students to experiment with various painting and collage techniques while learning the fundamental concepts of composition through collage, crayons, markers, and other accessible media.
Jane Davies has mastered the art of navigating the use of multimedia in her abstract expressionist collages. She favors the back-and-forth play between spontaneous and intuitive mark-making. This workshop will encourage the student to be present to the process, to let go of the expectations that are inhibiting, and to expand expressive capacity.
In her own work, Davies uses simple combinations of color and line, creating relationships between shapes and edges, pattern and scale. While creating an alternate reality in her work, she is directly inspired by the colors, textures, and images in the real world such as rocks, rust, surfaces affected by age, and by marks of the human hand.
This workshop is a fun way to re-inspire one's own practice and connect with other local artists. It offers a path into art-making that does not require a substantial investment in materials. Open to all levels, the cost of the workshop is $140 per person, with a complimentary lunch provided by Edgewater Galleries.
For further information or to register for Jane Davies' Intro to Abstract Composition Workshop, please call Edgewater Gallery at the Falls at (802) 458-0098, email info@edgewatergallery-vt.com, or visit edgewatergallery-vt.com. Advance registration is required.
Image:
Blue & Orange in Green Valley #2 by Jane Davies
10″x10″; acrylic
---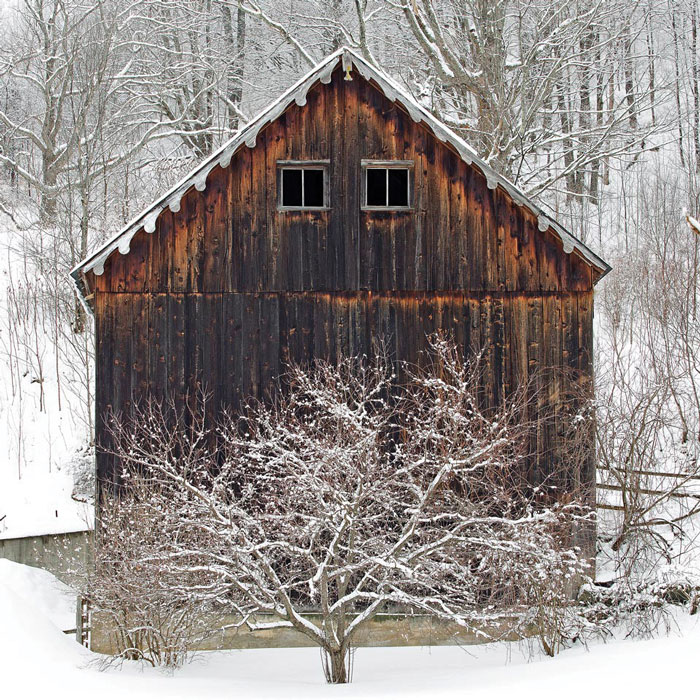 Stillness: Jon Olsen
September 2018
Jon Olsen has been capturing beautiful glimpses of the world with his camera for over thirty years. He is quite familiar with the recipe for a successful photograph, with an eye for light, color, composition, and texture; however, Jon considers the images he produces to be more found than created. He is drawn to the elegant simplicity of the pastoral landscape, the small towns and farmlands that are characteristic of Vermont.
Another distinct characteristic of Vermont, the long winter, is of particular interest to Olsen. He favors the stillness, quiet, and calm of the winterscape, and the serene effects of snow. A self-proclaimed amateur naturalist, Olsen has no qualms about trekking into a field of deep snow on an inclement day to capture his desired shot.
Olsen maintains a studio at his home in Norwich, where he lives with his wife and three children. He makes original prints of his photographs on Fine Art Watercolor paper specifically coated for archival quality to withstand the test of time.
Image:
Gable
by Jon Olsen
16″x16″
photographic pigment print
Courtesy of Edgewater Gallery, Middlebury
---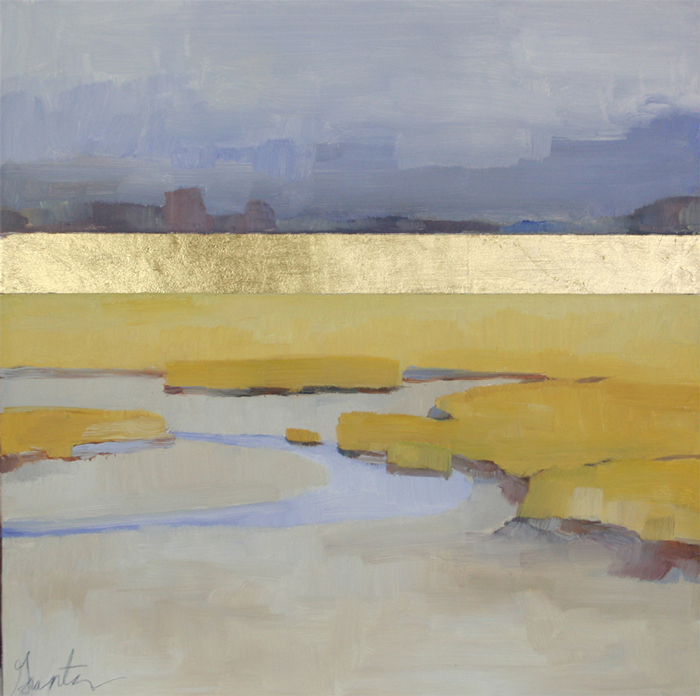 High Tide: Ellen Granter
August 2018
Opening reception: Friday, August 20, 5-7PM
Ellen Granter's new work migrates from the subject of birds to the environments they inhabit. Her paintings of coastal wetlands offer a tranquil escape into an endless horizon where the water meets the land fading into sky.
Granter's work strives to capture the essence of her subject matter with plenty of space for emotional undercurrents and transcendental moments. The artist states "I get inspiration from the changing colors, patterns, and atmosphere of the landscape around me. In each painting I am searching for an elegant balance of sparse compositions over large fields of luminous color."
Granter currently lives in Brookline, Massachusetts, and grew up outside of Rochester, New York. In 1984, she received a BA from the University of Vermont and then went on to study Chinese in Hong Kong, Beijing, and Middlebury College, returning to UVM to finish her Chinese studies, where she earned a MA in Chinese History in 1988. Granter's preference for minimalism and flat perspective are inspired by traditional Chinese art.
Image:
Gold Ocean No. 6
by Ellen Granter
12″x12″
oil on panel
Courtesy of the artist and Edgewater Gallery, Middlebury
---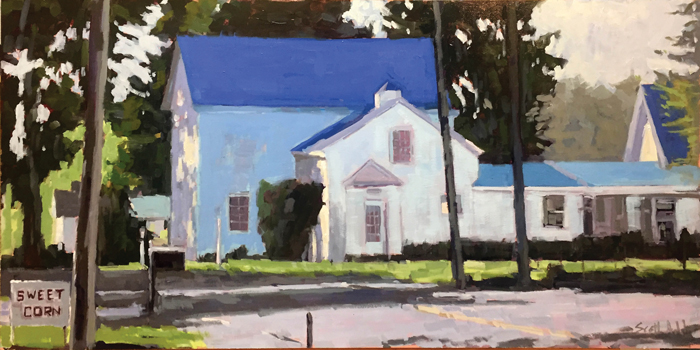 Sweet Corn: Scott Addis
July 2018
With bold brushstrokes and a refined color pallet, Scott Addis brings nostalgia to life in his paintings of familiar local scenes which are sure to resonate with anyone who has spent time on the backroads of Vermont. His current body of work shares glimpses of Middlebury, Sharon, St. Albans, and other New England locations.
Based in Montreal, Scott Addis frequents the Vermont landscape with his paintbrush, capturing the road less traveled, and the sprawling fields, barns, and farmhouses along the way. Originally from Pennsylvania, Addis explores the Vermont countryside with great interest, along with his ancestral roots that connect him to the area.
Addis presents iconic representations of rural life with a painterly quality that offers each painting as both an image and an experience: light caught in a net of branches the moment before sunset, the heavy press of a sky about to rain, a memory of place, an open inquiry, an invitation to explore. He likens his artistic process to that of "a curious kid, looking at the world with wide open eyes" in the hopes that the viewer will approach his paintings with similar freedom and intrigue.
Addis offers the viewer a chance to take time in the moment. His style is inspired by Tonalism, a progressive American style of painting that emerged in the 1880s. The essence of Tonalism is the sense of atmosphere that is felt within a landscape painting, favoring feeling and mood over hyper realistic representation. Tonalist paintings forego a narrative in order to cultivate an organic relationship between the perceiver and the perceived.
(adapted from the gallery's press materials)
Image (top):
Sweet Corn
by Scott Addis
18″x36″
oil on panel
Courtesy of the artist and Edgewater Gallery, Middlebury
---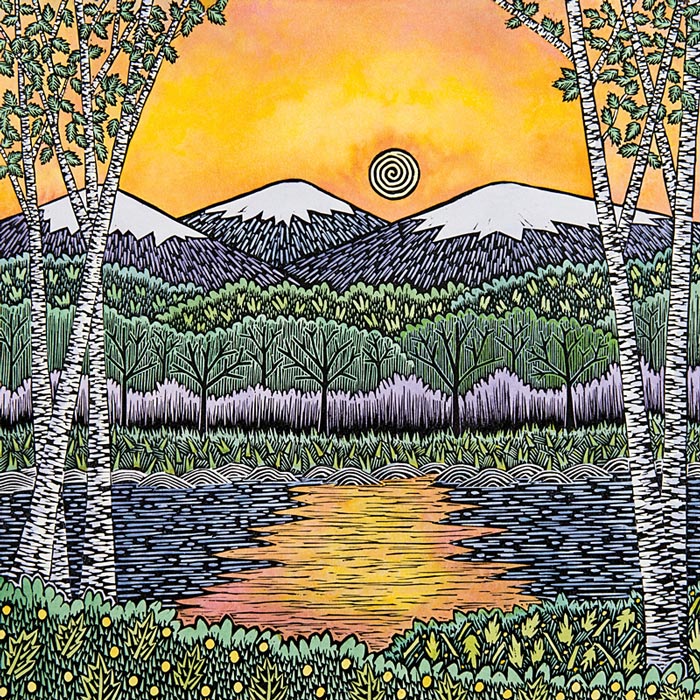 Impressions: Block Prints by Daryl V. Storrs
May 2018
"Impressions" is a new collection of prints by Vermont woodcut and linocut artist Daryl V. Storrs.
Storrs' block prints are the results of drawings and pastels that the artist has made while observing the landscape of Vermont. She seeks to capture a sense of place in her work as well as emphasizing the layers and dimensions of the natural vistas she experiences everyday. The artist's use of rich and vibrant color combined with the stylized interpretations of her surroundings convey the affection she feels for the land and the energy she derives from it.
About the work, Daryl Storrs writes:
"This collection of prints is a reflection of my travels and time in Vermont looking through the lens of color woodcuts and linocuts. I often use pastel drawings, which I've painted outside, as the basis for the block prints. Each image takes time to plan and may go through many permutations before completion. Unanticipated results are part of the process and I try to embrace 'mistakes'. A separate wood or linoleum block is cut for each color and if well planned, two to three colors may be arranged on the same block. Each of the blocks is printed in succession on one piece of Japanese paper to create the finished print. I am able to make multiples but each print is individually hand made and slightly different from the next. From backyard vignettes to views of Camel's Hump, I hope to create a fresh vision which reflects the surrounding Vermont landscape."
Storrs has been a printmaker for 35 years. Her development as an artist was enriched by working with Middlebury College's David Bumbeck and Sabra Field, a well-known Vermont woodcut artist. She holds a Masters in Printmaking from University of Massachusetts at Amherst. Daryl Storrs lives and works in Huntington. Her block prints are created in a renovated barn that serves as her studio.
Image:
Stitched in Fiction II
by Daryl V. Storrs
12″x12″
hand-painted linocut
Courtesy of the artist and Edgewater Gallery, Middlebury
---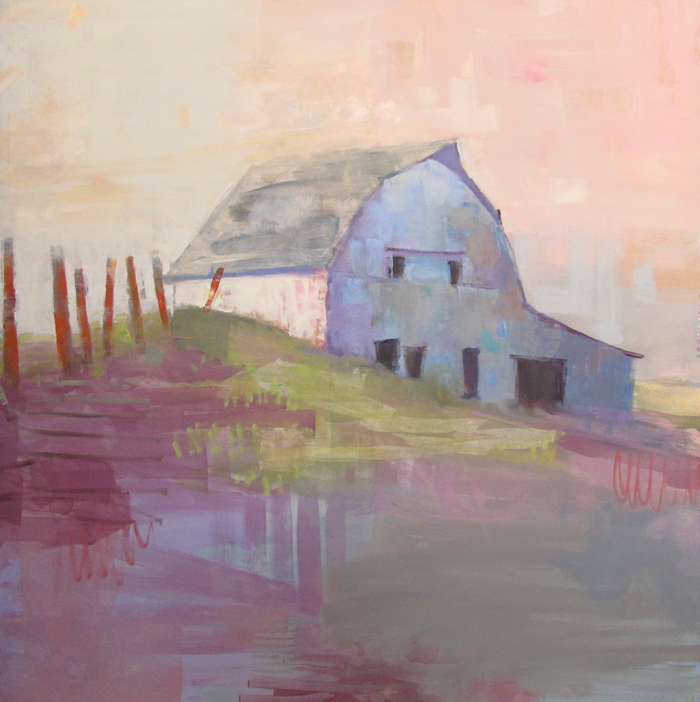 Springtime
April 2018
"Springtime" is a group show of four artists' work on view at both Middlebury locations. The show features new collections that pay tribute to the arrival of spring and the brighter light, fresh color palette and warmth of the new season.
At Edgewater Gallery at the Falls painter Jill Matthews' gracefully rendered floral still life paintings are being shown with new Edgewater artist Kay Flierl's series of barn paintings. At Edgewater Gallery on the Green, abstract painter and mixed media artist Helen Shulman's evocative abstract pieces are on view with the jewel toned and light filled still life works by Karen O'Neil, who is new to the gallery in 2018.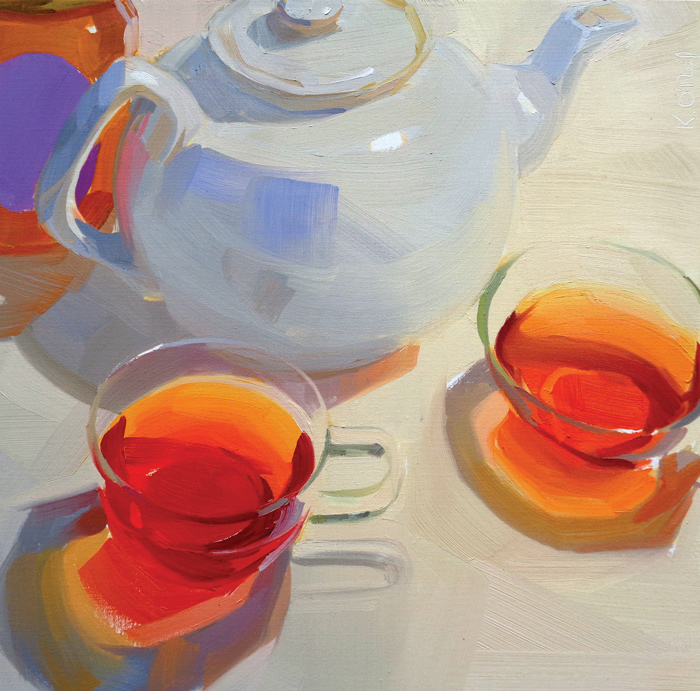 Image (top):
Grace
by Kay Flierl
40″x40″
oil and acrylic on canvas
Image (center):
Tea with Russell's Honey
by Karen O'Neil
20″x20″
oil on linen
---
ART EVENT
Holly Friesen: "Lighting Up the Night"
Friday, March 23, 2018, 6-8PM
Edgewater Gallary at the Falls kicks of Spring with a celebration of art and the Vernal Equinox in an evening with Holly Friesen, a contemporary Canadian landscape painter based in Montreal, whose work revolves around "earth honoring" images that reflect her connectedness and emotion for the wilderness regions that surround her. Meet the artist over a glass of wine and enjoy live music by Tom Boise. Documentary filmmaker Patrice Halley will be filming parts of the event for a film that he is creating about Friesen's life and work.
From her childhood in Saskatchewan to the present, Friesen has used art as a tool for interacting with the world around her. As a young girl, she savored her time in the surrounding woods and spent time collecting twigs, grasses, and branches. Although she did not recognize it at the time, Friesen was creating art compositions and sculptures by rearranging these natural objects. Nature's influence was working its way into her artistic spirit.
The artist spent her first twenty years as a painter using watercolors. This was primarily out of convenience as the watercolors were more portable then other mediums and allowed her to easily travel through the United States and Canada capturing with paint and camera, the landscape around her. When a specific scene spoke to her she absorbed and memorized the sounds, smells, and experiences by jotting down notes and capturing images with her camera. Her watercolors were a way for her to connect with those environments in the moment and celebrate those sensations.
After a time, Friesen felt that the watercolors did not accurately convey her passion for the energy she drew from the environment. She moved to larger canvases and began to better translate her emotions through oil and acrylic paint. She would begin by choosing one of the many photographs that captured the places to which she felt a deep connection and then move on to deliver the messages of the landscape through her brushes.
Using large canvases gives the artist the space to expand her gesture and movement. Friesen states that the act of painting becomes a dance as music plays in her studio and she sets free the emotion she feels for the wilderness of Canada, northern New York and Vermont.
Friesen is proud of Canada's current government for its efforts to negotiate current Indigenous land claims and protect the wilderness areas of the North. She is inspired by the diversity in the landscape and the people; the strength in the acceptance of diversity is apparent in both Canada's wilderness and its communities.
Vermont is also a special place for the artist. She learned a great deal from exploring the landscapes here and by studying the work of local artists. In 2016, she was given the opportunity to spend time at the Vermont Studio Center in Johnson participating in an artist-in-residency program. From a beautiful studio that overlooked the Gihon River, she could experiment with a number of mediums, learn from other artists, and draw inspiration from writers.
Today the artist maintains a full time studio in Montreal. She also continues to find inspiration by exploring the wilderness, sketching, photographing and painting.
Image: (top)
Sky Over Lac Tremblant
by Holly Friesen
36″x48″
acrylic on canvas
---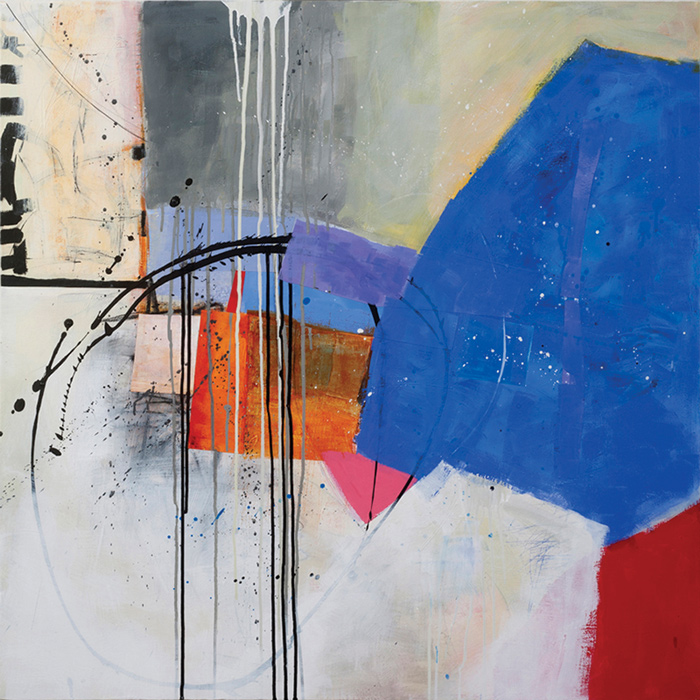 "Jane Davies: Fresh Paint, Works in Progress"
Artist Demonstration
Saturday, February 3, 2018, 11AM-3PM
This free artist demonstration is an opportunity for viewers to observe abstract painter Jane Davies' dynamic artistic process as she creates her colorful mixed media compositions.
Jane Davies says about her work:
My process involves a back-and-forth play between spontaneous, intuitive mark-making, and careful deliberation and intention: I think of it as letting things happen, and making things happen. I make a move, and then the painting reveals something new to respond to. Each move changes the whole piece and sets up a new set of challenges. It takes practice and continued effort to stay present to this dialog and not get carried away by the desire for a quick result or an easy resolution. It requires trust in my own intuitive responses, and a willingness to not-know, to not have the route laid out like a road map.
I usually start a piece either by getting some color down on the surface with paint, and then start adding collage elements, or the other way around: starting with collage, and then adding paint. I generally build layers of collage and paint this way until the piece is almost finished. Then I put it aside for at least a day in order to look again with fresh eyes and see what it needs.
About Jane Davies:
A former potter and designer of textiles and paper goods, Jane Davies is a full-time artist, teacher, and writer, now working in collage, paint, and encaustic. She maintains a studio in Rupert and teaches workshops there and nationwide. Her book, Abstract Painting: The Elements of Visual Language, is available through Edgewater Gallery.
Image: (top)
Scaled Up #1
by Jane Davies
36″x36″
acrylic on canvas
---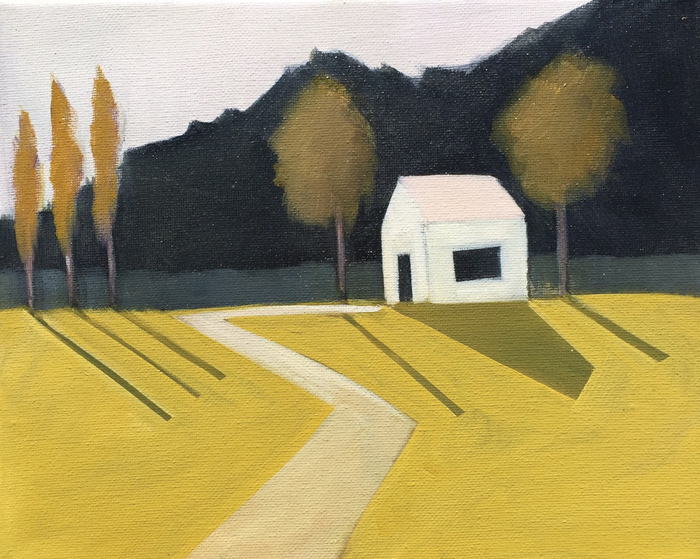 Small Works, Holiday Group Show
November 2017
Several Edgewater Gallery artists have completed collections of new works to usher in the season of giving. Among the new holiday arrivals are freshly painted landscapes from local favorite Joe Bolger. Bolger skillfully captures the feeling of each Vermont season in his depictions of the fields, forests, and farms; the viewer feels the warmth of fall foliage color and the glowing morning sun in one painting, and the cool shadows and fading sunlight in the winter scene of another.
Abstract painter Jane Davies from Rupert, has also been busy, delivering a collection of new mixed media paintings, which includes multiple small works on panel and canvas. Each piece is a rich composition of pattern and color that stands alone or works wonderfully in groupings.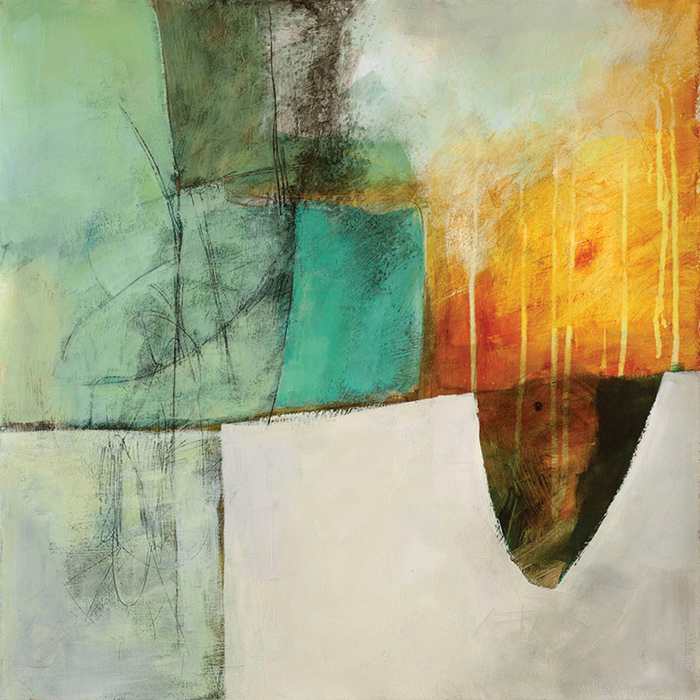 The Small Works show also introduces new Edgewater artists Sage Tucker-Ketcham and Matt Brown. Painter Tucker-Ketcham gives the viewer a new twist on the landscapes and barns of Vermont. In these small jewels, the farms and pastures are simplified and abstracted and rendered in a somewhat playful palette. In contrast to the simplified forms of Tucker-Ketcham, woodblock artist Matt Brown's intricate landscapes are created using the 18th century Japanese hanga method. Familiar New England scenes conveying vast mountain views, lake shores, and intimate garden views are gracefully and dramatically captured in these detailed limited edition prints.
Also featured are small works from other gallery artists working in a range of mediums, including painting, photography, ceramics, hand blown glass, mobiles and jewelry.
(text adapted from the venue's press materials)
Image: (top)
House on the Horizon
by Sage Tucker-Ketcham
8″x10″
oil on canvas
Image (center)
Submerge #2
by Jane Davies
20″x20″
acrylic on panel
---
Northern Neighbors: Celebrating 150 Years
April 2017
Middlebury's Edgewater Galleries celebrate the 150th anniversary of Canadian confederation with a group exhibition of work by five Canadian artists. At Edgewater Gallery at Middlebury Falls, see work by Scott Addis, Susanne Strater, and Holly Friesen. At Edgewater Gallery on the Green, see work by Donna Andreychuk and Sherry Czekus.
Image above: Big Dog by Scott Addis (24″x48″; oil on canvas). Born just outside of Pittsburgh, Pennsylvania, Scott Addis is now a resident of Quebec. His work features small towns and big cities, sheltered harbors and wide open spaces. Addis says, "I'm like a curious kid, looking at the world with wide open eyes, sharing what I see with a very busy public. Art is like that–it's an opportunity to slow it down and see what's right in front of you, instead of staying so very busy without time to see–without time to be in the moment."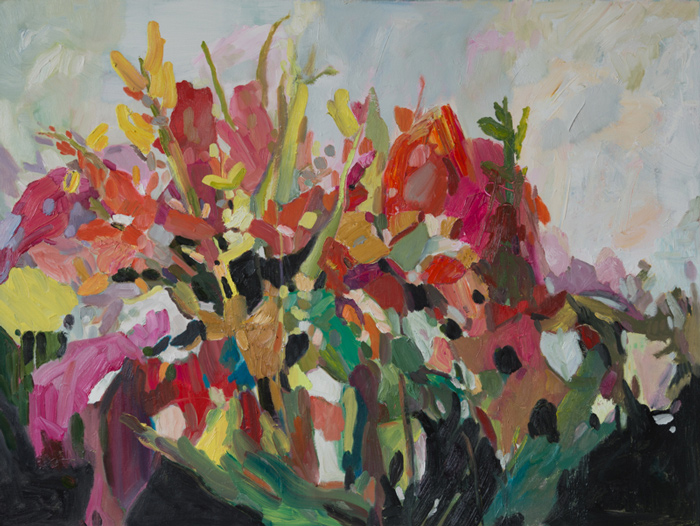 Image above: Tangled Garden by Donna Andreychuk (36″x48″; oil on canvas).
The Canadian landscape has been subject matter for Donna Anderychuk for many years and she has been greatly influenced by the rich and diverse art history there, often referencing the works of the Group of Seven. Reflecting on her work and the similarities between the Vermont and Canadian landscapes, Andreychuk comments, "Our country is known for its vastness and the endless vistas that open to large bodies of water. We are blessed with mountains and streams, waterfalls and windy rivers. When I traveled to Vermont for the first time I felt immediately at home. I saw my country, I saw the similarities that we share in your great, little state. Vermont is my neighbor to the south. I feel at home when I visit. This body of work is a reflection of my love of country."
(text adapted from the venue's press materials)