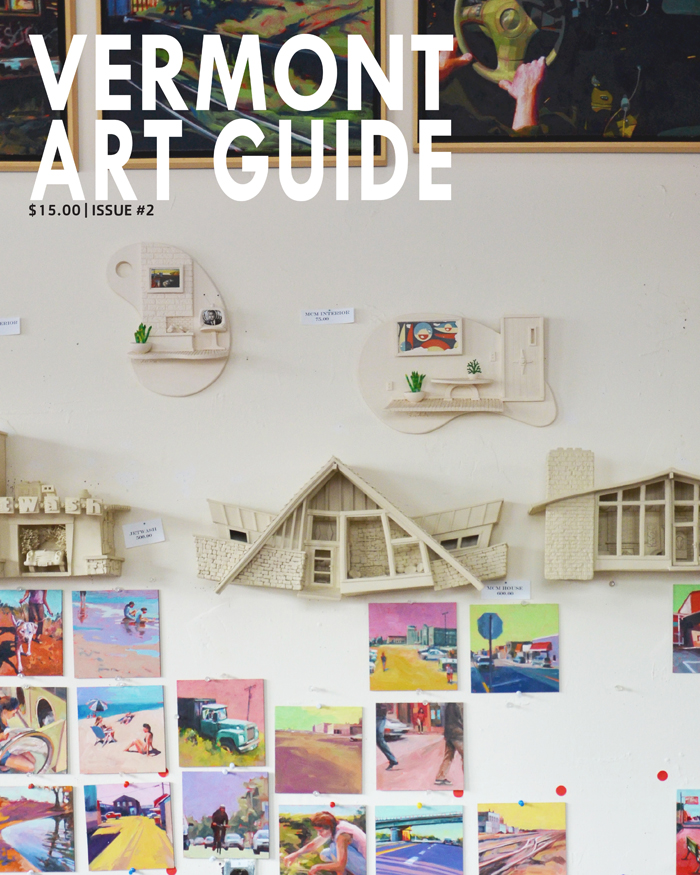 In This Issue
Work by sculptor John Brickels and painter/photographer Wendy James is on the cover. Their shared studio is in the Howard Block in Burlington's South End Arts District.
In his editorial, Vermont Art Guide Editor Ric Kasini Kadour asks, "Is Vermont Art a Thing?"
Sarah Amos creates large collagraphic fabric constructions in her rural Northern Vermont studio. Dian Parker profiles this internationally-known artist who makes her home and her art in Vermont.
The Carving Studio & Sculpture Center in West Rutland is celebrating SculptFest 2016 this fall. We sent Daphne Cybele Van Schaick to the Carving Studio to learn about this important sculpture resource in Rutland County.
Joan Furchgott and Brad Sourdiffe founded Furchgott Sourdiffe Gallery 25 years ago in the heart of Shelburne Village. Cynthia Close provides some history and surveys the three 25th anniversary exhibitions that celebrate the gallery's 25 years.
Frank Stout's Deer & Bears have been frolicking outside of Burlington's City Hall since the 1980s. Read the quirky story behind the two sculptures and the prolific artist who created them.
Also celebrating 25 years in 2016 is Stowe's annual sculpture festival, "Exposed", presented by the Helen Day Art Center. Theresa Sinclair surveys this year's event.
Sosé Gjelaj has been running a gallery out of her apartment in Bennington since 2010. Ric Kasini Kadour visited Sosé Art Gallery and met the artist.
The Gallery at the VAULT "is worth more than a visit. It's a place to support and be part of." Vermont Art Guide visited this center for art, craft and community in downtown Springfield.
Vermont's hospitals hold some of the best collections of Vermont art anywhere. We look at how hospitals use art to help healing.
Art Walks Brighten Foliage Season. Find out where your nearest art walk is this fall.
In News & Notes, we tell you about Chris Curtis' sculpture, Unlocked, that was installed recently on the University Green at UVM. Frog Hollow debuts its new Artist Demo Cart or "cART". En Plein Air painting classes bring a new experience of autumn. Vermont Crafts Council's Fall Open Studio Weekend is now the Open Studio Tour and is over two weekends in October. "Big Art, Bold Vision" brings Vermont art to the large windows of the Berlin Mall. And Burlington City Arts Community Fund awards $35,000 for a pilot year of grants to cultural workers across disciplines.
Also, we have our regular features: Where to See Art, our curated list of 141 places to see art around the state; Collect This!, Vermont art for your collection; and a Vermont Art Guide Artist Directory.