Open since 2014, Edgewater on the Green contributes to local culture with art by emerging and established artists. Edgewater Gallery on the Green is part of group of galleries, including Edgewater Gallery at the Falls in Middlebury, Edgewater Gallery in Boston, and Old Main Gallery in Bozeman, Montana.
Edgewater Gallery on the Green
6 Merchants Row
Middlebury 05753
(802) 989-7419
Hours:
Tuesday-Saturday, 11AM-4PM
---
ART ON VIEW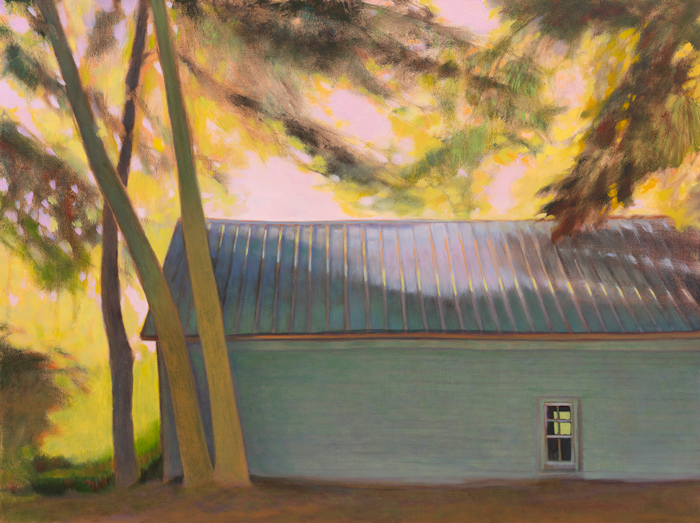 Sight Seeing, A Group Exhibition
April-May 2020
"Sight Seeing, A Group Exhibition" features the work of Liz Hoag, Kathryn Milillo and Julia Purinton.
See the exhibition virtually at: edgewatergallery.co/sight-seeing-group-exhibition/
---
PREVIOUS EXHIBITIONS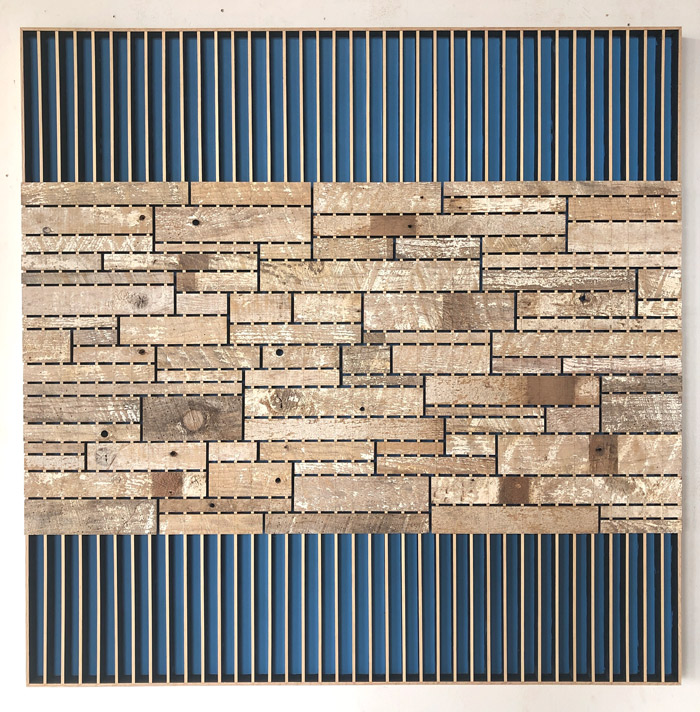 Duncan Johnson: Recent Work
July 2019
Duncan Johnson is a 1987 graduate of Pratt Institute in New York City and has exhibited extensively in museums throughout the US. He creates dynamic, rhythmic works from reclaimed wood that blur the line between sculpture and painting. The artist uses the vocabulary of painting; color, texture, and composition, but he assembles his paintings from gathered wood from Vermont scrap yards. The inherent qualities of wood along with the color in the found pieces are attractive to Johnson. He then draws on his interest in and knowledge of,quilting, painting, sculpture and architecture to create geometric compositions that are sometimes intricately woven, or carefully fitted wood slat assemblages that hang on the wall. In this new collection, Johnson presents pieces that are reminiscent of past work, but also included are assembled paintings that move in a new direction and seem to deconstruct some of the self-imposed rules of the past. He experiments with more loosely applied color and has changed the way he arranges the wood. This new work seems to vibrate and sometimes gives the appearance of soundwaves.
---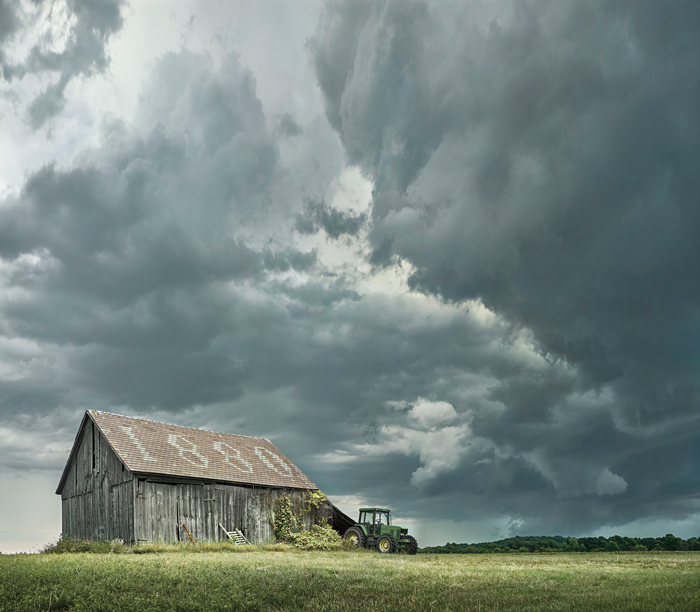 Jim Westphalen: The Enduring Landscape
June 2019
Jim Westphalen, known for his arresting photographs chronicling Vermont's decaying barns, shifts his focus to the rural Vermont terrain in "The Enduring Landscape". Westphalen's deep love of the landscape was ignited early on while spending summers as a child at his grandmother's home in Pennsylvania's Pocono Mountains. His passion has been further fueled by the quiet beauty of Vermont, his home for the last 25 years, with its rolling pastures and farmland, lake and mountain vistas and the evident effects of weather and time.
Inspired by painters such as Andrew Wyeth, A. Hale Johnson, and Edward Hopper, Westphalen creates imagery in which weather, light, and composition merge to evoke in the viewer the sense of being right there in the landscape. He invites the viewer "into an escape of sorts, if only for a moment…may it awaken in you a new appreciation for the timeless landscape that we call Vermont."
Westphalen photographs using a vintage 4×5 view camera that he has adapted to digital capture. He then processes the imagery using proprietary methods, creating what is easily recognizable as his unique painterly photographic style. The archival pigment prints themselves are made on 100% acid free rag papers.
Image:
Orwell Barn #1 by Jim Westphalen
50″x57″; pigment print; Edition 1 of 5
---

Artist Talk: William B. Hoyt
Thursday, February 28, 2019, 5-6:30PM
Edgewater Gallery on the Green hosts realist painter William B. Hoyt for a reception and artist talk. Works from Edgewater's collection as well as new work will be on display. Hoyt has been painting for more than 40 years and is renowned for his classic realist paintings of New England land and seascapes as well as his interiors and still life paintings. Learn more about this storied artist's life, and artistic inspirations and process. This event is open to the public. For more information, please visit the gallery or call (802) 989-7419.
Image:
Otter Creek Falls by William B. Hoyt
15″x40″; oil on canvas
---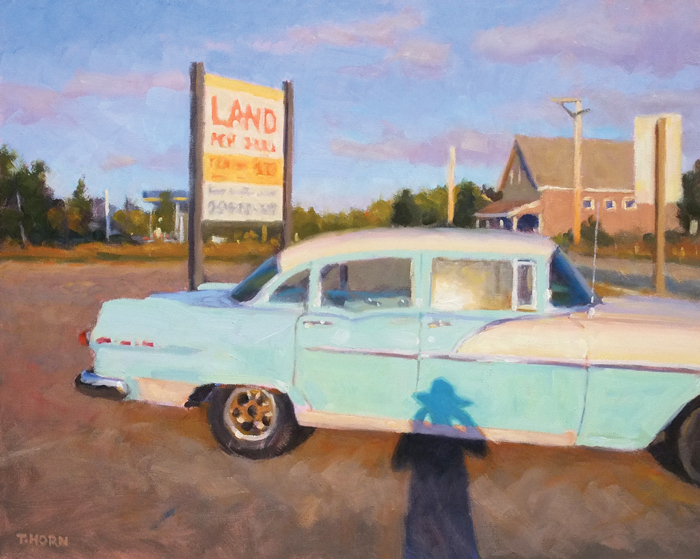 The View from Here: Timothy Horn
August 2018
Opening reception: Friday, August 10, 5-7PM
Timothy Horn paints scenes of rural areas, vibrantly capturing the simplicity of daily life. The spontaneity of portraying everyday moments inspires Horn's creative process. He is drawn to unexpected subjects and compositions, finding random inspiration to be an essential element in his work. His subject matter often includes structural elements such as old buildings, antique cars, and Airstream trailers.
Born and raised in a rural Ohio town, Horn graduated from The Cooper Union School of Art in New York and worked as a graphic designer for almost 15 years before discovering his love for painting. He has won numerous awards, has been featured in several magazines, including the cover of South West Art in 2012. Horn has a national reputation, and is represented from the coast of California to the coast of Maine. We are honored to have the opportunity to introduce his newest body of work to our community.
Image:
Land for Sale
by Timothy Horn
16″x20″
oil on canvas
---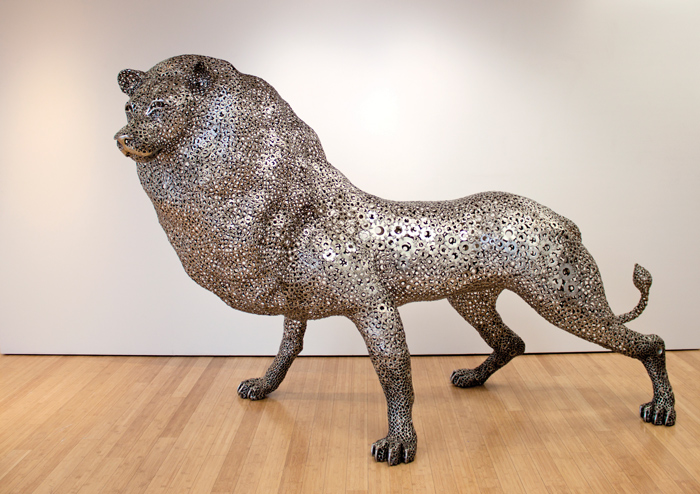 Jonathan D. Ebinger: Breathing Life into Metal
July 2018
Originally from New Jersey, Jonathan D. Ebinger honed his skills with a degree in fine art from the Art Institute of Boston. He continued a rigorous study of welding techniques through an opportunity to take free welding classes while working as a union construction worker. Ebinger uses a unique collection of materials consisting of stainless steel nuts, bolts, washers, and stainless steel rods. These materials are easily accessible in large quantities, and have become the trademark vocabulary of this artist. Says Ebinger, "They are not just construction materials, but rather pieces of a puzzle that I am able to fit together to create whatever kind of sculpture I can imagine. They are metal shapes; hexagons and perfect circles of all different sizes. When I bring together all of these geometric shapes, they have an intriguing and inviting look and feel." Using thousands of pieces for this sculptor goes far beyond the effect of a puzzle, however. The result of this assemblage of small parts is a unified whole in the form of an animal. Ebinger's creatures actually evoke movement in their stance and feeling in their eyes.
A typical day in the studio is a show of sparks, flashes of light and music. Inspired soundtracks in the studio include Tom Waits, Thin Lizzy, Herbie Mann, John Denver, Jim Croce, Metallica, Guns and Roses, Elvis and Ray Charles. Ebinger's life like animal sculptures are built using a mig welder one washer at a time, from one seamless end to another rather than in sections. His process involves holding one washer at a time in place and welding it with the electricity-based mig welder with stainless steel rod. Sometimes, once joined, the desired shape will be adjusted with the hit of a hammer.
(text adapted from text by Kelly Holt)
Image (center):
Lion
by Jonathan D. Ebinger
74″x115″x5″
stainless steel
Courtesy of the artist and Edgewater Gallery, Middlebury
---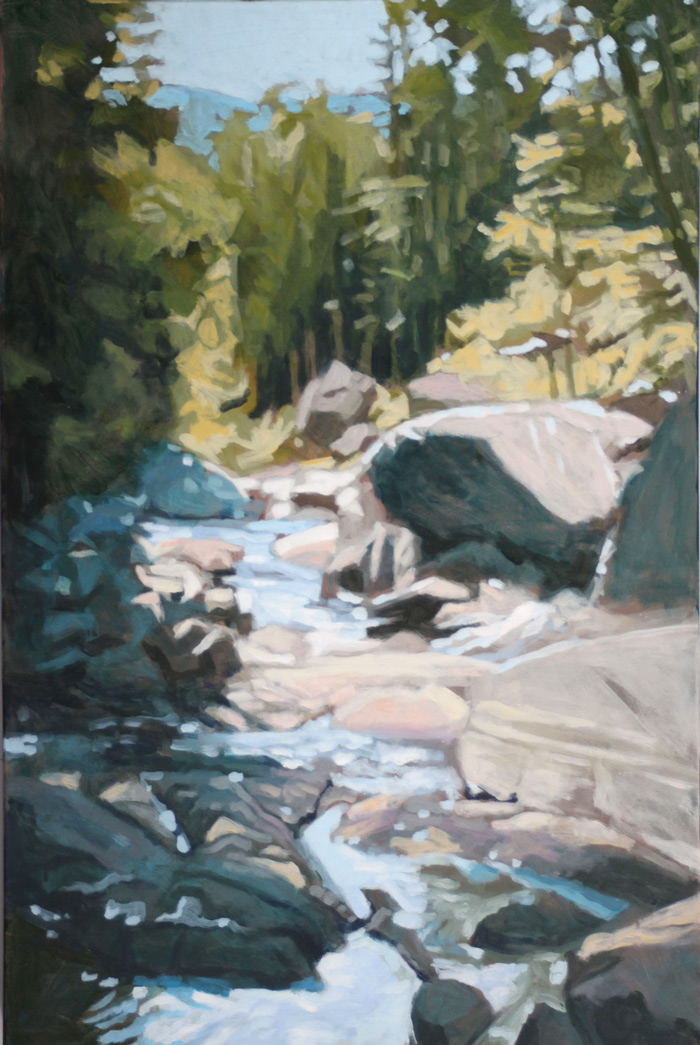 Tranquility: Works by Liz Hoag
May 2018
In "Tranquility", Maine artist Liz Hoag debuts a collection of landscapes. Hoag's work captures the quiet and peace of the Maine outdoors. The forests and the way that they frame the landscape are of particular interest to the artist. Hoag takes photographic sketches on walks through woodlands and fields, of the trees and the open land as well as the waterways of her state. What might at first glance seem ordinary becomes important for its positive and negative composition and for the balance of light and shadow. Back in her studio, she blends observation with her emotional response to her subject to produce quietly dramatic, often somewhat abstracted landscapes. The artist normally starts with a dark canvas and builds on it by adding light. She believes that it is the play of light and shadow in nature that evokes feelings of calm. Hoag's collection for Edgewater includes pieces that are highly representational as well as those that move toward the abstract. The "Tangle" series are studies of branches and that are transformed and become compositions about positive and negative space.
Liz Hoag maintains a studio in Westbrook, Maine, outside of Portland. She graduated with a BFA from Cornell University and a MFA from Boston University. Her work is held in numerous private collections and she has been mentioned in multiple publications, including Maine Home and Design's art issue, where she was listed as a 2016 "one to watch".
Image:
Mountain Stream
by Liz Hoag
36″x24″
acrylic on canvas
Courtesy of the artist and Edgewater Gallery, Middlebury
---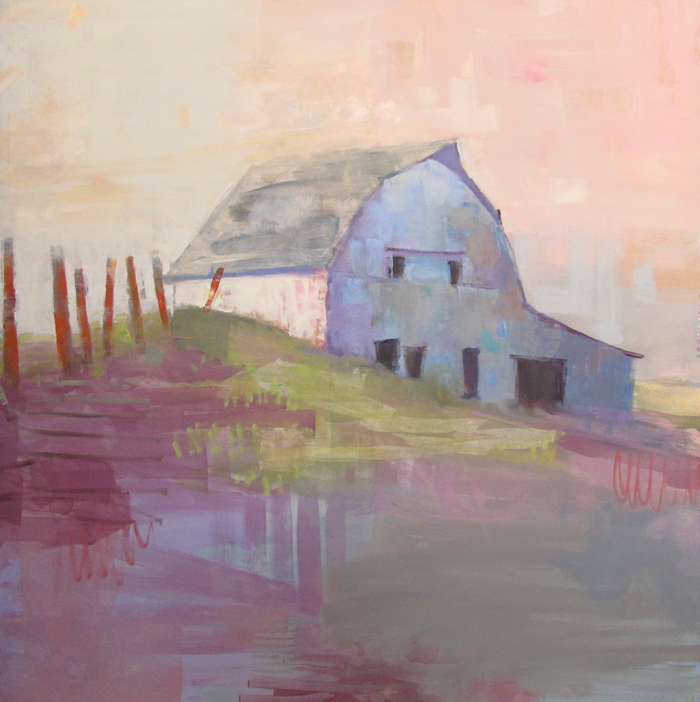 Springtime
April 2018
"Springtime" is a group show of four artists' work on view at both Middlebury locations. The show features new collections that pay tribute to the arrival of spring and the brighter light, fresh color palette and warmth of the new season.
At Edgewater Gallery at the Falls painter Jill Matthews' gracefully rendered floral still life paintings are being shown with new Edgewater artist Kay Flierl's series of barn paintings. At Edgewater Gallery on the Green, abstract painter and mixed media artist Helen Shulman's evocative abstract pieces are on view with the jewel toned and light filled still life works by Karen O'Neil, who is new to the gallery in 2018.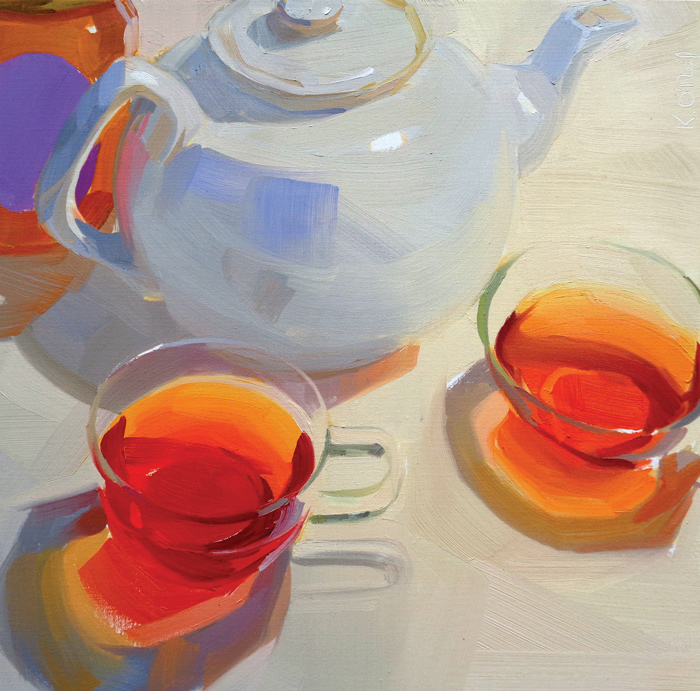 Image (top):
Grace
by Kay Flierl
40″x40″
oil and acrylic on canvas
Image (center):
Tea with Russell's Honey
by Karen O'Neil
20″x20″
oil on linen
---
Northern Neighbors: Celebrating 150 Years
April 2017
Middlebury's Edgewater Galleries celebrate the 150th anniversary of Canadian confederation with a group exhibition of work by five Canadian artists. At Edgewater Gallery at Middlebury Falls, see work by Scott Addis, Susanne Strater, and Holly Friesen. At Edgewater Gallery on the Green, see work by Donna Andreychuk and Sherry Czekus.
Image above: Big Dog by Scott Addis (24″x48″; oil on canvas). Born just outside of Pittsburgh, Pennsylvania, Scott Addis is now a resident of Quebec. His work features small towns and big cities, sheltered harbors and wide open spaces. Addis says, "I'm like a curious kid, looking at the world with wide open eyes, sharing what I see with a very busy public. Art is like that – it's an opportunity to slow it down and see what's right in front of you, instead of staying so very busy without time to see – without time to be in the moment."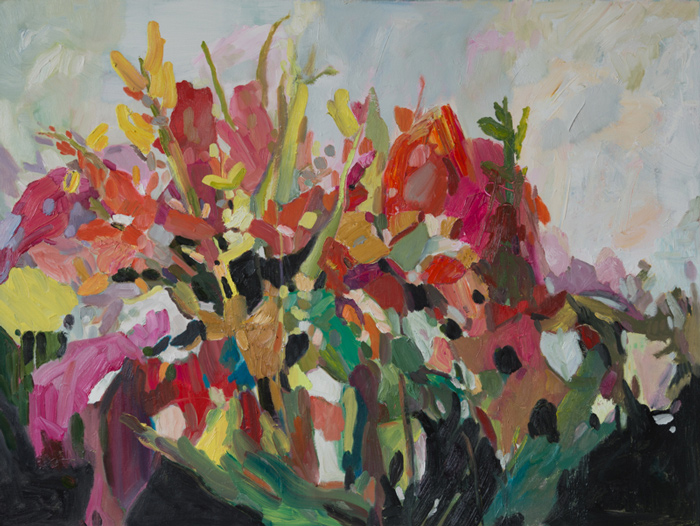 Image above: Tangled Garden by Donna Andreychuk (36″x48″; oil on canvas).
The Canadian landscape has been subject matter for Donna Anderychuk for many years and she has been greatly influenced by the rich and diverse art history there, often referencing the works of the Group of Seven. Reflecting on her work and the similarities between the Vermont and Canadian landscapes, Andreychuk comments, "Our country is known for its vastness and the endless vistas that open to large bodies of water. We are blessed with mountains and streams, waterfalls and windy rivers. When I traveled to Vermont for the first time I felt immediately at home. I saw my country, I saw the similarities that we share in your great, little state. Vermont is my neighbor to the south. I feel at home when I visit. This body of work is a reflection of my love of country."
(text adapted from the venue's press materials)