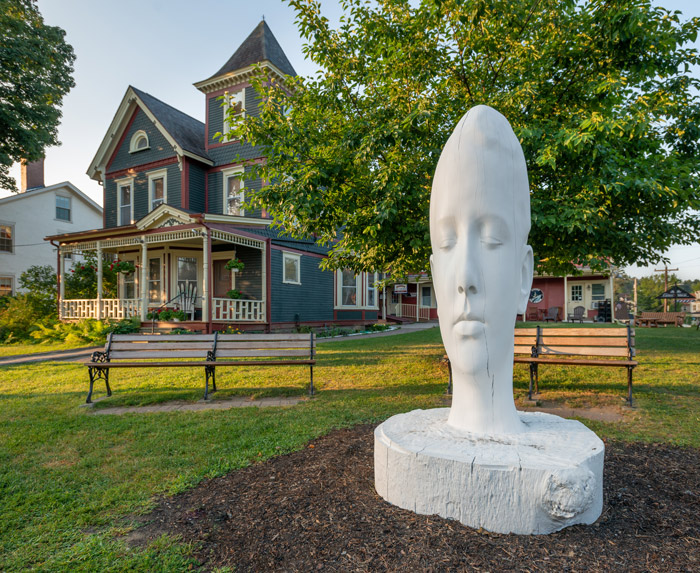 ART ON VIEW
Exposed.
at Helen Day Art Center in Stowe
July 21-October 20, 2018
"Exposed" is a long-standing annual outdoor sculpture exhibition in Stowe. Hosted by Helen Day Art Center, "Exposed" was initiated by two Stowe artists, Christopher Curtis and John Matusz, to bring what was Vermont Outdoor Sculpture Exhibition off the lawn of Helen Day Art Center and into the village of Stowe to "expose" the artwork of both emerging and established artists to a greater public.
Now in its 27th year, with significant support from the Stowe community, "Exposed. 2018" features internationally renowned sculptors Jaume Plensa (Barcelona, Spain) and Albert Paley (Rochester, New York), alongside New York artist Christopher Yockey, and regionally established artists Judith Wrend, Christopher Curtis, Ted Ceraldi, John Matusz, and David Stromeyer.
Jaume Plensa was born in 1955 in Barcelona, where he studied at the Llotja School of Art and Design and at the Sant Jordi School of Fine Arts. Since 1980, the year of his first exhibition in Barcelona, he has lived and worked in Germany, Belgium, England, France, and the United States. He currently lives and works in Barcelona. The artist has received numerous national and international awards, including the Medaille de Chevalier des Arts et des Lettres, awarded by the French Ministry of Culture in 1993, and the Government of Catalonia's National Prize for Fine Art in 1997. In 2005, he was invested Doctor Honoris Causa by the School of the Art Institute of Chicago. In Spain, he received the National Prize for Fine Art in 2012 and the prestigious Velázquez Prize for the Arts in 2013. A significant part of Plensa's work is in public sculpture, which is installed in several cities in Spain, France, Japan, England, South Korea, Germany, Canada, USA, etc. The Crown Fountain, which was unveiled in Chicago's Millennium Park in 2004, is one of Plensa's largest projects.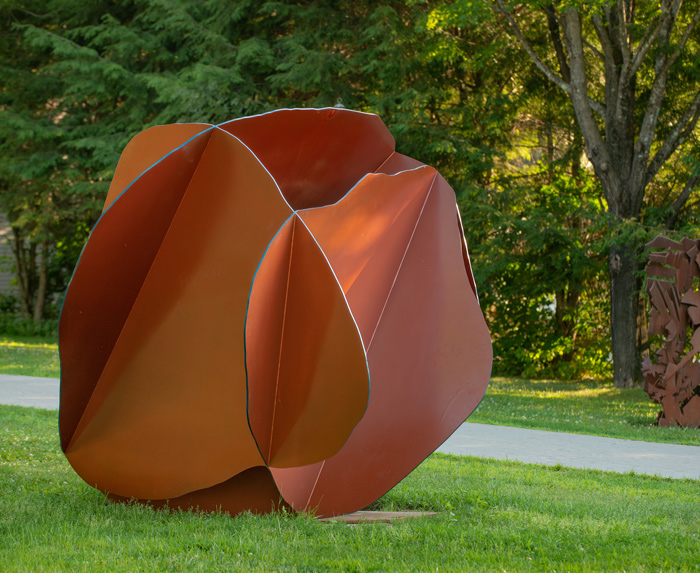 Theresa Sinclair wrote about the 2016 "Exposed." in Vermont Art Guide #2. Read more HERE or purchase Vermont Art Guide #2 for the whole article.
Presented by Helen Day Art Center and Petra & Stephen Levin. Curated by Rachel Moore, Director and Curator at the Helen Day Art Center. Stephanie Walker, Assistant Curator.
(text adapted from the venue's press materials)
---
INFORMATION
"Exposed. 2018" takes place throughout Stowe Village and along the recreation path. Self-guided cellphone audio tours, walkabout tours, a full-color catalog, and a comprehensive map are available. Visit the "Exposed. 2018" website HERE for more information.
Helen Day Art Center
90 Pond Street
Stowe 05672
(802) 253-8358
Helen Day Art Center Hours:
Tuesday-Saturday, 10AM-5PM
Image (top):
White Forest (Duna)
by Jaume Plensa
43.25″x40.125″x.5″
bronze
2015
Image (center):
Slice Rock
by David Stromeyer
9'3″x10'9″x8'9″
painted steel
2004
Images courtesy of Helen Day Art Center, Stowe
Photographs by Paul Rogers Photography, Stowe