The gallery is named for one of Vermont's most notable artists. Julian Scott (1846-1901) lived in Johnson and was a decorated soldier and a drummer during the Civil War as well as an accomplished painter and Civil War artist. One of his largest paintings of the Civil War, The Battle of Cedar Creek, graces the lobby of the Vermont State House in Montpelier. The gallery features the work of students, as well as locally- and nationally-recognized artists.
Dibden Center for the Arts
Northern Vermont University-Johnson
337 College Hill
Johnson 05656
(802) 635-1469
Hours:
Tuesday-Friday, 10AM-6PM
Saturday, 10AM-4PM
and during performances
---
ART ON VIEW
It's All in the Details: Botanical Illustrations (and More)
February 2-21, 2019
Opening reception: Wednesday, February 6, 3PM
Binta Colley studied botanical illustration at New York Botanical Garden and scientific illustration at Purdue University. She taught at Fairfield University and York College CUNY and taught arts and crafts in the Peace Corps. Colley lives and works in Plainfield.
(adapted from the venue's and the artist's press materials)
Image:
Eggplants
by Binta Colley
watercolor and pencil
2018
Courtesy of the artist
---
PREVIOUS EXHIBITIONS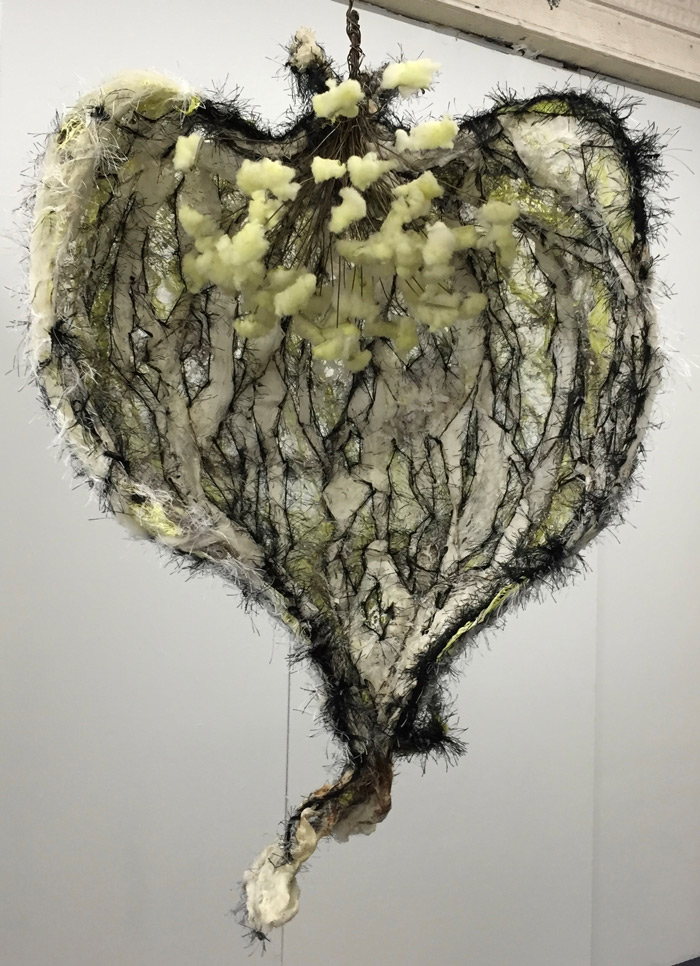 Sabrina Fadial: "Outside Inside Out"
September 19-October 5, 2018
Sabrina Fadial is a Barre sculptor and Johnson Studio Center alumna presenting new sculptures and installation art. For almost 30 years, she has maintained an active studio practice while teaching art at all levels from elementary to graduate school. She works in a diverse array of materials. Fadial holds a BFA in Textile Design from the Rhode Island School of Design and an MFA in Visual Art from the Vermont College of Fine Arts.
(adapted from the venue's and the artist's press materials)
Image:
Furry Pod
by Sabrina Fadial
32″x32″x24″
steel wool, gel medium, brass and steel wire, nylon yarn
2014
Courtesy of the artist
---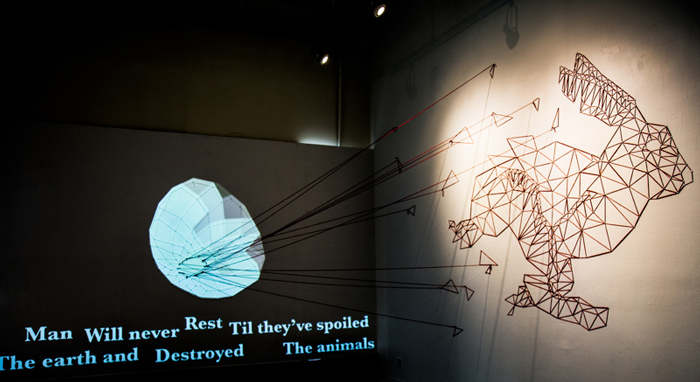 Jason Ekenroth: Run Rabbit-Chase
February 12-March 9, 2018
Run Rabbit-Chase is a multimedia yarn mural and video poem, exploring contemporary anxieties with the character of a rabbit. In the lineage of Richard Adams' Watership Down, this character exists at the point between the natural and constructed worlds, both in story and in physical form.
(from the college's press materials)
Image:
Run Rabbit-Chase (installation view)
by Jason Ekenroth
---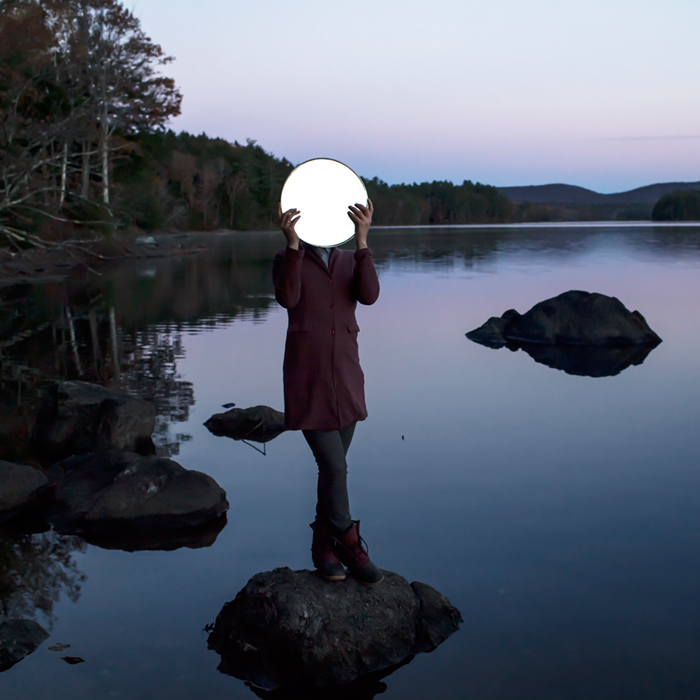 On Photography
January 30-March 17, 2017
"Response" opens January 30
"Impression" opens March 2
Julian Scott Memorial Gallery unveils a series of two exhibitions on photography.
"Response" features the work of Vermont artists Kelly Holt, Duncan Johnson and Mary Zompetti. "Each artist is responding to the energy of a certain place/space. Holt's black and white photography juxtaposes architectural details with abstract surfaces and fleeting figures. Johnson's photographs respond to spaces in his studio, where he works with reclaimed wood. Zompetti's images from remote areas of northern Iceland reveal ways to explore landscape through optical elements. 'Phases', her series of 28 moon phases, is accompanied by an an audio component."
"Impression" shows Maine photographer Cig Harvey's Gardening at Night monograph, an exploration of home, family, nature, and time, and California photographer Brittany Powell's The Debt Project, a multimedia exploration of the role debt plays in our personal identity and social structure.
Image:
Sadie and the Moon
by Cig Harvey
metal print
Courtesy of the artist