This full-service gallery, frame shop and print studio features artists from New England and Vermont including such iconic Vermont landscape painters as TM Nicholas, Janet Bonneau, and Eric Tobin. Corliss Blakely's still life are a particular joy.
Village Frame Shoppe & Gallery
72 North Main Street
St. Albans 05478
(802) 524-3699
Hours:
Monday-Friday, 10AM-5PM
Saturday, 10AM-3PM
---
ART ON VIEW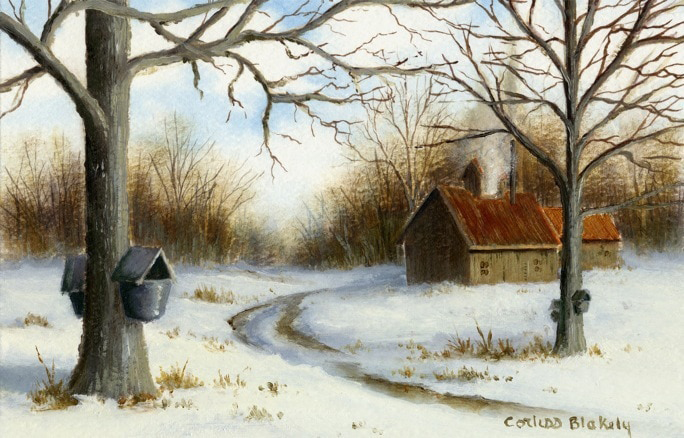 Sappy Art Show
April 13-May 10, 2019
Village Frame Shoppe started The Sappy Art Show during the 2011 Vermont Maple Festival, so that regional artists could celebrate the Green Mountain State's thriving maple industry. After a four-year break, they are thrilled for an official revival with the 2019 Sappy Art Show.
The exhibition features 37 pieces from nearly 30 artists, which are for sale at the Frame Shoppe & Gallery and online. You can also vote for your favorite Sappy Art Show artist HERE. The prizes for the top vote-getting artists are: one gallon of Vermont maple syrup for first place, a half-gallon of Vermont maple syrup for second place, and one quart of Vermont maple syrup for third place.
(text adapted from the gallery's press materials)
Image: Boiling Time by Corliss Blakely. Courtesy of the artist.
---
PREVIOUS EXHIBITIONS