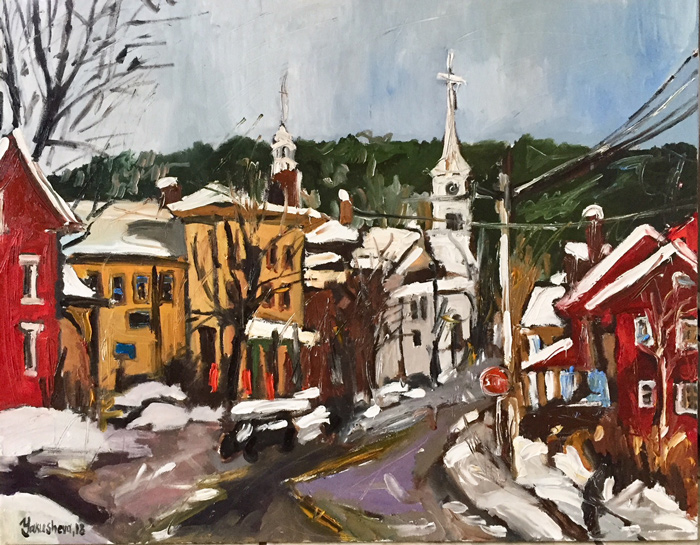 ART NEWS
Milton Art Center Brings Community
Together on "Social Sunday"
Sundays in March 2018
In April 2017, the Milton Artists' Guild opened the Milton Art Center & Gallery at Milton Plaza, between Aubuchon Hardware and Fuyam Buffet. The 6,270-square-foot Art Center is being provided rent-free through March 2019 by the building's owner, Ernie Pomerleau, who is also building a handicap-accessible, unisex bathroom, a utility sink and extra lights at no cost. Redhouse Building Contractors donated a full kitchen for the space, for which the Guild is responsible for installing. The Art Center is a hub for the arts in and around Milton and features permanent and rotating exhibits; workshops and art-related activities for people of all ages; artists-in-residence; a satellite of the Village Frame Shoppe, a gift shop and rental space for artists and community groups. Staffing is provided by volunteers from the Guild's membership.
Social Sundays
Each Sunday in March, 1-3PM, the artist members of the Milton Artists' Guild hold workshops at the Art Center. These workshops are free and open to the public. On the schedule is:
March 4: "Spring in Mind" Papercutting Workshop with Kathleen Berry Bergeron
March 11: "Make Something Special for St. Patrick's Day" Leprechaun Mask Making Workshop
with Julie Griffis
March 18: "Painting Trees" Workshop with Barbara Pafume
March 25: "Making Jewelry" Workshop with Cathy LaClair
More "Social Sundays" are coming in April. Visit the Milton Artists' Guild website HERE to learn more.
The Milton Art Center also offers a range of classes and workshops throughout the year. These classes have a fee, but Milton Artists' Guild members receive a discounted rate. Among the upcoming offerings are an Easter Basket Weaving Workshop with Tracie Quirion on Saturday, March 24th and a Landscape Tapestry Weaving Workshop with Janice DeCooman on Saturday, April 7th. Visit the Milton Artists' Guild website HERE for more information.
---
INFORMATION
Milton Art Center & Gallery
199 US 7 North
Milton 05468
Hours:
Wednesday-Saturday, 11AM-6PM
Sunday, 11AM-3PM
Image:
Stowe Street
by Tatiana Yakusheva
22″x28″
oil on canvas