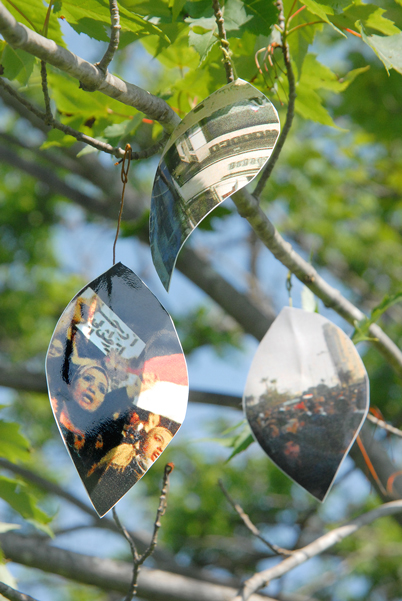 Monica Herrera is part of Exposed 2011. She lives in Chicago, Illinois.
REVOLUTION! (2011) This piece was originally inspired by Leil-Zahra Mortada, a Barcelona-based activist, who in the last days of January 2011, started compiling a photo album called Women of Egypt, in which she offered a visual counterpoint to the media's neglect of women's participation in the popular uprisings that were taking place in Northern Africa and the Middle East. In a message attached to the album, which went viral almost instantly, she acknowledged it was impossible for her to confirm if each and every picture actually came from Egypt. And then she added: "If I publish any by mistake, forgive me! ALL REVOLUTIONS ARE ONE IN THE END!"  Or are they? My first reaction was to think that a revolution is always particular to a time and a place, a consequence of a unique combination of specific and unusual circumstances. My first reaction, thus, was the exact opposite: every revolution is unique. Yet once I saw the images, I immediately knew what she meant. Because there appeared to indeed be something universal about revolutions: maybe a common language, a shared sense of the epic or the heroic, a general aesthetic of collective emancipation, a shared appeal against injustice.  I created this piece in order to explore that paradox: on the one hand, the matter-of-fact idea that each revolution is different; on the other hand, the powerful feeling that, at some level, all revolutions are one.
Monica Herrera received her MFA from the School of the Art Institute of Chicago (2008), where she concentrated on Public Art. She works with multiple media, mostly sculpture and installations, and is interested in the relationship between notions of culture/identity, urban spaces and everyday life and objects. Her work has been shown in Mexico City, Puebla, Chicago, Hammond, Madrid, Paris, Thessaloniki and Melbourne. She will be an artist-in-residence at the Hyde Park Art Center in the summer of 2011; and a fellow at the Vermont Studio Center in 2012.
---
ABOUT EXPOSED
For the past twenty years, the Helen Day Art Center has hosted an outdoor public art and sculpture exhibition called Exposed in Stowe, Vermont. Exposed hosts sculptures, site-specific installations, and participatory work from twenty-three national and international artists. the 2011 edition offers a series of Thursday night events by 12 video artists, writers, performers, and musicians accompany the exhibit. This exhibition and series of events is accompanied by cell phone audio tours, QR codes, walking tour maps, walkabouts, and a catalogue of the exhibit published by Kasini House Books. The exhibition will take place July 8th to October 8th, 2011.