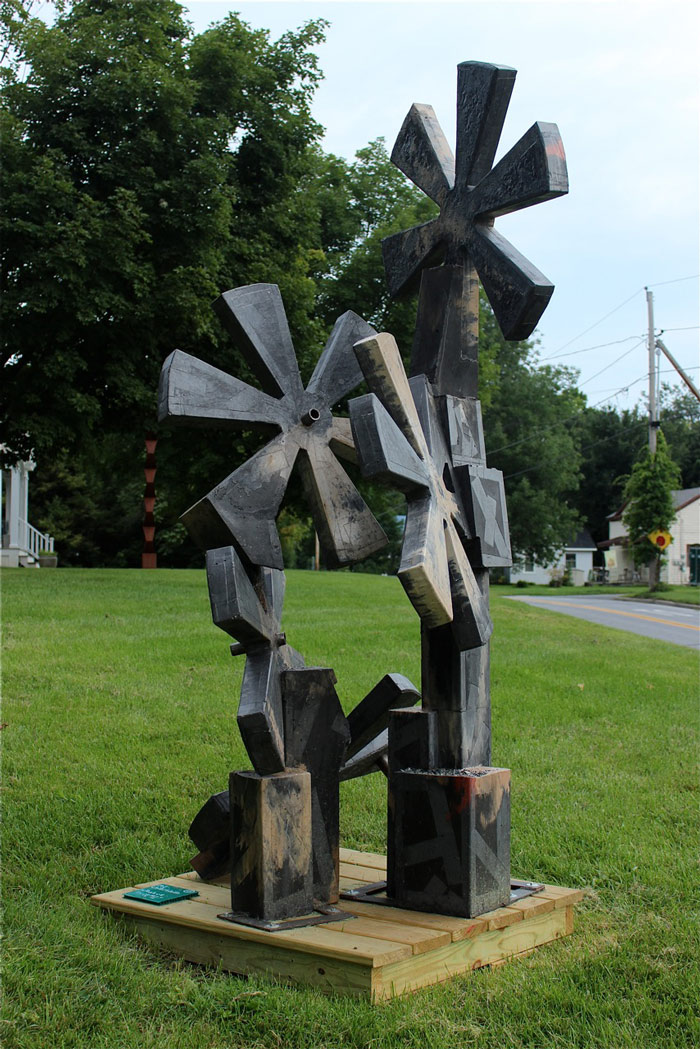 19th Annual North Bennington Outdoor Sculpture Show (NBOSS)
July 23-October 23, 2016
The 19th Annual North Bennington Sculpture Show is on view throughout the village of North Bennington at various locations until October 23, 2016. Several works are on view at the North Bennington Sculpture Park, 48 Main Street, next to the post office. Also, sculptures are at the North Bennington Train Depot, and at three other locations on Main Street.
The show is also sponsored in part from the Fund for North Bennington and the Sage City Syndicate and has been curated by Joe Chirchirillo for the past four years.
The show had its beginnings when local mason, Joe McGovern, asked Willard Boepple, local sculptor, to install a few works on open land next to his shop and garage. Willard was also a sculpture professor at Bennington College and thought it would be a great opportunity to showcase the works of his students. Anthony Cafritz, founder of Salem Art Works, was a student at the time, and took over curating duties for several years. The students brought a sense of fun to the exhibit, siting experimental sculpture and performance pieces. Other local sculptors involved during the early years included John Uphlett, Fred X Brownstein, and Stephan Fowlkes. The openings were typically big and raucous affairs with students past and present and local artists showing their work, enjoying hot dogs and cheap beer.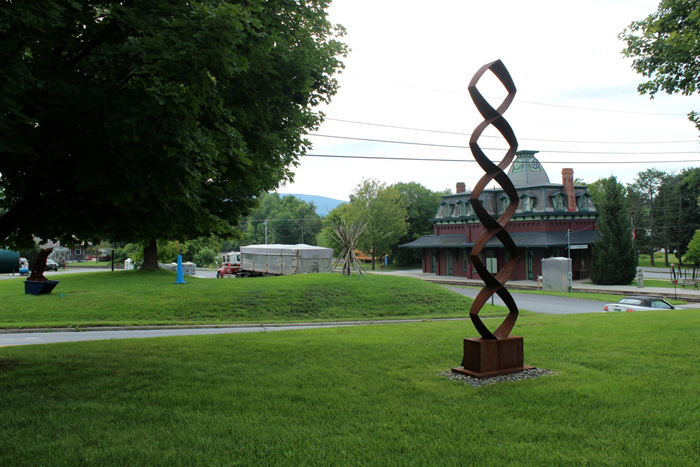 Thirty-eight sculptors' works are represented. Some of the North Bennington-area sculptors participating include Bill Botzow, Kristen Blaker, Fred X Brownstein, Joe Chirchirillo, Michael Biddy, Rita Dee, Gregory Smith, and Autumn Doyle.
Other sculptors from the Northeast and other states include Ethan Ames, Taylor Apostel, Freedom Baird, Peter Barrett, Michael Bonadio, Patrick Camut, Jodi Carlson, Dave Channon, Charlet Davenport, Dave Goerlitz, Michael Guadagno, Bruce Hathaway, Stephen Kiema, Eric David Laxman, Lin Lisberger, Peter Lundberg, Matthew Marks, Philip Marshall, Evan Morse, Phil Pappas, Nicholas Santoro, Mariam Shah, Christopher Spinozzi, Jamie Townsend, miChelle Vara, Zac Ward, John Wilkinson, Chase Winkler, and Bernie Zubrowski.
For more information, visit NBOSS' Facebook page HERE.
Image (top):
Joshua Tree by Joseph Chirchirillo
Image (center):
Emerging Tower by Peter Barrett