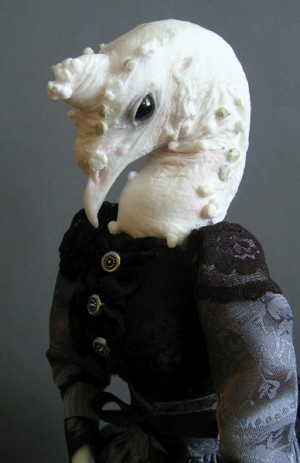 Friday, July 19, 5:30-7:30PM
An aviary is a large enclosure for confining birds. In the Strange Dolls' "Aviary" you will find birds that have become so comfortable living outside of their natural habitat, that they have started to adopt certain humanoid traits. Enjoy anthropomorphic sculptures and prints of these dandies and ladies on the 2nd floor of Studio Place Arts in Barre.
Beth Robinson is a self-taught artist who starting making "Strange Dolls' in 2003. While she has dabbled in a variety of mediums, it was the discovery of polymer clay that allowed her to combine her interests in sculpting, painting and sewing and gave her a concrete foundation of expression in the form of "Strange Dolls". Beth's dolls have found homes across the globe from New York to Japan. "Strange Dolls" have been featured in a number of art publications and television appearances. She is currently represented in Berlin, Germany by Strychnin Gallery and maintains a regular studio practice in the South End Art's District in Burlington.