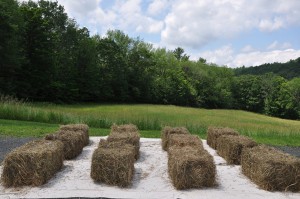 Friday, July 12, 5-8PM
First Floor: Sam Falls
Drawing inspiration from photographic processes, Sam Falls conducts outdoor experiments similar to contact sheet printing. Using sunlight to "develop" the imprint of wood onto large swaths of fabric or infusing colored dye into hay bales, Falls applies the physical and technical aspects of image making to unconventional materials. By juxtaposing photography's technical process with sculptural convention and painterly form, Falls' work introduces a harmonious dialogue between three independent mediums.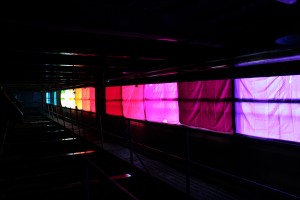 Second Floor: Sarah O Donnell
From horror films to stories of neighborhood gentrification, abandoned structures are concrete symbols of our past and fertile territory to continuously reimagine our future. Known for her light-based installations that use mysterious buildings to explore place, isolation, and the tension between still photography and the moving image, Sarah O Donnell's BCA exhibition focuses on Burlington's Moran Plant. O Donnell will use the Moran Plant to light up the sky, expose the building's structure, and continue to fuel the dialogue about Moran's iconic status as Burlington's trophy of beautiful decay.