This spacious gallery and performance space occupies a renovated historic church and former Masonic hall in Poultney. Open mid-April through early December.
Stone Valley Arts at Fox Hill
145 East Main Street
Poultney 05764
EMAIL
Hours:
most Sundays, 1-4PM
and when the building is open for other events
---
ART ON VIEW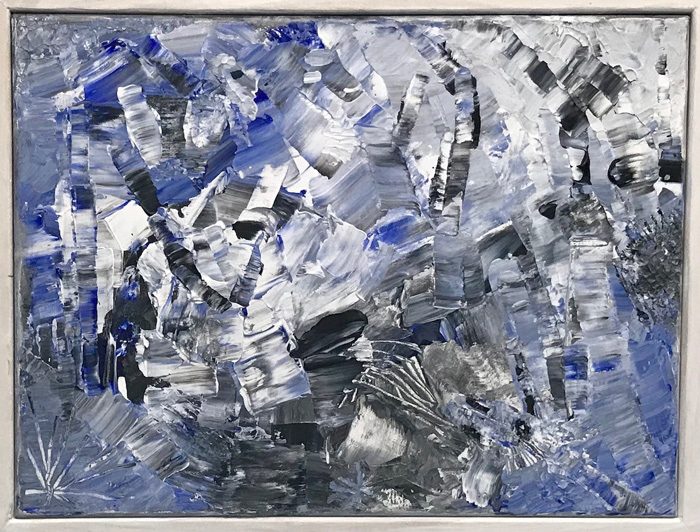 "I know what I saw": Rita Fuchsberg & Irene Minkoff
November 3-December 9, 2018
Rita Fuchsberg's recent work includes highly textural acrylic paintings created with a palette knife. When asked for a brief bio, Fuchsberg responded, "I've been an artist since as long as I can remember. I earned a master's degree in art therapy from Pratt and worked in that field for several years."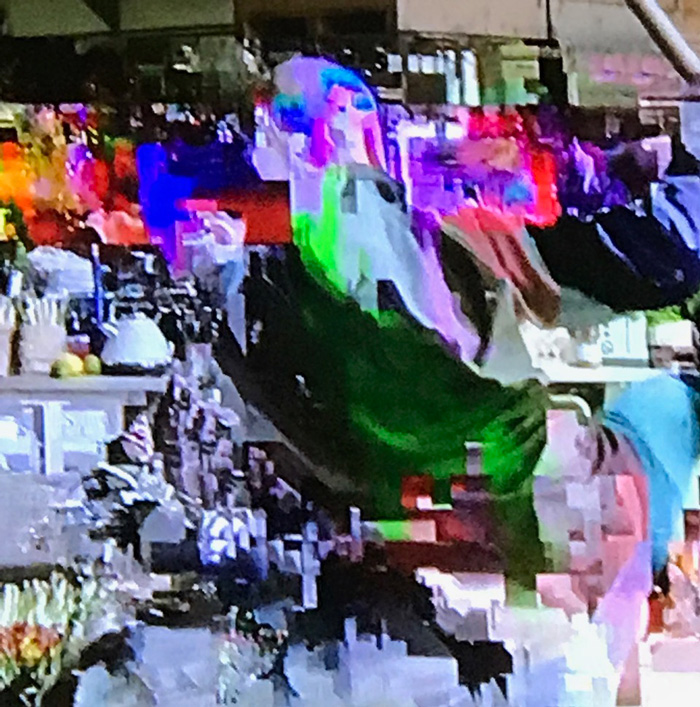 Of her work for "I know what I saw", Irene Minkoff explains, "Television talks at us 24 hours a day. Mine started saying different things to me. Images combined and coalesced fleetingly. I felt compelled to hunt them and watch until they beckoned to me. These few canvases represent the countless hours of staring at broken televisions until those crazy images spoke their own kind of sense…I think most of the work is thought-provoking and I'm very interested in knowing what others see because the potential is there for each person to see something different."
Stone Valley Arts at Fox Hill currently makes it home in the historic stone church donated by Rita Fuchsberg and Irene Minkoff to the Preservation Trust of Vermont.
(text adapted from the venue's press materials)
Image (top): untitled by Rita Fuchsberg (painting)
Image (center): At the Bazaar by Irene Minkoff (digital photograph on canvas)
---
PREVIOUS EXHIBITIONS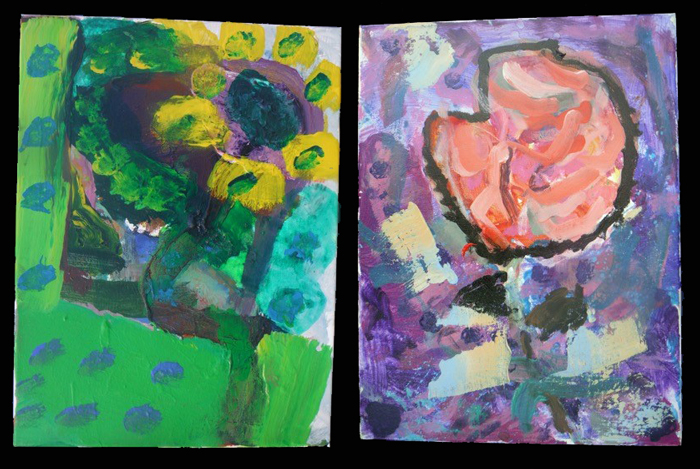 ART ON VIEW
Drawing Water Project
July 26-August 26, 2018
Tom Merwin and the Forty-Seven Main Street artists bring The Drawing Water Project to Stone Valley Arts at Fox Hill. Merwin is the recipient of a 2017 Vermont Psychiatric Survivors Grant for the Drawing Water Project.
The Drawing Water Project is an engaged creative movement to dismantle social marginalization through the arts. For the past 3 years, showing in Burlington at SEABA, Art's Alive Gallery at Union Station and VCAM/RETN Art Space; in Brandon at Compass Music and Arts; and The Merwin Gallery in Castleton, the painters of Forty-Seven Main Street, together with their paintings and poetry, travel beyond the social construct that separates and marginalizes the creative voice of "the other". They work together to challenge the convenient labels of disability, mental illness and poverty to transform barriers into opportunities for mutual beauty and growth. The larger plan is to take painting to where it is needed throughout Vermont for communion and healing, bringing art supplies to communities and residences where sisters and brothers can join them in their expressions and exhibitions.
Merwin explains on his website that he was "initially influenced by the Hudson River School and abstract expressionists. I soon made a link to a continued love of Chinese and Japanese painting. My painting process expresses a layering of symbol and spirituality using nature as a doorway to the expression of existential concerns. I find this work a way of entering being more fully (on the other side of words)."
(text adapted from the venue's and the artist's press materials)
Image:
from the Drawing Water Project
---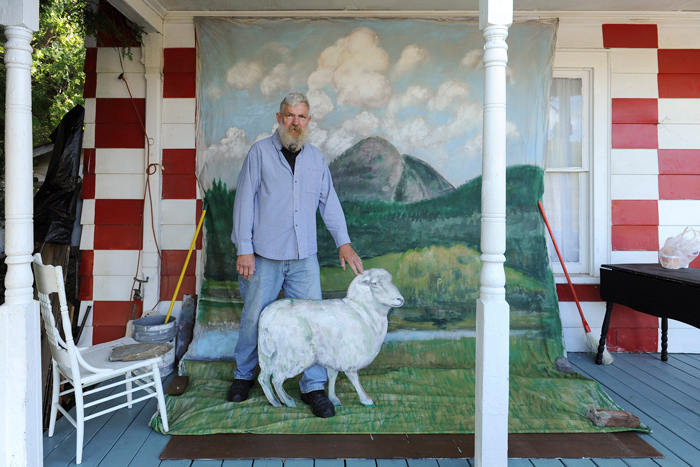 George Bouret Photography:
Architecture, Landscape & People
August 8-September 2, 2017
George Bouret's show of original photography features portraits of people, individuals and families taken at Vermont art fairs; photo documentation of architecture that ranges from classic interiors, to one-of-a-kind shops to historic bridges; and panoramic landscapes from New England, the Southwest and Alaska.
About George Bouret:
George Bouret has been working as a professional photographer since 1983, when he worked as an in-house product photographer for the Leonard Silver Co. in Boston. Between 2010 and 2012, he photographed the construction of the Renzo Piano-designed extension of the Isabella Stuart Gardner Museum in Boston. He has also taught photography and lighting at the School of the Museum of Fine Arts, Boston and the Ah Haa School for the Arts in Telluride, Colorado. His work has been published widely and he counts many galleries and artists among his clients. He lives and works in West Pawlet.
(text adapted from the venue's and the artist's press materials)
Image:
photograph by George Bouret
Courtesy of the artist