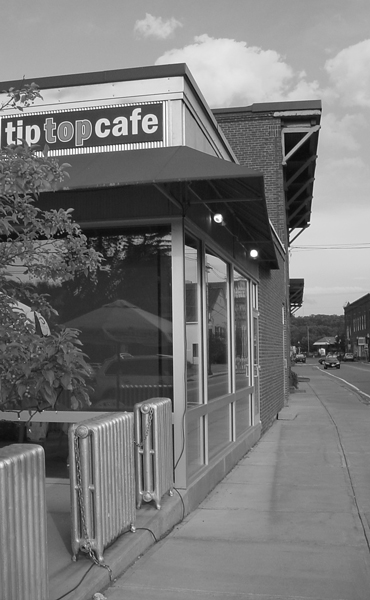 Once a thriving bakery along the banks of the White River, Tip Top Media and Arts Building now houses 40 artists and businesses in a creative collaborative environment. A project of filmmaker and painter Matt Bucy, he acquired the building in 2000 and has been renovating, repairing and restoring it ever since. With over 1,000 feet of wall space (and a few dozen artists), the inside of the building is covered with art. Artists hang work at their discretion. Frequent open house and other events make Tip Top a hub of creative activity.
Among the artist studios housed in the building is filmmaker, painter and Tip Top found Matt Bucy, painter Georgina Forbes, painter Rebecca Gottesman, sculptor William E. Nutt, impressionist painter Virginia Webb, puppet-maker and puppeteer Gabriel Q, landscape and wildlife artist Harry C. Connington, and artist and painter KB Fiske. Tip Top is also home to the classy Tip Top Café, a paint-your-own-pottery studio and Chelsea Green Publishing.
Tip Top Media and Arts Building
85 North Main Street, White River Junction 05001
(802) 356-1933
WEBSITE
Tip Top Media and Arts Building is open to the public Monday-Saturday.