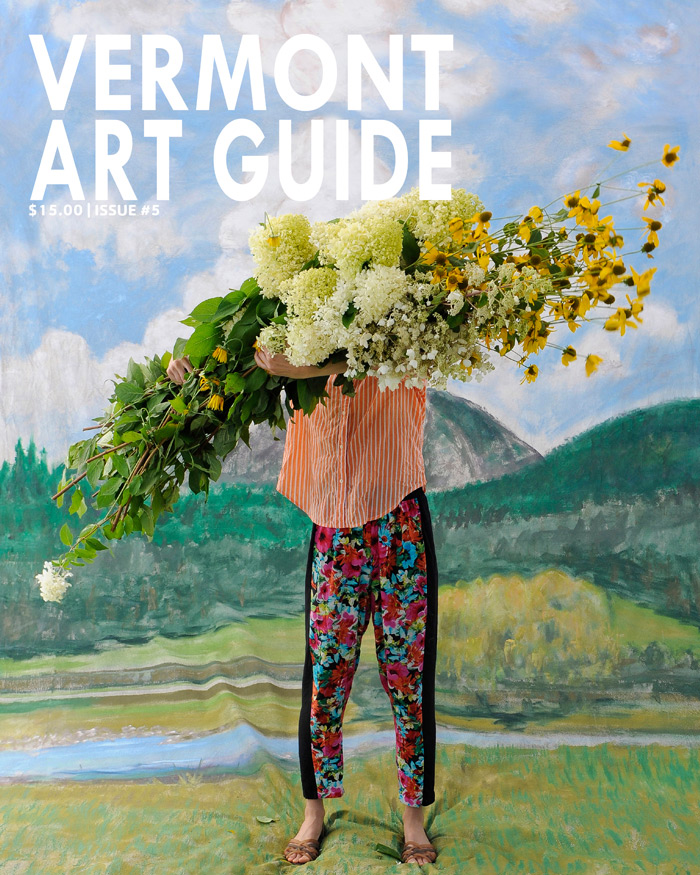 In This Issue
In our roundup of News & Notes from Vermont's art community, we report on City Market's choice of muralists for their new South End Burlington location, the new director at the Vermont Arts Council, Johanne Durocher Yordan's Mobile Gallery, and the re-opening of an art park after renovations.
In the issue's editorial, "Art in Troubled Times", Vermont Art Guide Editor Ric Kasini Kadour questions the value of art during times of social and political turmoil.
"I mention these events because, moving forward, this is the world in which we live and if art is going to be relevant to people, if art is going to serve a meaningful function in the day-to-day lives of people, then we need to understand that this is the world that art lives in as well."
We take you to a cooperative space in Bristol Village that is building artist community. We head to Grand Isle to meet an artist making contemporary art with Raku. And we visit Ashley Roark's studio at the Soda Plant in Burlington. Among other things, Roark makes collage out of pale muted papers and post-industrial office supplies.
The issue has a profile of Matt Neckers' Mobile Museum. Neckers purchased "a dilapidated vintage camper off of Craigslist for $500" and spent a year turning it into the Traveling Mobile Museum. We've got the story.
We peek at Helen Day Art Center's Annual "Exposed" Exhibition. Now in its 26th year, "Exposed. 2017" features internationally renowned sculptors alongside more than a few local favorites.
In our story about Paul Sample's Salute to Vermont being reinstalled at the Vermont History Museum, we conclude, "The mural is a testament to art's ability to preserve and hold ideas over time. A visit to Salute to Vermont is an opportunity to reflect on where we came from and what our future holds."
Floral, a photograph by George Bouret, is on the cover of Vermont Art Guide #5. Bouret is one of the artists featured in the exhibition "Connection: The Art of Coming Together" at the Vermont Arts Council Spotlight Gallery in Montpelier and in an exhibition-in-print inside the issue.
Vermont Art Guide publishes Exhibitions-in-Print as a way of disseminating critical ideas and documenting them for the future. This issue's exhibition is a survey of contemporary Vermont art organized by artist networks rather than by aesthetics or media. As an experiment, curator Ric Kasini Kadour, editor and publisher of Vermont Art Guide, asked four artists or art professionals from different corners of the state to submit the name of an artist they feel is part of their community or network. He then went to those people and so on until he had enough people to fill the exhibition.The results of this experiment, as well as Kadour's extensive commentary on the artists' relationships and artwork, make up the Exhibition-in-Print.
Where to See Art is our curated list of 169 places to see art around the state. We pay particular attention to: Highland Center for the Arts in Greensboro | DaVallia-39 North Gallery in Chester | Two Rivers Printmaking Studio in White River Junction | The Kent Museum in Calais | River Arts in Morrisville | Brattleboro Museum & Art Center | Vermont Center for Photography in Brattleboro | Stone Valley Arts in Poultney | Brandon Artists Guild | Birds of Vermont Museum in Huntington.
and a Vermont Art Guide Artist Directory.
SPECIAL NOTE: Vermont Art Guide is a quarterly, printed magazine about contemporary art in Vermont. We have three goals: 1) To connect the entire state's art community by sharing information about exhibitions and events. 2) To present a picture of Vermont art and art in Vermont, to tell our story. 3) To build an audience for Vermont art inside the state and out. We hope you will join us by subscribing to the print edition today!