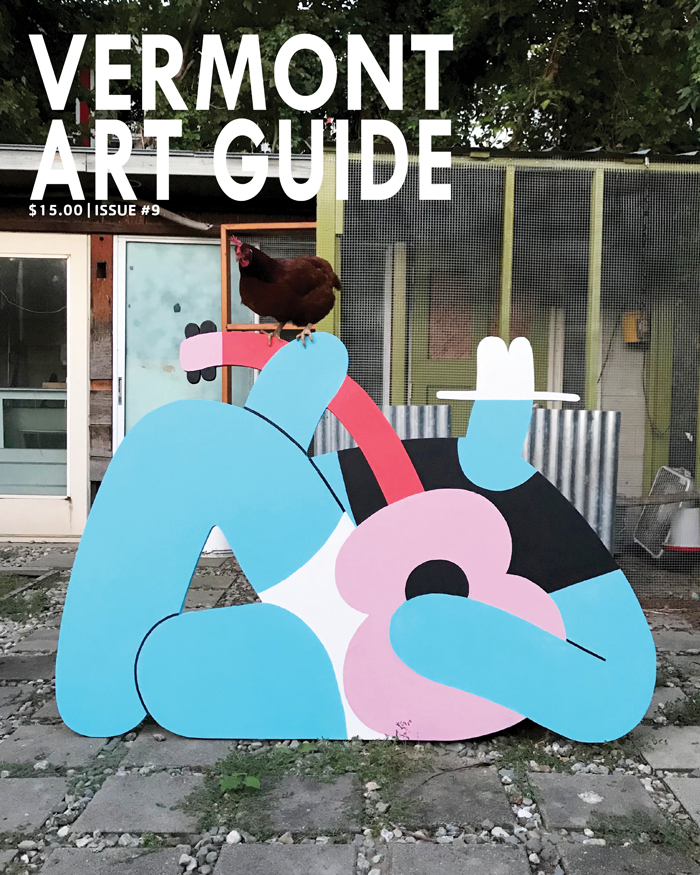 In This Issue
On the cover of Vermont Art Guide #9, a lone chicken stands on a large work by Jackson Tupper. Tupper is on our list of 2019 Vermont Artists to Watch and will be showing at Spruce Peak Performing Arts Center this winter. He writes, "Creating these characters forced me to loosen up. I realized how refreshing this was. Colors crashing into each other, the registration is not perfect…the work is really being free. This was the birth of my most recent characters who are full of humor and fun."
In our round-up of Vermont Art News, we report on new public sculpture at Oxbow Riverfront Park in Morrisville and the Vermont Veterans Memorial Cemetery in Randolph. We take note of Ceres returning to her spot on the State House in Montpelier and how the state's cultural leaders are responding to an increase in hate crime.
A new biennial series debuted at Shelburne Museum. In his review of "New England Now", Ric Kasini Kadour writes, "The difference is in the stories we tell people to lure them here versus the life people actually live in New England."
Dartmouth's Hood Museum of Art reopens in January after a two-year renovation. Susan B. Apel gives us a preview of what to expect and writes, "Vermonters, particularly Upper Valley dwellers and others in the central and southern parts of the state, are waiting with breath as bated as that of their New Hampshire neighbors as they anticipate the opening of their community's new version of its beloved art museum."
SPECIAL FEATURE:
ARTISTS TO WATCH IN THIS ISSUE
The issue features the 2019 Vermont Artists to Watch, our annual survey of contemporary Vermont art in exhibition and print.
Next Generation Carver: Sean Hunter Williams, Montpelier
Nominated by Ric Kasini Kadour, Artist, Writer, and Culture Worker
Yearning for a Sense of Place: Andrew Frost, Burlington
Nominated by Joshua Farr, Director of the Vermont Center for Photography, Brattleboro
The Radical Act of Realism: Andrew Orr, Richford
Nominated by Mickey Myers, Executive Director of the Bryan Memorial Gallery
The Contentment of Making: Clark Derbes, Charlotte
Nominated by Andrea Rosen, Curator of the Fleming Museum of Art
For the Visual Pleasure: Elizabeth Nagle, East Dorset
Nominated by Anna-Maria Hand, Gallery Director of the Southern Vermont Arts Center
The Emotional History of a Figure: Hasso Ewing, Calais
Nominated by August Burns, Artist and Curator
Walking a Line of Whimsical and Weird: Jackson Tupper, Burlington
Nominated by Kelly Holt, Artist and Curator
Risk-taking & Forgotten Knowledge: Rhonda Ratray, Bennington
Nominated by Jamie Franklin, Curator of The Bennington Museum
Beautiful, Curious, and Mysterious: Sally Gil, Brooklyn, New York
Nominated by Sophie Bréchu-West, owner of 571 Projects in Stowe
A Sense of the Hand: Sarah Amos, Enosburg Falls
Nominated by Rachel Moore, Director of the Helen Day Art Center in Stowe
Where to See Art is our curated list of over 175 places to see art around the state. We shine a spotlight on Frederico Pardo's Ice Shanties at Vermont Folklife Center in Middlebury; Small Worlds & Global Miniatures at Fleming Museum of Art in Burlington; Clay sculpture by Susan Wilson at West Branch Gallery & Sculpture Park in Stowe; New Members Join The Front in Montpelier; Beauty and Violence at Brattleboro Museum & Art Center; Healing at The Great Hall in Springfield; Rutland: Real & Imagined at The Alley Gallery in Rutland.
A special thank you to this issue's Gallery Members whose support helps make this magazine possible:
Art Works Frame Shop & Gallery | BigTown Gallery | Catamount Arts | DaVallia | Vermont Artisan Designs | Edgewater Galleries | Axel's Gallery & Frame Shop | Brattleboro Museum & Art Center | Emile A. Gruppe Gallery | Milton Artists' Guild | Stone Valley Arts at Fox Hill | Valley Arts | Village Frame Shop & Gallery | Middlebury College Museum of Art | stART Space | Two Rivers Printmaking Studio | Spruce Peak Performing Arts Center | Shelburne Museum | Highland Center for the Arts
SPECIAL NOTE: Vermont Art Guide is a quarterly, printed magazine about contemporary art in Vermont. We have three goals: 1) To connect the entire state's art community by sharing information about exhibitions and events. 2) To present a picture of Vermont art and art in Vermont, to tell our story. 3) To build an audience for Vermont art inside the state and out. We hope you will join us by subscribing to the print edition today!