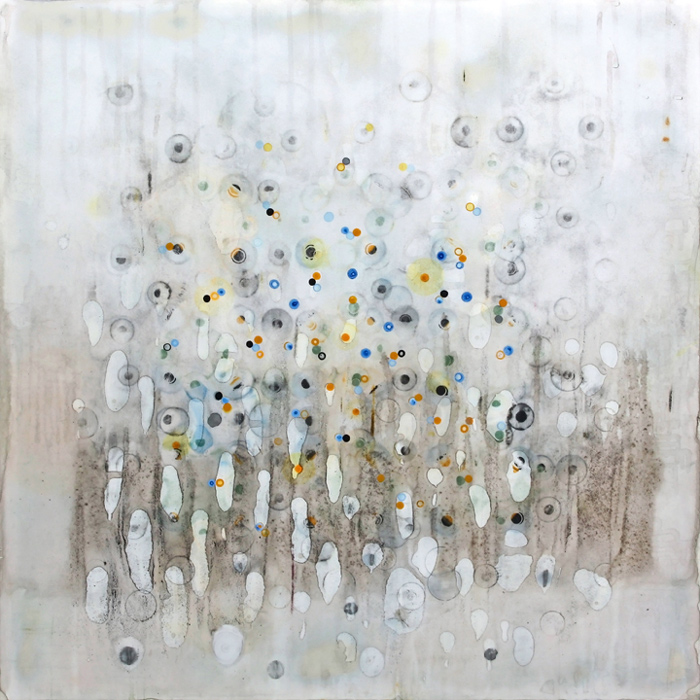 John Dempcy: "Vibrations"
December 17, 2016-January 21, 2017
Working for years with fluid acrylics, John Dempcy explored the ideas of chaos and order. Dempcy used a dropper to apply paint to clayboard allowing the paint to move free from the coercion of the human hand. The intrinsic character of the paint revealed itself as it absorbed spread and blended. The resulting images seem to reference a sort of cellular level of life, crystals, geodes, petri dishes growing a beautiful science experiment.
Adding the human hand back into the work, Dempcy reveals the even more subtle energies and interconnectedness of these basic life forms, as if trying to understand the source of the very cellular structures he was before creating, revealing the very complicated nature of life, particularly at its most basic expression.
Instead of relying on the natural forces at play and revealing the viscose qualities of fluid acrylic, Dempcy now incorporates rubbing alcohol, alcohol inks, and sumi ink into his painting. He has taken the randomness of the dropper away and scratches into the surface with a tool to create the various grids and also does a lot of sanding back with a rotary sander.
"The work came out of my reading on quantum physics. Kind of dry in itself, but mystery and energy and connection are the themes I worked with," said Dempcy.
(text adapted from the venue's press materials)
---
INFORMATION
Walker Contemporary
4403 Main Street
Waitsfield, Vermont 05673
(617) 842-3332
Hours:
Tuesday-Saturday, 11AM-5:30PM
Image:
Whispers
by John Dempcy