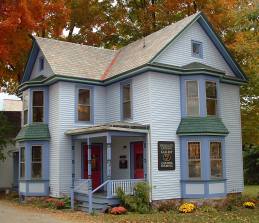 Furchgott Sourdiffe Gallery is Chittenden County's oldest established gallery of contemporary fine arts and crafts. Presenting a stylistically diverse collection of original work, including oils, pastels, watercolors, and prints by artists of regional and national stature. The gallery also has a unique collection of fine crafts and gift items. Located in the relaxed setting of a Queen Anne Victorian building in Shelburne Village, Furchgott Sourdiffe Gallery also specializes in museum quality custom framing, and art and frame restoration.
Furchgott Sourdiffe Gallery
86 Falls Road
Shelburne 05482
(802) 985-3848
---
ART ON VIEW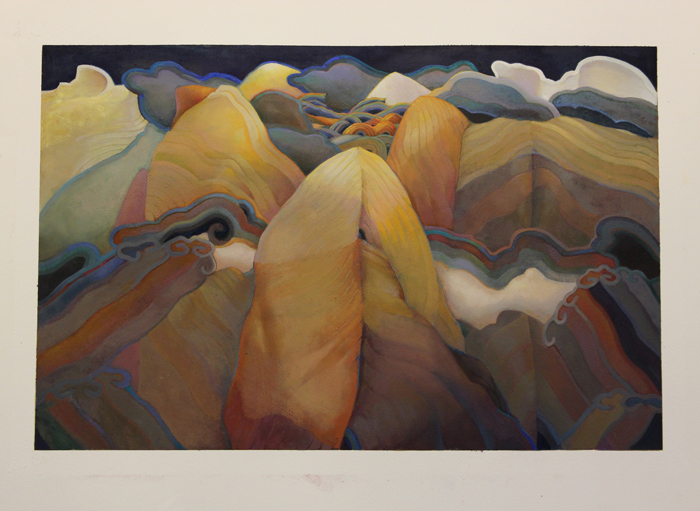 We're Not in Kansas Anymore: New Paintings by Valerie Hird
September 6-October 15, 2019
"We're Not in Kansas Anymore" is Valerie Hird's first solo exhibition in her home state of Vermont in 30 years. She continues to show at the Nohra Haime Gallery in New York City.
This exhibition is new work produced especially for Furchgott Sourdiffe Gallery. It includes both the final pieces from her series "New Mythologies", which explored an alternate creation story, as well as a first look at "Don't Ask Alice", a series of hand-painted paper stage sets that describe her own "biomythology", a narrative that lies uneasily between actual history and personal memory of travels in the Middle East and Central Asia. For the past decade she has created a colorful new elemental world and invested it with mythological symbols from our shared legends and folktales.
Hird's work explores cultural mythologies and the roles they play in our societal perceptions of each other. She has spent years moving across cultures listening and collecting stories. She's fascinated by the way some tales survive and evolve to transfer easily between illusion, reality, myth and metaphor. Ms. Hird is particularly interested in how iconic images and forms, familiar to all, can be interpreted differently by viewers in different countries and cultures.
Hird is a professor of Art at Saint Michaels College and Professor of Visual Linguistics, CORE Division at Champlain College. She has a BFA from Rhode Island School of Design and a MFA from Vermont College. Recent exhibitions include MASSMoCA, Portsmouth Museum, Tampa Art Museum, DIVA in Paris, American University of Dubai, Global Center For Drawing, Melbourne, Australia and at the American Corner, University of Jordan in Amman, Jordan.