The Love Poems of Laura Winn Kane
by Ric Kasini Kadour
"I love all things," writes Pablo Neruda in "Ode to Things", because "all bear the trace of someone's fingers on their handle or surface, the distant hand lost in the depths of forgetfulness." The Chilean poet wrote love letters to everyday objects because he wanted us to appreciate the interconnectedness of our humanity, to understand that the simplest things–often taken for granted, like "keys and salt shakers"–can, upon meditation, connect us to the rest of humankind. This awareness of objects permeates the paintings and pastels of Laura Winn Kane.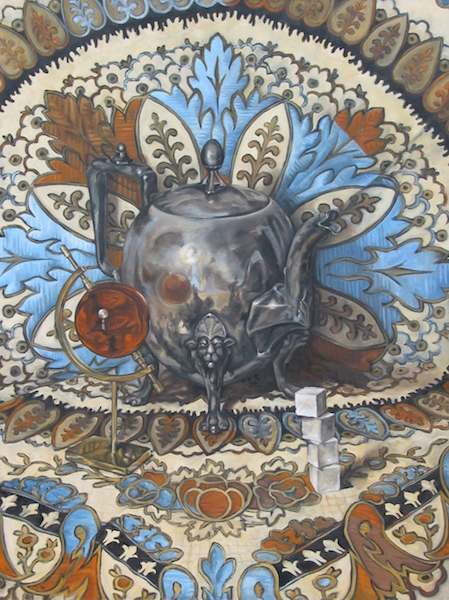 A relatively recent arrival to Vermont's art scene, Kane grew up in Liverpool, New York and studied art SUNY Plattsburg and the Rochester Institute of Technology where she earned her Masters. She lived and worked in Central Pennsylvania before relocating to Vermont in 2013. Here she is blossoming as an artist.
"When I first arrived in Burlington, I was encouraged by the many artists I met. My own lack of self-confidence and having to work a full-time job now are the only things keeping me from fully jumping in. It took me many years to feel like part of the art community in Pennsylvania and even then, there always seemed to be unwelcoming cliques of artists," said Kane. "I have not experienced that here. There are many more opportunities to exhibit work here than where I was."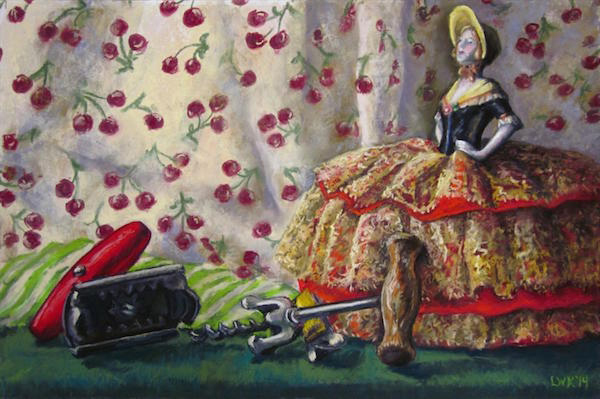 Kane's strongest work features an collection of posed objects rendered in a realist style from a slightly uncanny perspective. Apples on a clear glass plate rest in red, leafy fabric. An empty blue and gold tea cup, a caramel colored cookie, and a blue and white tea towel sit on a rough hewn table. A duck shaped holder mingles with a spool of thread, a button, and a monogrammed piece of fabric. Some of her objects are quirky, like the cast iron dog in The Apron String or the surface and wallpaper featuring blue, yellow, red, and olive colored dots in Sprout. She often paints things as if she is looking at them from far above or across the room at an odd angle. She is practically an angel hovering above the glasses and apple in Syncopated Pink Lady.
Too often these days artists undertake the silly task of trying to make sacred the mundane. not Kane. By painting everyday objects, she is writing love poems to the world around us.
See more of Laura Winn Kane's work on her Vermont Art Guide Artist Database page HERE.
Image (top):
Open Says She by Laura Winn Kane
(12″x18″; pastel; 2014)
Image (center):
Dark Sun, Einstein's Tea by Laura Winn Kane
(48″x36″; oil on canvas; 2005)