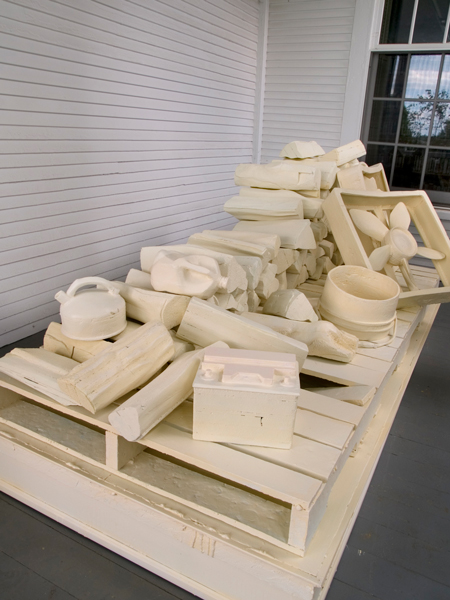 R. Elliott Katz is part of Exposed 2011. He lives in Burlington, Vermont.

Nonument to the Paysage presents an unremarkable rural scene in monumental form. On the white-columned porch of the Helen Day Art Center, Katz situates stacks of hand-carved firewood and farm debris on two dilapidated pallets. Each piece of the sculpture is carved from blueboard insulation and is painted white, and the sculpture as a whole rests on a plinth made from the same materials. The overall effect elevates the mundane imagery and materials to what seems like historical proportions.
Physicality, deliberation, and repetition characterize the sculpture of R. Elliott Katz. His work depicts the natural world in tension with the needs of people, and juxtaposes the finely crafted object with down-home subject matter and materials. Katz has exhibited throughout the Northeast, at institutions such as the BCA Center, Mass MoCA, the Berkshire Botanical Gardens and the Chesterwood Museum. He resides in Burlington, where he is the studio manager and working resident of the Seven Below Arts Initiative.
---
ABOUT EXPOSED
For the past twenty years, the Helen Day Art Center has hosted an outdoor public art and sculpture exhibition called Exposed in Stowe, Vermont. Exposed hosts sculptures, site-specific installations, and participatory work from twenty-three national and international artists. the 2011 edition offers a series of Thursday night events by 12 video artists, writers, performers, and musicians accompany the exhibit. This exhibition and series of events is accompanied by cell phone audio tours, QR codes, walking tour maps, walkabouts, and a catalogue of the exhibit published by Kasini House Books. The exhibition will take place July 8th to October 8th, 2011.