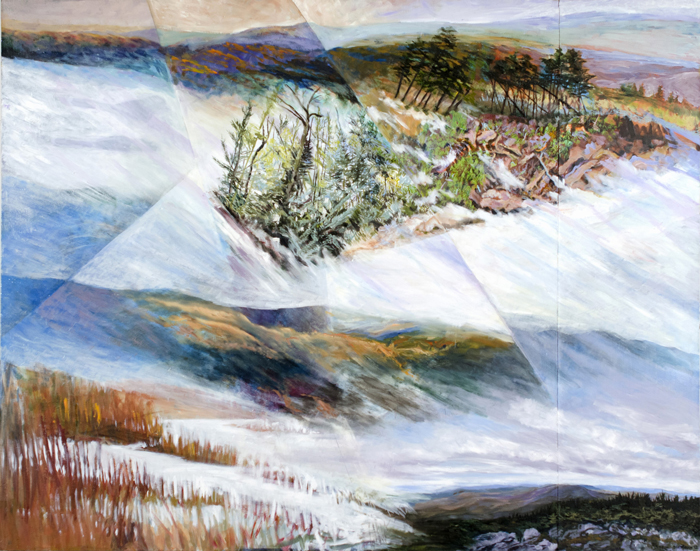 FROM VERMONT ART GUIDE #10
The Ambitious Paintings of Dan Gottsegen
A dozen, four-by-five-foot glass windscreens stand on a train platform in Westminster, a northwest suburb of Denver, Colorado. The transparent tempered glass screens are printed with imagery drawn from Dan Gottsegen's paintings of the local environs. Westminster University's iconic Castle rests on a hill; a coyote stands in the foreground. In another, teams of horses pull wagons through Westminster Hills. The Savery Savory Mushrooms Water Tower overlooks the marshy waters of Mushroom Pond. To the residents of Westminster, these are familiar scenes that exalt their land and history. As simple paintings, the "Celebrating Westminster" series is a brilliant example of what public art can do for a community. What makes Gottsegen's paintings remarkable outside of Westminster is a trick of their installation. Rather an installing the work as opaque panels, by transferring the images to glass, Gottsegen achieves a collage effect with the surrounding landscape. Were you to stand on the train platform and look at these paintings, you would see the the parking garage reverberate in the background. Gottsegen's eagle soars above the houses along 69th Avenue and the paved walking trails around Little Dry Creek as they blend into his painting of Mushroom Pond. The effect is a blend of painting and reality, two images, two experiences of place, come together into a single, dynamic image. This isn't an accident. It is the culmination of years of artistic study and hard work in the studio.
"Having grown up in a somewhat difficult family situation, I had often sought solace in the forest around where we lived, sought solace in the company of trees." Nature is an important part of his life. He is as much a naturalist as he is an artist. An avid hiker, between 1975 and 2006, he climbed all forty-six peaks of the Adirondack Mountains. As a young man he took week-long hikes in the Sierra. And for many years, he banded hawks in California as part of a long-term study of the birds' migration. But it was a trip to the Metropolitan Museum of Art when he was twelve years old that taught him he could find a similar comfort in art.
"In those days, the Met was not like it is now. The galleries were empty of people," he said.
"I found the same solace in the deep landscapes of Northern European Baroque painters. I was lost in the atmospheric space of Rembrandt. I found I could fly in these paintings, as I did in my dreams, and the color and light was something I knew before somehow. The solace I found in these paintings and in the forest were of a piece."
Art is more than a career for Gottsegen, it is a vocation. While his family was artistic and musical, they were, first and foremost, scientists and academics who nudged him to focus on science and math. "At the same time, everyone around thought, knew I would do art. So really, I gave myself over to what was always my calling. Perhaps, it was an act of faith. But also, oddly, it was taking the path of least resistance."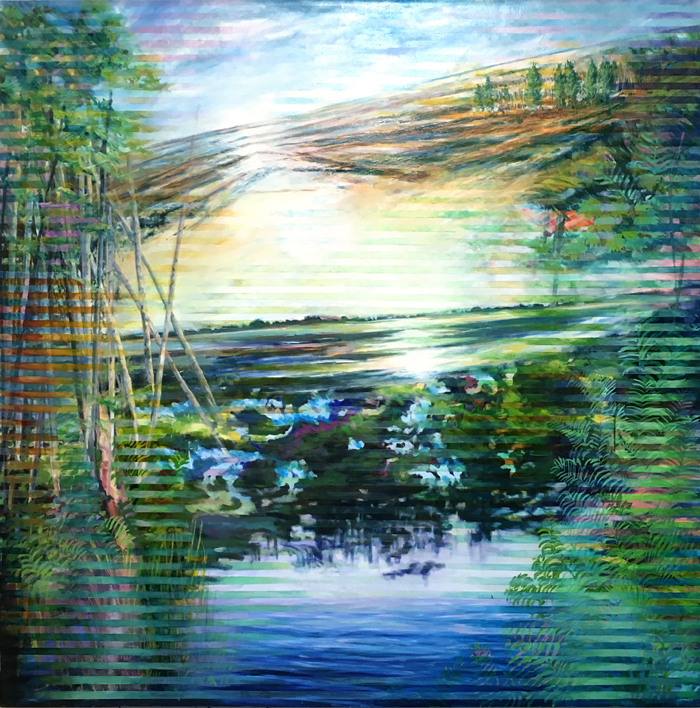 After graduate school in the Bay Area, Gottsegen gave himself over to being an artist. "For many years I had little life outside of art. I was monomaniacally dedicated to my studio practice. I gave up work that I thought would interfere with my studio life. I lived in my studio in a tough urban neighborhood (that has since become hip), and did what I had to do to make ends meet," he said. "I was lucky to have gone to school with supportive teachers who believed in me, and modeled what it meant to be dedicated to one's art—to the art, not necessarily career promotion. This value may be from a bygone era, but I hope not." He got a teaching gig to make ends meet which turned into a professorship at California College of the Arts. He got married and, not long after his children were born, moved to Vermont.
"What I want more than anything is for viewers to give my work time, to take the time to look and experience it. Everything moves so quickly now."
"I live now the Vermont way. I live in a very rural setting, back on a dirt road. I live very cheaply so I can make ends meet, and spend most of my time working in my studio. My kids are now off to college. I am lucky to have gotten here, but I paid a lot of dues along the way." Through it all, Gottsegen maintained an active studio practice. "I believe in hard work, and doing the work is humbling. There is a way that my work talks to me when it is flowing in the studio. It tells me what it wants."
That hard work has paid off. In 2000, Gottsegen started his "Places and Times" series which he continues to work on. These paintings vary in style but share a common theme of being memento mori—single moments of landscape that consider light, color, and composition. His view often includes water and the reflection of light and color. Foggy Morning Snow (2011) is a study of blur and the gentle force of color as it persists in the winter landscape. Backwoods Sweden (2014) is a near abstract rendering of light passing through forest trees. In the more recent work, Still Music Ever (2018), Gottsegen renders the marsh grasses and water lily pads in the foreground with a photorealistic style. As the eye moves through the painting, one finds he paints the water, hills, and sky in a style reminiscent of expressive en plein air painters. Like the effect of the "Celebrating Westminster" series when installed onto glass, these paintings cross and blend geography. The transition is seamless, almost magical, as if Gottsegen's painting is a path through the veil of the real and the imagined.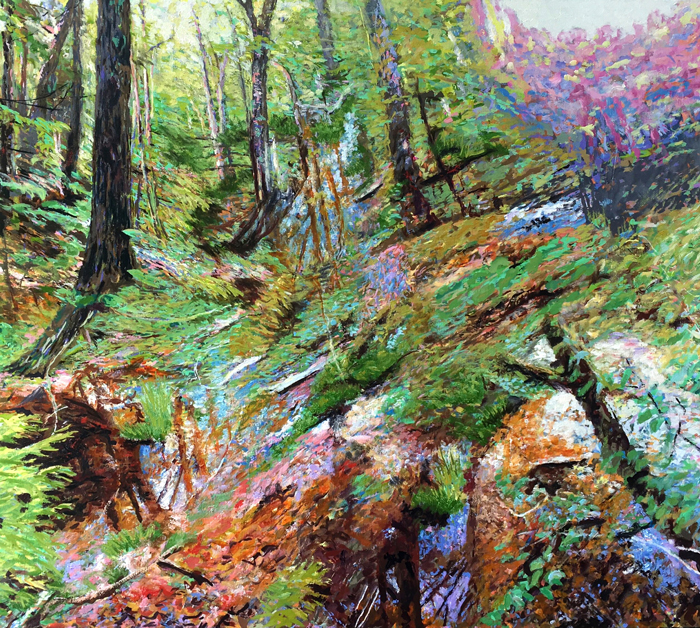 In 2007, Gottsegen started a series he calls "Die Wanderungen". These works combine multiple images into a single painting. Some work, such as A Walking Life (2007), trades on juxtaposition and hard breaks conveyed by color overlays. American Pastoral uses multiple images in various styles to convey a sense of narrative. Gottsegen paints one image fading into another. Winter Walk (2007) and Sleep Ravine (2014) are dynamic compositions of breaks and blurs, as if a video was in transition from one scene to another. These paintings feel fast, like they are conveying the speed of modern life but trying to find a pause or a breath. As this work progressed over the years, Gottsegen begins to offer the viewer a single moment from a fractured scene, a visual polyphony. Lines look like folds of a sheet of paper in I Give You Mountains Upon Mountains Without End (2013-2017). Five views mingle on the canvas like an exquisite corpse, each subtly different in style. The painting reads like a memory of natural vistas, as if the composition was made not of a single moment, but rather a series of moments over time.
Time is what Gottsegen is ultimately conveying in his paintings. He explains, "I have often used captures from video I shoot as image sources, this allows invention and serendipity, It is very freeing. I am integrating these multiple views with elements from a series of paintings I began when my first child was born in which I used an analog camcorder for source imagery. The analog scan lines became the abstract structure for these paintings; they still capture the feeling, color and light of the place where I shot the video." And in this sense, Gottsegen is using abstraction, not to free the image from representational reality, but as a tool for packing his paintings with multiple images, which in and of itself is a strategy to engage the viewer, to help them slow down.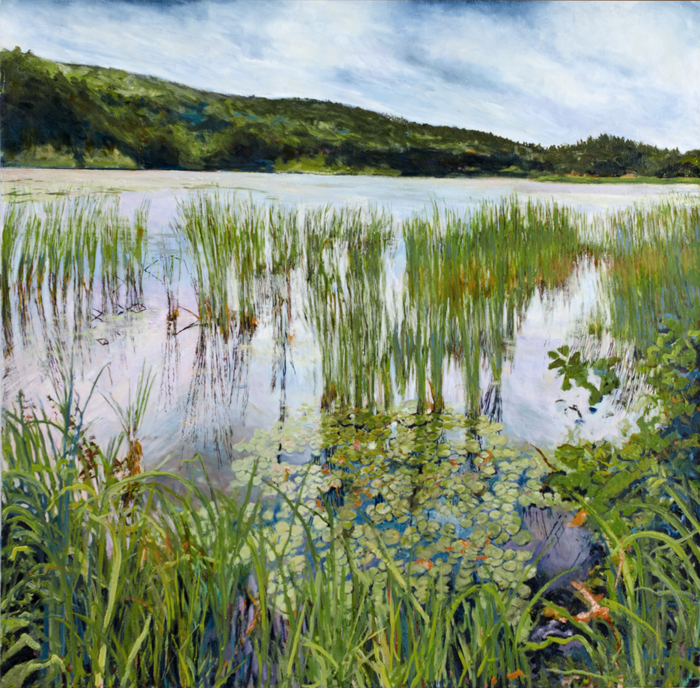 "What I want more than anything is for viewers to give my work time, to take the time to look and experience it. Everything moves so quickly now—Dorothy had it right, 'My! People come and go so quickly here!'. Digital images have become conflated with actual paintings. But they are not a substitute. Real painting, good painting, can only be understood or truly seen in person. And much good painting takes time. I want viewers to allow themselves, demand of themselves the rigor of time."
"I seek light and truth, but I only know what this is when I express it in my work. I have had people over the years, often strangers, tell me how much my work has moved them, or even given them comfort. I am humbled by that, because I am really in service of my work. I am drawn to painting that has ambition…artistic, not career, ambition. This means taking risks, exploring new ideas, being courageous."
This story originally appeared in the print edition of Vermont Art Guide #10. To read more Vermont art news, subscribe to the magazine or order a copy.
Dan Gottsegen lives and works in rural Vermont. He holds a BA from Brown University and a BFA in Painting from the California College of the Arts. Gottsegen's public art works in Vermont may be seen at the City Center Gateway in South Burlington and the Vermont State Forensics Lab in Waterbury. His work has been exhibited across the U.S. Among his many awards and residencies is a solo residency at Cedar Key Wildlife Refuge in Florida (2017), a Vermont Arts Council Creation Grant and being an official Vermont Arts Council juried artist. Gottsegen was an Associate Professor of Painting at the University of Massachusetts, Lowell, and taught for years as a Full Professor at the California College of the Arts in Oakland. Learn more about the artist at www.dangottsegen.com.