The museum connects visitors with the region's art, history and culture of innovation. The Bennington Modernism Gallery features works from the early 1950s through the mid-1970s created by a group of avant-garde artists working in and around Bennington who led the nation in artistic thought and innovation.
Hours (June-October):
Daily, 10AM-5PM (closed July 4)
Hours (November-December, February-May):
Thursday-Tuesday, 10AM-5PM
Closed Wednesdays, Thanksgiving Day, Christmas Day, the month of January, and Easter.
Closed at 1PM on December 24 and December 31
75 Main Street
Bennington 05201
(802) 447-1571
---
ART ON VIEW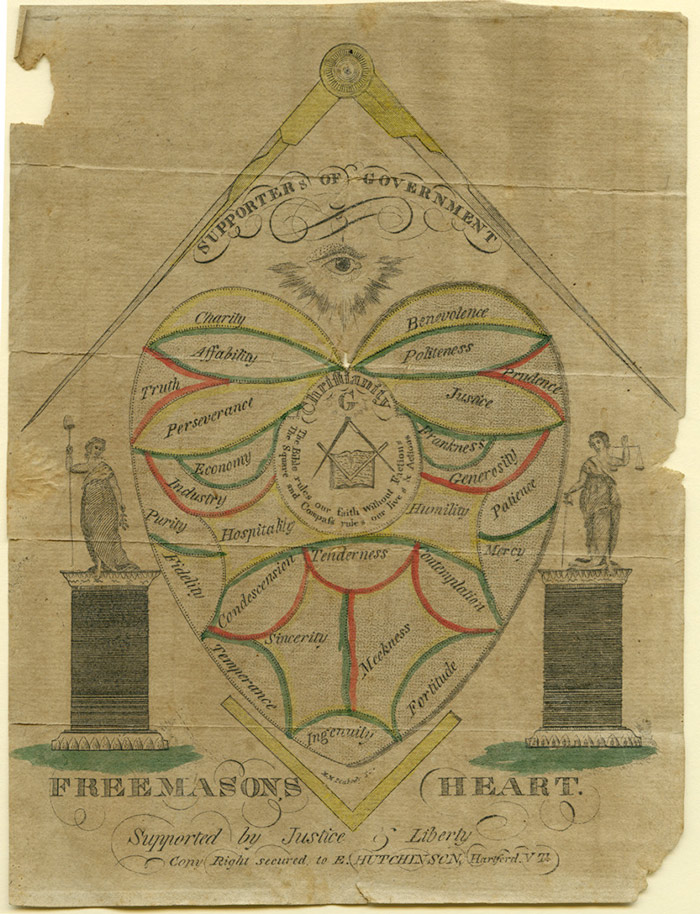 Village Enlightenment: Print Culture in Rural Vermont 1810-1860
June 1-September 15, 2019
"Village Enlightenment: Print Culture in Rural Vermont, 1810-1860" brings to light the widespread and growing interest in rural New England for printed matter that could spread knowledge during the development of the American Republic. Many people assume that rural Vermont was relatively isolated during this period; a cultural backwater during the first half of the 19th century. However, during the late 18th century and well into the 19th century, Vermont was a boom state. During this time, Vermont went from an almost unpopulated frontier to being more populous than neighboring New Hampshire and it had nearly half the population of neighboring Massachusetts, the most populous state in New England. Cosmopolitan centers popped up all over the state, which was home to many intellectuals, entrepreneurs, and craftsman inspired by the same ideals as Enlightenment in eighteenth-century Europe. There was a widespread belief that through rationalism, scientific reasoning, and exploration, and most importantly, in this context, the distribution of that knowledge via printed matter, humans could harness the world that they lived in and turn it to their benefit.
The exhibition features engravings, maps, and books published and/or illustrated by the "Greenbush Group," a small circle of artisans, entrepreneurs, and printmakers/publishers based out of Windsor County, during the first half of the 19th century. Led by James Wilson, the first globe maker in America, and Isaac Eddy, who established a print shop in the tiny hamlet of Greenbush around 1810, the group had among its members Ebenezer Hutchinson, Moody Morse Peabody, Lewis Robinson, and George White. Together this small group of artisan-entrepreneurs and their associates provided the printed material that served the widespread and growing interest amongst their neighbors in rural New England.
---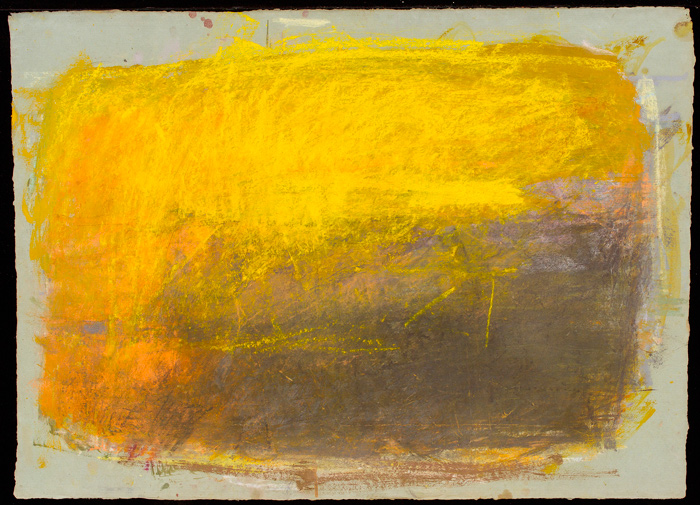 Color | Gesture: Early Works by Emily Mason
May 11-September 8, 2019
Color. Simmering color. Ravishing color. Jagged Scribbles. Flowing Washes. Drips. Splashes. Bold swipes. Small in size, yet vast in scale and power is what awaits the viewer in "Color | Gesture: Early Works by Emily Mason" on view in the Works on Paper Gallery .
Featured in "Color | Gesture: Early Works by Emily Mason" are thirty-two works spanning a decade of great evolution for Mason. Some paintings were created in Venice in 1958, on large sheets of thick, soft Fabriano paper. Composed of slashing diagonal gestures and scribbles filling the entire surface, Venezia is suggestive of her earlier work where gesture and color merge. Those created from 1958 to 1962 exhibit the astounding shift in her art from one of gesture rendered in color, to one of color rendered in gesture.
Between 1962 and 1968, Mason pushed the medium further, developing an astonishing array of techniques to manipulate the oil medium and realize her formal vision. Many of her works during this period, including Spring Melt and Rain Forest, highlight "optical mixing", layering transparent, semi-transparent, and opaque colors on the sheet so that the colors are mixed in the eye, rather than on the painter's palette. The works of 1967-1968 show Mason's mastery of her media after a decade of working in oil on paper as represented in Witch Hunt and Sugar Bush.
The works in this exhibition show Mason developing her own style, translating the gesture and movement of Abstract Expressionism into an abstraction of pure color laid down in delicate veils and washes. These works on paper, created near the beginning of her career, are central to that achievement. Hard-fought, improvisatory, and experimental, they are not only a record of that achievement—they are where she worked it out.
Born in New York City, Emily Mason attended Bennington College from 1950 to 1952, then transferring to Cooper Union in New York, where she completed her education in 1955. Mason first engaged materials and techniques in her mother's studio in New York, and it was through her mother, Alice Trumbull Mason, that she met some of the major Abstract Expressionist painters in New York, including Jackson Pollock, Elaine and Willem DeKooning, and Mark Rothko.
image:
Venezia by Emily Mason
(19.25″x26.25″; oil and pastel on paper; 1958. Collection of the Artist.
Courtesy of Miles McEnery Gallery, New York, and LewAllen Galleries, Santa Fe, New Mexico. © Artists Rights Society (ARS), New York)
---
PREVIOUS EXHIBITIONS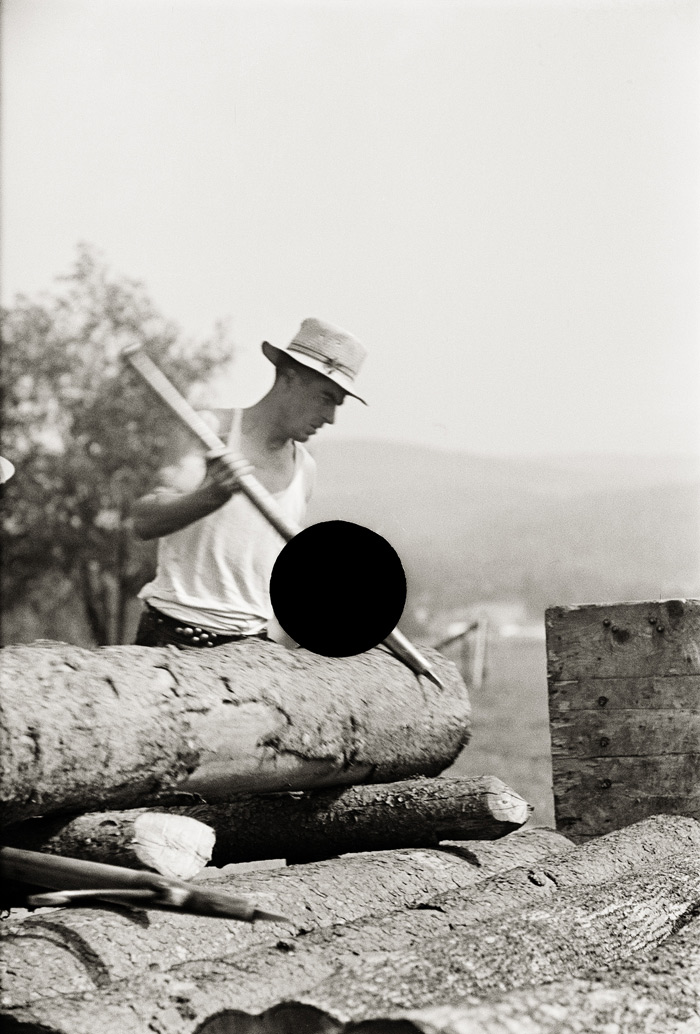 Ground, A Reprise of Photographs
from the FSA by Bill McDowell
through November 13, 2018
The Photography Division of the Farm Security Administration (FSA) documented rural communities throughout America during the Great Depression. Directed by Roy Stryker, the division created thousands of powerful photographs including some of the most iconic images of the era. However, many of the negatives were "killed" by Stryker, often without any apparent reason.
"Ground, A Reprise of Photographs from the FSA" by Bill McDowell, photographer and University of Vermont professor, arises from these hole-punched negatives. Drawn to the impact of the black hole, he focused on the transformation Stryker brought to the image. By altering the negatives with a hole-punch, Stryker unintentionally created a new image that does not solely belong to the original photographer anymore. McDowell's selection of images for "Ground" is from a very particular group of photos taken by different photographers, between 1935 and 1939, the formative years of the Farm Security Administration project. Photographs included in this exhibit were taken by Walker Evans, Russell Lee, Carl Mydans, Arthur Rothstein, and John Vachon.
image:
Lumber mill worker, Lowell, Vermont by Arthur Rothstein
(id: 8a08793; 1937)