In a 1912 Greek Revival Masonic Lodge, two gallery spaces show well-curated exhibits in a cultural center that also features film and live performance.
Catamount Arts
115 Eastern Avenue
St. Johnsbury 05819
(802) 748-2600
Hours:
Monday-Saturday, 11AM-8PM
Sunday, 1-8PM
---
ART ON VIEW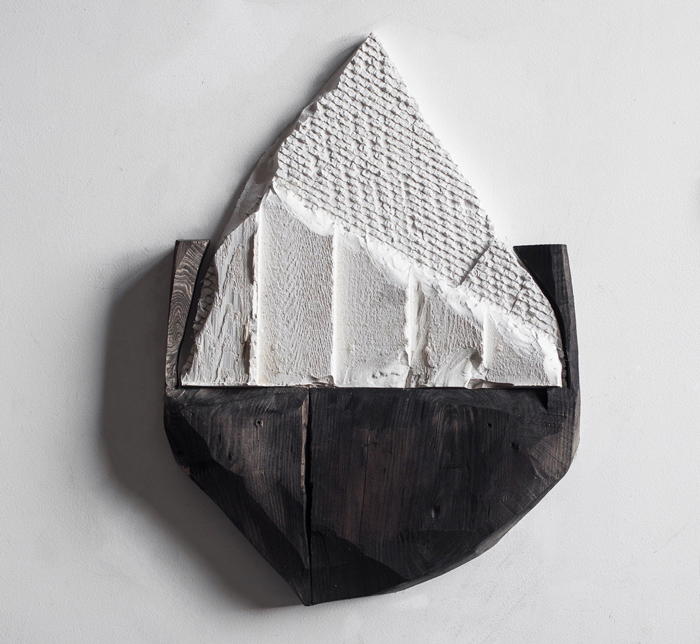 Mark Brosseau and Abraham McNally: Sense of Place
June 22-August 23, 2019
"Mark Brosseau and Abraham McNally: Sense of Place" features work by two artists who grew up in Vermont and were influenced by that experience. As a child, Brosseau spent long afternoons exploring the forest and woodlands near his home. Fascinated by how the river damn, railroad tracks, and gravel pit all related to each other, he now sees this early fascination with spatial relationships as an inspiration for his paintings and works on paper. McNally's connection to Vermont is more process and material based. The tactile qualities of his sculpture are unique to his growing up in the woods, as well as his experience cutting trees for firewood with his father or helping his mother wedge clay in her ceramics studio. The tools that he uses–chainsaw, chisel, mallet–are ones that are often found in sheds and workshops in the Northeast Kingdom of northern Vermont.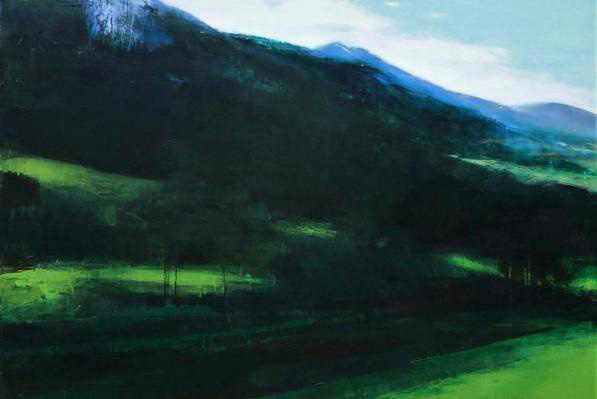 Along the Road
in the Rankin Gallery
June 22-August 23, 2019
Anni Lorenzini's "Along the Road" grows from the artist's observation of landscape while exploring various methods of her painting practice.
Anni Lorenzini has wandered field and wood since her childhood in in Waterford, Vermont and Chazy, New York. Lorenzini received a BFA from Johnson State College and later received a Resident Artist Fellowship to attended to attend the Vermont Studio Center. She has exhibited in museums and galleries throughout the US, including the Munson Williams Proctor Art Museum, the Arnot Art Museum, the Frederic Remington Art Museum, the Bertha V.B. Lerder Gallery, and the Roland Gibson Gallery, all in New York.
(text adapted from the venue's press materials)
---
PREVIOUS EXHIBITIONS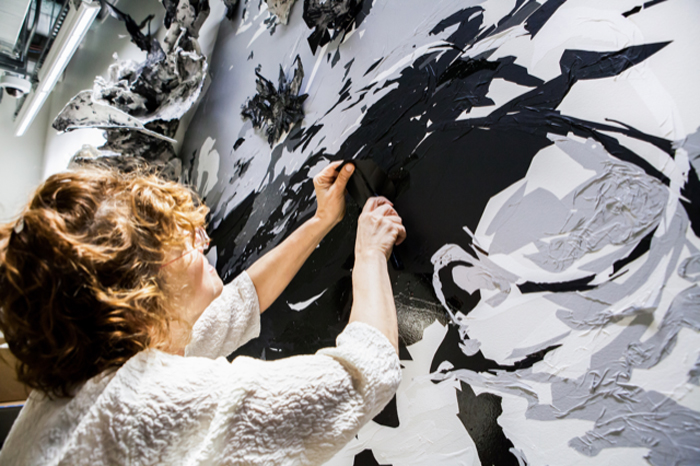 Debra Weisberg: Drawn to Touch
in the Fried Family Gallery
April 27-June 14, 2019
"Drawn to Touch" showcases artist Debra Weisberg's fascination with exploratory drawing as the basis for work that invokes a sense of touch. Using tape, fiber, fiberglass mesh, and hydrostone, she creates installations and stand-alone pieces that act both in collaboration and resistance to material. "All of my work is rooted in drawing," Weisberg observes. It is her desire to establish sensory awareness of spatial relationships between the human body and material, one that is "dynamic, improvisational, and mutable." (image: Debra Weisberg in action)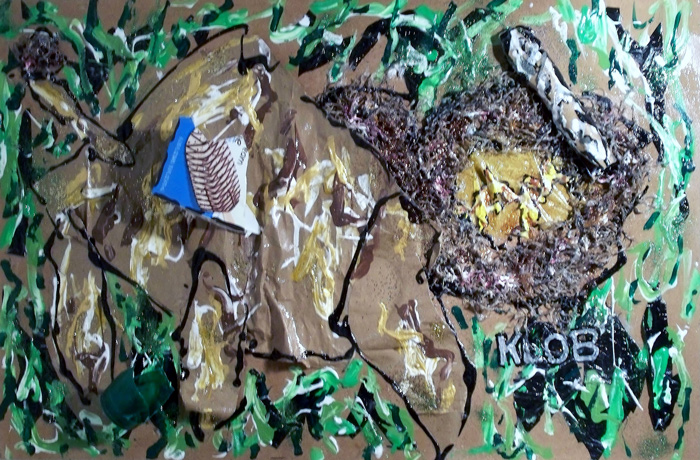 Trash Bits for Realism
in the Rankin Gallery
March 5-June 14, 2019
"Trash Bits for Realism" is an exhibition of expressive collage and assemblage by Kevin O'Brien. (image: North American Bison (with Trash Bits for Realism) by Kevin O'Brien (mixed media; 2014). Courtesy of Catamount Arts, Saint Johnsbury)
(text adapted from the venue's press materials)
---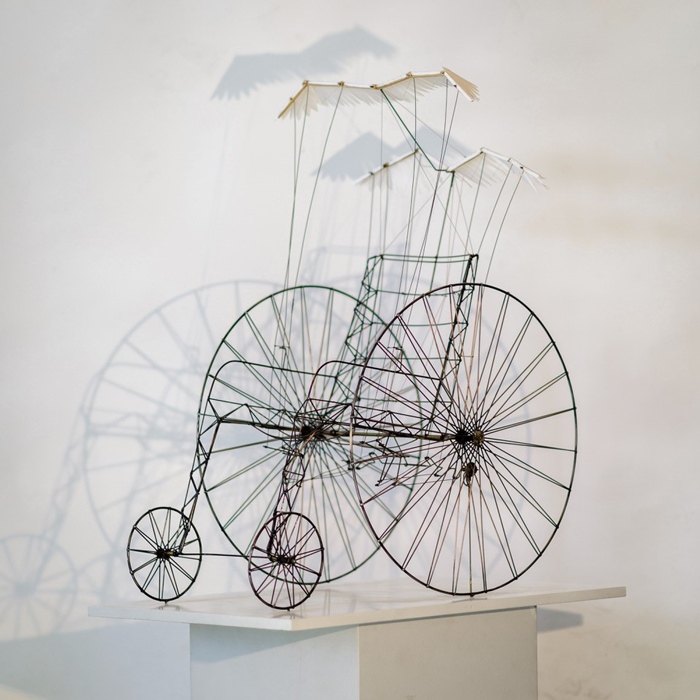 Flights of Fancy
in the Fried Family Gallery
February 27-April 13, 2019
"Flights of Fancy" is an exhibition of kinetic sculpture by the late artist David A. Lang. Featuring interactive pieces set off by motion detectors when closely inspected by viewers, the exhibition explores the whimsical, yet serious nature of an artist who preferred to describe his efforts as "accidentally profound".
Cunning wit and word play define much of the work. Wrapture presents an invisible body encased in a straight jacket with paper wings flapping above where a head should be. First Strike, a tongue in cheek reference to military action, features tiny American flags on match heads moving back and forth above a strip of sandpaper. Perhaps the most poignant works reference classical mythology. The well-worn boots in Odysseus and the wheeled contraption in Daedalus (image) signify a creative journey, while gently flapping paper wings express flights of imagination that both amuse and inspire.
Although Lang's creative output was cut tragically short when his car collided with a deer in 2017, he enjoyed a long and successful career as both artist and educator. With an undergraduate degree in biology and a graduate degree in medical illustration from Harvard Medical School, Lang was employed as a scientific illustrator in Harvard's chemistry department before joining the art faculty at the Middlesex School in Concord, Massachusetts. The recipient of a 2010 Puffin Foundation grant and other awards, Lang also exhibited widely at numerous venues, including the Attleboro Museum of Art, Babson and Bentley Colleges, Clark University, Danforth Art, and the DeCordova Sculpture Park and Museum. His monumental sculpture The Question Is the Answer is currently showcased on the grounds at the Fuller Craft Museum as part of its permanent collection.
(text adapted from the venue's press materials)
---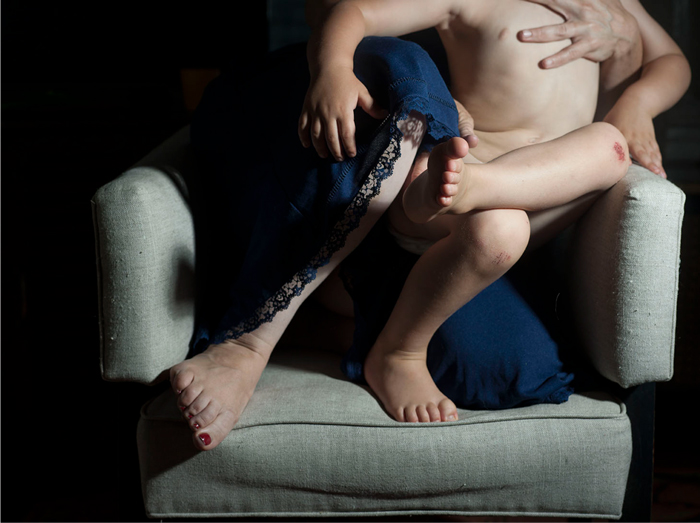 4th Annual Arts Connect
December 1, 2018-February 15, 2019
Catamount Arts' fourth annual juried show, Arts Connect facilitates the donation of art for placement in Northern New Hampshire and Vermont non-profits that provide human services, such as the Northeast Kingdom Council on Aging, Rural Edge, and Northeast Kingdom Community Action Head Start. This year's exhibition was juried by Nick Capasso, Director of the Fitchburg Museum of Art. The exhibition offers area residents an opportunity to view outstanding work by emerging and established artists from across the country.
(text adapted from the venue's press materials)
Image: untitled from "Second Movement Series" by Toni Pepe (25″x35″; archival inkjet print; 2015)
(Robert Manning First Prize Juried Show Winner)
---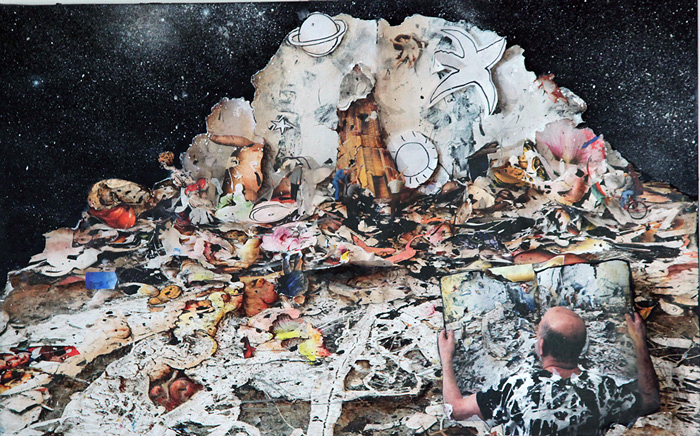 Gerry Bergstein and Gail Boyajian: Uncovered
August 25-October 27, 2018
"Gerry Bergstein and Gail Boyajian: Uncovered" is an exhibition of painting, drawing, mixed media, assemblage and sculpture.
This exhibition of work by two closely related, yet different artists explores growing concern over threats to the human psyche and our natural environment. Gerry Bergstein's paintings excavate the cavernous tomb of art historical knowledge, unearthing sources of creativity buried within the detritus of dried paint and other material piling up on the studio floor. Bergstein's work is a synthesis of themes he's been dealing with over his decades long career–vanitas and decay, mortality and the many paradoxes of meaning he uncovers during the act of painting. Delighting in unpredictable relationships set within apocalyptic landscapes, Bergstein explores the "deepening resonance between process, image, history and style."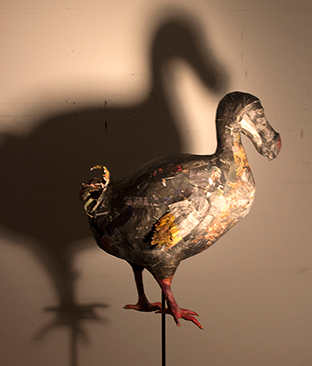 Gail Boyajian envisions an apocalypse of a different sort, one that has already occurred. Her installation of sculpture depicting extinct birds evokes her childhood desire to become a naturalist and artistically interprets what has been lost because of the human impact on our environment. Birds are one of our most fragile species; their demise raises the alarm of an imminent danger and has long been a subject of Boyajian's art. These sculptures of extinct birds were created using shreds of The New York Times (which only uses biodegradable, soy-based ink), but nevertheless carry seeds of another kind of destruction–in the traces of text about current events that are still visible to the naked eye.
(adapted from the venue's press materials)
Image: (top)
Top
by Gerry Bergstein
19″x30″
mixed media
2017
Image: (center)
Dodo
from "Looking for the Ark" series
by Gail Boyajian
sculpture
Images courtesy of the artists
---
Sarah Meyers Brent
June 30-August 17, 2018
The sixteen pieces in Sarah Meyers Brent's exhibition feature works on paper, paintings on canvas, and the assemblage of non-traditional materials for which she has become known. Delighting in an exploration of paint as a viscous, oozing medium that can represent both the beginning and end of life, Brent often incorporates recycled fabric, paint rags, and decaying flowers into her work. Themes of growth and decay pervade. Her paintings and assemblage are vibrant, dynamic, and often in a state of flux. "In this age of technology," Brent observes, "when we are steps removed from nature, it is important for art to allow the viewer to experience what is alive and physical."
About Sarah Meyers Brent
Born in Hadley, New York, Sarah Meyers Brent received her BFA from Skidmore College, her Post-Baccalaureate in Studio Art from Brandeis University, and her MFA in painting from the University of New Hampshire at Durham. The artist lives with her family in Lincoln, Massachusetts and maintains a studio at Waltham Mills Artist Association in Waltham, Masssachusetts.
Recipient of a 2015 Walter Feldman Fellowship, which culminated in the exhibition "Primal Garden" at the Walter Feldman Gallery in Boston, Brent was also featured as a 2016 Best of Boston artist by The Improper Bostonian and received the Fay Chandler Emerging Artist Award that same year. Twice resident at the Vermont Studio Center, Brent has also been a recipient of an Artist Resource Trust Grant from the Berkshire Taconic Community Foundation, who designated her a 25 at 25 Fellow. She was also featured in Volume 16 of New American Painting Northeast edition.
A member of Kingston Gallery in the SOWA district of South Boston, Meyers Brent has exhibited widely. Her solo exhibition "Seep, Spill, Grow" appeared at Danforth Art Museum/School and she was recently featured in the group exhibition "Stitch: Styntax/Action/Reaction" at the New Art Center in Newton, Massachusetts. Reviews of her numerous exhibitions have appeared in Artscope Magazine, Art New England, the Boston Globe, Sculpture Magazine and other publications. Her work is in the permanent collections of Danforth Art Museum/School, Liquitex Corporation, and in numerous private collections.
(adapted from the venue's press materials)
Image:
In the Garden
by Sarah Meyers Brent
48″x60″
charcoal and acrylic on canvas
2017
Courtesy of the artist
---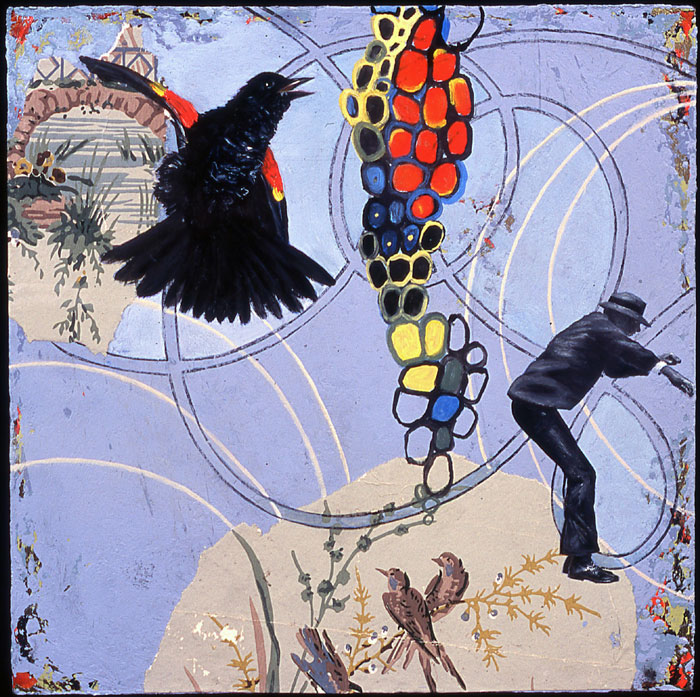 Anne Sargent Walker: "Out on a Limb" & Resa Blatman: "Trouble in Paradise"
April 22-June 8, 2018
As part of the 48th anniversary celebration of Earth Day, Catamount Arts presents two exhibitions with special related programming, including gallery talks and film screenings scheduled throughout the course of the show.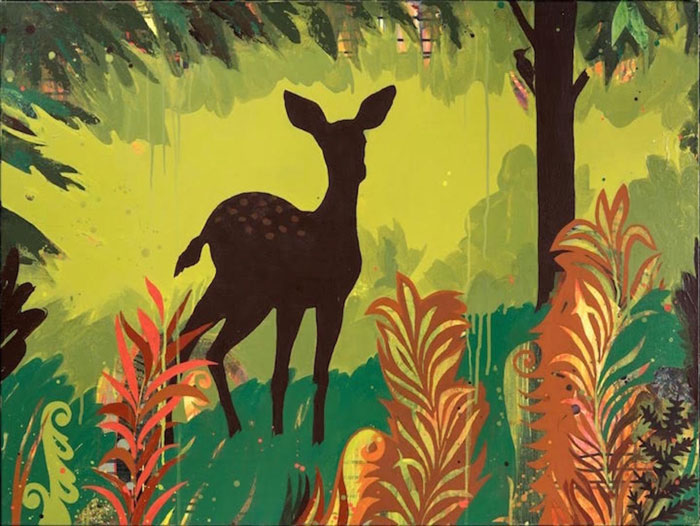 Anne Sargent Walker: "Out on a Limb"
Anne Sargent Walker's semi-abstract paintings in oil, acrylic and mixed media explore the beauty, complexity and fragility of the natural world and our complicated relationship with it. Her work often incorporates layers of vintage wallpaper, something "man made" that references a pastoral inclination to bring nature inside. Birds, flora and other creatures rest uneasily on a surface that can degrade by peeling back or dissolving to reveal multiple layers beneath: a reminder of planet warming, the loss of habitat for humans and other species, and growing threats to the environment itself. Sargent Walker attributes her concerns about nature to summers spent in her family home Norwich with her naturalist father, where she returns to continue her long-standing engagement with the landscape in rural Vermont.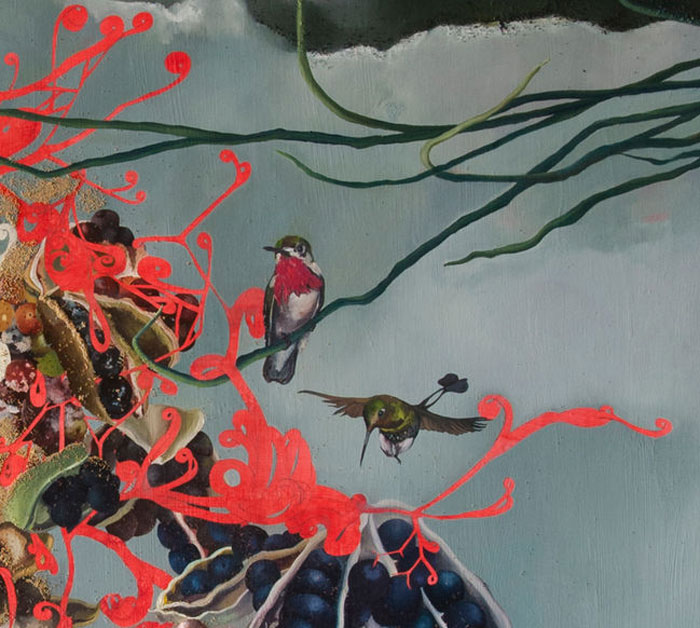 Resa Blatman: "Trouble in Paradise"
Resa Blatman's work is proof that eco-activism is not limited to the scientific community. In "Trouble in Paradise", the artist offers up 17 paintings as a visual commentary on climate change and its increasing threat to migratory birds and other animal species. Inspired by the decorative traditions of Baroque, Romantic and Victorian art, Blatman combines paint, assemblage and intricate laser-cut forms to create beautiful, yet unsettling microenvironments. Scintillating Swamp and The Ultimate Whorl show flora and fauna bursting from the confines of the picture frame, which give evidence to the dynamic vitality of nature. But within this abundance of life, we are faced with a clear threat. Tangles of thorny branches leave little room for migratory birds to rest comfortably. The scarred earth and ominous skies in such paintings as The Fall and Heed force viewers to go beyond poetic beauty to consider what happens if nature is stressed beyond her ability to recover. While Blatman's small worlds are undeniably lovely, they also acknowledge and warn about troubles in our natural paradise.
(adapted from the venue's press materials)
Images (top to bottom):
from "Out on a Limb"
by Anne Sargent Walker
from "Out on a Limb"
by Anne Sargent walker
Heed
by Resa Blatman
---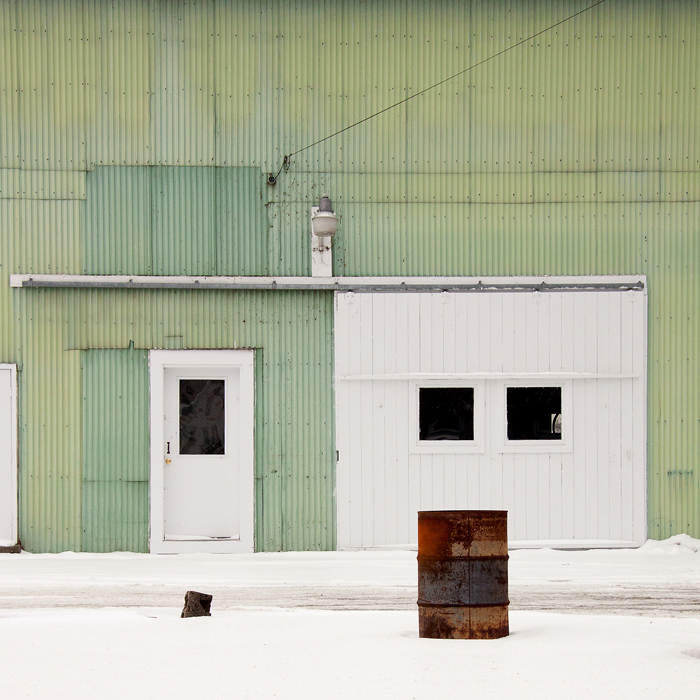 Arts Connect at Catamount Arts Juried Show
January 14-March 12, 2017
Andrea Rosen curator at the Fleming Museum of Art selected sixty-one artworks for the second annual "ArtsConnect@Catamount Arts" Juried Show. Arts Connect facilitates the donation of art for placement in Northern New Hampshire and Vermont non-profits that provide human services, such as the Northeast Kingdom Council on Aging, Rural Edge, and Northeast Kingdom Community Action Head Start
Highlights from this year's exhibition include Keith Chamberlin's photographs of "uninteresting things". He explains, "I decided to build a collection of personal work, concentrating on ordinary subjects close to home and the stuff I pass by on my daily commute. They document accidental still lifes, unplanned set-pieces, and random slices of beauty hidden in plain sight—focusing on what's interesting about uninteresting things."
(text adapted from the venue's press materials)
Image:
Napa Auto, Lyndonville, Vermont
by Keith Chamberlin
18″x20″
2013
Courtesy of the artist
---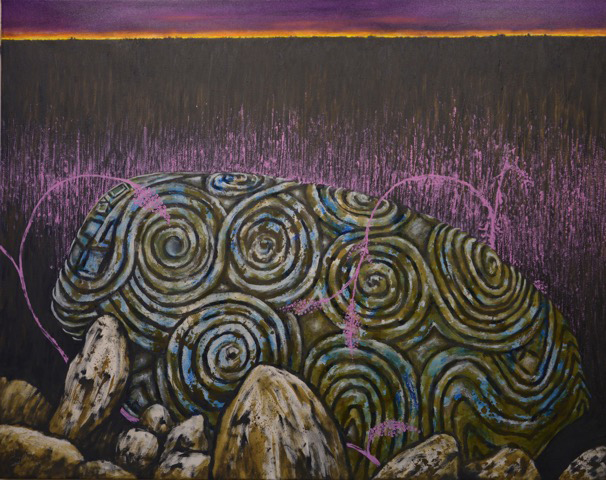 Robert Manning: A Retrospective
May 7-July 9, 2016
Robert Manning first viewed director Robert Flaherty's film Man of Aran in 1958 while he was still a student at Pratt. The 1934 black-and-white film was inspirational, but Manning was not able follow that inspiration to its source until more than twenty-five years had passed. Traveling to the Aran Islands of the west coast of Ireland in the summer of 1984, he began drawing one of the many stone walls that snake across the windswept landscape and felt immediately connected to a subject that combined literal meaning and abstract form. Subsequent trips to track down Neolithic monuments left by prehistoric tribes led him to discover dolmens, menhirs and stone circles in England, France, Ireland, and Scotland, and revealed a path towards personal expression. Work in this exhibition not only features Manning's efforts to depict stones realistically, but also to imagine their rich history in fantastical, highly colorful paintings of what lies beneath the soil. Also featured are early autobiographical drawings, paintings and assemblage sculpture that explore his personal history as an Irish American: works that inform and help personalize Manning's artistic exploration of stones done in order to explain where he came from and where he wanted to go.
Born in Hartford, Connecticut in 1933, Robert Manning attended the School of the Museum of Fine Arts, Boston from 1951 to 1953 before entering the U.S. Army in 1954. Serving a 14-month tour of duty as a high-speed Morse Code radio operator in Ulm, Germany, he was able to tour Europe and visit museums in England, France, Germany, Italy, the Netherlands, and Spain. Upon returning to the U.S., he finished his education at Pratt Institute in Brooklyn, with funding from the G.I. Bill of Rights, and earned a BFA with honors in 1958. Manning later received an MA in Studio Arts from the Hartford Art School, University of Hartford, Connecticut in 1970. His work has appeared in group shows at numerous venues, including the Benton Museum at the University of Connecticut, Storrs; El Museo del Arte in Lima, Peru; the Helen Day Art Center, Stowe; the New Britain Museum of American Art, Connecticut; and many other institutions.
After taking early retirement from teaching in 1991, Robert Manning moved to Vermont in 1993. He has served on the Board of Directors of Catamount Arts since 1996 and on the Speaker's Bureau for the Vermont Humanities Council since 2001. Robert Manning currently lives and works in Danville, where he resides with his wife Libby Hillhouse.
(text adapted from the venue's press materials)
Image:
Neolithic Sunrise for Sister Helen Fogarty
by Robert Manning
2015
---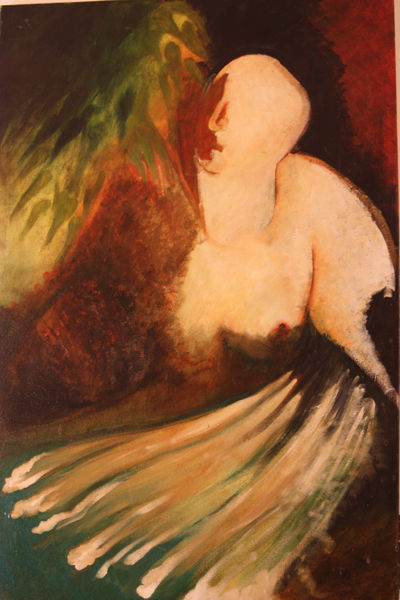 Engage: Alexis Kyriak
July 2012
"Engage" is a juried exhibition of artwork by 35 established and emerging Vermont artists with various disabilities, curated by VSA Vermont, a state-wide non-profit organization devoted to arts and disability. Criteria for selection of participating artists included high artistic quality, demonstrated originality, imagination, skillful use of materials, and quality of craft.