Located on the UVM campus, the Fleming Museum of Art houses the state's most comprehensive collection of art and anthropology.
Built in 1931 to house the growing collection, the Fleming is exemplary of the Colonial Revival style. Red brick walls are bordered by white wood trim. The building includes a delightful collection of details–balustrades, pilasters, pediments and entablatures–which mark early American architectural styles. The architect of the Fleming Museum was William Mitchell Kendall, whose firm, the prestigious McKim, Mead, and White, also designed several other buildings on campus, namely Ira Allen Chapel and the Waterman Building.
The Fleming Museum of Art
61 Colchester Avenue
Burlington 05405
(802) 656-0750
Hours:
January 15-May 10, 2019:
Tuesday, Thursday-Friday, 10AM-4PM
Wednesday, 10AM-7PM
Saturday-Sunday, Noon-4PM
The Museum is closed Mondays, holiday weekends, and during UVM's winter, spring, and summer recess.
---
ART ON VIEW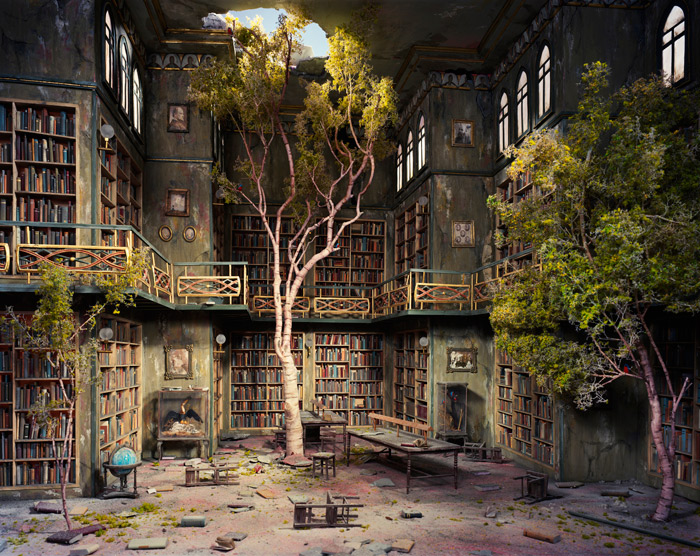 Fleming Museum of Art: Spring 2019
February 13-May 10, 2019
"Small Worlds: Miniatures in Contemporary Art" explores the ways contemporary artists use miniatures to inspire awe, whimsy, and even dread. A related exhibition of miniatures drawn from the Museum's permanent collection, "Global Miniatures", explores the universal appeal of miniatures found the world over and throughout time.
Historic and contemporary miniatures have the potential not only to delight us, but to provide us with a window into the intentions of the people who made them. The artists featured in "Small Worlds" either create or employ found miniature figures, rooms, and landscapes, displaying them through photographs or sculptures. The resulting scenes, reminiscent of our childhood playthings, can recall in us that sense of wonder for the world around us, but also call our attention to the dark forces hidden beneath the seduction of the small. As our inherent attraction to the miniature draws us into the imagined world of the artist, real-world traumas such as violence, displacement, and environmental disaster are brought to our attention in intricate and intimate ways.
Artists on display include Joe Fig, Minimiam (Akiko Ida + Pierre Javelle), Sally Curcio, Allison May Kiphuth, Thomas Doyle, Lori Nix + Kathleen Gerber, Corin Hewitt, Mohamad Hafez, Brian D. Collier, and Matt Neckers.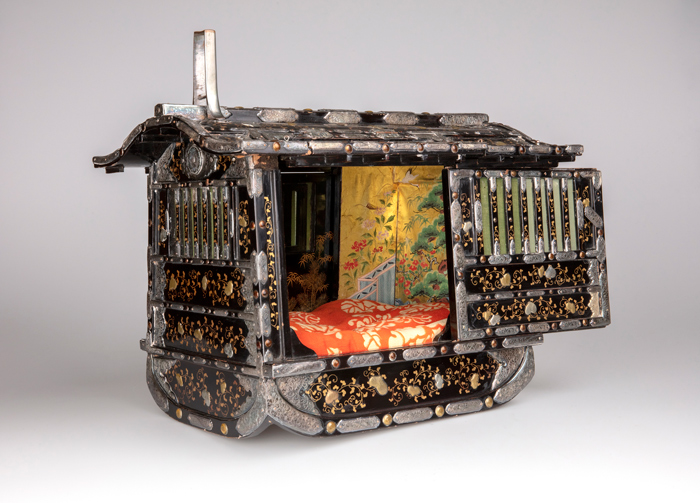 Across the Marble Court from "Small Worlds" is "Global Miniatures", showcasing miniatures made in diverse cultures and times drawn from the Fleming Museum's global collection. In many historic cultures including Ancient Egypt and Pre-Columbian Central and South America, miniature objects were included in burials in order to provide service in the afterlife. In Europe and America from the 1500s to the 1800s, miniature versions of sacred texts or portraits might be carried on one's person as a constant reminder of spirituality and family. These objects, despite their small size, were also a display of wealth, due to the laborious production and fine materials that went into creating them.
Small things naturally came to be associated with children. Dollhouse furniture and miniature housewares were used to educate girls and boys about their future roles as adults. Miniatures were also used to teach adults in a museum setting, as evidenced by examples from past Fleming Museum displays. This was particularly true in the case of global cultures, whose unfamiliar forms of housing or transport were displayed in dioramas and models. Yet, for westerners, miniatures from foreign lands served more than an educational purpose. As traders and tourists made incursions into Asia, Africa, the Pacific Islands, and the indigenous Americas, artisans in those places increased production of figures, models, and dolls of various kinds, in order to supply a ready market of people seeking decorative souvenirs of their global travels.
Image (top): Library (detail) by Lori Nix/Kathleen Gerber (30″x40″; archival pigment print; 2007).Courtesy of ClampArt, New York City. © Lori Nix/Kathleen Gerber
Image (center): model litter (Japanese) *9.5″x13.25″x12″; lacquer, wood, silver, paper). Museum Collection T 1243
---
PREVIOUS EXHIBITIONS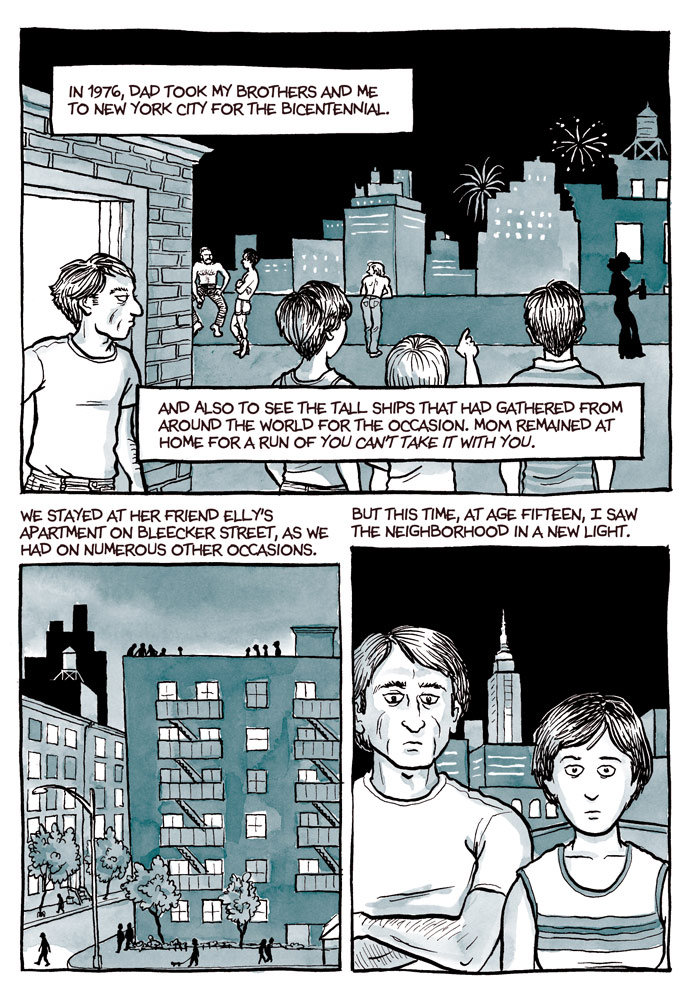 Fleming Museum of Art: Spring 2018
Artist's Talk with Alison Bechdel: Wednesday, February 21, 2018, 7PM in the Dudley H. Davis Center's Silver Maple Ballroom. Free Admission.
Self-Confessed!
The Inappropriately Intimate Comics of Alison Bechdel
January 30-May 20, 2018
A renowned cartoonist and graphic memoirist who lives in Bolton, Alison Bechdel is a MacArthur Foundation "genius" grant winner, and the third Cartoonist Laureate of Vermont—a position unique to the state. Her pioneering comic strip about the lives of a group of lesbian friends, Dykes to Watch Out For, ran from 1983 to 2008 and was syndicated in over fifty alternative papers, including Vermont's Seven Days, which recently published new Dykes strips by Bechdel focused on current political events.
In 2006, Bechdel published the graphic memoir Fun Home: A Family Tragicomic, which explores her relationship with her father, her coming out, and his possible suicide. Fun Home was a New York Times bestseller and the basis of the Tony-award winning musical of the same name. Bechdel followed up in 2012 with Are You My Mother?: A Comic Drama, which follows her relationship with her mother, girlfriends, therapists, and her exploration of psychoanalytic theory. Both books are works of multilayered complexity, employing nonlinear storytelling and a rich trove of literary and historical references.
"Self-Confessed" presents these primary bodies of work in depth through original drawings and sketches, while incorporating other aspects of Bechdel's creative output, from early drawings to activist ephemera to large-scale self-portraits. The exhibition also includes a model of the set for the musical Fun Home, reconstructed for this exhibition.
The exhibition explores Bechdel's work as a writer, an artist, and an archivist of the self, someone who constantly mines and shares her own experiences as a way to communicate something vitally human: the quest for love, acceptance, community, and social justice.
Image: Alison Bechdel (American, born 1960), Page from Fun Home (New York: Houghton Mifflin Harcourt, 2006).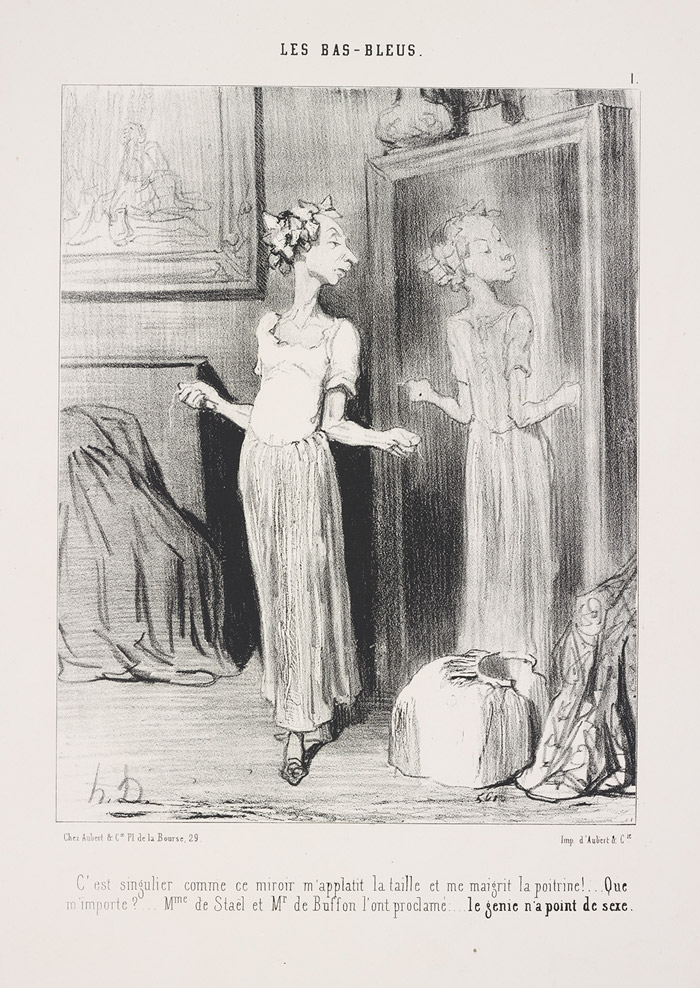 Honoré Daumier's "Bluestockings"
January 23-May 20, 2018
In 1844, famed French caricaturist Honoré Daumier (1808-1879) published Les Bas Bleus, or Bluestockings, a series of forty lithographs satirizing groups of upper-class women who sought intellectual stimulation in defiance of their narrowly proscribed roles in society. Daumier's combination of word and image as well as his depiction, albeit mockingly, of the flouting of gender norms makes it a fascinating counterpoint to the work of Alison Bechdel, who cites Daumier as an early influence.
The Blue Stockings Society began in mid-eighteenth century England as a women's literary discussion group, which represented a radical departure from the acceptable activities for upper-class women of the time. Though hosted by women, the society included learned men as well, and focused on equal intellectual exchange between the sexes. They supported each other's creative pursuits, and many members became published authors. The name of the group is said to refer to the fact that participants were encouraged to wear their everyday blue stockings, rather than more formal black ones.
In France, Les Bas Bleus evolved into an informally organized women's movement that continued to advance women's literary and intellectual opportunities and ambitions. The term came to have derogatory implications, as men and women opposed to this liberation mocked bluestockings for being unattractive and insufficiently feminine. In Daumier's images, women are depicted abandoning their domestic responsibilities of housekeeping and childrearing in favor of novel- and poetry-writing, intellectual discourse, and what was seen as "salon socialism"—the support of socialist causes from the comfort of a well-appointed salon.
Though Daumier's message ridiculed women's emancipation efforts, today we can see in his humorous cartoons the beginnings of a revolution, one that would eventually lead to women's suffrage, women in the work force, and women's freedom from reliance on men for their education or economic security.
These prints are generously loaned from the Arthur Ross Collection at the Yale University Art Gallery, whose donor intended that the works be shared with other teaching museums throughout the country. The Fleming Museum is grateful to Kimberley Adams, M.D., for facilitating this loan.
(text adapted from the venue's press materials)
---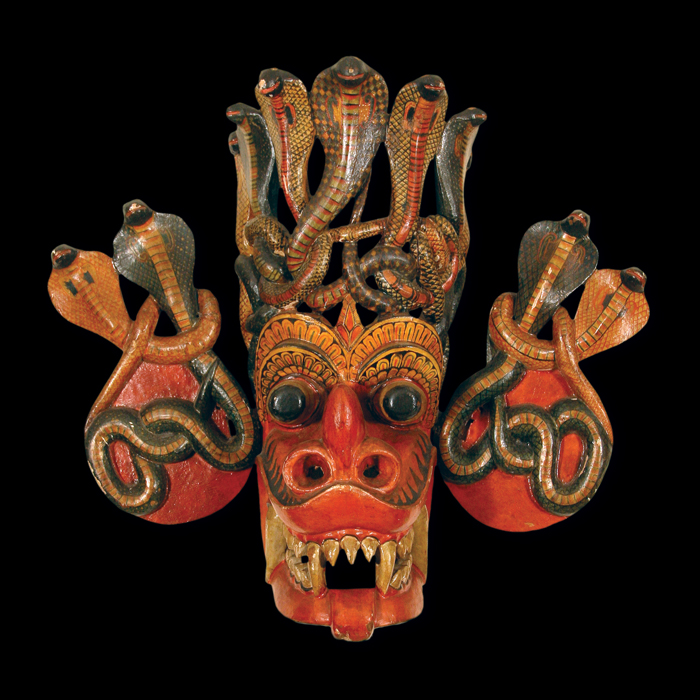 Fleming Museum of Art: Spring 2017
Opening Reception for all three shows: Wednesday, February 8, 5:30-7PM
New for 2017 in the Wilbur Room: Asian Art Gallery
The Fleming's new Gallery of Asian Art highlights exemplary works from our permanent collection, focusing on China, Korea, Japan, India, Sri Lanka, Thailand, Myanmar, Cambodia, and Indonesia. The objects on view span ancient to contemporary examples of courtly, religious, and fine arts as well as everyday objects, including bronzes, ceramics, furniture, clothing and textiles, arms and armor, masks, sculpture, paintings, ink drawings, woodblock prints, and historic photographs. The gallery places objects in the context of the social, political, and religious systems and practices that have shaped the diverse cultures of East, South, and Southeast Asia. (image above: Naga Raksha Mask)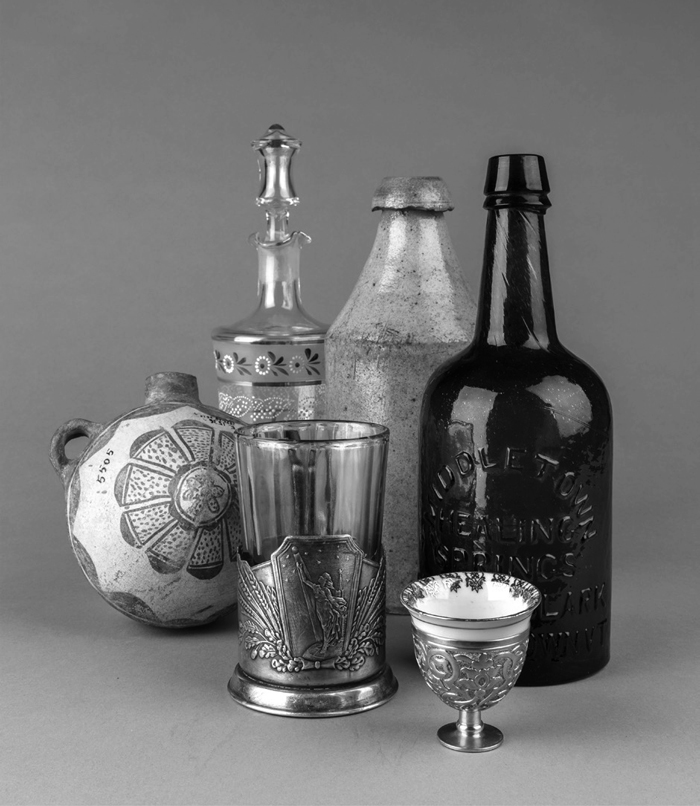 January 24-May 21, 2017 in the Wolcott Gallery: "Imbibe: Drinking In Culture"
From carafes and bowls to cups and bottles, "Imbibe" offers visitors a fresh perspective on drinking vessels from many different cultures. Used for drinking or for serving, these museum collection objects were designed to give the liquids inside them shape, color, and even feel and flavor as they keep drinks warm or chilled. A tightly woven beer basket communicates as much about the technologies of carrying, storing and serving liquids as a delicately blown wine glass or a cast metal pitcher. The contours of a pouring spout change the stream of liquid in ways that are both practical and beautiful.
Alongside these drinking vessels, "Imbibe" also showcases historical and cultural materials that illuminate the social experiences of drinking, from treatises on the properties of mineral water, to temperance tracts and objects that embody traditional practices of sharing coffee, tea or kava. Strictures, traditions, expectations and the sensual and social pleasures of imbibing are all on display in this exhibit about how people shape their drinks, from inception to consumption.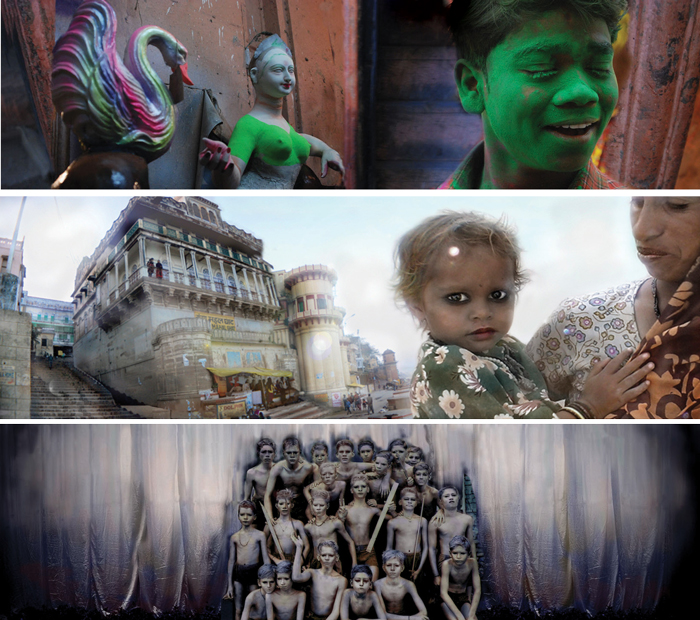 January 31-May 21, 2017 in the East Gallery: "Catherine Jansen: 1008"
American photographer Catherine Jansen has traveled to India over 25 times, always with camera in hand. With a profound knowledge of the country, she travels alone and is able to visit places and witness rituals usually inaccessible to foreigners as well as to many Indians, particularly women.
The idea for the exhibition is drawn from an artist's book Jansen made entitled 1008, the number of images she included in the book and a sacred number in Hinduism, corresponding to the 1008 names for Lord Shiva. By combining carefully arranged clusters of seven images (also a spiritual number) on each page, and presenting them without the influence of captions, Jansen invites the viewer to move meditatively through the book and respond to the images aesthetically and emotionally, without the need to know exactly what, where, or who is depicted.
(text adapted from the museum's press materials)
---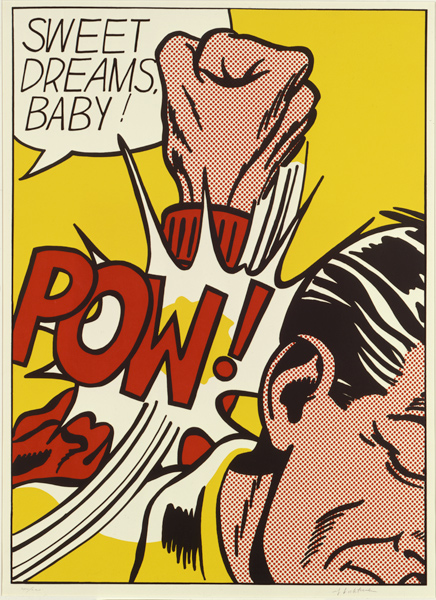 Pop Art Prints
February 10th to May 22, 2016
"Pop Art Prints" is a blockbuster exhibition on loan from the Smithsonian American Art Museum, featuring a selection of thirty-seven celebrated prints by Jasper Johns, Roy Lichtenstein, Claes Oldenburg, Robert Rauschenberg, Robert Indiana, and Andy Warhol, among others. The installation is enhanced by select additions from the Fleming's permanent collection that recognize the contributions of women Pop artists Marisol, Chryssa, and Corita Kent.
Pop Art emerged in the late 1950s and early 1960s, offering a stark contrast to Abstract Expressionism, then the dominant movement in American art. The distinction between high art and popular culture was assumed until artists like Jasper Johns, Roy Lichtenstein, Robert Rauschenberg, Andy Warhol and others of their generation challenged a whole range of assumptions about what fine art should be. Pop Art was eagerly embraced by an enthusiastic audience. The artists became celebrities and demand for their work was high. One reason they turned to prints was to satisfy this demand. They favored commercial techniques such as screenprinting and lithography with which they could produce bright colors and impersonal, flat surfaces. As editioned multiples, prints were more widely available and affordable than unique works of art, and Pop Art imagery was readily reproduced in the popular press.
"We are delighted to present this superb selection of Pop Art prints from one of the nation's most important collections of American Art, and to augment it with works by women Pop artists from the Fleming's own collection," said Fleming Museum Director Janie Cohen, who added, "some of the iconic images on view may be familiar to visitors; experiencing the works together in historical context is an exciting and eye-opening opportunity."
The exhibition is complemented by a documentary on view in the Museum's Media Niche, Seductive Subversion: Women Pop Artists, 1958-1968.
"Pop Art Prints" is organized by the Smithsonian American Art Museum. The C.F. Foundation in Atlanta supports the museum's traveling exhibition program, "Treasures to Go".
(text adapted from the museum's press materials)
Image:
Sweet Dreams, Baby! from the portfolio, "11 Pop Artists, Volume III"
by Roy Lichtenstein
35.75″x25.625″
color screenprint on paper
1965
Gift of Philip Morris Incorporated. Smithsonian American Art Museum. © Estate of Roy Lichtenstein
---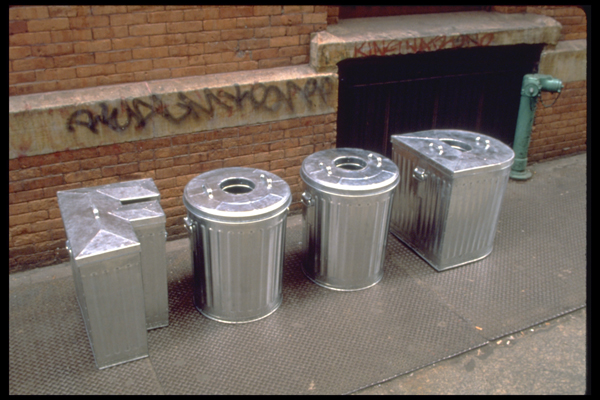 2013 Winter/Spring Exhibitions
"High Trash": East Gallery
The earth's environment is undergoing massive man-made and natural changes. Climate shifts, mass extinctions, clean water shortages, the threat of peak oil, extreme weather–all are familiar issues in the 21st century. These issues, and their implications, are inspiring a growing number of visual artists who not only address them in their work, but also use cast-off materials, trash, and the detritus of our culture as their medium. While neither the subject nor the use of found materials is new, this exhibition looks at a new generation of artists, across the US and beyond, that feels an increasing urgency to address issues of environmental degradation and sustainability. Included in the exhibition are Nancy Dwyer (image), Chakaia Booker, Tim Hawkinson, Dan Colen, Bright Eke, Tom Deininger, Max Liboiron, Vik Muniz, and Sayaka Ganz, among others. The artists create visually compelling works that transcend their original source material and speak to the wider concerns of waste, ecology, and humans' place on this planet.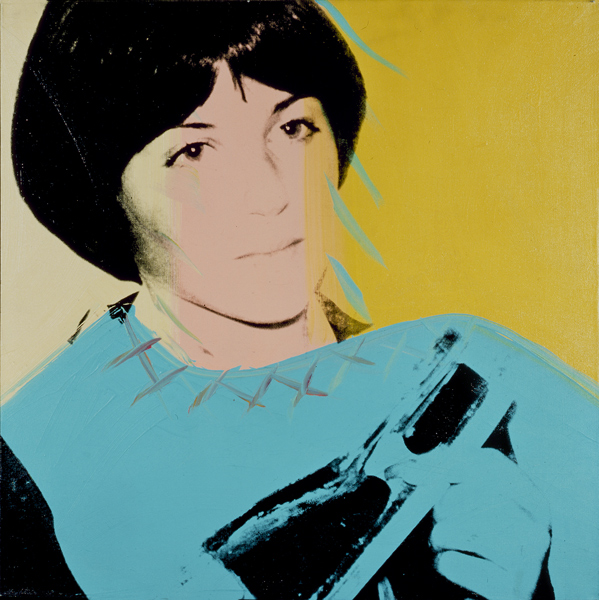 "Andy Warhol's Athletes": Wolcott Gallery
On view is a group of ten canvases by Andy Warhol, entitled the "Athlete" Series, commissioned in 1977 by Richard Weisman, a banker and friend of Warhol's. Weisman was a fan of both the arts and sports and had often noted that although both were popular leisure-time activities, they rarely crossed paths in any way. Weisman and Warhol agreed that Weisman would select the athletes himself, because, as he noted, Andy "didn't know the difference between a football and a golf ball." The series features some of the most famous athletes of the day, including, in addition to those mentioned above, boxer Muhammad Ali, football's O.J. Simpson, ice skater Dorothy Hamill (image above), basketball's Kareem Abdul-Jabbar, tennis player Chris Evert, jockey Willie Shoemaker, and soccer's Pelé. While not among Warhol's best-known work, this series presents an interesting digression from his usual society portraits, while at the same time, marking the period in which top athletes first became viewed as sports stars, and began to inhabit the world of celebrity.
---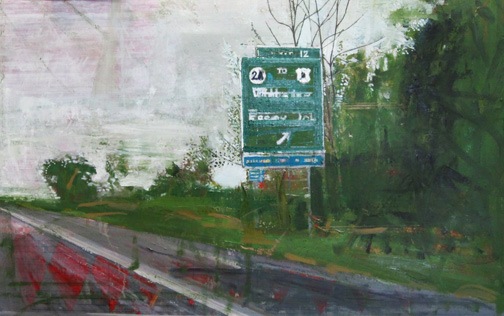 Panel Discussion:
"Contemporary Perspectives on the Vermont Landscape"
Wednesday, April 25, 2012, 6PM
Join artists Galen Cheney, Peter Fried, and Curtis Hale for a panel discussion on the Vermont landscape. This event is presented in conjunction with the current Fleming Museum of Art exhibition, "Contemporary Voices from Vermont". Curator Aimee Marcereau DeGalan will moderate the discussion.
Regular Admission. Free to Museum members, academic affiliates and with UVM ID.
Image: Exit Sign by Peter Fried