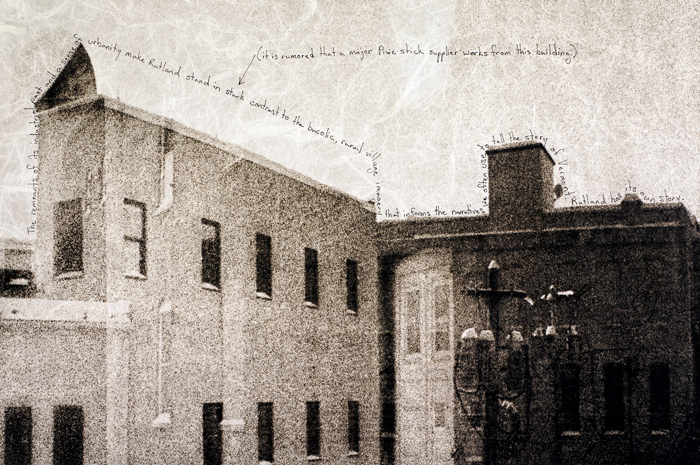 ART ON VIEW
Rutland: Real and Imagined
at The Alley Gallery in Rutland
January 31-March 9, 2019
Opening reception: Saturday, February 9, 6-8PM
How do we understand a community? How do we construct a sense of place? Often when one wants to know a place, they start by looking at photographs of it. Photography can convey a feel for a place, relay a sense of intimacy, or bear its history and, possibly, its future. It can tell a story. In the hands of an artist, a photograph can do more than tell you what a place looks like. It can tell you how a place is. For "Rutland: Real and Imagined", curator Stephen Schaub invited eight internationally-recognized artists, all of whom work with the photographic image, to investigate Rutland's geography, history, and people to create artwork that tells a story about Rutland.
Rutland, Vermont is not a single place but many places that come together in the minds and lives of the people who live there. The town was formed in 1761 by a New Hampshire Grant from Governor Benning Wentworth. In the 1830s, a large deposit of marble was discovered. The railroad arrived in 1851, at roughly the same time the quarries of Carrara in Tuscany, Italy became unworkable. This piece of historic luck combined with American industrial growth to make quarry operations a lucrative endeavour and wealth flooded the area. Marble companies carved out the towns of West Rutland and Proctor for themselves. Rutland City was incorporated as an independent jurisdiction, and the remaining rural areas were left as Rutland Town. By the end of the 19th century, when all the lines on the map had settled, the collection of towns and villages surrounding Rutland made it the second-most populous county in Vermont, a status it retains to this day.
The legacy of 19th century affluence can be seen throughout Rutland. Its downtown core, with its grand Merchants' Row, Victorian buildings, and City Beautiful architecture, sits on the National Register of Historic Places. Its people are a combination of old Vermont families and the descendants of Italian marble workers who immigrated to the area in the 1800s. Rutland is the birthplace of tractor maker John Deere and Martin Henry Freeman, the first African-American president of a US college. Poet and writer Julia Caroline Dorr made Rutland her home and through her friendships with other writers saw a litany of 19th century literati—Henry Wadsworth Longfellow, Ralph Waldo Emerson, Oliver Wendell Holmes—visit the town. And yet, in spite of its illustrious history, Rutland often takes a back seat to Vermont's largest city, Burlington, and its capital, Montpelier.
The remnants of its industrial past and a sense of urbanity make Rutland stand in stark contrast to the bucolic, rural village imagery that informs the narratives we often use to tell the story of Vermont. Rutland has its own story.
"I asked each of the artists in this show to explore the city of Rutland as an idea, a place, or a history, and tell a story from that foundation," said Schaub. "Real, imagined or someplace in the middle–as long as the narrative anchors itself in Rutland, everything is fair game."

Using a camera where the lens pans from one side to the other to provide a 140-degree view as if the viewer is standing on the street, Arthur Gilman (image above) photographed three neighborhood grocery stores in Rutland. Gilman writes, "How do you define a neighborhood? The locally owned corner store and grocery purveyor has historically been at the heart of most small communities, providing them a nexus around which to revolve. They offer area residents supplies they need but also, perhaps just as important, they offer a sense of place, history and continuity." Gilman's photographs are a product of his "fascination with the local neighborhood grocery as a phenomenon: its significance, evolution and landscape."
Carol McGorry's photographic and written documentary works focus on the relationship between family, cultural traditions, and craft in places such as Rwanda, Guatemala, the Shetland Islands, and Romania. Her work in Rwanda is done in collaboration with organizations and artists exploring themes of trauma and loss, memory and testimony from multiple perspectives relative to the 1994 Rwandan Genocide. She writes, "Rutland, at once, returned me to my Queens, New York roots—the statues of Madonnas on lawns in front of churches and in cemeteries–raising, for me, questions about the spaces between womanhood, maternity, and autonomy." McGorry lives and works on Long Island, New York.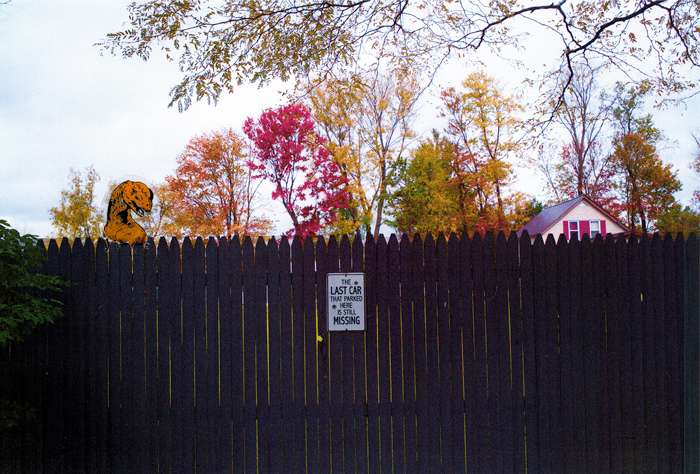 The photography of Susan Weiss (image above) focuses on the human condition and the world which we inhabit. Weiss created and distributed a series of postcards and asked people from Rutland to mail them to her with comments about what they liked or didn't like about Rutland. For the exhibition, she will install the postcards on the wall next to a rack of postcards. She writes, "What better way to introduce people to Rutland than with the vehicle of a postcard? Its two sides show two simultaneous realities, both the personal and the public. The postcard pinpoints at once the person and the place… defining a moment." Weiss splits her time between San Francisco and Dorset, Vermont.

Photographer and documentarian Bob Van Degna (image above) captures a sense of place through black-and-white photography of its people, land, and structures. For "Rutland: Real and Imagined", Van Degna photographed people and places while spending eight hours riding the busses of the Marble Valley Regional Transit District, known as "The Bus". Van Degna divides his time between Dorset, Vermont; Arizona; and New York City.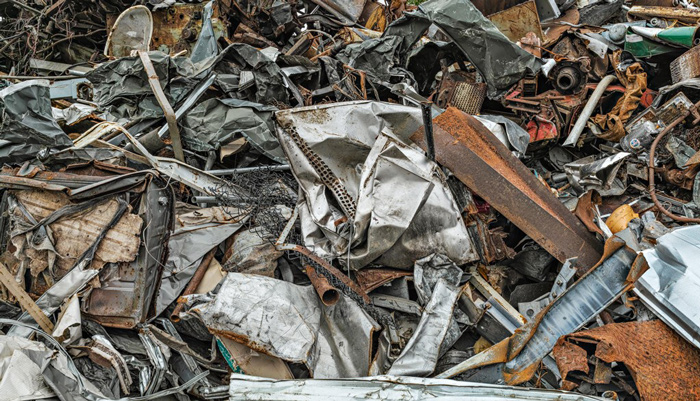 Brandon, Vermont-based photographer Don Ross' (image above) work has been featured in The New York Times, Art in America, and the publications of the Whitney Museum of American Art, the Vermont Folklife Center, and the National Portrait Gallery. Ross' large-format photographs "capture the complex compositions and rich textural variances hidden within overlooked crevices in Vermont's rural industrial landscape," writes the Shelburne Museum, where Ross was recently featured in the biennial "New England Now".
Stephen M. Schaub's works have been described as "art dreaming about itself." Rather than experiencing a literal place or a linear story, the viewer encounters something akin to the fragmentation of an emotional memory—or the illogic of a dream. Combining the tradition of film with cutting-edge technologies and rare and handmade materials from around the world, Schaub's resulting artworks belong to a hybrid medium of his own creation. Each piece is created as an in-camera collage using film as its foundation, and using cameras which in many cases he has had built or specially modified to his own unique specifications. In the creation of the negative, overlapping frames and multiple-exposures are used to evoke an almost cinematic sense of time and motion. Schaub lives and works in Pawlet, Vermont.
Serial memoirist Eve Ogden Schaub "enjoys performing experiments on [her family] so she can write about it." She brings her wit and wordsmithery to the exhibition by collaborating with Arthur Gilman and Stephen Schaub to create texts to accompany their photographs. She lives and works in Pawlet, Vermont.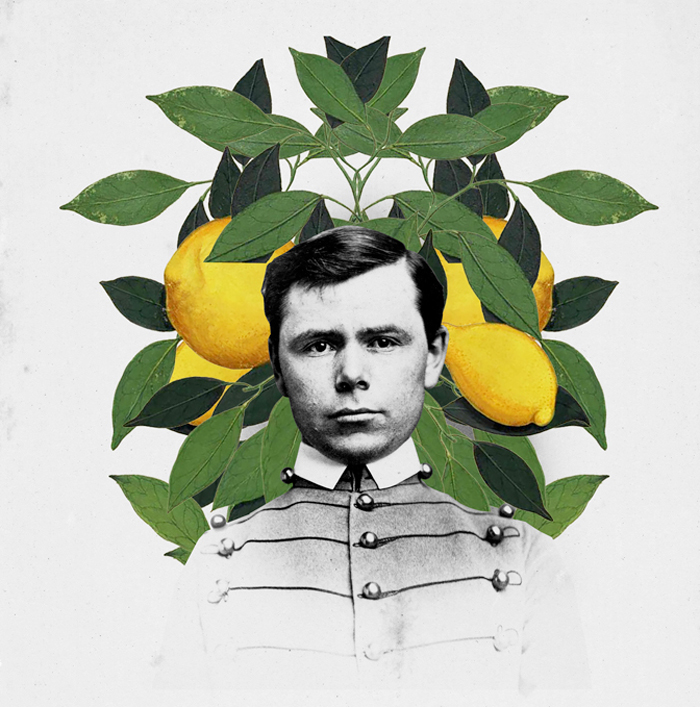 In "The Rutland Kunstkammer", Ric Kasini Kadour (image above) takes the history of the area and the people who lived there as a point of departure. Kadour will convert a room of the gallery into an immersive installation using collaged and historic photographs, sculptural objects that invite viewers to imagine the greatness of Rutland, past and future. He writes, "We use our memories to imagine the potential of what may happen, but also what we can accomplish or achieve, to entertain what is possible. In creating a cabinet of curiosities, I hope the viewer will enter this theater of memory and consider the future of themselves and their community." Kadour lives in New Orleans, Louisiana and Montreal, Quebec.
---
INFORMATION
The Alley Gallery
Center Street Alley
Rutland 05701
(603) 732-8606
Hours:
Thursday and Friday, Noon to 5PM
Saturdays 11AM to 3PM