Near Caspian Lake and surrounded by rural landscape, this state-of-the-art performance theater, cafe, and art gallery offers a robust and diverse program featuring locally and nationally recognized artists.
Highland Center for the Arts
2875 Hardwick Street
Greensboro 05841
(802) 533-9075
Hours:
Monday-Friday, 9AM-5PM and during public events
---
ART ON VIEW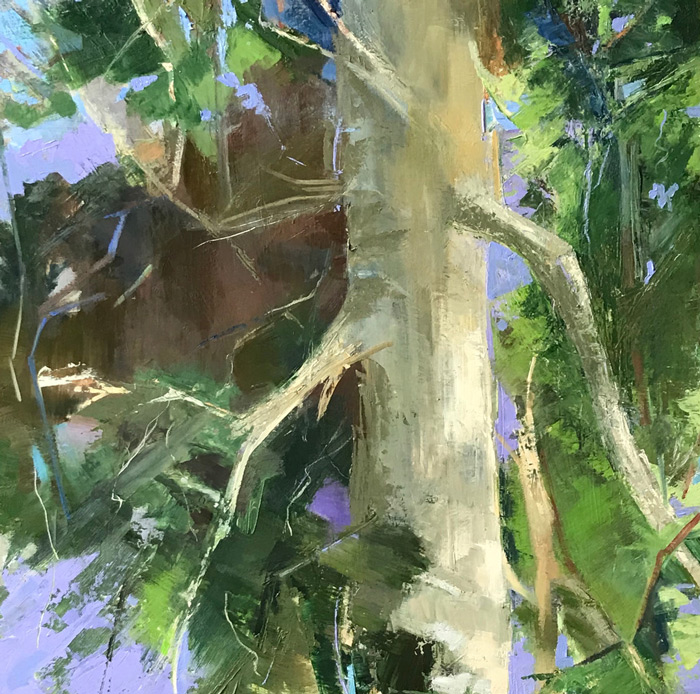 Precarious Magic: Kate Emlen
February 8-April 7, 2019
Opening reception: Friday, February 8, 5PM, with an artist talk starting at 6PM
Kate Emlen is a thoughtful painter who lovingly paints both the fields and forests of Vermont and the coast of Maine. Geography aside, she is keenly observant of the natural world. Her paintings are evidence of her presence there–amid the trees, at the water's edge or making tracks in the new snow under an always moving, ever-changing sky. What's more, she takes you with her to witness the beautiful light. You may not identify the exact location, but you will know immediately that you have been there, and that you need to go back. That place becomes your own.
"When I'm working, I'm not thinking. I let the rhythms within take over. When I stand back from the painting I look for motion of composition, the play of space and counterspace, the weight of color and how all these elements influence one another. A painting is complete when I can feel it is moving and breathing as a whole. This is the wonderful mystery I look for in every painting: the mystery of natural rhythms taken into the rhythm of paint."
(text adapted from the venue's press materials)
Image: Turnaround by Kate Emlen
---
PREVIOUS EXHIBITIONS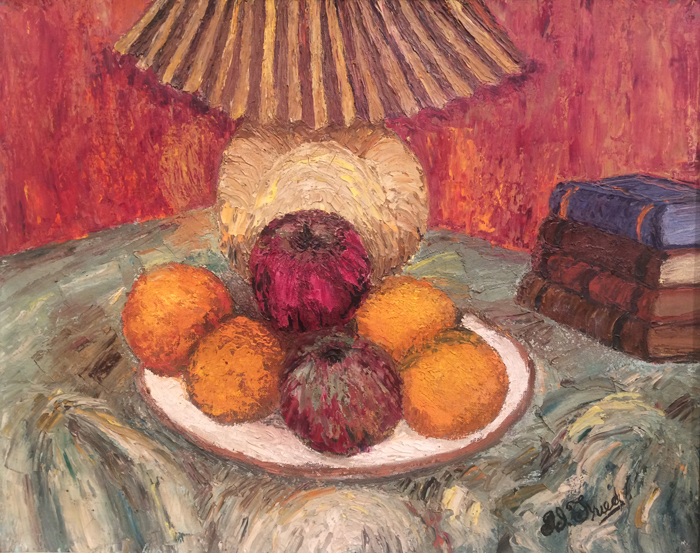 Paintings by Louis Fried
Through January 27th
Whether concentrating on the rush of water falling over rock, or trees coming into bloom, Louis Fried tackled each composition with confidence and creativity—a reflection perhaps on how he approached life. More than a collection of paintings, this exhibition tells the tale of the immigrant experience. Born in Minsk, Russia in 1893, Louis Fried and his future wife Helen immigrated to New York City in 1909, where they married and raised a family — a family whose descendants settled in Vermont and have contributed much to make the Northeast Kingdom a thriving community.
(text adapted from the venue's press materials)
---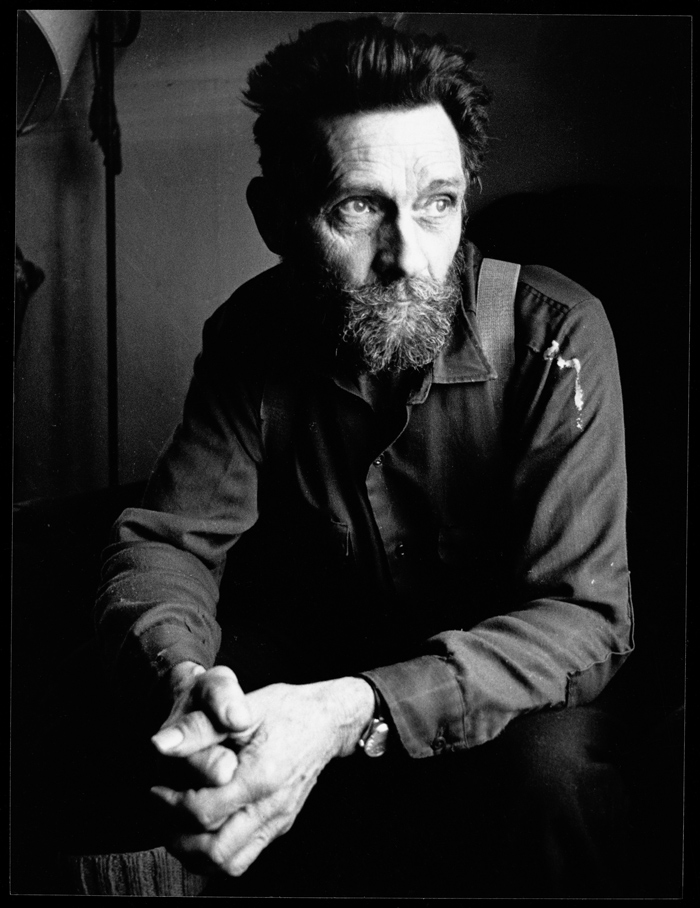 Driving the Back Roads: In Search of Old-Time Vermonters
September 21-December 2, 2018
"Driving the Back Roads" is a touring exhibition produced in partnership by Ethan Hubbard, the Vermont Folklife Center, and Highland Center for the Arts.
For nearly 50 years, Ethan Hubbard drove the back roads of rural Vermont in search of old-time Vermonters. This retrospective of Hubbard's documentary work and his life living alongside the people of North-Central Vermont showcases more than 40 of Hubbard's large-format black and white photographic portraits, pulled from some 600 rolls of film that he shot over five decades. Also included are audio excerpts chosen from 125 of Hubbard's tape recordings and interviews. In barns and fields, from forest walks to kitchen tables, Ethan's photographic portraits and audio recordings transport the viewer to rural Vermont and to the moments he shared with the people he met there.
(text adapted from the venue's press materials)
Image:
Romeo Beaudry by Ethan Hubbard
---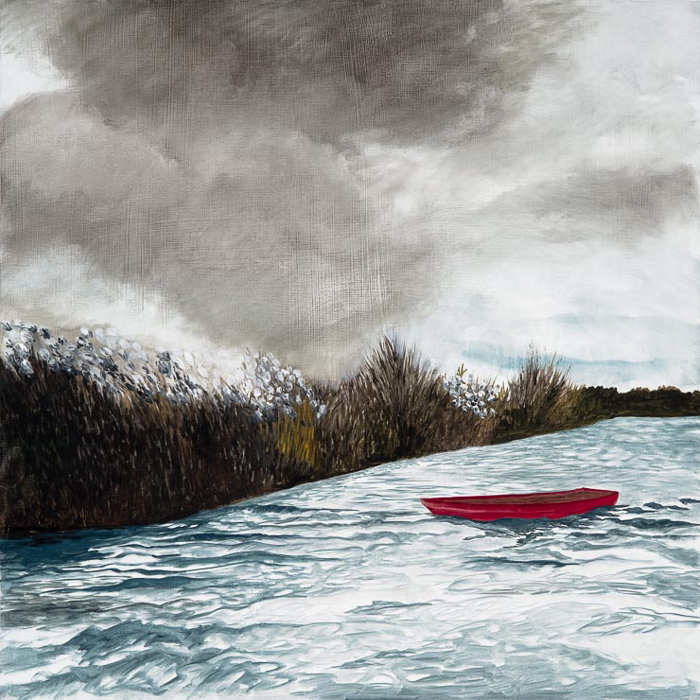 Elizabeth Nelson: "The Book of Changes"
December 2, 2017-February 18, 2018
Elizabeth Nelson is best known for her images of Northeastern landscapes. Her work has been shown since the late 1980s and has been presented in juried shows for nearly as long. She is represented by galleries in New York and Vermont and has won commissions for public art. Neither a young nor obscure artist, one can believe her when she says, "Every so often artists come to the end of what they're exploring." They have to ask, "Where do I go from here?" 2012 was one of those periods for Liz. She wanted to transform her work.
In January 2012, she started a series of "Symbolic Landscapes" inspired by the sixty-four hexagrams of the I Ching. Incorporating chance even into the procedure, she throw coins to choose a hexagram each time a painting was started and contemplate the result as she thought or dreamt an image. Her work has always referenced the landscape of northern New England and this new series continued that exploration, but with an interior dimension of symbols and geometric juxtapositions.
A friend showed her the I Ching book in the mid 1960s. "The language about the symbols connected so closely to unconscious thoughts I had been having." She wears divination loosely; there are times she refers to the method frequently and times she puts it aside for years. Liz describes her use as "something I have used in different ways for different questions and in different intensities."
The discipline of such a project is "very freeing." Describing the freedom inside of discipline, Nelson makes this analogy: "If you've cooked a souffle, one that's followed the rules, and have had some success, then you start changing things." She applies that thought to painting: "You have to keep pushing the edges of your knowledge and capabilities to grow as an artist. "Completing one idea," she explains, gives her the "confidence to do a riff on it. It's a physical skill, among other things. You have to have confidence in your skills; you keep practicing."
For the first time, all 64 of these new paintings are on exhibit.
(text adapted from the venue's press materials)
Image:
The Marrying Maiden (54)
by Elizabeth Nelson
20″x20″
acrylic on panel
---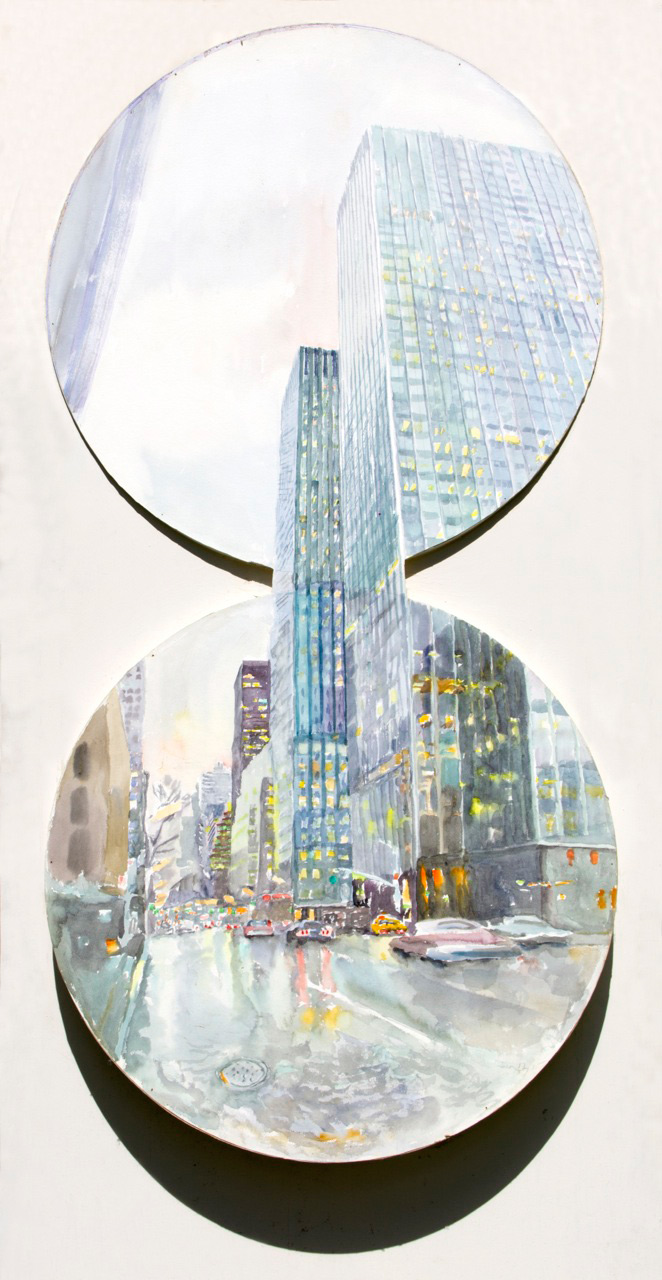 Lucien B. Day: A Life in Art
August 1-September 24, 2017
Opening reception: Thursday, August 3, 5-7PM, with a panel discussion of the artist's work starting at 6PM.
"A Life in Art" is a retrospective of the work of Lucien B. Day (1916-2008). One of the key founders of the SoHo art movement, Day's career spanned eight decades and his work in impressionist realism has been exhibited in countless museums and galleries.
Day graduated from Yale University in 1939 with a B.A. in English, and was voted Class Poet. He studied painting at Cranbrook Academy in Michigan and served in World War II. As a young artist, Day exhibited regularly in both New York City and Vermont, maintaining artistic kinships, and lengthy correspondence with noted artists including Fairfield Porter, John Marin, Alex Katz, Rackstraw Downs and Lois Dodd. In 1968, he founded the Green Mountain Gallery in Greenwich Village, which later moved and became one of the first galleries in SoHo. It would become a lively forum, retreat, and intellectual center for contemporary painters with realist tendencies during the eleven years Day was with the gallery.
Day offered a new perspective in his work, combining scientific knowledge with creative action, demonstrating his principle that the eye sees different angles of space simultaneously, whether painting Northeast Kingdom landscapes or the steel constructions of a growing Manhattan. In 2006, Day received the Walter Cerf Lifetime Achievement Award from the Vermont Arts Council.
Co-curated by Anna Weisenfeld and Vanessa Compton.
(text adapted from the venue's press materials)
Image:
City Circles
by Lucien B. Day
72″x30″
watercolor on panel