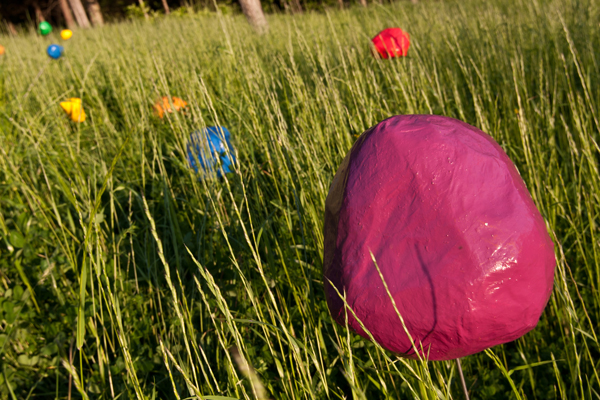 Jack Reed is part of Exposed 2011. He was born in Stowe, Vermont.
For the past year my work has explored human sentiments towards wonder and the natural world. From the outset of humanity, nature has served as the goad to inquiry, the catalyst for wonder. It provides us with stimulation necessary to investigate, explore, and define our world.
In this installation, nature exists in three realms: the organic, the synthetic, and the fantastic. The "rocks" in this installation are assembled from discarded detritus and trash.
nature |ˈnā ch ər| noun
•    the phenomena of the physical world collectively, including plants, animals, the landscape, and other features and products of the earth

wonder |ˈwəndər| noun
•    a feeling of surprise mingled with admiration, caused by something beautiful, unexpected, unfamiliar, or inexplicable
Jack Reed received his B.A. in Studio Art and Art History from Middlebury College in 2010. After graduating, he engaged in an an artistic fellowship at Trinity College, Hartford, Connecticut.  He is currently an MFA candidate at Otis College of Art and Design in California.
---
ABOUT EXPOSED
For the past twenty years, the Helen Day Art Center has hosted an outdoor public art and sculpture exhibition called Exposed in Stowe, Vermont.  Exposed hosts sculptures, site-specific installations, and participatory work from twenty-three national and international artists. the 2011 edition offers a series of Thursday night events by 12 video artists, writers, performers, and musicians accompany the exhibit. This exhibition and series of events is accompanied by cell phone audio tours, QR codes, walking tour maps, walkabouts, and a catalogue of the exhibit published by Kasini House Books. The exhibition will take place July 8th to October 8th, 2011.