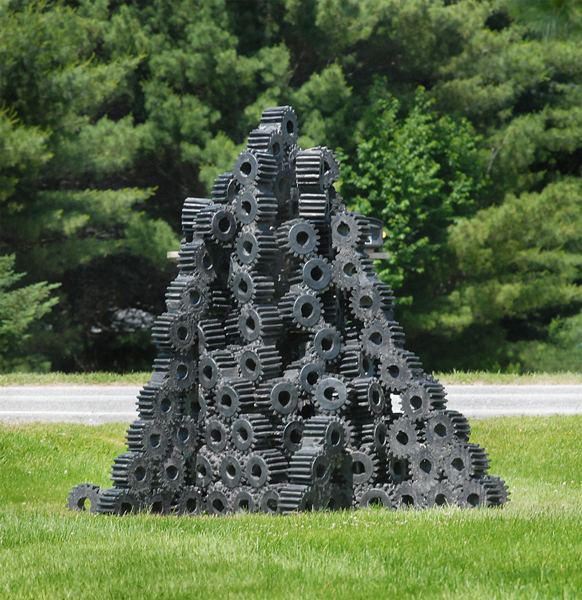 Tyler Vendituoli is part of Exposed 2011. He lives in Burlington, Vermont.
This piece was inspired by the trend in doing things locally and the nostalgia for our industrial past that comes with it. The gear, a once common and necessary part of many people's day to day lives, is all but foreign to most of us now. There is something in the gear's teeth, something in the raw functionality of a gear, the symmetry and offset keyway that is fascinating and enthralling. What purpose did it once serve? How many rotations had it made before being retired?

The single intriguing form is then multiplied and recreated in a material that would never be used for a functioning gear. That singular form now becomes a metaphor for industry in general – the gear as a building block. Working from the ground up, each progressive layer shows the growth and path industry takes in establishing itself. The missing pieces and branching arms show the trials and errors along the way. Ever working its way upward, industry comes to a halt in its pinnacle, a top gear. Today we are at that pinnacle, where we can build off of the past, learn from it and add to it with refreshing twists. We can recreate it, make it our own, and choose to move it upward, outward and in any direction we decide.
Tyler Vendituoli is a sculptor and metalworker extraordinaire currently based in Burlington, Vermont.  He specializes in industrial style furniture, lighting and sculpture with a flair for repurposing discarded vintage items.
---
ABOUT EXPOSED
For the past twenty years, the Helen Day Art Center has hosted an outdoor public art and sculpture exhibition called Exposed in Stowe, Vermont.  Exposed hosts sculptures, site-specific installations, and participatory work from twenty-three national and international artists. the 2011 edition offers a series of Thursday night events by 12 video artists, writers, performers, and musicians accompany the exhibit. This exhibition and series of events is accompanied by cell phone audio tours, QR codes, walking tour maps, walkabouts, and a catalogue of the exhibit published by Kasini House Books. The exhibition will take place July 8th to October 8th, 2011.