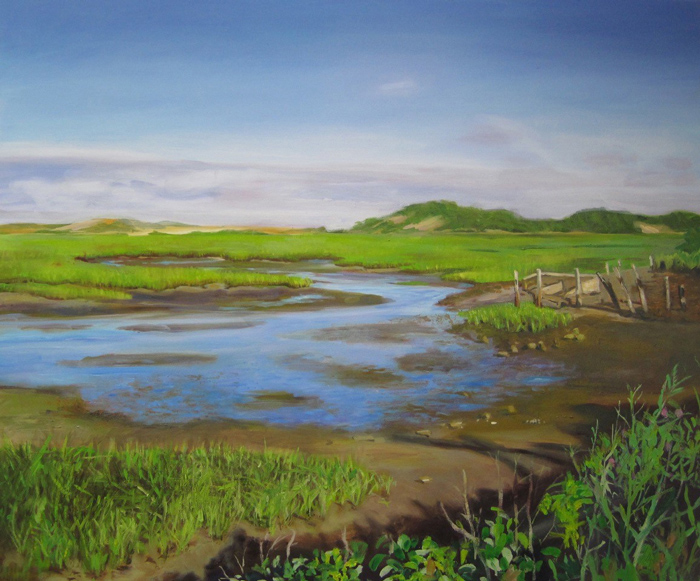 Molly Watson Hawley
January 13-February 28, 2017
Molly Watson Hawley works in a number of media to explore how the surface images of the visible world represent a deeper reality.
Hawley studied for a number of years with the plein air masters Cedric and Joanette Egeli at the Cape Cod School of Art in Provincetown. Her portraiture has been informed by her work with portrait masters Jose Cintron and Burt Silverman. In addition to her continuing portrait commissions, she is actively at work on an extended series of Cape Cod and Vermont landscapes. Her home and studio are in Ripton, where she lives with her husband, the writer Richard Hawley.
She began her undergraduate studies at Middlebury College, then went on to specialize in graphic art at the Boston Museum School and The Cleveland Institute of Art where she majored in printmaking. She has since worked extensively in other media, including pastel and oil painting, and more recently has produced a number of multi-media works combining fabric, photography, painting and drawing. For years she has painted commissioned portraits for private clients and institutions. Her work hangs in the permanent collections of Baldwin Wallace College, Cleveland's University School and in a number of private collections. Her work has been widely exhibited in juried shows, including at the Butler Gallery in Youngstown, Ohio and in The Cleveland Museum's annual May Show.
(text adapted from the venue's press materials)
---
INFORMATION
Jackson Gallery at Town Hall Theater
lower level
68 South Pleasant Street
Middlebury, Vermont 05753
(802) 382-9222
Hours:
Monday-Saturday, Noon-5PM
and an hour before any public events in the building
Image:
painting by Molly Watson Hawley