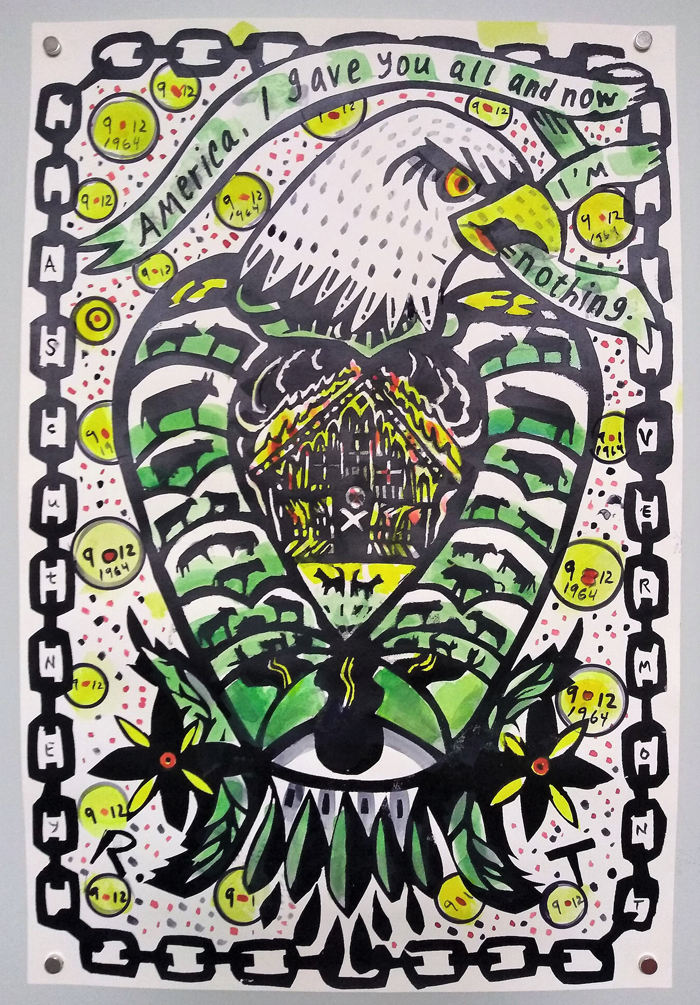 2019 VERMONT ARTIST TO WATCH
Rhonda Ratray, Bennington
Rhonda Ratray is an artist of many interests. When she is not making chenille Krampus ornaments for Christmas or finishing an album cover for a local band, or leading art projects at the Vermont School for Girls and the Vermont Veterans Home, she is serving as the the artist-in-residence and curator at the Left Bank, a multi-use community gathering space in North Bennington where Ratray has produced a series of exhibitions that bring artists from across New England to the southwest corner of Vermont. And then there is her own art practice. "A lot of my work has to do with forgotten knowledge, really simple technology and amusement," writes Ratray. "I hope to share my love of these things and kindle the joy of discovery in others."
"Artists to Watch 2019" is a survey of contemporary Vermont artists that appeared as special feature in Vermont Art Guide #9 and in an exhibition at the Vermont Arts Council, January 7-February 28, 2019. ABOUT THE PROJECT | GET THE MAGAZINE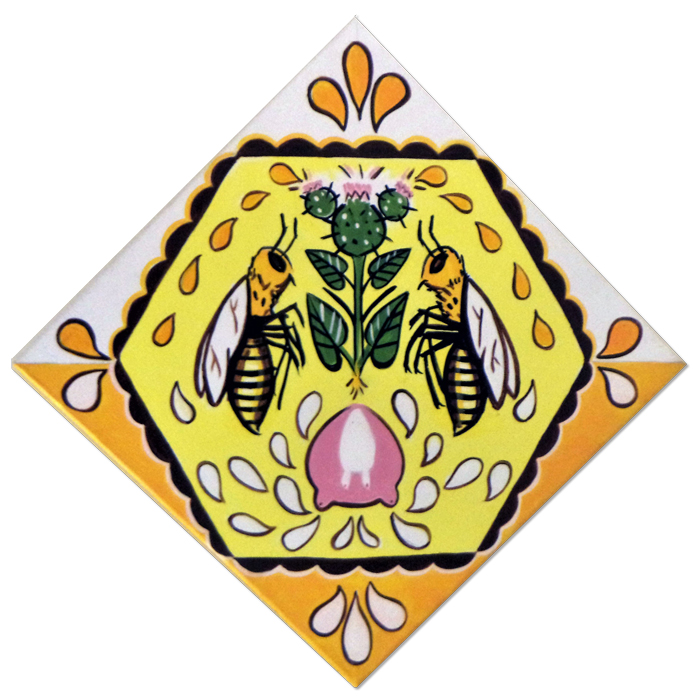 Her ongoing series, "Gratus", takes inspiration from the colonial family portraits in the Bennington Museum collection. Her "Bridge Series" explores forgotten and imagined histories of the town's five covered bridges. For an exhibition about the 1960s in Vermont, she made four hand-colored screenprints that "commemorate the life and death of Romaine Tenney, a Vermont farmer who, when confronted with eminent domain for the construction of Route 91 and the loss of his family's homestead, chose self immolation rather than to conform to the expectations of the state."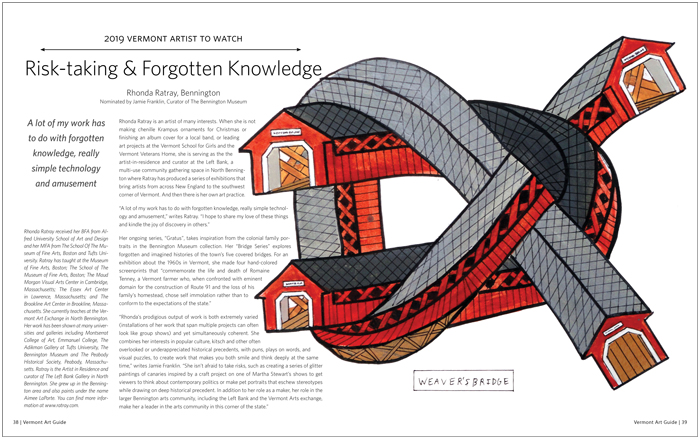 "Rhonda's prodigious output of work is both extremely varied (installations of her work that span multiple projects can often look like group shows) and yet simultaneously coherent. She combines her interests in popular culture, kitsch and other often overlooked or underappreciated historical precedents, with puns, plays on words, and visual puzzles, to create work that makes you both smile and think deeply at the same time," writes Jamie Franklin. "She isn't afraid to take risks, such as creating a series of glitter paintings of canaries inspired by a craft project on one of Martha Stewart's shows to get viewers to think about contemporary politics or make pet portraits that eschew stereotypes while drawing on deep historical precedent. In addition to her role as a maker, her role in the larger Bennington arts community, including the Left Bank and the Vermont Arts exchange, make her a leader in the arts community in this corner of the state."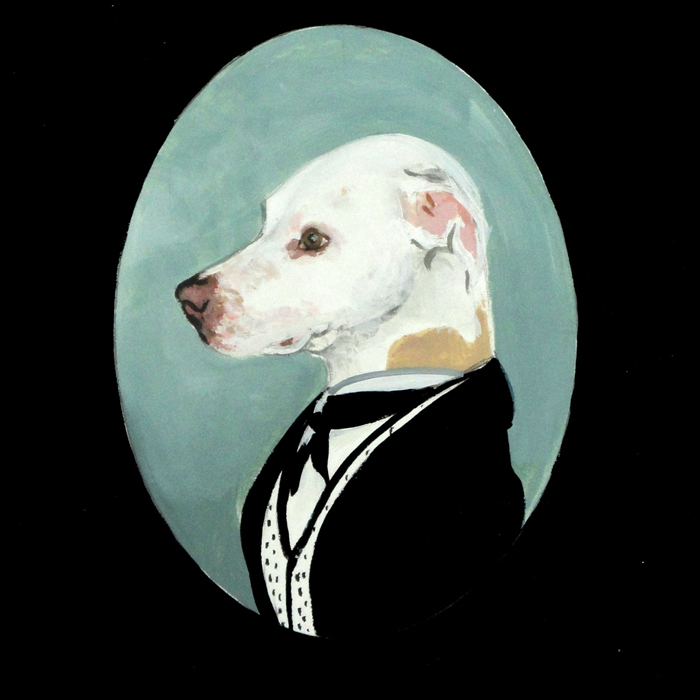 This Artist to Watch 2019 is a special feature in Vermont Art Guide #9. Vermont Art Guide is a full color, quarterly, printed magazine about contemporary art in Vermont. Our goal is to connect the entire state's art community by sharing information about exhibitions and events; present a picture of Vermont art and art in Vermont, to tell our story; and to build an audience for Vermont art inside the state and out. We hope you will join us and SUBSCRIBE TODAY.
About the Artist
Rhonda Ratray received her BFA from Alfred University School of Art and Design and her MFA from The School Of The Museum of Fine Arts, Boston and Tufts University. Ratray has taught at the Museum of Fine Arts, Boston; The School of The Museum of Fine Arts, Boston; The Maud Morgan Visual Arts Center in Cambridge, Massachusetts; The Essex Art Center in Lawrence, Massachusetts; and The Brookline Art Center in Brookline, Massachusetts. She currently teaches at the Vermont Art Exchange in North Bennington. Her work has been shown at many universities and galleries including Montserrat College of Art, Emmanuel College, The Adikman Gallery at Tufts University, The Bennington Museum and The Peabody Historical Society, Peabody, Massachusetts. Ratray is the Artist in Residence and curator of The Left Bank Gallery in North Bennington. She grew up in the Bennington area and also paints under the name Aimee LaPorte. You can find more information at www.ratray.com.
About the Curator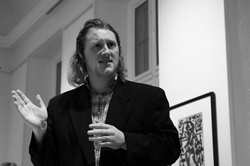 Jamie Franklin
Bennington Museum, Curator of Collections
"I look for work that gets me to see the world with new eyes. I enjoy work that introduces me to an unknown subject matter or little known historical tidbit, an esoteric or arcane symbology or dusty corner of the visual culture closet…I am drawn to things that are either subtle and easy to miss or brash and overtop to the point of being off putting." The Bennington Museum connects residents and visitors with Southwestern Vermont's art, history, and culture of innovation, including the world's largest collection of paintings by Grandma Moses. Find out more at www.benningtonmuseum.org.
Images (top to bottom) by Rhonda Ratray.