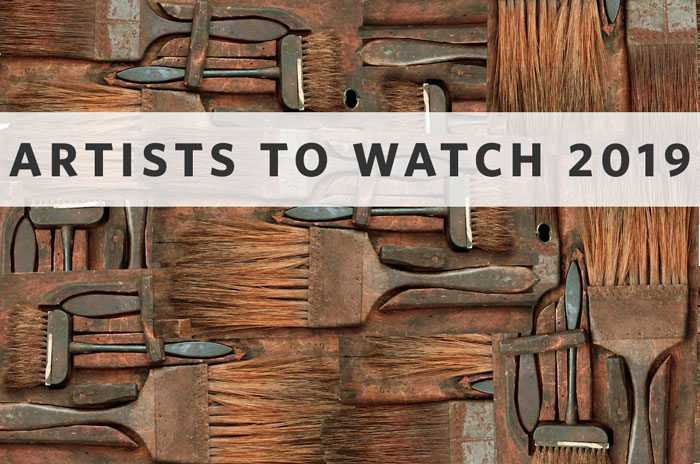 CALL TO ARTISTS
Vermont Artists to Watch 2019
In 2018, we created Vermont Artists to Watch as a way of highlighting Vermont artists and providing us a tool for engaging with others about contemporary art in the state. What started out as a feature in the Winter issue of Vermont Art Guide grew to include many more artists than we anticipated and the result was two exhibitions at the Vermont Arts Council Spotlight Gallery and a feature in Vermont Art Guide that spread across two issues.
Being part of Vermont Artists to Watch translated into gallery representation and the sale of artwork, but more importantly, the experience provided much need validation to the artists. Rose Umerlik writes, "In this career, you can get so wrapped up in trying to sell paintings so you can pay bills, that things can feel lost sometimes, but being a Vermont Artist to Watch centered me, and I've had an amazing year, producing work that I'm proud of, and feeling really good." I believe this program has the power to do good for Vermont artists. By shining our collective light on them, we can make them visible beyond our borders.
The deeper purpose of Vermont Artists to Watch goes beyond a magazine feature, an exhibition, and artist boosterism. The goal of the program is to reframe how artists are seen by society and promote engagement with visual art. The more we reinforce the notion that legitimate, quality work is being made in the state–art that speaks for and to us–the more likely the general public will be enthusiastic and seek out art. For art work its magic, it needs to be seen and it needs to be engaged.
In a few weeks, we will begin the nominating process for the 2019 edition of Vermont Artists to Watch. We have refined the program and provided it some structure. Ten curators will select ten artists who will be featured in Vermont Art Guide #9 and in an exhibition at the Vermont Arts Council Spotlight Gallery in January and February. Artists who wish to be considered are encouraged to join the Vermont Art Guide Artist Database. Curators interested in nominating an artist should send an email.