Located in historic Union Station at the foot of Main Street in downtown Brattleboro, the Brattleboro Museum & Art Center has cultivated a stellar reputation over the years for engaging and thoughtful exhibitions and quality programming. Five exhibitions open on Friday, June 22, 2018 for BMAC members and the exhibiting artists with an opening reception starting at 5:30PM. The exhibits open to the general public on Saturday, June 23. The exhibitions remain up through September 24, 2018.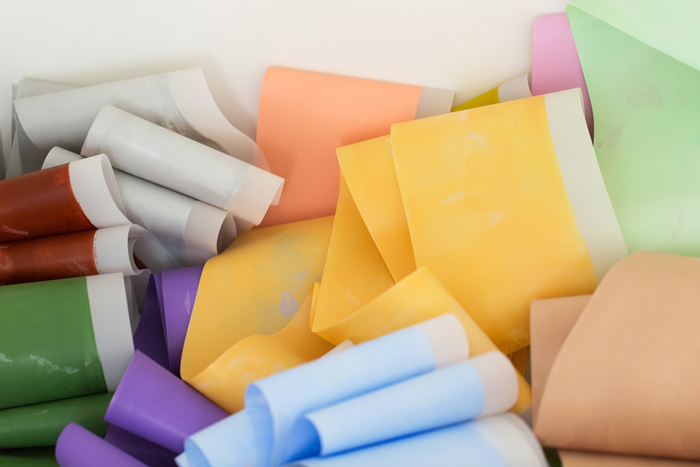 Painting Time: Debra Ramsay
Painting Time is an installation by the New York-based abstract artist Debra Ramsay that represents the distillation of a series of walks in the woods into large bands of painted paper. "To make the work," says Ramsay, "I returned to the same trail in the forest in spring, summer, fall, and winter of one year…I took a photo every 100 steps, resulting in 18 photos on each walk. I then selected one color from each photo to translate into a paint color. Seventy-two distinct colors mark this year of time." (image: One Year of Color (detail) by Debra Ramsay (acrylic on polyester resin fill; 2016-2017))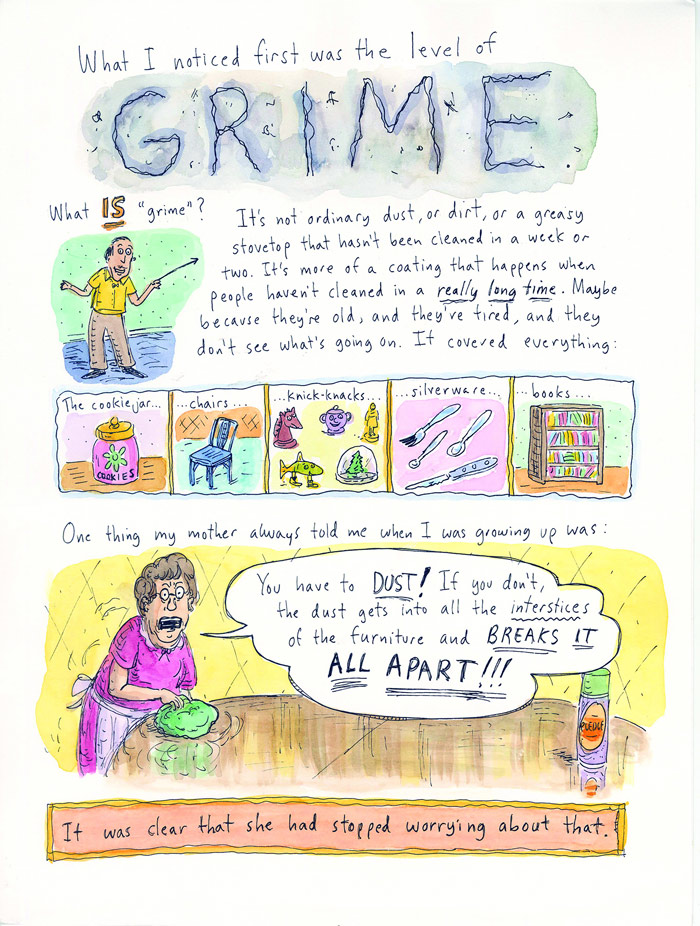 "Can't We Talk About Something More Pleasant?": Roz Chast
Roz Chast's "Can't We Talk About Something More Pleasant?" consists of 139 original illustrations from The New Yorker cartoonist's 2014 graphic memoir of the same name. The memoir has garnered critical acclaim for its grimly funny and deeply poignant examination of end-of-life issues as Chast experienced them with her aging parents. "I didn't want to forget how they talked," said Chast, "and I didn't want to forget how they were…Some of the stories that emerged were hilarious, but also heartbreaking, and they became a record of my experience with them." Chast will speak about her work at BMAC on Saturday, August 11 at 7:30PM. "Can't We Talk About Something More Pleasant?" is part of "Roz Chast: Cartoon Memoirs", a touring exhibit organized by the Norman Rockwell Museum in Stockbridge, Massachusetts. (image: Grime by Roz Chast (illustration for Can't We Talk About Something More Pleasant? by Roz Chast (Atheneum Books for Young Readers) © Roz Chast. All rights reserved.))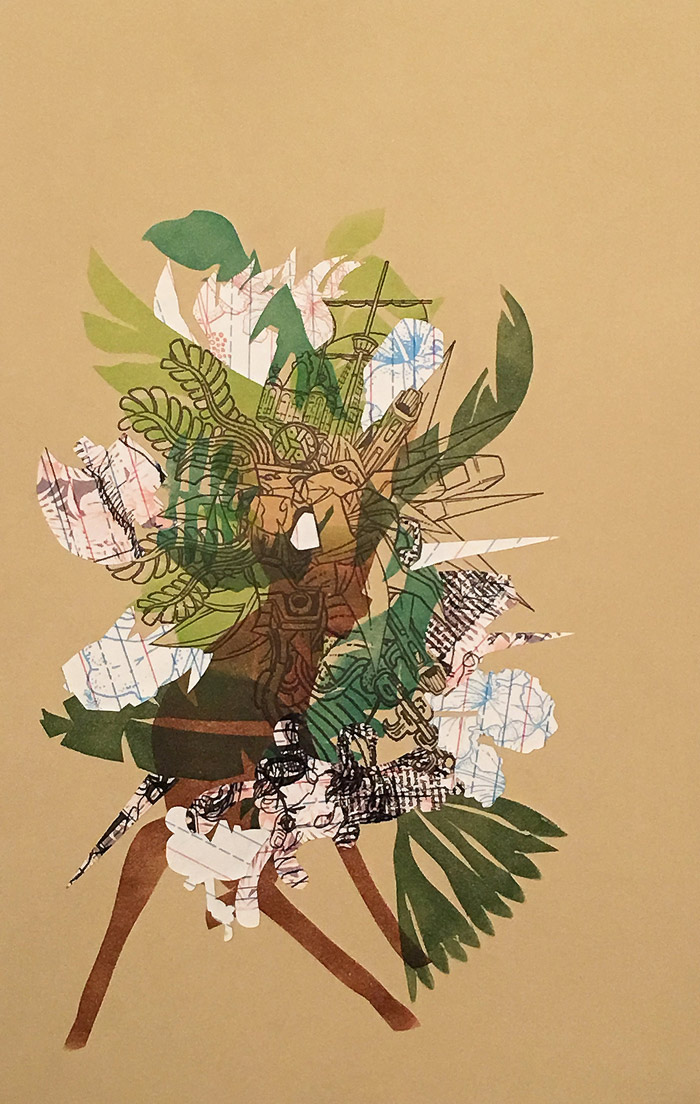 "And I Hear Your Words That I Made Up": David Rios Ferreira
"And I Hear Your Words That I Made Up" is a collection of dynamic mixed media works by David Rios Ferreira that explore the persistence of colonialist narratives in mainstream society. Ferreira's multi-layered images draw upon botanical illustrations, comic books, cartoon characters, and many other sources. "In Ferreira's work," says curator Sarah Freeman, "colorful and chaotic hand-drawn interventions vie with appropriated images of slave ships and shackles, aiming to reconcile the bloody past with a complicated present and unknown future." Ferreira will discuss his work at BMAC on Wednesday, July 25 at 7:30PM as part of an event called "Art & Decolonization," jointly hosted by BMAC and The Root Social Justice Center. (image: Where the Wilding Things Are, Wilding Thing 1 by David Rio Ferreira (letterpress polymer plate and collage on paper; 2018))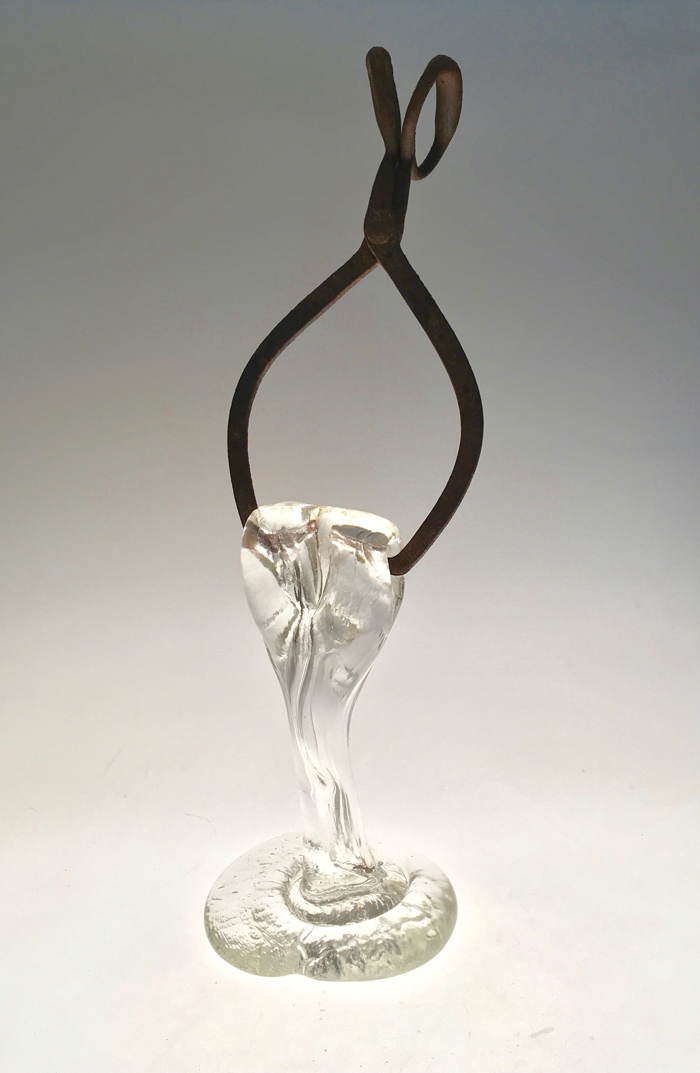 "Handle With Care": Robert DuGrenier
Robert DuGrenier's "Handle With Care" is a collection of sculptures crafted from blown glass and remnants of tools left behind after a fire in 2015 destroyed DuGrenier's historic barn and killed many of his animals. "This exhibit materially manifests a deeply personal, even therapeutic, exploration of grief," says BMAC Chief Curator Mara Williams. DuGrenier will give a free talk about his work at BMAC on Thursday, July 12 at 7:30PM. (image: Fire & Ice by Robert DuGrenier (cast glass and metal; 2018))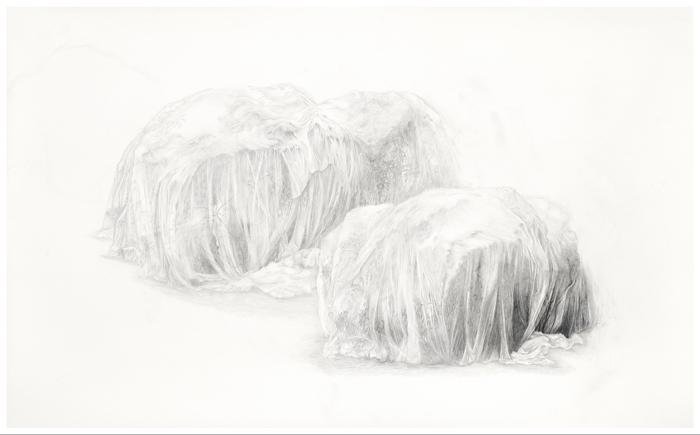 "Terrestrial Vale": Shona Macdonald
Shona Macdonald's "Terrestrial Vale" is a set of silverpoint drawings that depict plants shrouded in winterizing nets, a familiar sight around Macdonald's western Massachusetts home. The delicate images "convey a sense of abandonment, absence, and ghostliness," says Macdonald, who will give a free talk about her work at BMAC on Thursday, August 23 at 7:30PM. (image: Ghosts Large #11 by Shona Macdonald (graphite and silverpoint on gesso paper))
Remaining on view alongside the five new exhibits are "Best of 'Springs, Sprockets & Pulleys," a collection of interactive found-object sculptures by Steve Gerberich, and "Displaced," two outdoor sculptures by Angelo Arnold made of wood, foam, and brick-patterned fabric.
---
INFORMATION
Brattleboro Museum and Art Center
10 Vernon Street
Brattleboro 05301
(802) 257-0124
Hours:
Daily (except Tuesday), 11AM-5PM
Open until 8:30PM for the First Friday Gallery Walk