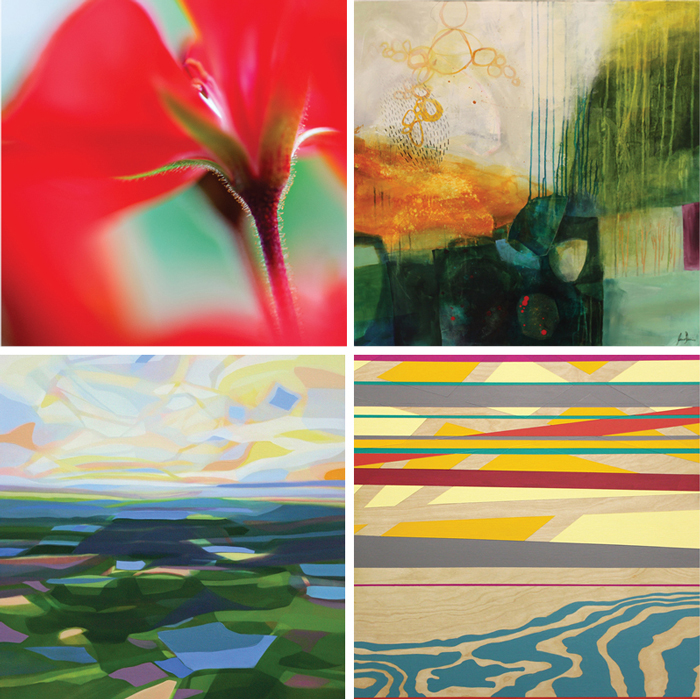 FROM VERMONT ART GUIDE #7
A Women's Group Show at Edgewater Gallery's Two Middlebury Locations
In the last few months, the country has experienced a renewed strength and energy in the women's movement. Women are again re-shaping history by speaking out, fighting for equality and respect. Edgewater Gallery is celebrating this recent momentum with the group show, "The Way We See It". Four women artists will be featured, two at Edgewater Gallery on the Green and two at Edgewater Gallery at the Falls. Photography, works in wood, mixed media and painting will be represented in the art of Kirsten Hoving, Michele Kishita, Jane Davies and Alexis Serio. Each of the four artists comes to her work from a unique perspective and all feel a freedom to express their ideas in an environment that both accepts and respects them.
Vermont Art Guide #7 has nearly two hundred places to see art around the state. The full-color, printed magazine has artist and venue profiles as well as articles and news about Vermont Art. Our goal is to document and share the state's incredible art scene. SUBSCRIBE TODAY
Historically, women in art faced the same limitations and barriers that women were experiencing in all walks of life. Female artists were not given access to the same education that male artists were and they were expected to put the needs of their families first. Household chores, cooking, care of elderly parents, all of this fell to the woman of the house. Many of these conventions stayed in place well into the twentieth century. It was the women who bucked these conventions that helped to change the course of art history for future generations.
Just like their male counterparts, women artists are responding to the world around them in their work. Their art reflects perceptions of the natural world, personal circumstances, as well as explorations of the elements of composition, color, pattern, texture, and positive and negative space. The four artists participating in Edgewater's June show recognize that it was the pioneers in the women's art world that paved the road for the freedom of expression that they feel today. For Kishita and Davis, whose work will be shown in the exhibit, it is important that their work be recognized as feminine, but it is a tribute to progress that this is a choice and that the two remaining artists are not conscious of or concerned about making art that relates to being a woman.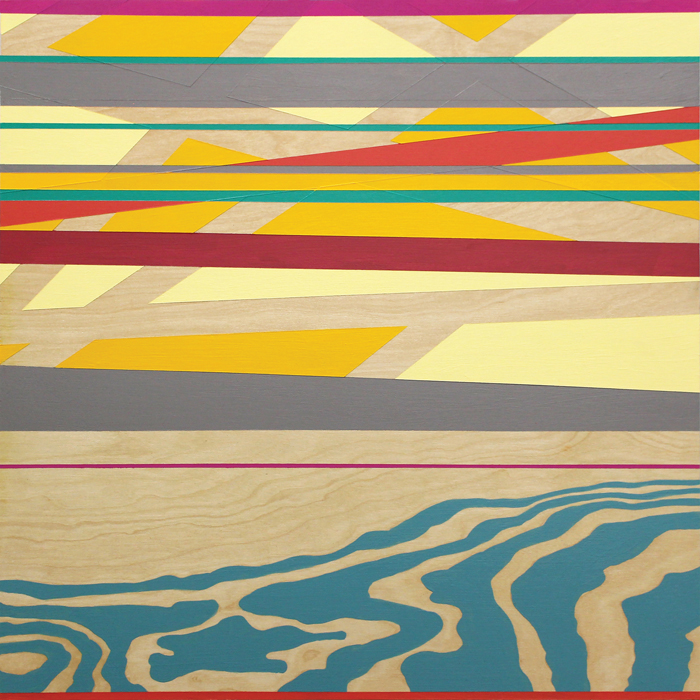 New Edgewater artist Michele Kishita writes,"I never think about whether or not my paintings appear to have been done by a woman, but since I am one, it is probably safe to say that there may be aspects of my work that may be inherently feminine. I certainly recognize that it's easier for me in the art world because of other women who have fought hard for me to enjoy the freedom I have, and for them I am grateful. Ultimately, I want to share my vision of the landscape, which for me is about interconnectivity and the complexities surrounding our interaction with the environment; thus `the way I see it' is more about humanity and nature than it is about being representative of a particular gender."
Kishita is based in Philadelphia, but grew up in the contrasting landscapes of rural Pennsylvania and the Arizona desert. She received her BFA and MFA in painting from the University of the Arts in Philadelphia and has lived in Japan, where she studied the work of Japanese printmakers Hiroshige and Hokusai. Kishita describes her work as being a dialogue between man-made colors and surfaces, and nature. She uses wood that she turns into rectangular sheets onto which she applies paint. Her palette is vivid and may not be related to colors that naturally appear in the environment, yet the grain of the wood and the history of the tree shows through in her polished surfaces. There is an exciting contrast set up between the bright painted surface and the subtleness of the smooth natural wood. (image: Autumn Dusk by Michele Kishita (20″x20″; latex on panel))
Abstract artist Jane Davies echoes Kishita's thoughts about the focus of her work. She states that "my gender is not relevant to my work at the moment." When discussing her experience as a viewer, Davies writes, "I find myself making either a guess or an assumption about the gender of the artist. I am right as often as I am wrong." In her mixed media pieces, she is interested in formal elements such as patterning, color relationships, line, scale, and texture. Davies' process explores the relationship between marks that are spontaneous and intuitive and those which are deliberate and planned. She works on paper, panel and canvas and she switches easily from works that are small abstracts to those that are large bold pieces. (image: Tidal Current #5 by Jane Davies (36″x36″; acrylic on canvas))
"The Way We See It" artists Alexis Serio and Kirsten Hoving place more emphasis on the importance of being recognized as female artists.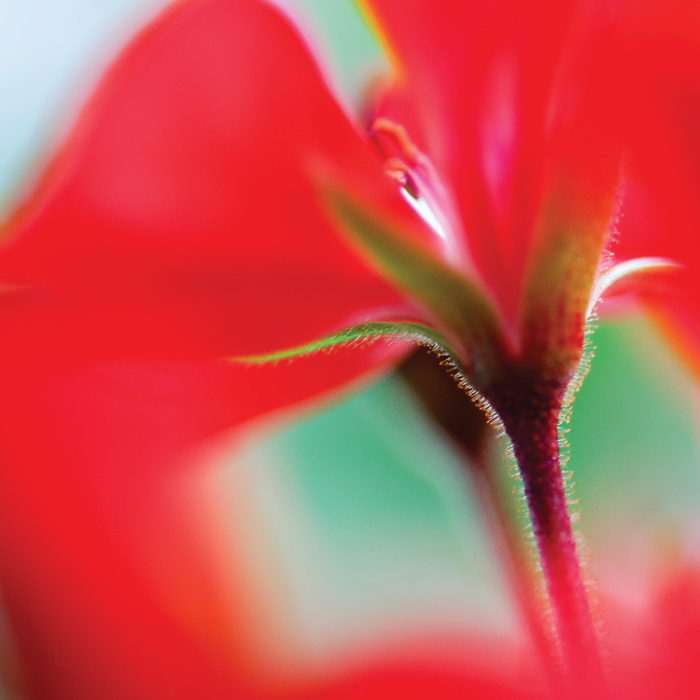 Middlebury College art historian Kirsten Hoving is known for imaginative photographs that challenge the boundaries of the medium. In her work, Hoving explores ideas of motherhood, fertility and caregiving. When asked about being a female photographer today, she states that she feels great support and adds that there is a vibrant community of women in photography today, many of whom are doing work that draws upon their experiences as mothers, sisters and daughters. She feels her work is "woman-o-centric" and recognizable as woman's art.
For Edgewater's June show, Hoving will exhibit a series of photographs that are close observations of flowers. She writes about this collection." I use my camera to transform observed reality into images that hover between comprehension and uncertainty. Rather than celebrating the recording function of the medium, I turn what I see into dreams, memories and suggestions." Through the use of her macro lens, Hoving isolates small sections of her subject and turns them into dramatic compositions of lush color, texture, shadow and light. (image: Geranium 1 by Kirsten Hoving (15″x15″; archival digital photograph))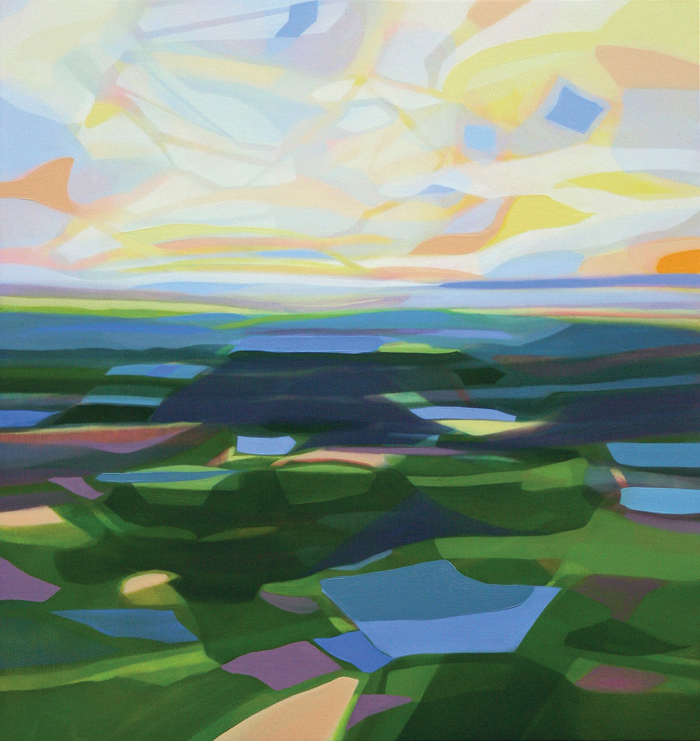 Painter Alexis Serio received a BFA from Syracuse University, College of Visual and Performing Arts, and an MFA from The University of Pennsylvania Graduate School of Fine Arts. She is currently a professor at The University of Texas at Tyler. She notes that as a professor she has seen a dramatic increase in the awareness of women in art with the greater accessibility of social media. She remembers struggling to find material for her Women in Art course in the early 2000's but finds that her options are countless when she prepares the course today.
Serio feels that her abstract landscape paintings are recognizable as having been made by a woman. "I want it to be apparent that a female made these paintings. I want my artwork to feel soft, dreamy, delicate, sensual, emotive, romantic, hopeful and nurturing, etc. All these things I associate with femininity."
Serio describes her paintings as "metaphors for memory". She uses variations in paint application and layering of both transparent and opaque color to create works that are studies in contrasts. They are solid in parts, ephemeral in others. The lines between reality and perception are blurred and through her use of color and tonal relationships she captures the natural elusiveness of light. (image: Two Little Feet (to carry me away) by Alexis Serio (38″x36″; oil on canvas))
The breadth of work from these four talented woman artists in Edgewater Gallery's "The Way We See It" exhibit is a tribute to the freedom to express that women in art feel today.
"The Way We See It" runs June 1 to 30, 2018. Jane Davies and Alexis Serio are featured at Edgewater Gallery at the Falls (1 Mill Street, Middlebury 05753) and Kirsten Hoving and Michele Kishita are featured at Edgewater Gallery on the Green (6 Merchants Row, Middlebury 05753). To find out more, visit www.edgewatergallery-vt.com.
Vermont Art Guide #7 has nearly two hundred places to see art around the state. The full-color, printed magazine has artist and venue profiles as well as articles and news about Vermont Art. Our goal is to document and share the state's incredible art scene. SUBSCRIBE TODAY