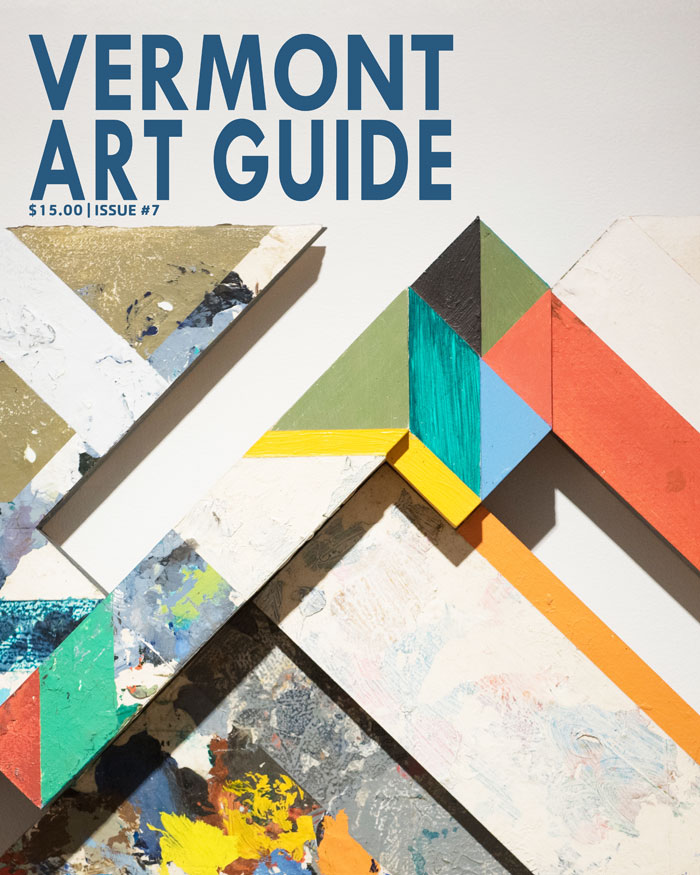 In This Issue
A detail of Fleurs du Mal by Edwin Owre is on the cover. From 1969 to 2003, Owre taught students at the University of Vermont to unleash the possibility of mark and gesture, to consider copper tubing and bales of hay as materials, or to chainsaw paper if the mood strikes you. Burlington City Arts exhibited his constructions this past winter. GreenTara Space will show new work by the artist in Summer 2018.
Summer has finally come to Vermont and that means a flurry of art events and sculpture parks. We report on the Waterbury Arts Fest, an annual festival that has become one of Central Vermont's premier art events and SculptureFest in Woodstock, one of the state's oldest and most low-key sculpture parks. We share with you how Charlet and Peter Davenport have been keeping it fresh for nearly three decades.
From the files of Vermont artists completely rocking it: Marble House Project launches their third season with a grant from the National Endowment for the Arts. Williston sculptor Richard Erdman has been commissioned to create a new monumental work for a luxury residential tower in Taichung, Taiwan. You can read more in the issue.
Mary Zompetti brings the slow process of film and a deep appreciation for the changing seasons into a quarterly artist book. We have an interview with the artist behind 45 Degrees North.
In response to the #MeToo movement, two exhibitions at Edgewater's two Middlebury galleries feature women this summer. "Each of the four artists comes to her work from a unique perspective and all feel a freedom to express their ideas in an environment that both accepts and respects them."
In "Form to Speak", we report on New Hampshire's Aidron Duckworth Museum and the Vermont artists this unique museum is showcasing this summer.
The heart of the issue is the second part of Artists to Watch, a feature we started in Vermont Art Guide #6. Part of Vermont Art Guide's mission is to showcase Vermont artists. We recruited five guest curators working in various corners of the state and asked them to tell us what artists they are watching in the coming year. Part one appeared in Vermont Art Guide #6. Part two appears in this issue. A parallel exhibition takes place at the Vermont Arts Council Spotlight Gallery in Montpelier in May and June.
SPECIAL FEATURE ARTISTS TO WATCH IN THIS ISSUE
Who's Watching Who
Lead Curator: Ric Kasini Kadour, Vermont Art Guide Editor
The Guest Curators: Kelly Holt | Danny Lichtenfeld | Sophie Pickens & Justine Jackson | Stephanie Walker | Mary Admasian
Seeing the Everyday in a Brand New Way: Robert Gold
Abstract Portraits Imbued with Psychological Complexity: Stephanie Kossmann
Reclaiming the Way Women Are Portrayed: August Burns
Working the Land in Oil on Panel: Bonnie Baird
Fashion and Technology Meet Installation: Sam Talbot Kelly
The Spark Lies in Just Showing Up: Erika Senft Miller
Expanded Forms in Steel: Rodrigo Nava
No Stranger to Experimentation: Jean Cherouny
Interconnectedness of Humanity in Shapes and Lines: Rose Umerlik
Situations We Encounter, Furniture As a Catalyst: Angelo Arnold
Street Art Does a Community Good: Anthill Collective
Small Gestures, Large Tableaus, and a Return to Abstraction: Hope Burgoyne
Where to See Art is our curated list of over 180 places to see art around the state. We shine our spotlight on Ronald Slayton at T.W. Wood Gallery | Gloria Garfinkel's interactive sculptural installation at Brattleboro Museum & Art Center | the "Gallery in the Garden" exhibition at Justin S. Morrill State Historic Site | Colchester artist Kileigh Hannah's "Halcyon Days" at Steven Jupiter Gallery | and the host of art venues that make up the Capitol District in Montpelier.
and a Vermont Art Guide Artist Directory.
SPECIAL NOTE: Vermont Art Guide is a quarterly, printed magazine about contemporary art in Vermont. We have three goals: 1) To connect the entire state's art community by sharing information about exhibitions and events. 2) To present a picture of Vermont art and art in Vermont, to tell our story. 3) To build an audience for Vermont art inside the state and out. We hope you will join us by subscribing to the print edition today!