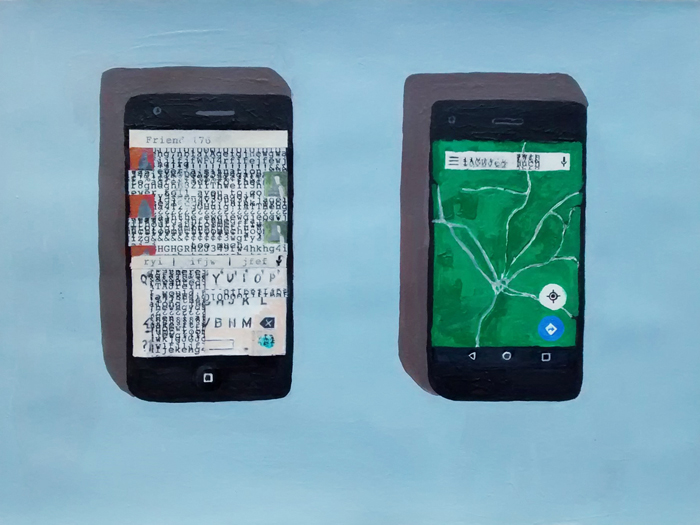 Vermont Art Guide #3 Editorial by Ric Kasini Kadour
To get a copy of the editorial, purchase Vermont Art Guide #3 or subscribe.
One of the interesting things about magazines is that they are living, meaning they have a life over time. We started Vermont Art Guide in May 2016 and now, this third installment, the Winter issue, is embracing how Vermont's art scene changes over the course of a year. Many of the sculpture parks we celebrate in the warmer months are closed. Fewer festivals pop up. And as Spring arrives, a number of art venues turn their space over to schoolchildren. And yet, there is much to see and do. Artists squirrel away in their studios; some head south for the season.
The painting above, Companions by James Secor, will be on view at Studio Place Arts beginning March 14th, 2017. This painting is perhaps the most brilliant expression of contemporary humanity that I have seen in art recently: Two phones, each a little broken and dysfunctional, side by side, together yet apart. The painting embodies a sadness, our disconnection with one another, our broken humanity. But there is hope as well. Phones are made to talk to one another, and these phones, no matter how broken, still do.
We are alone until we choose not to be. In this issue, you will find over a hundred places to see art, exhibitions in every corner of the state. It is our pleasure to share them with you and it is our hope that you will use this guide to seek out connections, to visit galleries and meet artists. It is easy, particularly in winter, to rely on technology for human connection. Companions (and this magazine) is, hopefully, a reminder that you don't have to.
To get a copy of the editorial, purchase Vermont Art Guide #3 or subscribe.
Image
Companion Objects
by James Secor
12"x9"
acrylic paint and collage on paper
2016