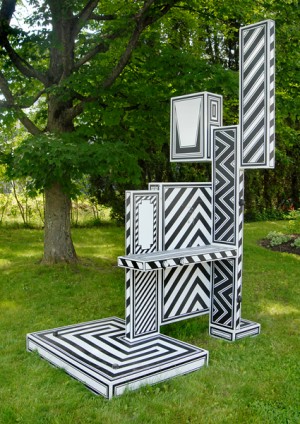 Friday, July 8 – Saturday, October 8, 2011
Opening reception: Friday, July 8th at 5PM, featuring an artist-led walking tour at 6PM.
Exposed is a long-standing annual outdoor sculpture exhibition in Stowe, Vermont. Hosted by Helen Day Art Center, Exposed was initiated by two local artists, Christopher Curtis and John Matusz, to bring what was Vermont Outdoor Sculpture Exhibition off the lawn of Helen Day Art Center and into the village of Stowe to "expose" the artwork of both emerging and established artists to a greater public.
Now in its 20th year, the exhibition aims to continue this tradition while introducing artists who work interactively with community and site. It will showcase sculptural objects and engage the public with a series of parallel events. This pervasive exhibition is grounded in a commitment to bring art to the public and the public to art. Exposed 2011 is co-presented by Stephen Levin and Helen Day Art Center.
Sculptors featured in the book include: Ria Blaas; Lynne Bond; Christopher Curtis; Carla Duarte; Matt Harding; Monica Herrera; Tom Holmes; R. Elliott Katz; James Knittle; Lora Lode; Deborah Margo; Chris Miller; Matt Neckers; Darrell Petit; Kate Pond; Torin Porter; Jack Reed; Ellen Rothenberg; Oliver Schemm & Jessica DiClerico; Tyler Vendituoli; Denis Versweyveld; and Bennett Wine.
Other Artists include: Stephanie Beck; Carrick Bell; Molly Davies; Gretchen Farrar & Francisco Roldán; Alisha Laramee; Regina Mamou; Polly Motley; Jeroen Nelemans; Theofanis Nouskas; m. pinchuk; Shannon Schmidt; Julia Shipley.
Catalog of the Exhibition Presented in Partnership with Kasini House Books.
More information on Vermont Art Guide and at Helen Day Art Center.
Helen Day Art Center
5 School Street
Stowe 05672
(802) 253-8358
WEBSITE