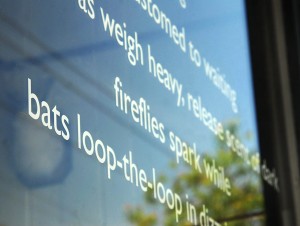 Thursday, August 25, 6PM
"the looking, on glass" is a series of four vinyl installations on storefront windows, which displays poetic excerpts from four different writers. Artist and writer Shannon Schmidt paired each storefront window with a writer's work, arranging individual pieces that connect text to site. The excerpt from Windows, night by m. pinchuk glides from a window of Shaw's General Store toward foliage, speaking ephemerally of the unseen; Alisha Laramee's excerpt from Lies, Fairytales and Nightmares spans across a window of the Body Lounge, addressing the politics of migrant farm laborers; Julia Shipley explores the existential nature of movement from sky to earth in her excerpt from o on the window of Bear Pond Books; and at Black Cap Coffee Shop, Shannon Schmidt's excerpt from Lady M. intersects with spectacles of newlyweds and Sunday's best, while remarking on a passionate vigilance.
---
ABOUT EXPOSED
For the past twenty years, the Helen Day Art Center has hosted an outdoor public art and sculpture exhibition called Exposed in Stowe, Vermont. Exposed hosts sculptures, site-specific installations, and participatory work from twenty-three national and international artists. the 2011 edition offers a series of Thursday night events by 12 video artists, writers, performers, and musicians accompany the exhibit. This exhibition and series of events is accompanied by cell phone audio tours, QR codes, walking tour maps, walkabouts, and a catalogue of the exhibit published by Kasini House Books. The exhibition will take place July 8th to October 8th, 2011.
Helen Day Art Center
5 School Street
Stowe 05672
(802) 253-8358